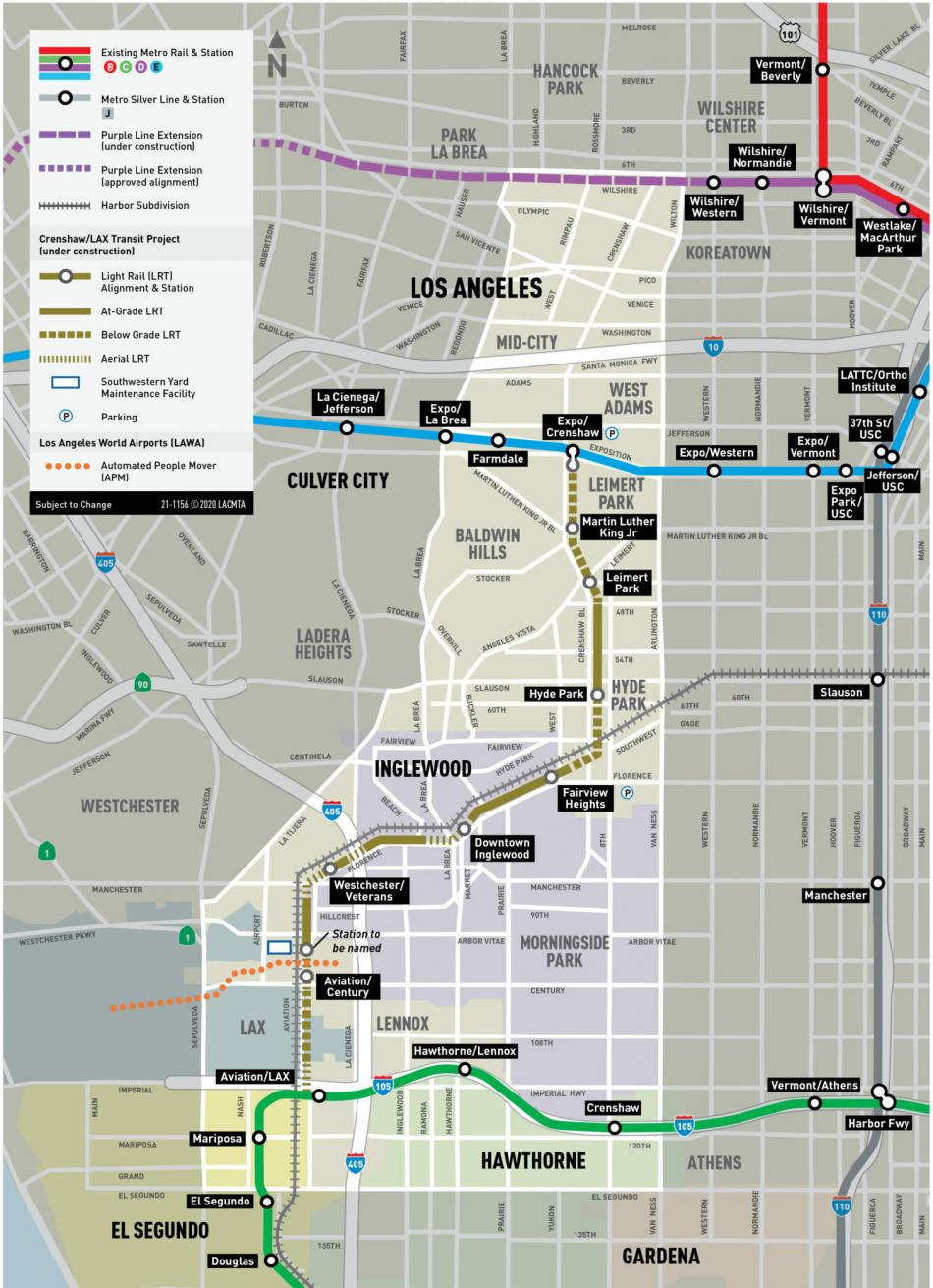 What's L.A.'s best big transportation story of 2022? Vote now
A transportation agency's best laid plans are meaningless in the face of a pandemic that
A transportation agency's best laid plans are meaningless in the face of a pandemic that upends all facets of life, but three years after the world changed, things are starting to get back on track – even if they cost twice as much as before.
For the first time since 2022, Metro was able to cut the ribbon on a new rail line – the long-awaited (and much delayed) K Line. As luck would have it, the slightly-less-delayed Regional Connector also cleared an important milestone, and could be carrying passengers in a tunnel beneath Downtown Los Angeles in a matter of months (knock on wood).
So, dear reader, what was the biggest transportation story for L.A. in 2022? You choose from the options in the poll at the bottom of the page, or let us know if you've got a write-in candidate in the comments section. Voting closes Wednesday afternoon.
The K Line makes its debut As related above, the star-crossed K Line, formerly known as the Crenshaw/LAX Line, honestly seemed like it would never open. Beset by cost overruns and delays, the project blew three years past its original opening date of 2019. Even now, the 8.5-mile light rail is not technically complete – the route is cut off south of Westchester/Veterans Station, as Metro works on a new stop that will connect with the forthcoming LAX automated people mover. No need to mention what might happen if and when that Centinela Avenue grade separation is built.
Eastside L Line extension broken into phases On the opposite side of L.A. County, Metro's plans to extend the Eastside branch of the L Line also took a step forward this year, when the agency's Board of Directors adopted a plan to build the project in phases. An initial operating segment would run 4.6 miles between the existing terminus at Atlantic Station toward Greenwood Avenue in the City of Montebello, with the full extension eventually reaching the City of Whittier. Perhaps the biggest news about this project was its revised price tag – a Metro staff report indicates that the initial operating segment could cost $7.9 billion to build – roughly $3.5 billion more than what is currently available for the project. The full route to Whittier could cost an eye-popping $10 billion.
Another LAX expansion In 2021, Los Angeles World Airports opened the LAX Tom Bradley International Terminal's West Gates complex for passengers. And since there is some sort of rule that airport construction can never truly be finished, LAWA is now moving forward with plans for an eight-gate expansion of said expansion. The Woods Bagot-designed Midfield Satellite Concourse South could be open as early as 2025.
Metrolink begins work on ambitious SCORE program Metrolink, the regional rail network which serves five counties in Southern California, took the small but significant step this year of breaking ground on the Burbank Junction Speed Improvement Project, which will realign a roughly half-mile stretch of track to enable 30-minute service intervals on the Antelope Valley and Ventura County lines. While this may seem like a relatively modest project, it is in fact a sort of opening salvo in the agency's $10-billion SCORE program, which calls for targeted improvements across Metrolink's 500-mile network to enable systemwide 30-minute service intervals – plus faster end-to-end travel times.
Vegas to almost Los Angeles rail line sticks around Despite multiple false starts in a bid to start construction, that other California high-speed rail line is still kicking. This year, Brightline began the environmental review process for a 49-mile extension of its as-yet unbuilt Las Vegas to Apple Valley rail system, which would bring trains through the Cajon Pass to a second terminus in Rancho Cucamonga. That would allow passengers to transfer to Metrolink, which would then take them to Downtown Los Angeles – perhaps an easier sell prospective customers than a roughly 100-mile drive out to a station in exurban San Bernardino County.
Van Nuys Boulevard light rail line breaks ground "Groundbreaking" may be a bit of an oversell, but Metro did commence advance utility work this year for the East San Fernando Valley Transit corridor, a 6.7-mile rail line which will run between Van Nuys and Pacoima, with connections to the G Line busway, Metrolink's Van Nuys Station, and potentially a future Sepulveda Pass rail line. You could be riding the train as early as 2028.
The new Sixth Street Viaduct opens Six years and $588 million later, the new Sixth Street Viaduct is here, restoring an L.A. River crossing between Downtown and Boyle Heights, and inspiring dozens of long-form articles about street takeovers, vandalism, open space, bike lanes, and L.A.'s relationship with the automobile. Of course, not unlike the K Line – there's still more to come. The City of Los Angeles is expected to break ground on roughly 12 acres of park space below the bridge, and an extension of Metro's B and D Lines could eventually bring heavy rail service to the foot of the viaduct.
Rail to Rail active transportation path begins construction Rounding things out is Metro's Rail to Rail Corridor, a 5.5-mile active use path which began work earlier this year in South Los Angeles. Transforming a former freight rail right-of-way parallel with Slauson Avenue, the bike and pedestrian path will also serve as a handy link to major north-south transit lines in the area – including the K Line, the J Line, and the A Line. The $143-million project is set for completion in 2024, and is to be followed by an extension which would run farther east to the L.A. River.