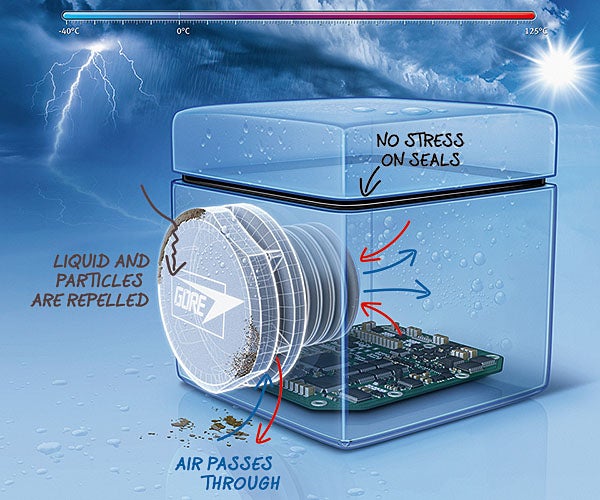 Venting | Automotive, Packaging, Protective & Portable Electronics Vents
Each application has its own set of challenges, such as exposure to temperature changes, environmental
Each application has its own set of challenges, such as exposure to temperature changes, environmental conditions like water, dust, dirt and debris or even contact with automotive fluids including urea solutions, car wash fluids, and lubricants. Without the correct venting solution in place, these challenges can impact reliability and durability.
OEMs and Tier-1 suppliers worldwide turn to Gore for advanced automotive venting solutions for gas-powered, hybrid and electric vehicle applications. Our ePTFE vents rapidly equalize pressure variations caused by temperature changes while providing a reliable barrier to particulates, debris, water and automotive fluids. More reliable venting performance can reduce the need for heavier housings, seals and gaskets, so component design is less complex, manufacturing costs and time to market is reduced, and global cross-platform integration is simplified.
At Gore, we provide manufacturers with thorough partnership that includes finding the right solution to their challenges and testing our vents to ensure they meet or exceed industry standards and perform to specifications.
We can rapidly integrate a venting solution into your finished product or work with you to create a custom solution. By pairing our ePTFE venting expertise with unwavering standards for performance, we can help you to maintain the integrity of your products for the long term.