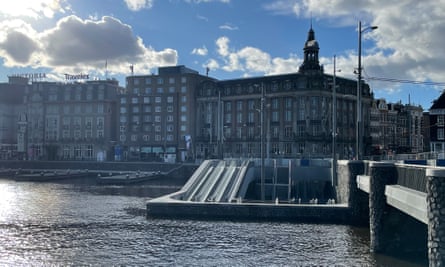 Underwater bike garage solves Amsterdam station's storage headache | Netherlands
Beneath the clear waters and pleasure boats by Amsterdam central station is a remarkable feat
Beneath the clear waters and pleasure boats by Amsterdam central station is a remarkable feat of engineering: an underwater garage for 7,000 bicycles.
The garage, which opens on 26 January, is the result of a four-year, €60m (£53m) project to clear heaps of rusty bikes left by hasty commuters and install rows of clean, safe parking spaces underground, where bikes can be left free for 24 hours and then at a cost of €1.35 per 24 hours.
A moving walkway takes you upwards into the train station, where more than 200,000 journeys start and end every day. On the side of the IJ harbour is another new, €25m park for 4,000 more bikes, built on pilings on new land in the IJ, just inches above the North-South metro line.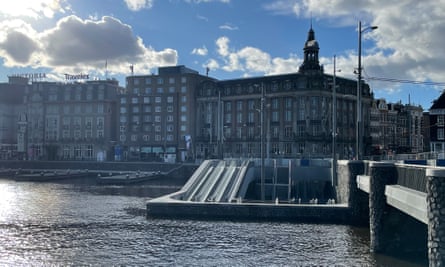 The construction of the underwater bike garage, documented in an impressive stop-motion video, began in 2019 and involved draining a lake of water by the late 19th-century station – which itself was built on three human-made islands.
There are red and green lights to show if spaces are available, and from April a dynamic system will start showing commuters which bike park has room and how many spaces are free.
"Central station is one of the busiest places in Amsterdam," said Amsterdam municipality's bike project manager, Pieter Visser. "A lot of bikers use this precious public space to bike and park. The municipality chose to facilitate underground bike parking (in this case, underwater) to return the public space to pedestrians, tourists and people with disabilities."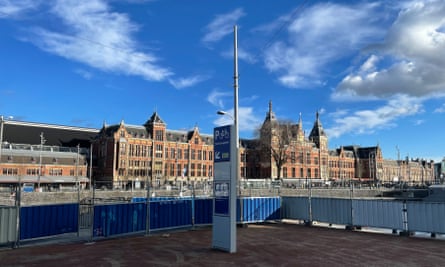 There are more bicycles in this small country than there are people – an estimated 23.4m bikes, according to the BOVAG and RAI motor organisations, compared with a population of 17.8 million. Cycling is far and away the top form of transport in cities such as Amsterdam. According to the capital's most recent figures, 835,000 Amsterdammers between them make on average 665,000 bike trips a day, and 36% of journeys are made by bicycle (compared with 24% by car).
For the railways, the project is about making commuting easier and more attractive. "It's great that people can jump on their bikes, get to the station and get on their journey seamlessly," said Jeroen Wienen, a spokesperson for ProRail, the Dutch government organisation responsible for the maintenance and extension of the national railway network infrastructure.
"The Netherlands is a real cycling country, a lot of people come to the station by bike, and we and the municipality certainly don't want all those bikes lying around. You want to offer people a decent place where they can put their bikes safely, so the streets are nice and clean for the neighbourhood."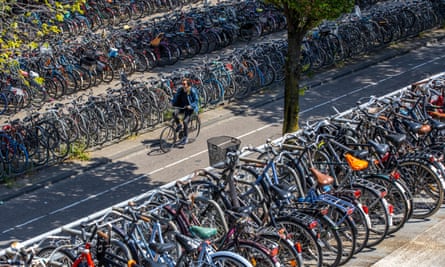 Cycling experts – and Amsterdammers glad that the city waterfront is no longer a building site – greeted the project with enthusiasm. Marco te Brömmelstroet, a self-styled "cycling professor" and director of the Urban Cycling Institute at Amsterdam University, said the key to its success was in linking up forms of mobility.
"It's a lovely project, because it's not a cycling project," he said. "It makes visible the real (and often invisible) success factor in Dutch mobility and spacial policy: the bike-train combination. Before, there was a temporary multistorey bike rack, which immediately flowed over. It became one of Amsterdam's most photographed objects and the municipality was embarrassed about [it]."
There are lessons for other countries in encouraging more "last-mile" cycling by providing proper facilities at train stations, said Lucas Snaije, a research and advocacy manager at the cycling advocacy foundation BYCS. "Prioritising cycling is an incredible means of making cities more inclusive, and it also promotes community, trust and wellbeing," he said.
But te Brömmelstroet pointed out that even this €85m investment in cycling infrastructure was minimal compared with projects for the Netherlands' 9m cars. Walther Ploos van Amstel, a professor in city logistics at the Amsterdam University of Applied Sciences, said the most healthy, safe and vibrant cities encourage pedestrians. "I think it's a great project," he said, "but my advice to cities would be: don't forget there are also people who would like to walk."