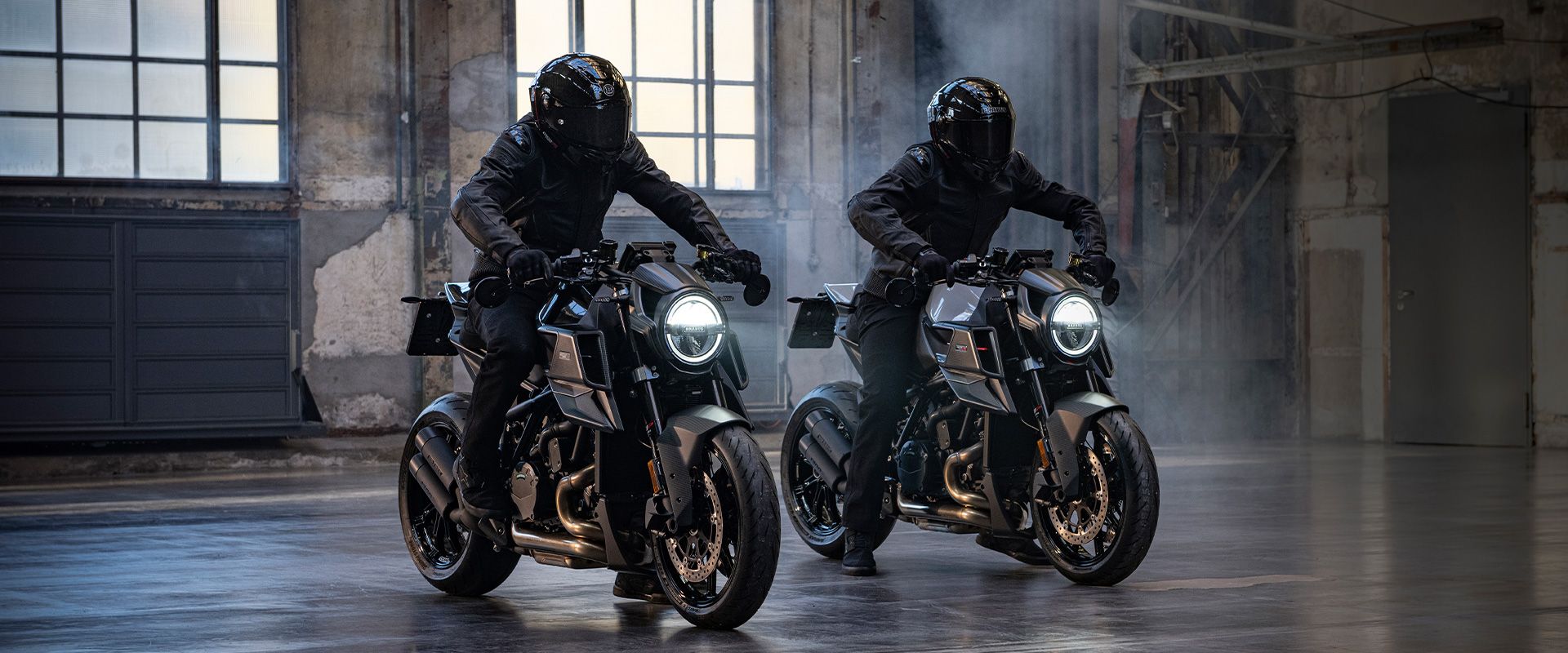 Top 10 Hypernaked Motorcycles On Sale In 2023
Manufacturers are constantly coming up with ever more fragmented motorcycle categories to delineate their products,
Manufacturers are constantly coming up with ever more fragmented motorcycle categories to delineate their products, as they constantly stir the development pot and form new models. If you thought that the naked sports bike category was getting a bit stale and, well, slow, then don't worry as now there is the Hypernaked class which basically means more of everything – power, performance, electronics and not forgetting cost! There was a time when naked sports bikes were de-tuned superbikes but, now that the superbike is half the class it used to be, the hypernaked is taking over as king of the hill and there are some pretty impressive bikes out there.
Related: Top 10 Middleweight Naked Motorcycles
10
Brabus 1300 R
MSRP: $45,575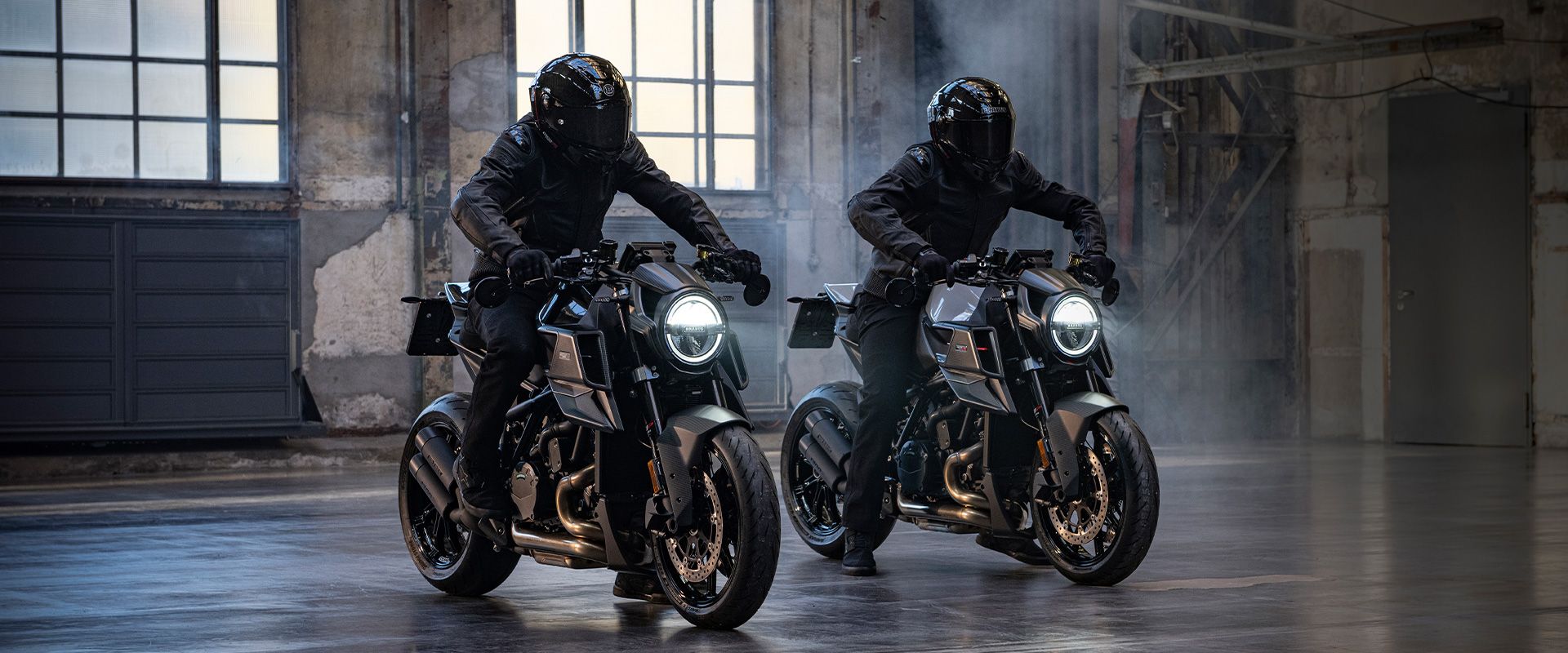 If spending twice as much as the standard KTM 1290 Super Duke R ($20,399) for what is essentially a cosmetic makeover is your thing, then the Brabus 1300R is the bike for you. Brabus made its name with pimping out Mercedes cars, and it's not entirely clear why they decided to enter the bike market, especially as improving the performance of a 180 horsepower, 103 foot pounds of torque beast wasn't really necessary. What Brabus did do is lavish luxury attention on the finish of the Super Duke, with a lot of carbon fiber and some different styling touches, such as the headlight treatment. The KTM 1290 Super Duke R is hyper enough: Brabus has increased the price tag to match.
| | |
| --- | --- |
| Engine | V-Twin, 1301cc |
| Horsepower | 180 hp |
| Torque | 103 foot pounds |
| Weight | 427 pounds |
9
Bimota KB4 RC
MSRP: $35,000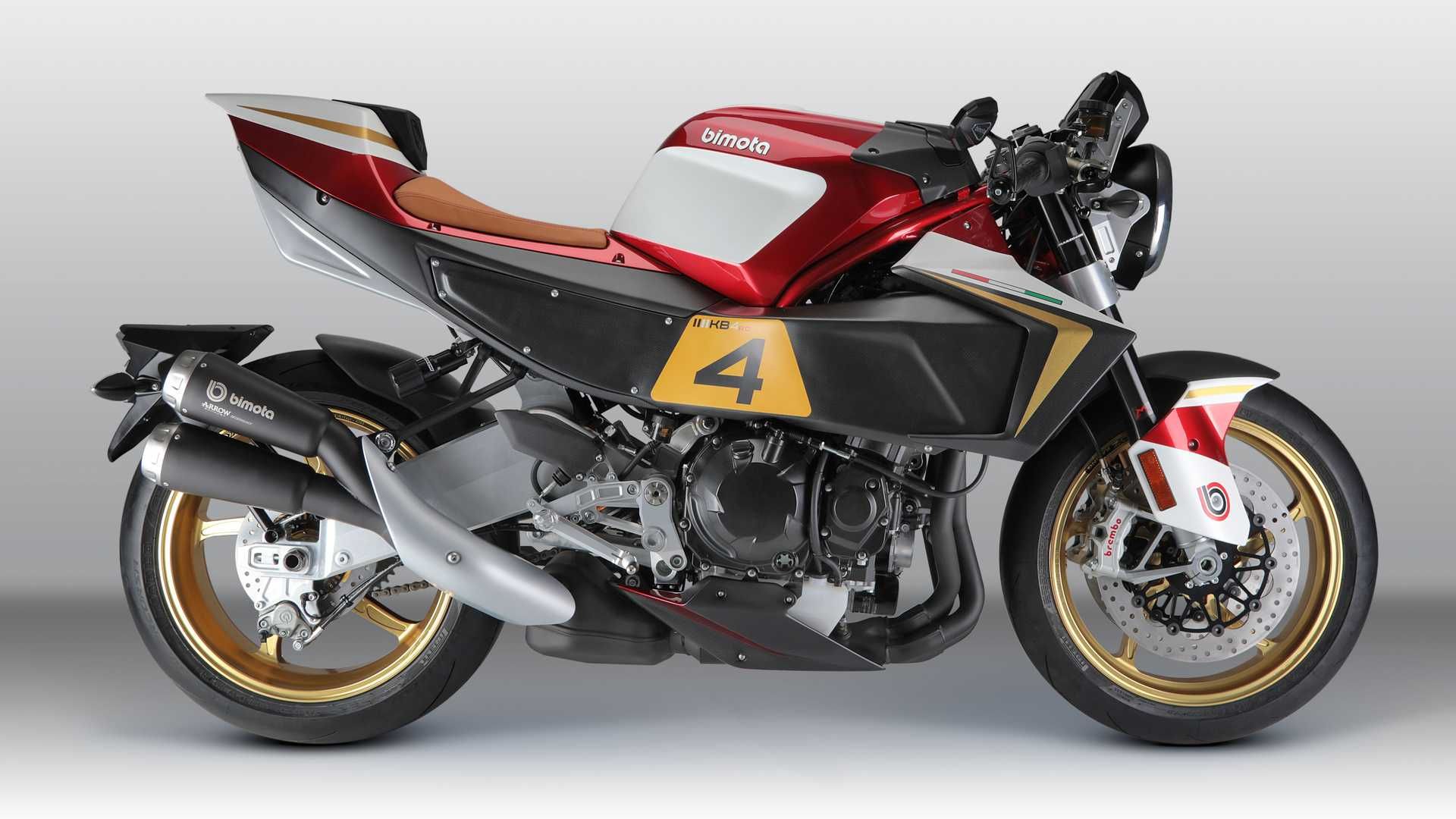 Another bike where the price tag is hyper, costing way more than twice as much as the Kawasaki Ninja 1000 SX ($13,199) which donates its engine to the cause (why not the supercharged engine from the H2?). Bimota built its reputation on creating fine-handling chassis for Japanese sports bike engines, when the OEM chassis weren't up to the job. Now that everyone builds excellent chassis that can contain modern power outputs, Bimota's role seems to be relegated to building impressively priced models that have no apparent benefit over the stock motorcycles from which they get their engines, other than, perhaps, exclusivity. Certainly, 142 horsepower in this company isn't enough on its own to justify the hyper tag, but the styling and the price are!
| | |
| --- | --- |
| Engine | Inline four cylinder 1043cc |
| Horsepower | 142 hp |
| Torque | 82 foot pounds |
| Weight | 427 pounds |
Related: 10 Things We Like About The Bimota Tesi H2
8
Triumph Rocket 3
MSRP: $24,595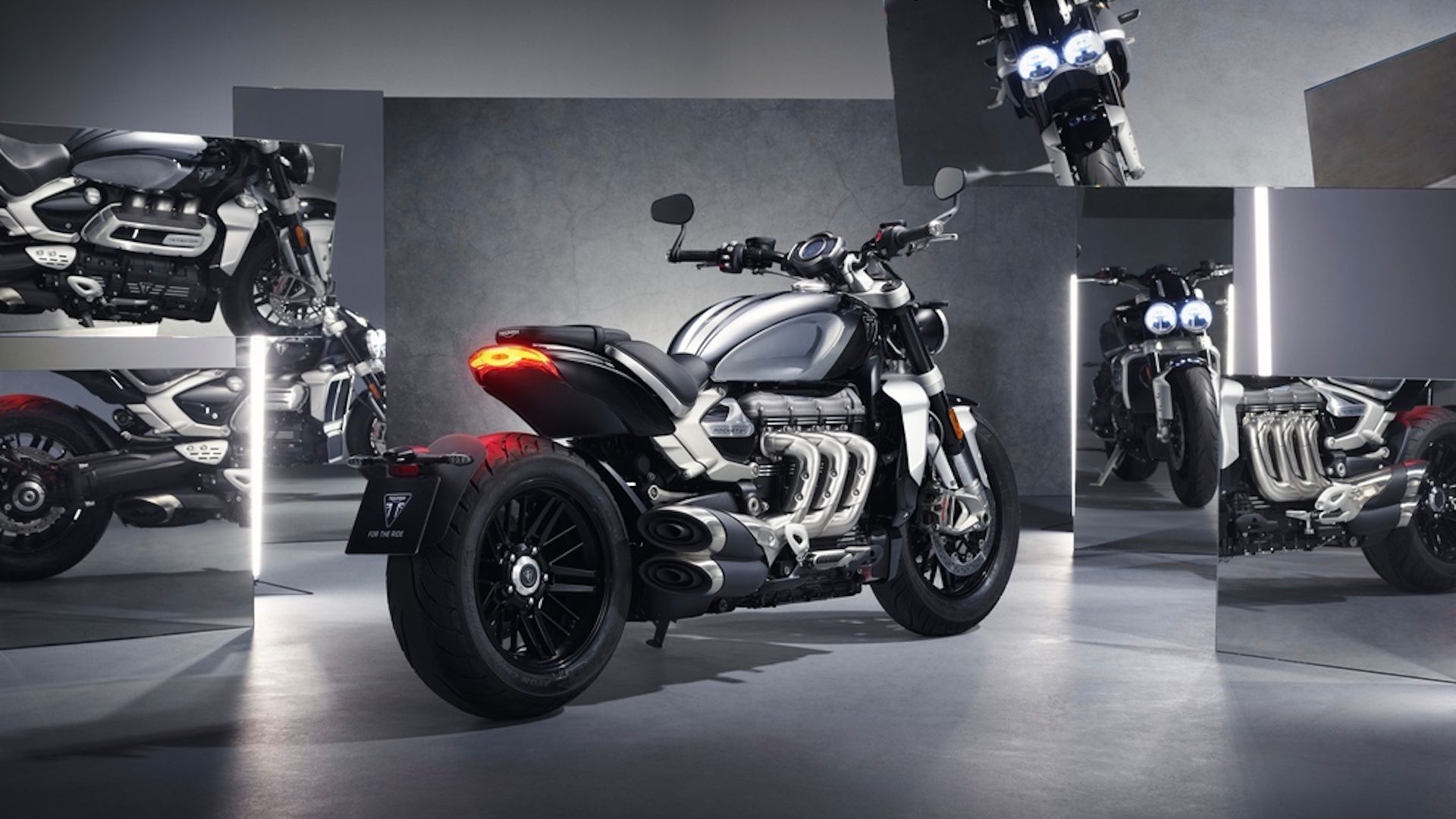 Now this is excessive! A 2.5 liter, three-cylinder engine, mounted longitudinally in the chassis, pushing out 165 horsepower and a frankly incredible 163 foot pounds of torque. When it first arrived in 2004, it wasn't sure what it wanted to be and neither was Triumph: was it a cruiser or a sports bike? The 2019 redesign answered a few questions by being much more sporting in outlook, if a motorcycle so huge could ever be called sporting. However, despite its bulk and weight, it behaves almost like a naked sports bike half its size (or less!) and what it might lack in nimble road behavior it more than makes up for in presence on the road and brutal acceleration at any speed, in any gear. Save up a lot of money for rear tires!
| | |
| --- | --- |
| Engine | Inline three cylinder 2458cc |
| Horsepower | 165 hp |
| Torque | 163 foot pounds |
| Weight | 650 Pounds |
7
Triumph Speed Triple 1200 RS
MSRP: $18,895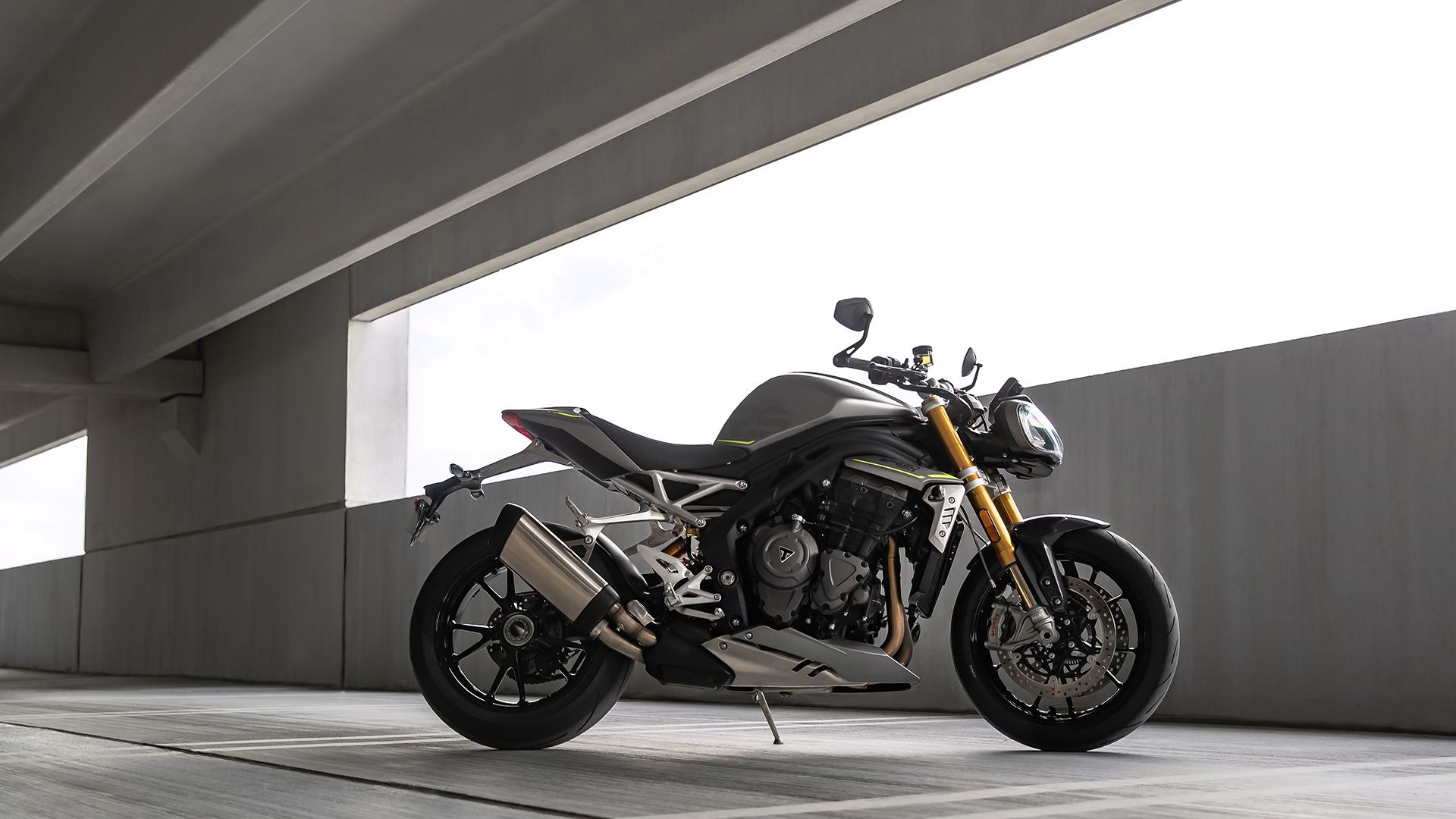 First of the realistically-priced hypernakeds on this list, Triumph's Speed Triple has always played at the top of the naked sports bike class. Now, in its latest incarnation, it is better than ever and so beautifully behaved on the road that it seems harsh to burden it with the hyper tag – if you take 'hyper' to mean something bad, that is. If 'hyper' is a good thing, then the Triumph is dripping in it: 178 horsepower and 92 foot pounds of torque aren't far off the KTM Super Duke but, somehow, the Speed Triple 1200 RS avoids the hooligan tag that the KTM wears. It's beautifully put together and a properly sophisticated piece of kit and more than worth its price tag.
| | |
| --- | --- |
| Engine | Inline three cylinder 1,160cc |
| Horsepower | 178 hp |
| Torque | 92 foot pounds |
| Weight | 436 pounds |
6
MV Agusta Brutale 1000 RR
MSRP: $37,798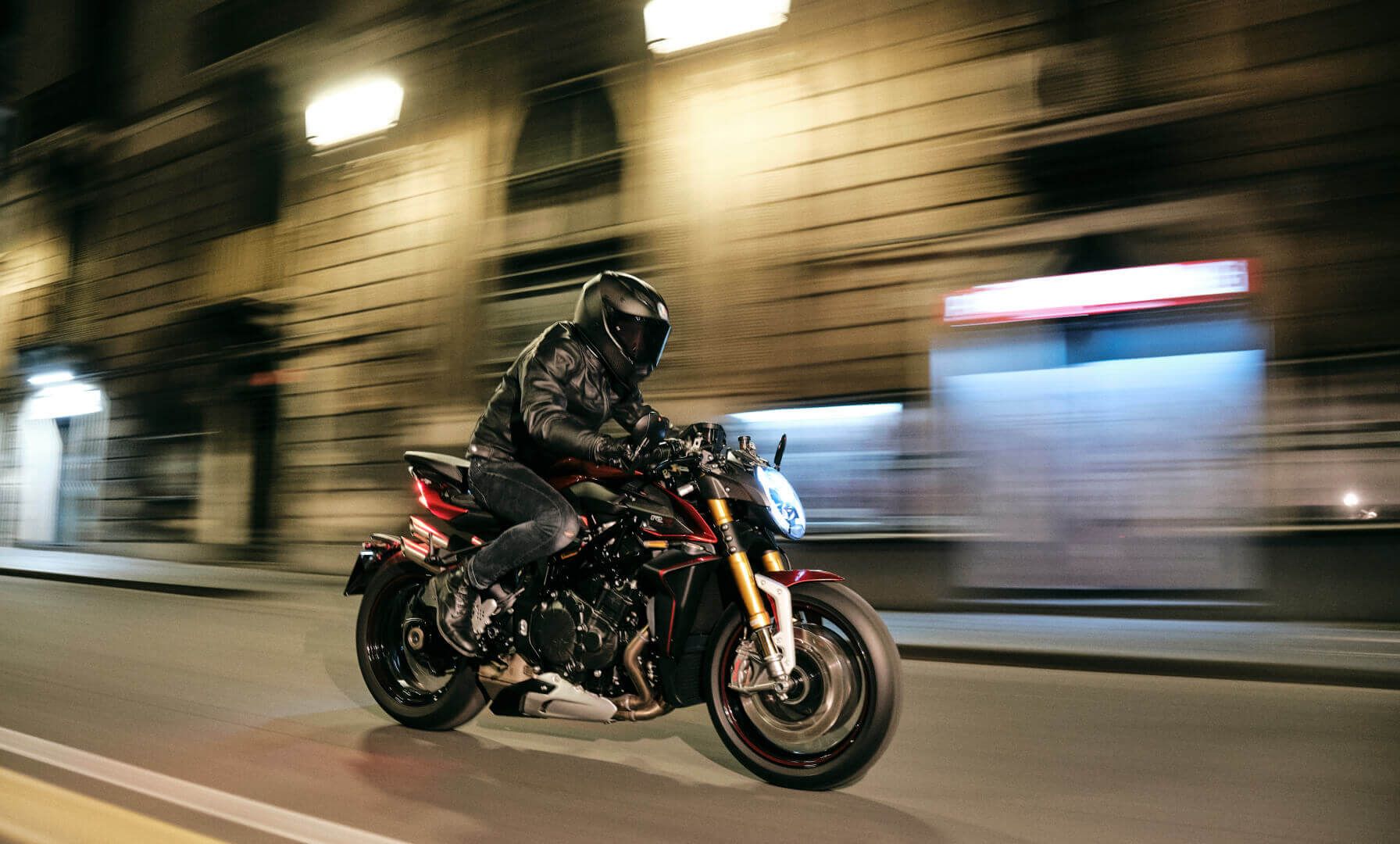 Back to expensive, although in the MV Agusta Brutale 1000 RR's case, the price is not the only hyper element. This is no shrinking violet of a bike: instead, it shouts its pedigree from the rooftops and doesn't care who's listening. If the styling is fussy compared to, say, the Triumph Speed Triple, then a closer inspection reveals lovely attention to detail and some seriously impressive specification: Brembo Stylema brake calipers, Ohlins suspension and gorgeous SC Project exhaust. If that isn't hyper enough, then how about 208 horsepower and 85 foot pounds of torque, while it is rather brutal in terms of refinement, which matches the looks. When signing the purchase agreement, you might find yourself hyperventilating!
| | |
| --- | --- |
| Engine | Inline four cylinder, 998cc |
| Horsepower | 208 hp |
| Torque | 85 foot pounds |
| Weight | 410 pounds |
5
BMW M 1000 R – $21,345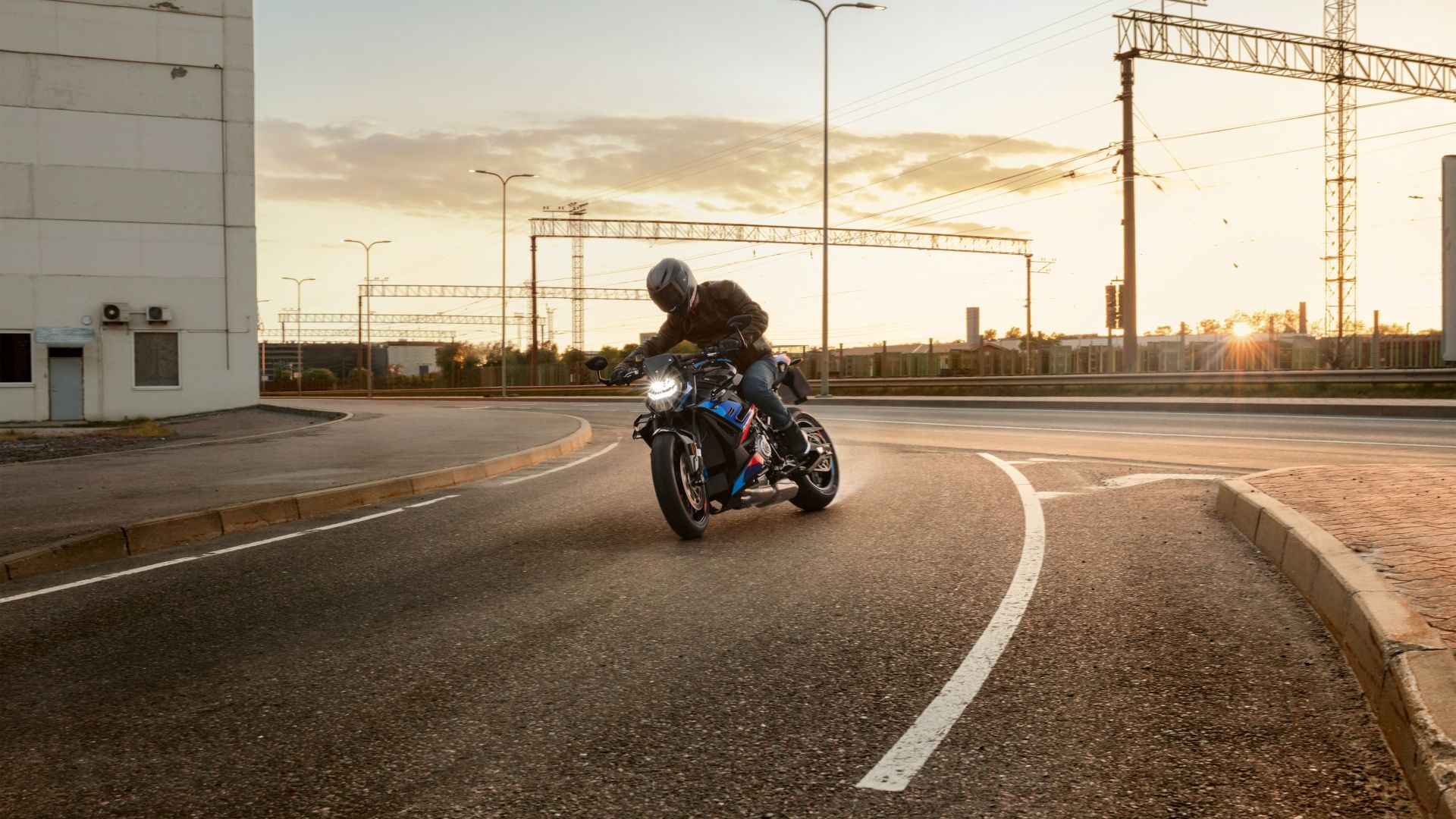 A near-$7,000 premium over the standard S 1000 R doesn't seem too excessive, especially when the M 1000 R is much closer to the S 1000 RR superbike than to the S 1000 R. Traditionally reserved for four wheeled BMWs, the 'M' makeover does what it has always done – make more power – to the point where the naked M 1000 RR makes the same horsepower as the S 1000 RR – 207 horsepower – and 83 foot pounds of torque, complete with a huge new suite of electronics to do as much as they can to prevent you doing damage to yourself. It's also been on a diet which helps with the sharpness of the handling, while it looks brilliant with the new 'M' livery. Typically BMW, it's all very efficient and slightly soulless, but you can't deny the performance.
| | |
| --- | --- |
| Engine | Inline four cylinder, 999cc |
| Horsepower | 207 hp |
| Torque | 83 foot pounds |
| Weight | 438 pounds |
4
KTM 1290 Super Duke RR
Not Available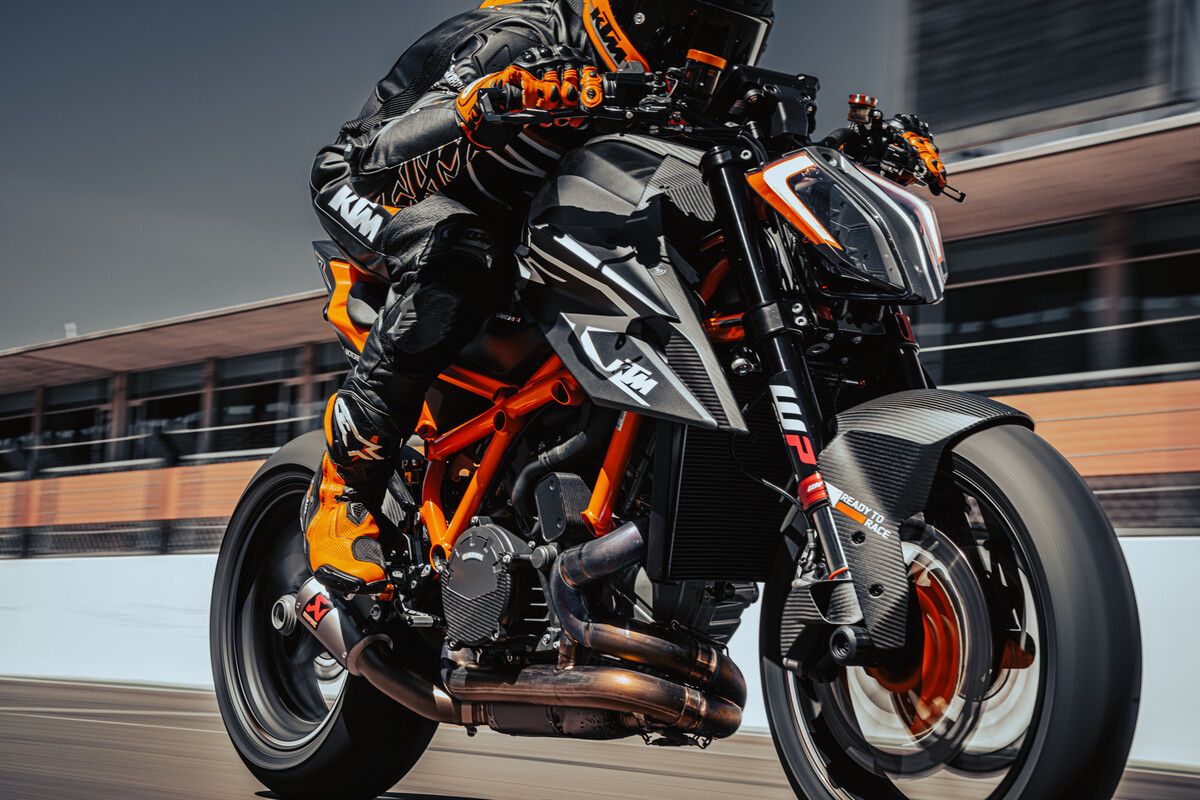 Ah, the power of the letter R, one of the few tags that nearly every manufacturer uses to denote speed and yet more speed. With the 1290 Super Duke RR, KTM is at least letting customers know that they'll only get the best out of it when riding it on the track, rather than encouraging them to try to use all the performance on the road which, of course, is where most owners will be riding. The RR loses a huge 20 pounds of weight over the Super Duke 1290 R, meaning every horse in the engine has just one kilogram to push along (or 2.2 pounds, but one-to-one sounds better!) or, to put it another way, there's 180 horsepower, 103 foot pounds of torque and it weighs 396 pounds. WP Apex suspension is off the top shelf, as are the brakes and Akrapovic exhaust. It's not called the Beast for nothing.
| | |
| --- | --- |
| Engine | V-Twin, 1,301cc |
| Horsepower | 177 hp |
| Torque | 103 foot pounds |
| Weight | 396 pounds |
3
Kawasaki Z H2
MSRP: $18,500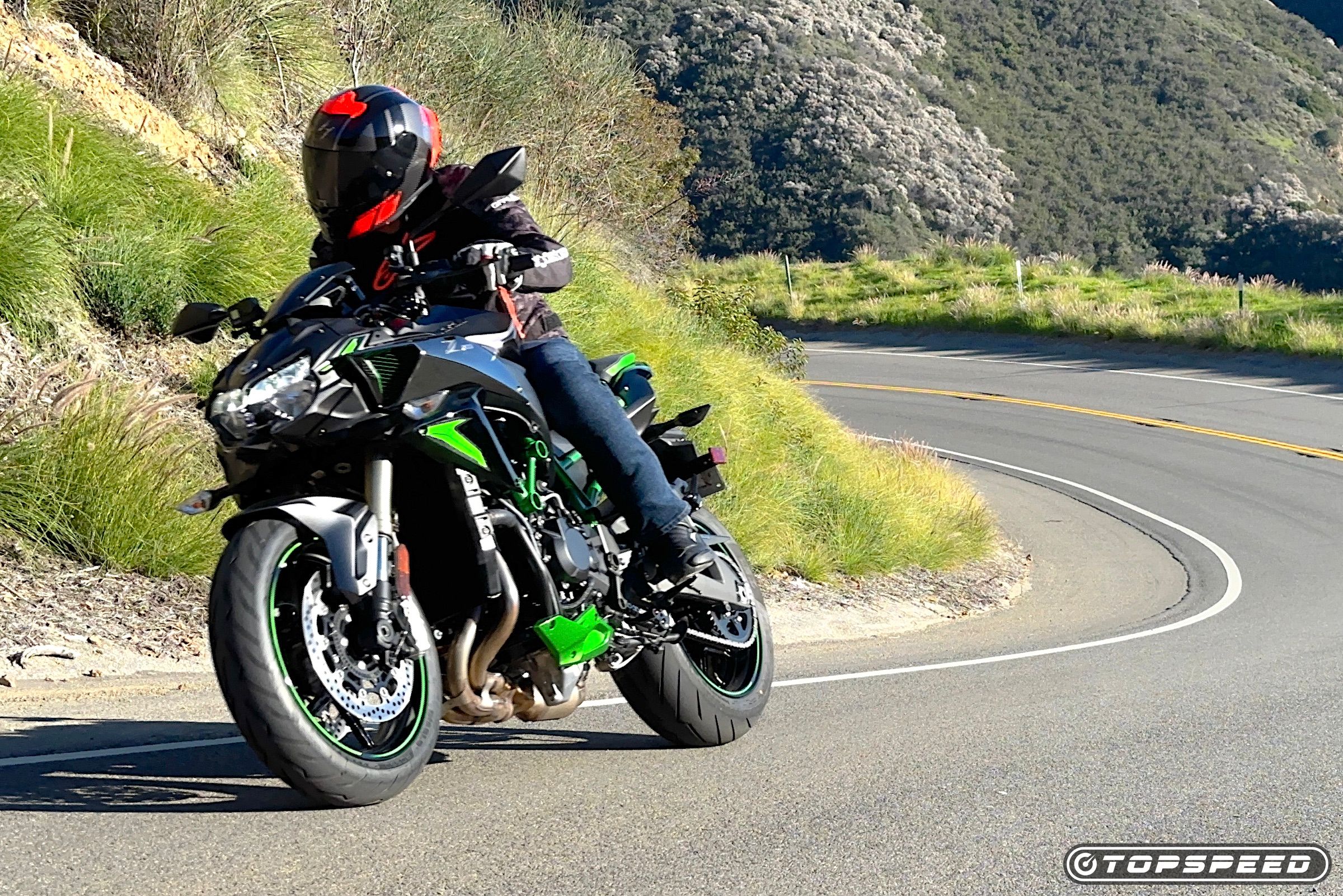 When Kawasaki bolted a supercharger to its 1000cc engine and built the Ninja H2, it kind of created the whole concept of the hyperbike, as opposed to a mere superbike. Kawasaki didn't go overboard on the styling, although it was distinctive and neither did they give the naked Z H2 outlandish styling, even though it was all pretty exciting under the skin. 200 horsepower is a lot, no matter which way you cut it, but it is the relentless manner in which it delivers that power that is so intoxicating. It's all done with typical Japanese efficiency and build quality, making it appear less exciting than it really is.
| | |
| --- | --- |
| Engine | Inline four cylinder, 998cc |
| Horsepower | 200 hp |
| Torque | 101 foot pounds |
| Weight | 526 pounds |
Related: 2023 Kawasaki Z H2 Review: You Better Hang On Tight
2
Ducati Streetfighter V4 S
MSRP: $27,595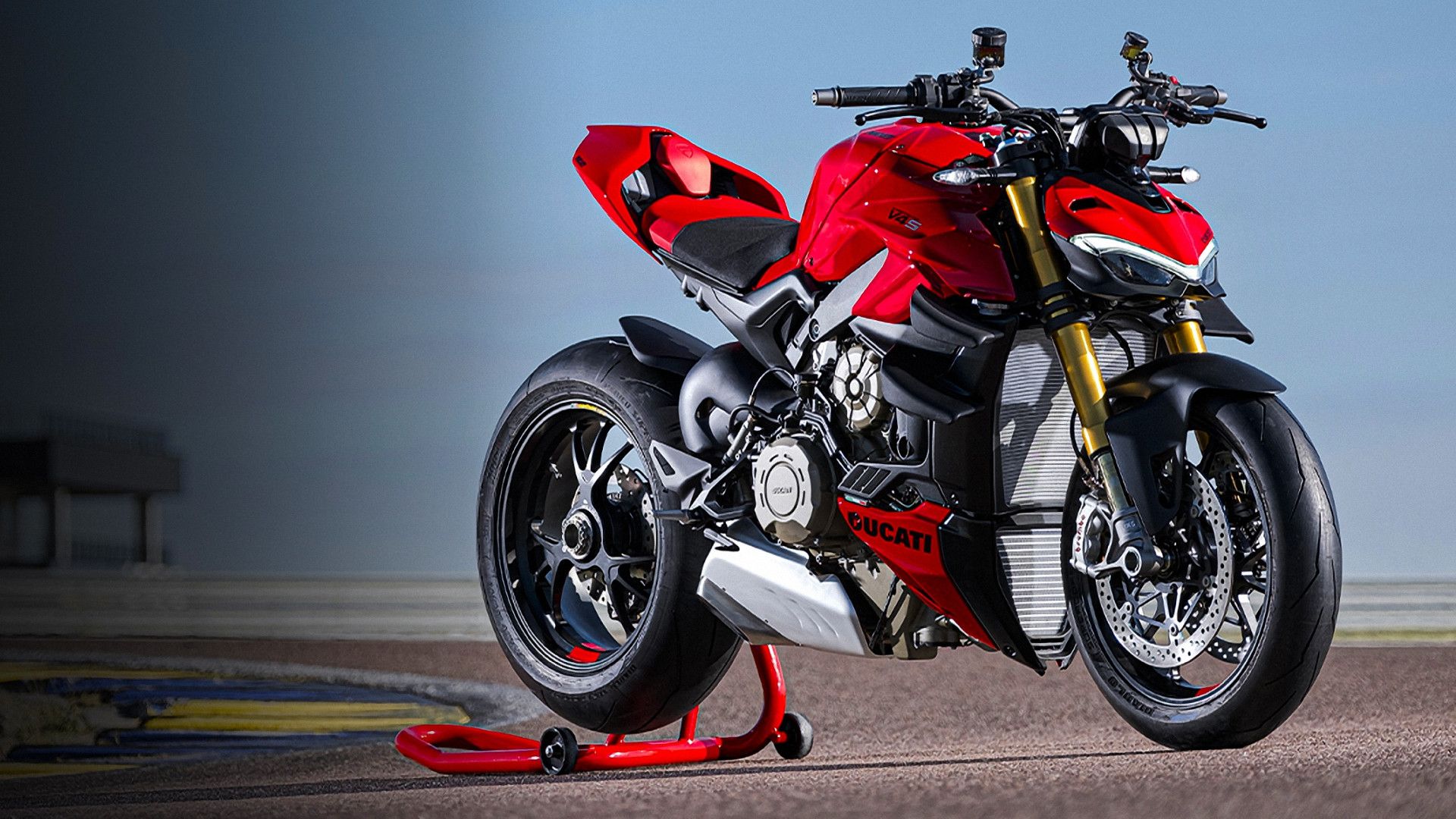 If it wasn't for the likes of the BMW M 1000 R, the MV Agusta Brutale 1000 RR and the Kawasaki Z H2, the Ducati Streetfighter V4 S would stand alone at the head of the field, with 208 horsepower and 90 foot pounds of torque. But, even if it merely matches those bikes in terms of output, then it certainly has that extra something that only an Italian sports bike can have. Obviously, the performance is brutally explosive, but there is control, thanks to the premium components and sophisticated electronics that, in line with every other bike on this list, never get in the way of the experience, only enhance it. Styling is muscular and a little fussy, but you won't care when you're riding it.
| | |
| --- | --- |
| Engine | V4, 1,103cc |
| Horsepower | 208 hp |
| Torque | 90 foot pounds |
| Weight | 396 pounds |
1
Aprilia Tuono V4 1100 Factory
MSRP: $19,599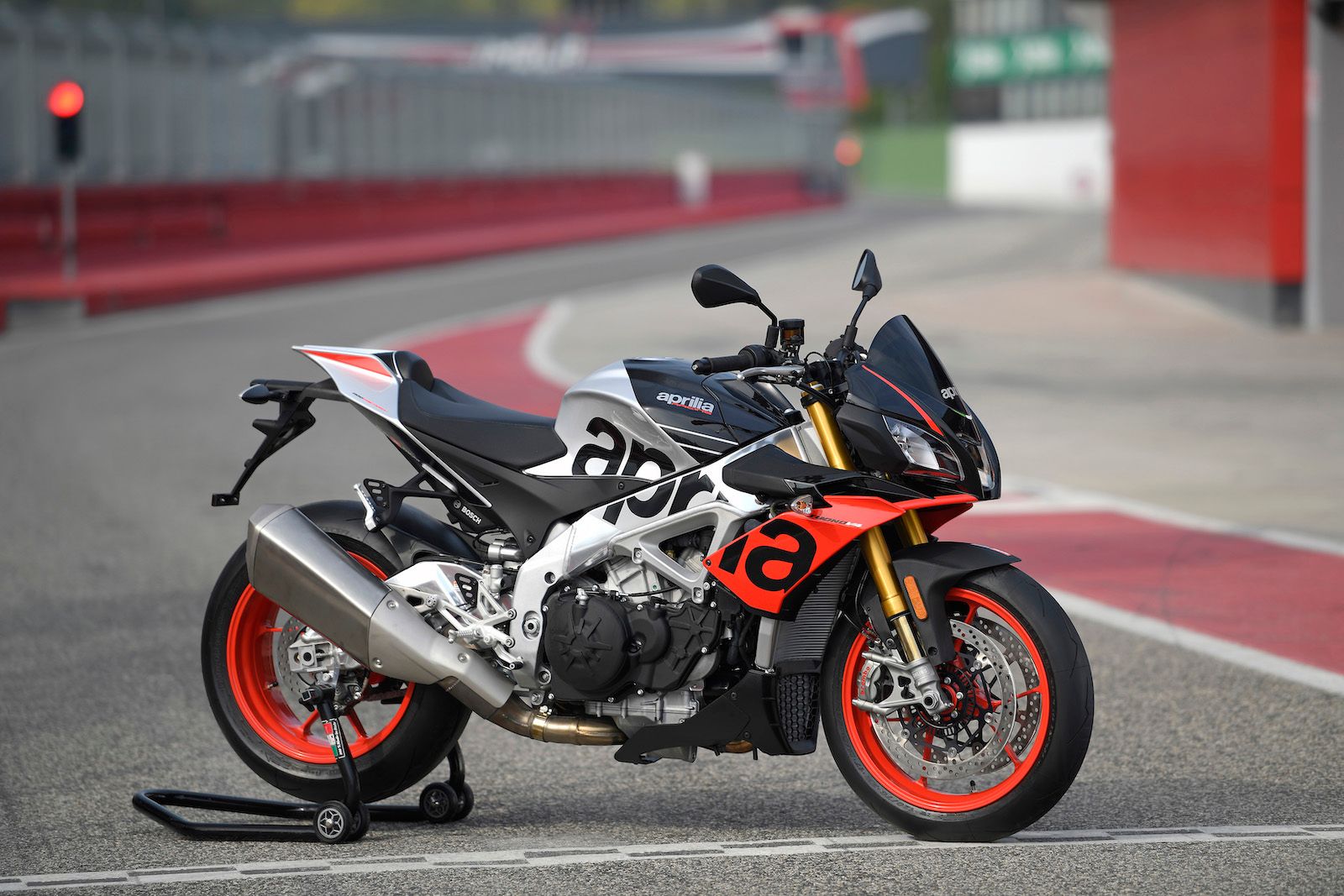 In this company, the Aprilia looks positively tame, with 'only' 175 horsepower and costing 'only' $19,599, but the figures are only one factor in determining a bike's presence on this list. In the real world, 175 horsepower is more than enough: that is down on the RSV4's 217 horsepower, but that only serves to make the Tuono V4 so much more relevant for road riding, while the Factory package adds some MotoGP-inspired goodies – winglets, in other words – and extra electronics, including electronic active suspension. It's taut and agile, snarls like a beast and goes like a rocket, but it can also be docile around town and is surprisingly comfortable. A proper wolf in sheep's clothing.
| | |
| --- | --- |
| Engine | V4, 1,077cc |
| Horsepower | 175 hp |
| Torque | 89 foot pounds |
| Weight | 460 pounds |