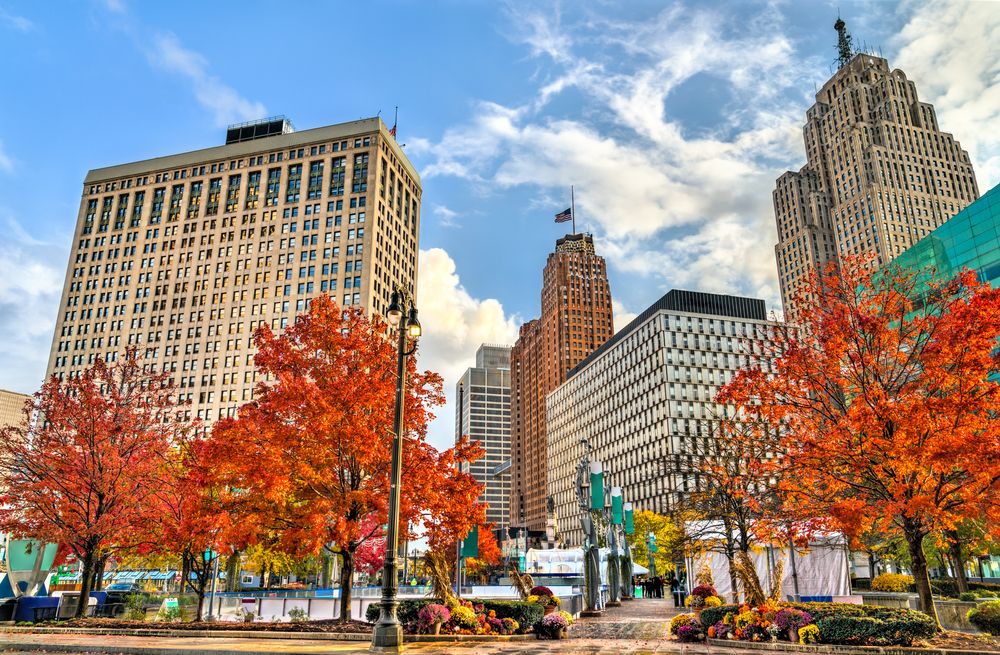 The Ultimate Guide To Detroit & Things To Do
The state of Michigan has many top-rated tourist attractions, and Detroit is one of them.
The state of Michigan has many top-rated tourist attractions, and Detroit is one of them. Nestled on the border between the U.S. and Canada, Detroit is Michigan's largest city. Widely known for its contributions to the automobile industry, this auto capital of the world is actually much more than its Motor City nickname. From award-winning restaurants and world-class museums to beautiful architecture, urban parks, and live music, Detroit offers tourists so many fun and culturally diverse attractions.
Stroll along the Detroit Riverwalk for spectacular views. Attend one of Detroit's many museums, like the Detroit Institute of Art, to see unparalleled beauty. Shop on Woodward Avenue, listen to a band at the Fillmore, or explore the murals near the Eastern Market. Visitors in Detroit will never be short of things to do. Every tourist should consider this classic American city for their next weekend getaway. Here is the ultimate travel guide to Detroit, Michigan.
Best Time To Go To Detroit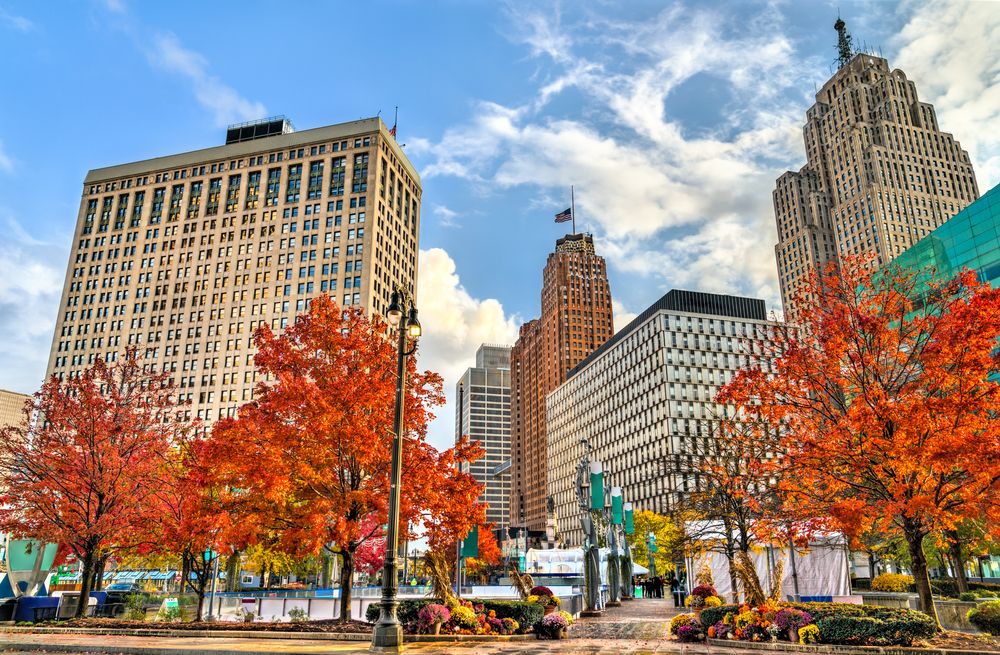 Fall leaves in DOwntown Detroit
Detroit has four very distinct seasons. Temperatures range from 20℉ to 83℉.
Summer. The weather is hot and humid, but this is also the time of year that Detroit hosts festivals and events, like free outdoor concerts. The hottest month of the year in Detroit is July, with temperatures ranging from the mid-60s to the mid-80s.
Winter. Cold temperatures averaging below 42℉ will keep most tourists indoors, but that's no problem. Detroit has so many museums and other indoor attractions that visitors won't run short of things to do.
Perks of visiting in winter are the great airline and hotel deals available in addition to avoiding big crowds at popular attractions. The coldest month is January, with temperatures ranging from 21℉ to 32℉.
Spring. Temperatures slowly rise, flowers bloom, and outdoor spaces really come to life. Late spring is a beautiful time of year to visit Detroit. But bring an umbrella. Temperatures really swing and rain is likely.
Fall. Crisp nights and stunning foliage. The start of fall may feel like it's still summer, while the end of fall sometimes welcomes the first snowfall.
For beer drinkers, plan a trip around the Detroit Fall Beer Festival. And remember to check the football schedules. The Detroit Lions fans can really crown the city during home games.
Related: 12 Things You Didn't Know About The Michigan Triangle
Best Ways To Get Around Detroit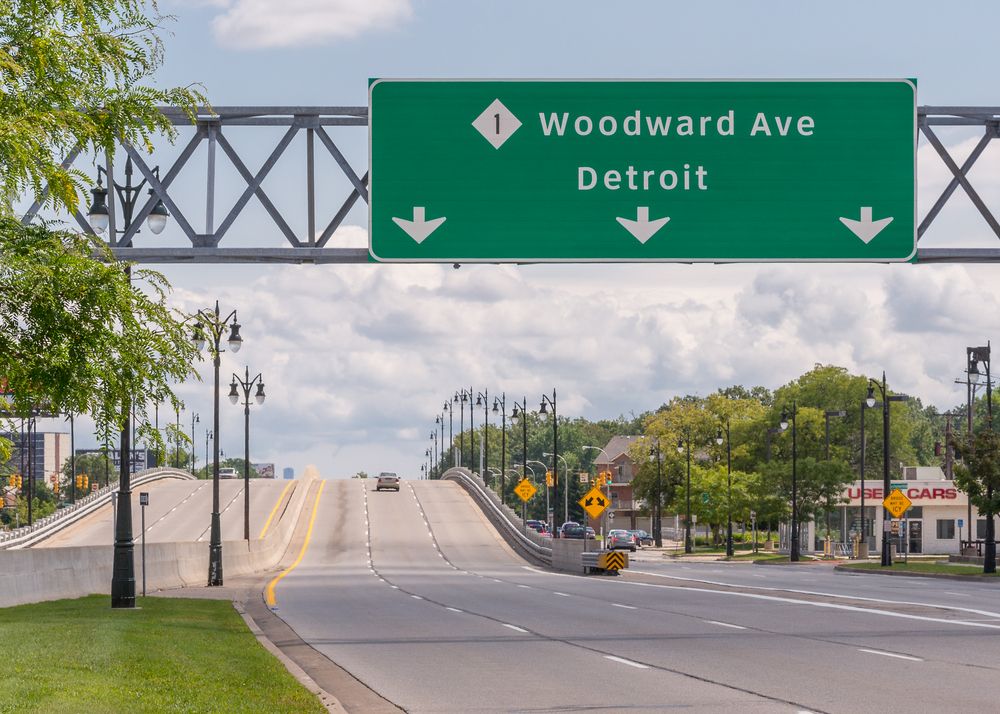 Big green sign that says Woodward Avenue
As expected in the automobile capital of the world, traveling by car is the best way to get around in Detroit. The city is spread out, so driving on four wheels is the quickest and easiest mode of transportation.
Plenty of parking is available on the streets and in lots, and drivers can use ParkWhiz to locate spots! Lyft and Uber are also readily available.
For tourists sticking to downtown, traveling on foot will also work. There are a few paths, like the Detroit Riverwalk, which are worth checking out.
Probably the most entertaining mode of transportation, the Detroit People Mover gives tourists an elevated ride through downtown Detroit. The shuttle-style train has 13 stops and is a fun way to see Detroit as well as travel to Detroit's many main attractions.
Hours: Monday through Thursday, 6:30 AM to Midnight; Friday, 6:30 AM to 2 AM; Saturday, 9 AM to 2 AM; Sunday, Noon to Midnight.
Cost: $.75
Detroit also has a streetcar route. The QLine Streetcar provides access from downtown to Grand Boulevard and hits many top attractions along the way. The streetcar runs every 15 minutes and has complimentary Wi-Fi on board and at stations.
Hours: Monday through Saturday, 8 AM to 12 AM; Sunday 8 AM to 9 PM.
Additionally, tourists can rely on Detroit Department of Transportation buses, which operate in the central part of Detroit, and the buses by Suburban Mobility Authority for Regional Transportation, which travel between the city and the suburbs.
Get the DartPass. It's valid on all buses and QLine streetcars. And it's only $2 for a four-hour pass and $5 for 24-hour access.
For bike riders, rentals are available through MoGo. For a $1 unlock fee, tourists can pay as they go ($0.25 per minute) or get the Explore the City Pass, which allows unlimited trips of up to 60 minutes for three days. Bikes must be returned to a station after each 60-minute period.
Where To Eat In Detroit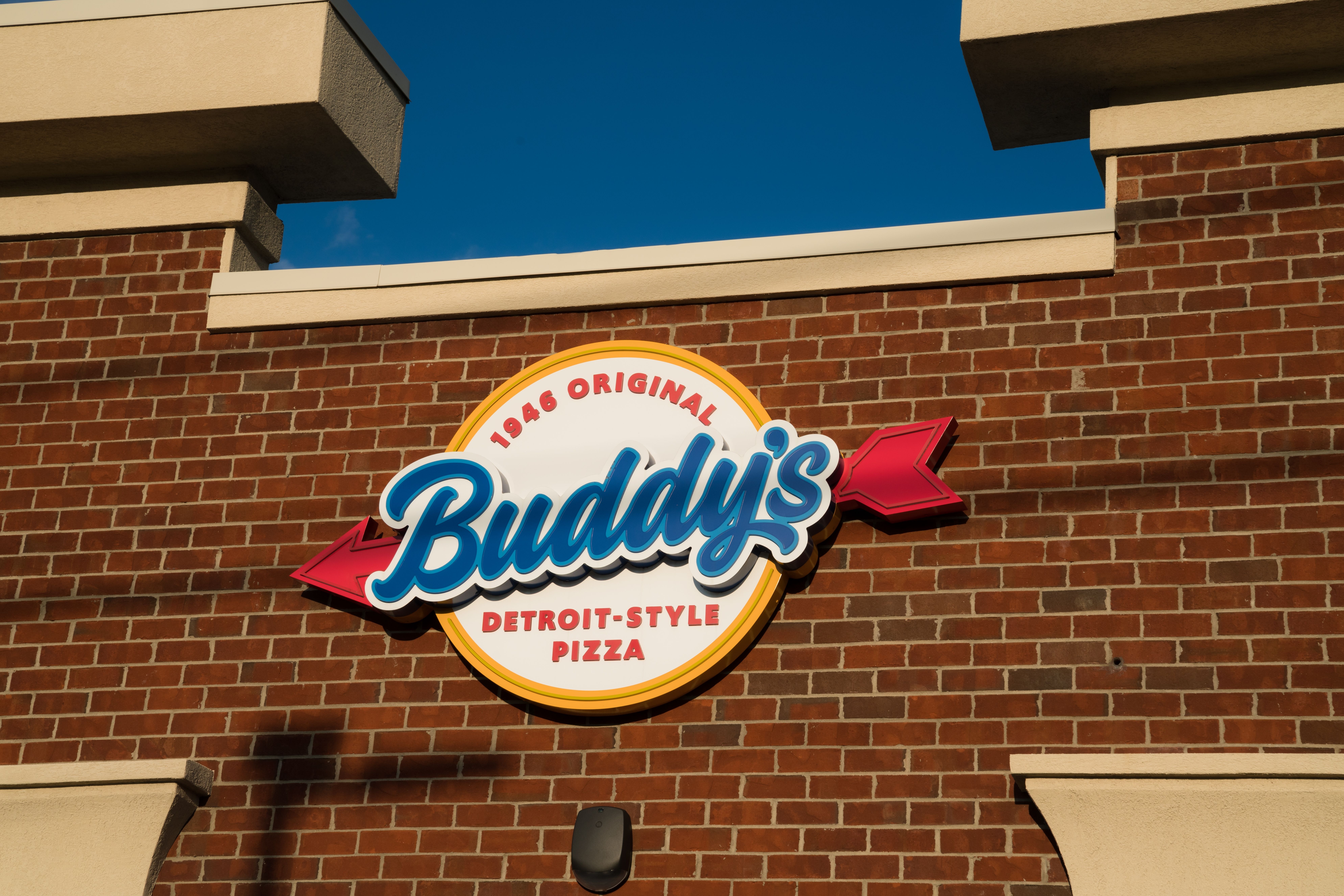 Sign that says Buddy's Detroit Style Pizza
Detroit is known for its deep-dish pizza, but that's not all they offer. With new restaurants opening every month, Detroit is a city for food lovers.
Breakfast
Dime Store
This all-day brunch spot in downtown Detroit also serves lunch and booze. Using high-quality ingredients in a casual environment, the Dime Store combines traditional favorites and creative combos—all made from scratch.
Try the Duck Bop Hash and the Bacon Parm & Truffle Fries!
Address: 719 Griswold Street, #180, Detroit
Hours: Thursday to Tuesday, 8 AM to 3 PM. Closed on Wednesdays.
Lunch
Mudgies Deli
This artisan deli uses local products whenever possible, meats are roasted in-house, and soup is served fresh daily.
Mudgies Deli has been around for 15 years and has a vast selection of sandwiches, salads, soups, and sides. Try the "Leggo" sandwich—the Food Network voted it one of the best sandwiches in America.
Hours: Open Tuesday to Saturday, 11 AM to 3 PM, but the bar and wine shop is open until 7 PM on Thursday/Friday/Saturday.
Daily food trucks are available for lunch and located in Campus Martius, Cadillac Square, and the Spirit of Detroit Plaza. Some delicious options are Mac Shack, Hero or Villain, Nu Deli, and Delectabowl.
Dinner:
Seldon Standard
Chef Andy Holloway creates American small plates-style creative cuisine at Seldon Standard. Expect flavors born in local farms, food cooked in a wood-fired oven, and carefully selected beer/wine/cocktail options.
The menu changes seasonally, but sample items include things like Smoked Lamb Ribs, Cacio e Pepe, and Grilled Striped Bass. Definitely delicious!
Address: 3921 2nd Avenue, Detroit
Hours: Wednesday through Sunday, 5 PM to 10 PM
Buddy's Pizza
Detroit-style pizza! Thick, crispy crust, tomato sauce, and cheese. Buddy's pizza invented Detroit-style pizza in 1946, and it's still going strong.
Address: Multiple locations, but try the downtown spot: 1565 Broadway St., Detroit
Hours: Sunday through Thursday, 11 AM to 9 PM; Friday & Saturday, 11 AM to 11 PM
Where To Stay In Detroit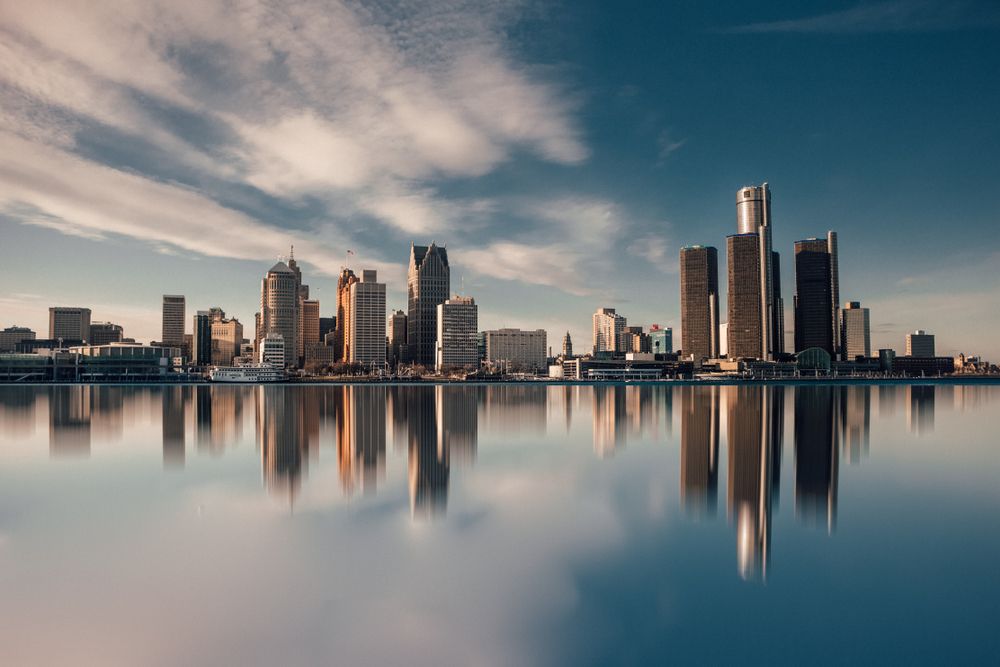 Detroit city skyline from Ontario
Detroit boasts plenty of accommodations to suit any budget. From luxury to mid-range to low-budget, every tourist can find exactly what they're looking for.
Luxury
Aloft Detroit at the David Whitney
The 1915 David Whitney building was restored to create one of the most beautiful lobbies in Detroit. Aloft Detroit at the David Whitney was designed by Daniel Burnham, who also designed the iconic Flatiron building in New York City.
Located in the heart of downtown, this hotel is an excellent spot for tourists.
Address: 1 Park Avenue, Detroit
Amenities: complimentary Wi-Fi; flat-screen TVs; 24-hour fitness center; on-site bar and coffee shop.
Mid-range
The Inn on Ferry Street
The Inn on Ferry Street offers forty accommodations within six historic buildings, each built in the 19th century. While staying here, travelers can immerse themselves in authentic Detroit history, but the rooms are also fit for the modern traveler.
Address: 84 East Ferry Street, Detroit
Amenities: Free Wi-Fi; flat-screen TVs; coffee machine; 24-hour front desk.
Related: These Are The 10 Most Beautiful Towns In Michigan You Should Visit
Budget
Comfort Inn Downtown
The Comfort Inn Downtown is conveniently located near the Renaissance Center in the historic Rivertown District and near the beautiful Belle Isle.
Address: 1999 East Jefferson Avenue, Detroit
Amenities: guest laundry facilities; free Wi-Fi; a fitness center; complimentary weekday newspapers; free hot breakfast.
Top Things To Do In Detroit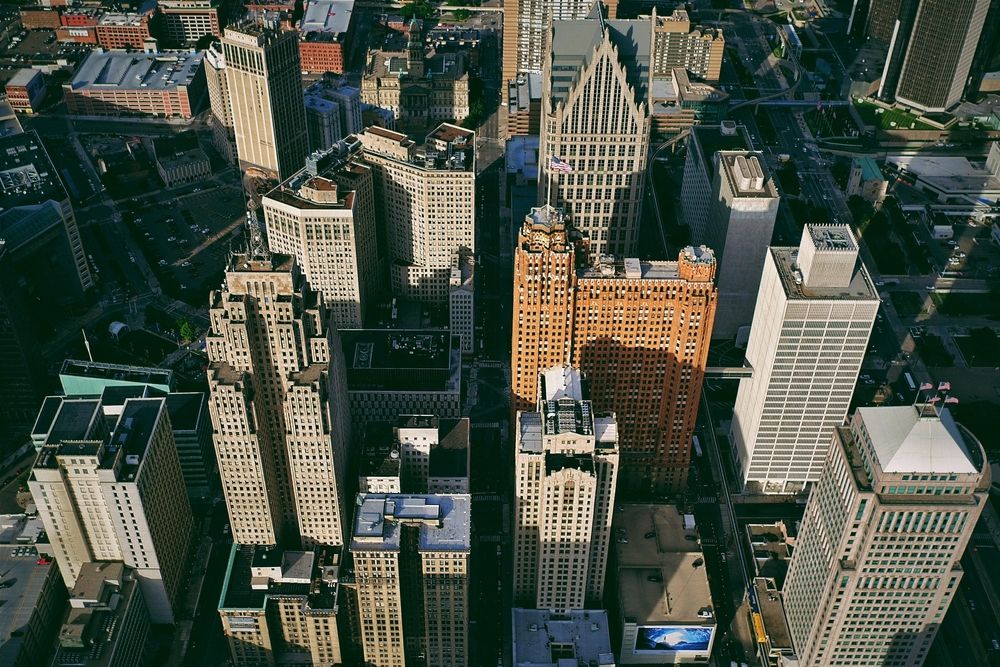 View of downtown Detroit from above
There are so many things to do in Michigan's most popular city. Here are a few points of interest that should jump to the top of every tourist's must-do list.
Belle Isle Park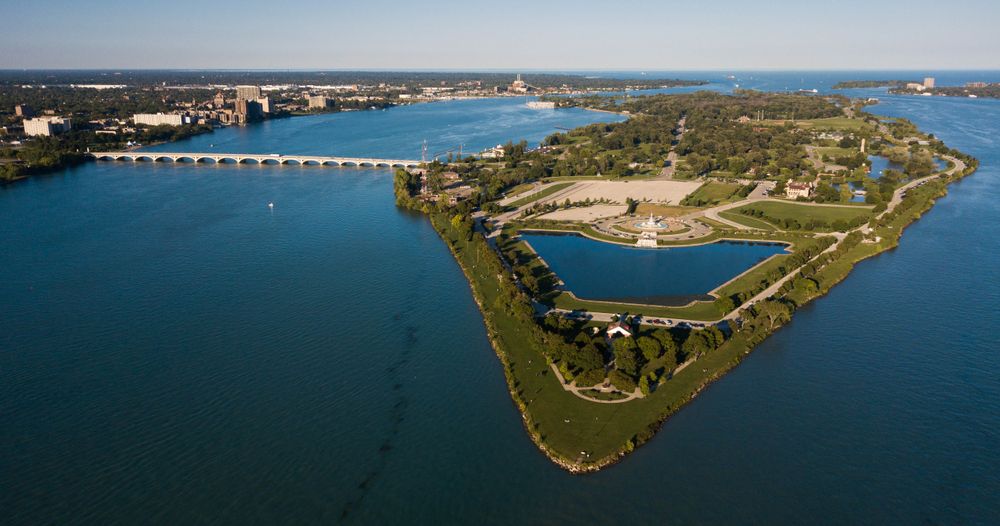 Aerial view of Belle Isle Park in Detroit, Michigan
Located on the Detroit River between Michigan and Canada, Belle Isle is a 982-acre island park. It's home to not only the Belle Isle Aquarium but also to the Anna Scripps Whitcomb Conservatory, the Belle Isle Nature Center, the James Scott Memorial Fountain, and the Dossin Great Lakes Museum.
It's also a great spot to golf, swim (at the designated swim beach), run, bike, fish, paddle, and lots more! There are so many reasons why Belle Isle Park is worth a visit!
Address: 300 River Place Drive, Suite 2800, Detroit
Detroit Institute of Art
The front of the Detroit Institute of Art on a sunny day
The Detroit Institute of Art has one of the most significant art collections in the U.S. It covers 658,000 square feet and includes over 100 galleries and over 65,000 works. Its works are known for being diverse.
While the museum is the home to many American and European, contemporary, modern, and graphic art pieces, it also hosts significant pieces in African, Native American, Asian, Oceanic, and Islamic art.
Address: 5200 Woodward Avenue, Detroit
Hours: Tuesday through Thursday, 9 AM to 4 PM; Friday, 9 AM to 9 PM; Saturday & Sunday, 10 AM to 5 PM.
In addition to the Detroit Institute of Art, Detroit is home to many more amazing museums, all offering something unique and culturally inspiring.
Motown Museum

Address: 2648 W. Grand Blvd., Detroit
Hours: Scheduled to reopen again on February 22, 2023.

Charles H. Wright Museum of African American History

Address: 315 E. Warren Ave., Detroit
Hours: Wednesday, Friday, Saturday & Sunday, 9 AM to 5 PM; Thursday. 9 AM to 7 PM; Monday & Tuesday, closed.

The Henry Ford Museum of American Innovation

Address: 20900 Oakwood Blvd., Dearborn (13 miles from downtown Detroit)
Hours: Daily 9:30 AM to 5 PM

Detroit Historical Museum

Address: 5401 Woodward Ave., Detroit
Hours: Tuesday & Wednesday, 9:30 AM to 4 PM; Thursday, 9:30 AM to 8:30 PM; Friday, 9:30 AM to 4 PM; Saturday, 10 AM to 5 PM; Sunday, 1 PM to 5 PM.
Shopping on Woodward Avenue
Woodward Avenue is the main street downtown and offers popular shops, like Nike and Lululemon, and local businesses, like Detroit is the New Black. It runs from the northern suburbs to the city center in Campus Martius Park to the Detroit River.
Along the way, stop for sports (Detroit Tigers), live music (The Fillmore Detroit), or theater (Bonstelle Theater). Grab a coffee at the Great Lakes Coffee Roasting Co. or a Whiskey at The Whiskey Parlor.
Explore the Detroit Institute of Arts or spend the afternoon shopping before grabbing a bite to eat. To sum it up, Woodward Avenue is the heart of downtown Detroit.
Related: What's At The Bottom Of Lake Michigan? As It Turns Out, A Lot Of History
Eastern Market
The Eastern Market is the largest farmer's market in the U.S. and has been a beloved Detroit institution since 1841. The Saturday market starts early at 6 AM and runs until 4 PM.
Enjoy the colorful sights and delicious smells! Expect fresh produce, delicious food, beautiful murals, and flowers.
Get there early. The Eastern Market gets crowded, and parking can be challenging.
Detroit Riverwalk
The Detroit Riverwalk spans a little over three miles from Belle Isle Bridge to Rosa Parks Blvd. Tourists can walk, run, bike, or simply relax on the waterfront. On hot days, there's a splash park for kids. There's also a carousel, cute plazas, the Riverwalk Café, and beautiful views of both Detroit and Canada.
Live Music
Detroit is one of the U.S.'s top destinations for music lovers. This is Motown, after all! Don't leave without a stop at one of Detroit's legendary historical music venues, like the Fox Theater, Masonic Temple, or the Fillmore.
So many talented artists started out in Detroit. Think Stevie Wonder, the Temptations, the Supremes, Diana Ross, Aretha Franklin, Eminem, Jack White, Bog Segar, and so many more!
Guide To Popular Neighborhoods In Detroit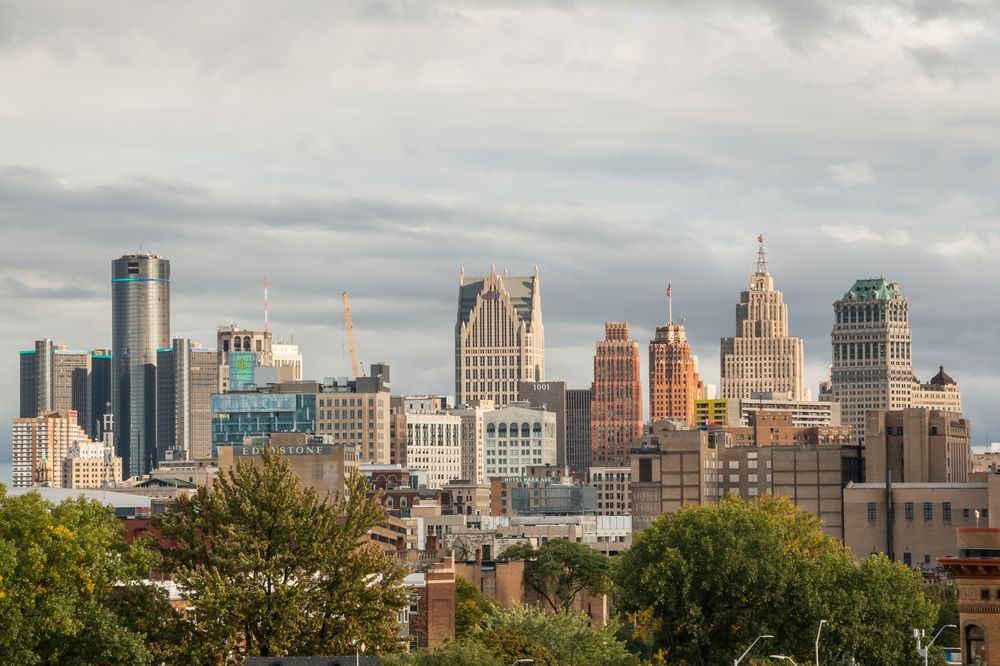 View of trees and Downtown Detroit
Downtown
Downtown is the heart of the city and best for first-time visitors. It's been through hard times, but it's on the rise with trendy additions like art galleries, breweries, and community gardens. It has excellent eateries, great nightlife, and the Detroit Riverwalk.
Midtown
Only a couple miles from downtown, Midtown is a cultural hub and the premier spot for museums. Home to the Detroit Institute of Arts, Museum of Contemporary Art, Charles H. Wright Museum of African American History, Detroit Historical Museum, and the Michigan Science Museum. It's also great for cafés, shops, and restaurants.
Eastern Market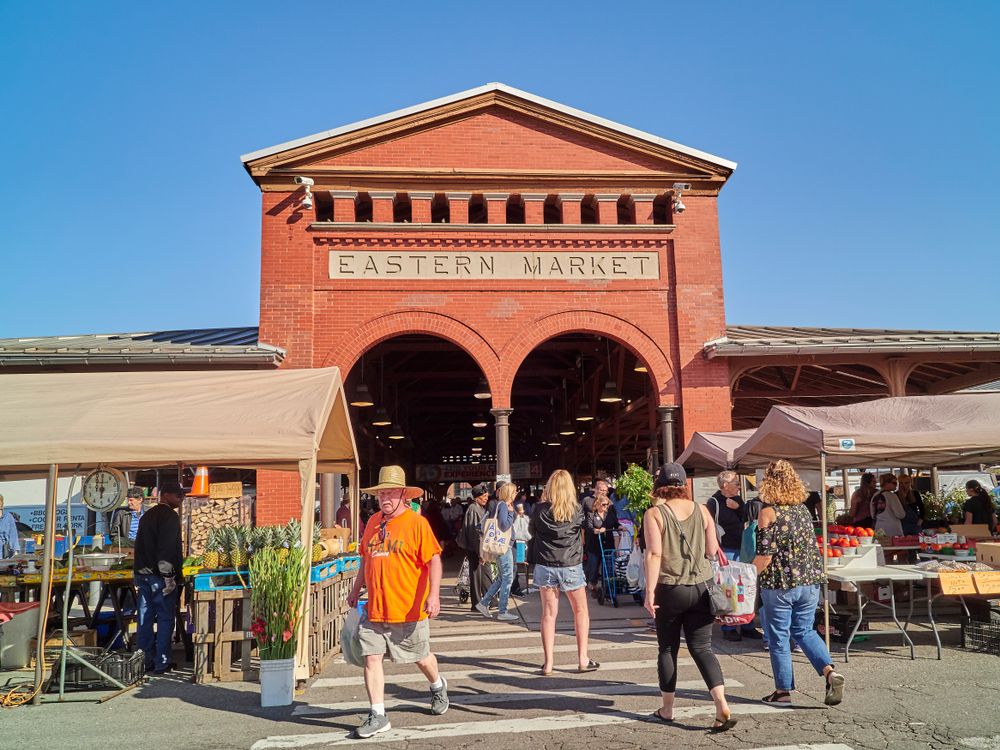 View of the outside front entrance to the Eastern Market in Detroit
This is the best spot for unique stores and a diverse range of culinary treats. The farmers' market stalls every Saturday are definitely worth a visit. It's dubbed the oldest and largest farmers' market in the U.S.
Related: Abandoned Detroit: The Largest Automotive Plant In The World
Greektown
The eastern part of downtown, between Monroe Street and the Greektown People Mover Station, offers a unique vibe. Lots of Greek food and great nightlife.
Corktown
West of downtown sits Corkwood, a former industrial neighborhood turned hipster haven. Come here for local craft beer and cool eateries.
Tips To Know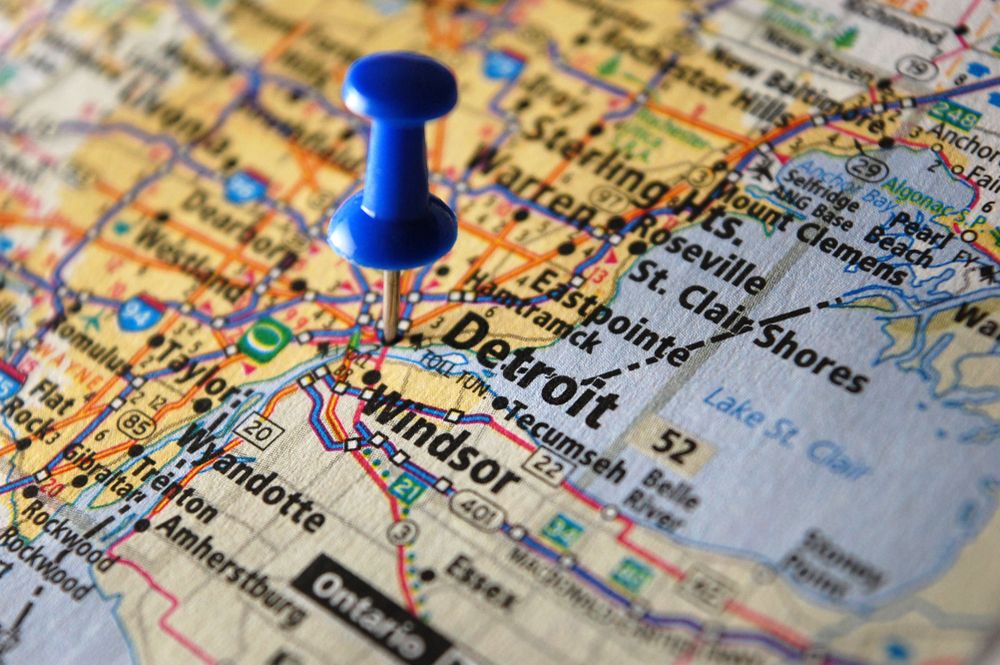 Map with blue thumbtack on Detroit
There are so many fun things to check out in Michigan, and more specifically—in Detroit. But before traveling to Motor City, here are a few tips for tourists!
Arriving. The closest airport is the Detroit Metropolitan Airport, but Detroit is also easily accessible via Amtrak.
Crime. Crime rates in Detroit have been way down since the 90s, and most violence is concentrated outside tourist areas. Downtown, Midtown, Corktown, and Eastern Market are generally safe. As in any big city, visitors are advised to be aware of their surroundings, especially at night.
Book Tickets in Advance. It's always a clever idea to book ahead. Whether planning to attend the Detroit Institute of Arts, a Tigers game, or the theater, book tickets at least one day ahead of time.
How To Spend The Perfect Day In Detroit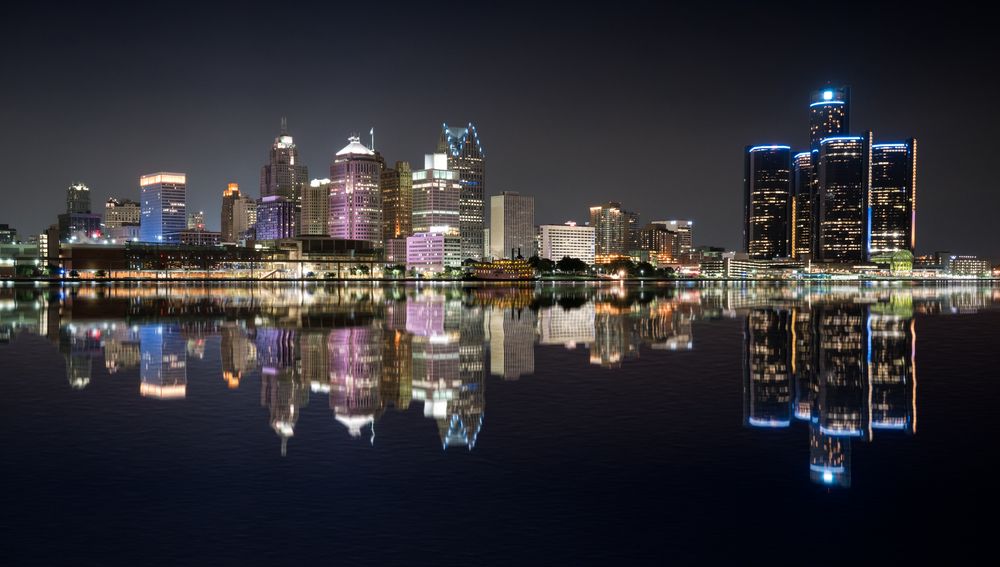 Night skyline of Detroit from across the Detroit River
Start the day with a delicious breakfast at one of Detroit's many fine eateries, like the Dime Store. Spend the late morning strolling along the Detroit River. Breathe in the fresh air and enjoy the beautiful scenery during this three-mile route.
Spend the afternoon exploring art and culture at a museum. With so many in Detroit, it might be hard to narrow it down to one. But the good news is that there really is no wrong choice!
Related: Abandoned Detroit: What The Great Rust Belt City Is Like Today
After working up an appetite, stop off for a sandwich at Mudgies Deli before doing a little shopping. Woodward Avenue is the perfect place.
When the sun starts to set, get ready for some live music, some Detroit-style pizza (or fine dining, if preferred), and enjoy the very best of Detroit's nightlife!
FAQ
Q: Is Detroit worth visiting?
Yes! Detroit is an iconic American City. And there are so many fun things to do in Detroit! From museums and restaurants to live music and walks along the river, Detroit promises tourists a trip to remember.
Q: What is Detroit Popular for?
Known as the automobile capital of the world and nicknamed "Motor City," Detroit is also popular for its distinct Motown music from the '60s.
In fact, Detroit is one of the U.S.'s top destinations for music lovers. In addition to cars and music, Detroit is popular for award-winning restaurants and culturally diverse museums.
Q: What to do in Detroit for the first time?
There are so many things to do in Detroit. Some examples are Belle Isle, Woodward Street, the Detroit Riverwalk, live music venues, museums, restaurants, bars, and a great night out.
First-time tourists should stay downtown. It's walkable, and there are so many top attractions nearby.