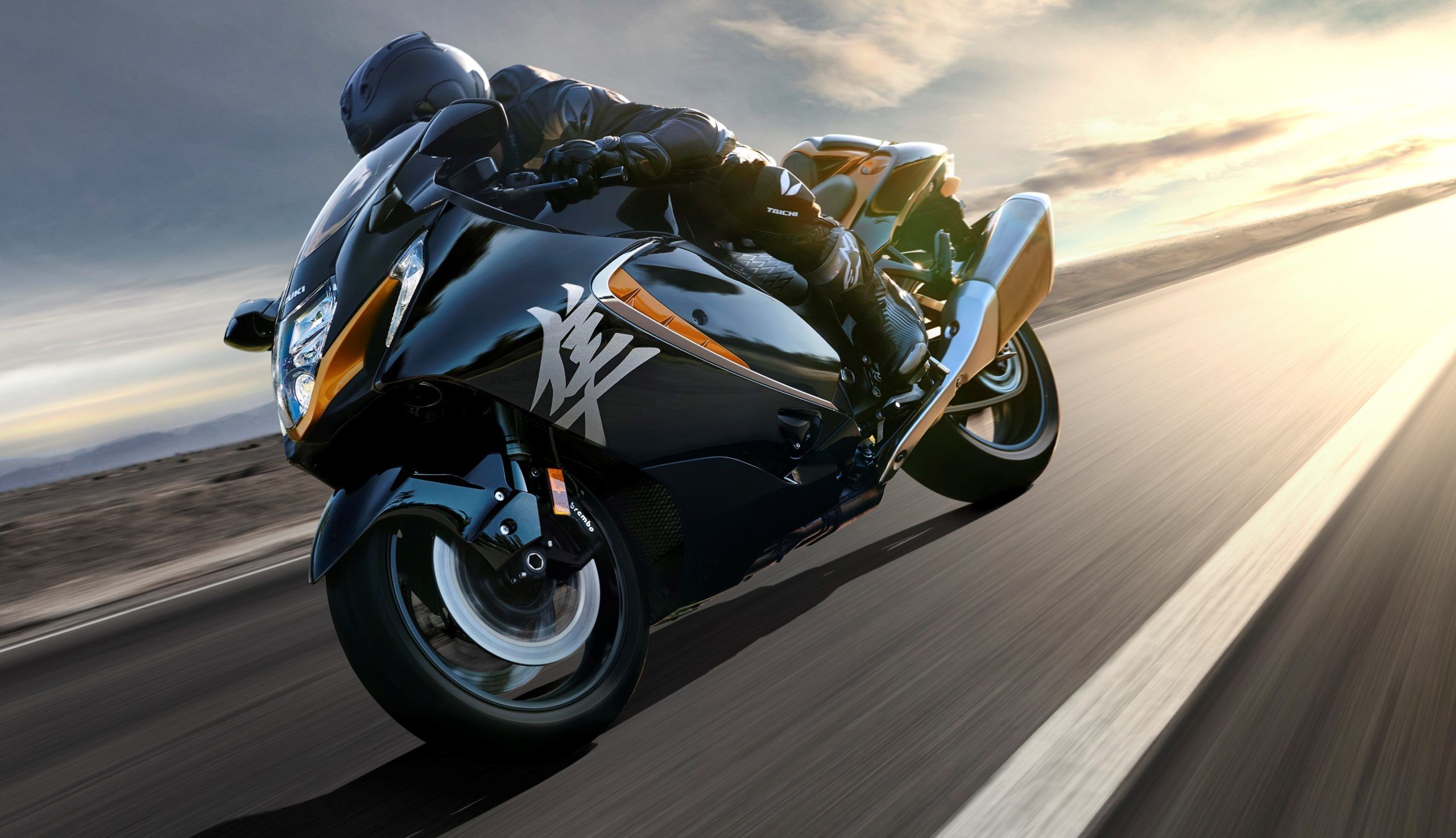 The 10 Heaviest Motorcycles Currently On Sale
When you sit on a motorcycle, you think about how the seat feels underneath you,
When you sit on a motorcycle, you think about how the seat feels underneath you, how your legs reach toward the ground, or the positioning of your hands. One quality that often goes unconsidered is the overall weight of the bike. However, this is a potentially weighty feature, pun intended, that can make or break your enjoyment while riding. A well-balanced heavy bike is easier to maneuver and doesn't remind you just how heavy it is at every corner. These 10 bikes are the heaviest currently on sale new, yet you wouldn't know it from how enjoyable they are to ride.
10/10

Suzuki Hayabusa – 582 pounds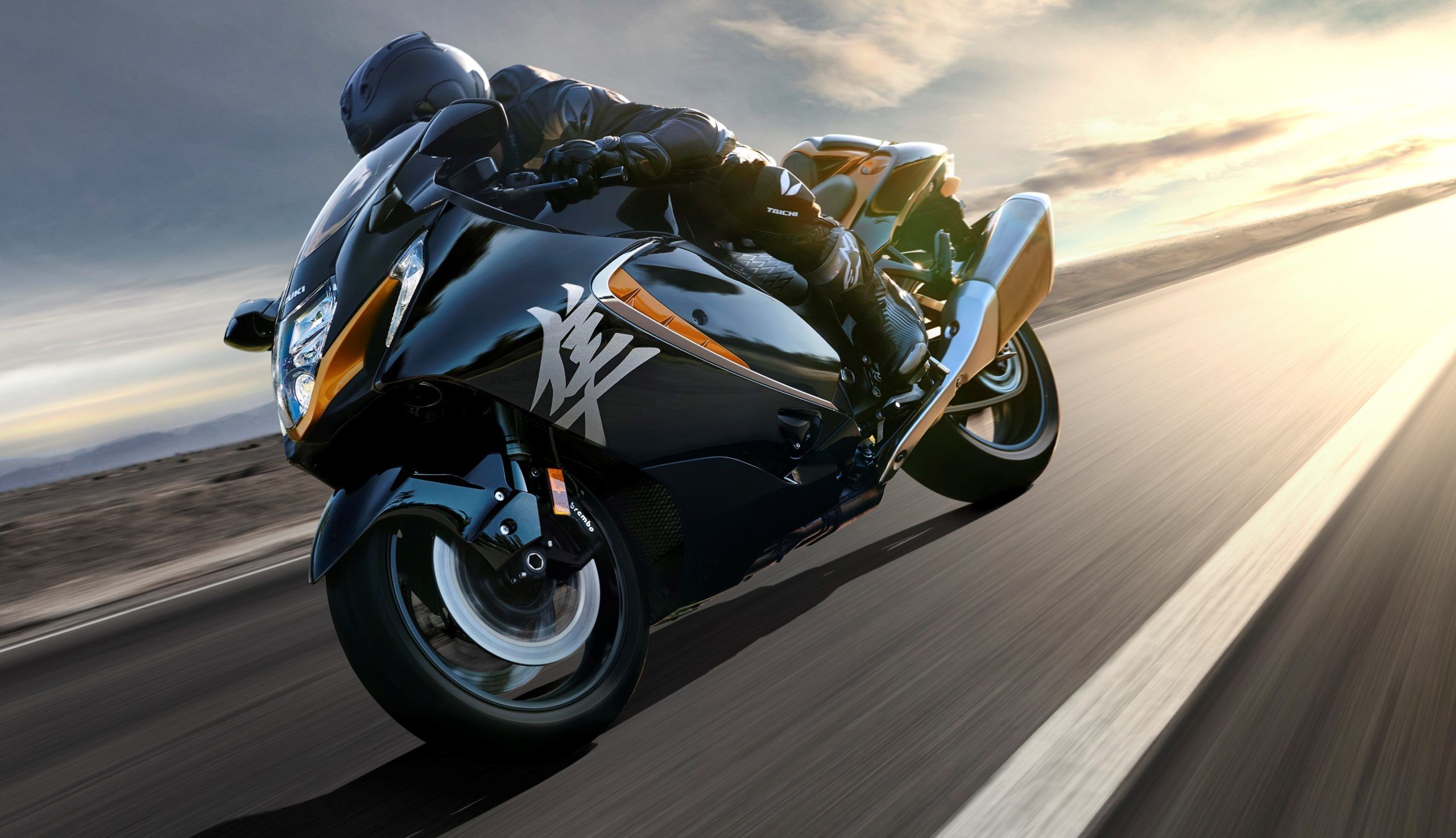 Action shot of a black Suzuki Hayabusa
The Suzuki Hayabusa is a high-performance hyperbike. It doesn't have all the fairings and luggage that the other bikes on this have. The majority of the weight comes from the frame and large engine. However, because of this, the majority of the weight is centralized and low to the ground. Once sitting on the bike, it feels comfortable and smooth to lean with the bike. As long as you can place your feet on the ground, you can confidently control the weight of this bike. Because the majority of the weight is in the engine, you don't have a lot of leeway when it comes to reducing weight.
9/10

Yamaha Super Tenere ES- 584 pounds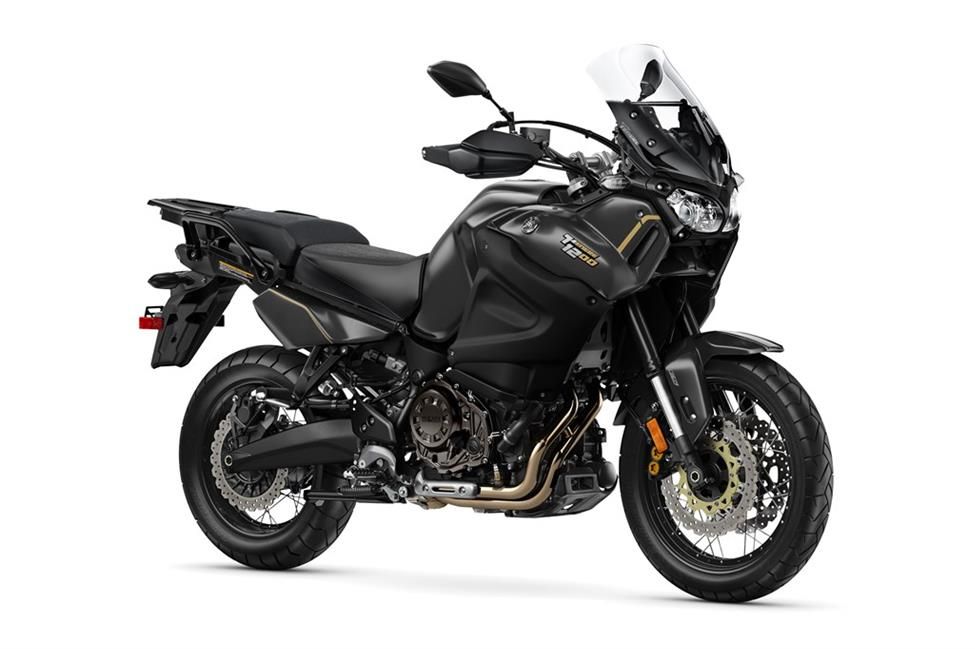 Stock image of a black Yamaha Super Tenere ES facing right on a white background. 
Get out there are start your next adventure on the Yamaha Super Tenere ES. This rugged and durable motorcycle is perfect for long-distance adventure tour riding. The powerful 1199cc liquid-cooled inline two-cylinder engine delivers plenty of power to help you easily ride over any terrain. What is nice about this bike is the positioning of the engine. The bike has a typical high stance for plenty of ground clearance. However, the engine is placed low to keep the center of gravity down. This helps make the bike easier to control when riding over unstable or uneven terrain. If you're not afraid of adding weight, add luggage to bring supplies or belongings with you.
Related: 10 Best Modern Classic Motorcycles Over 1000cc
8/10

Triumph Rocket 3 GT Chrome Edition – 648.2 pounds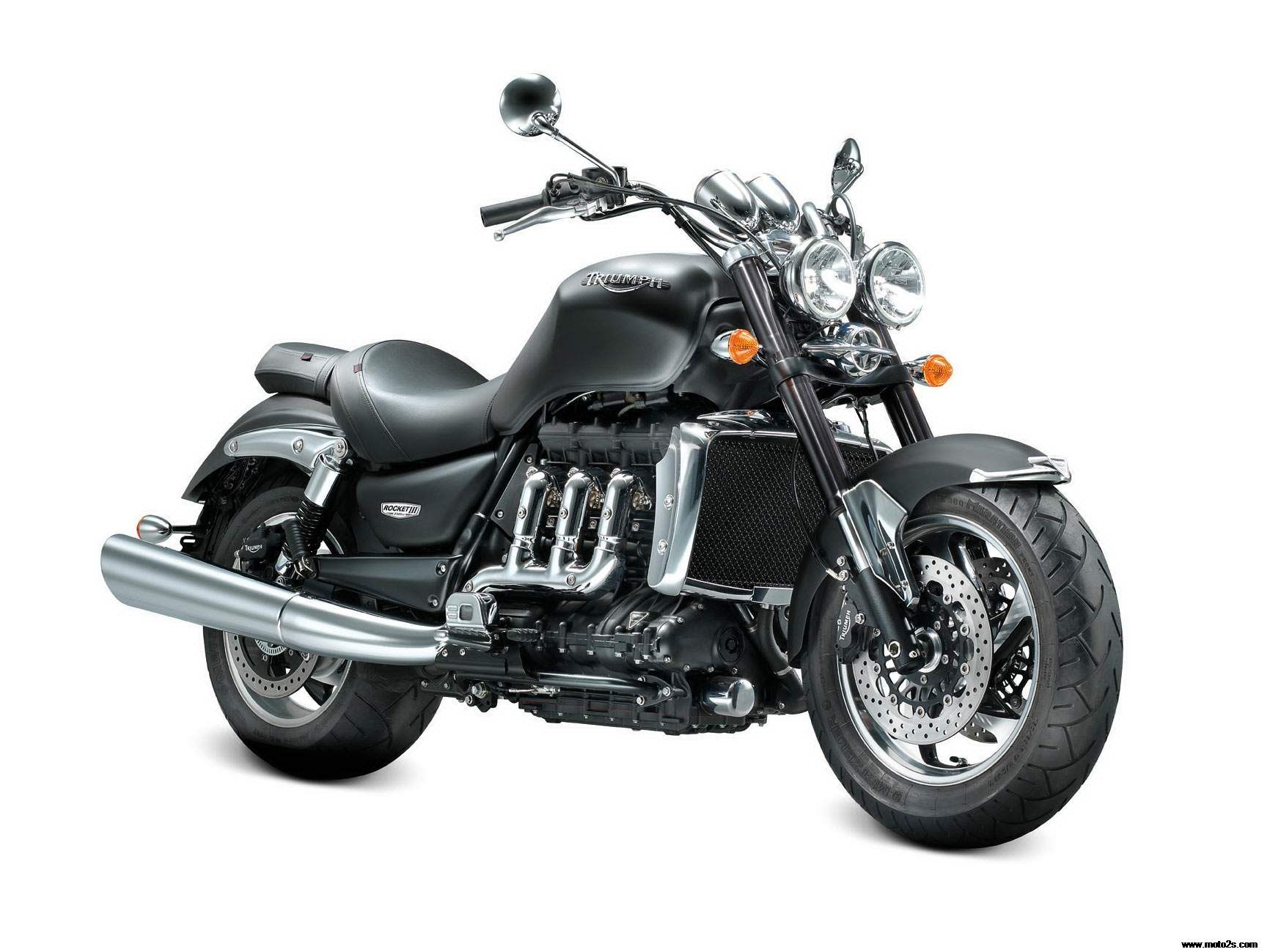 2004 Triumph Rocket lll in black
The Triumph Rocket 3 GT Chrome Edition is a unique addition to this list. It isn't a grand touring or sport touring motorcycle. Instead, it is a cruiser that's designed for all-out hair-raising performance. It comes stocked with the world's largest production motorcycle engine, a 2500cc triple engine with 165 horsepower. The truly massive size and the bulk of the engine are what dramatically increase the overall weight of this bike. It is surprisingly agile and responsive despite tipping the scales at over 600 pounds. The majority of the weight sits front and center on the bike, making it easier to lean over while riding and become one with the bike.
7/10

Indian Challenger Dark Horse – 805 pounds
Shot of a red Indian Challenger Dark Horse on the road
The Indian brand was once a leader in the American motorcycle market. It went defunct, disappeared, and then came back with a vengeance. The Indian Challenger Dark Horse is a product of that rebirth. This touring motorcycle has a lot of fairings and large saddlebags. This adds to the luxury of the bike but also adds to the weight. Despite this bike's large size and weight, it is not hard work to ride. Indian equipped it with Smart Lean Technology that helps you stay grounded and in control. Carve the corners with confidence thanks to the chassis-mounted fairing.
Related: Top 10 Sport Touring Bikes for Experienced Riders
6/10

Kawasaki Concours 14 ABS – 690.2 pounds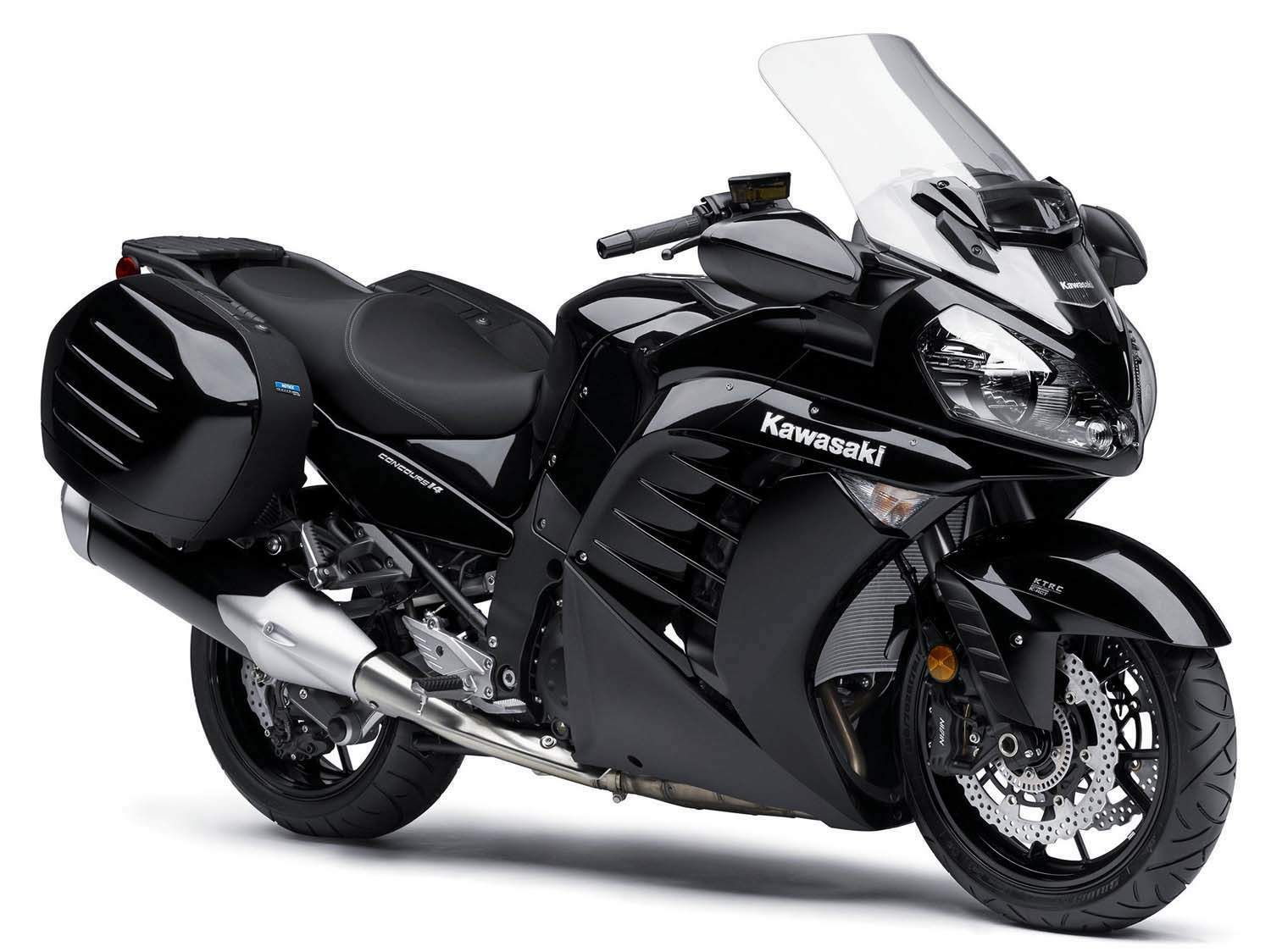 Studio shot of a Kawasaki Concours 14 finished in black
The Kawasaki Concours 14 ABS is the sport-touring version of the Kawasaki ZX-14. Both bikes have essentially the same engine but with different tuning. The sizable 1352cc engine in the Concours has enhanced low and mid-range tuning. It also has a rigid monocoque frame. The Concours also happens to boast a heavier weight because it comes with a different ride position and luggage. There are two hard-sided saddlebags and a top bag that you can load solid with your belongings. When you consider that the engine itself also weighs a ton, the result is a motorcycle that packs a lot of weight.
5/10

Honda Gold Wing – 804 pounds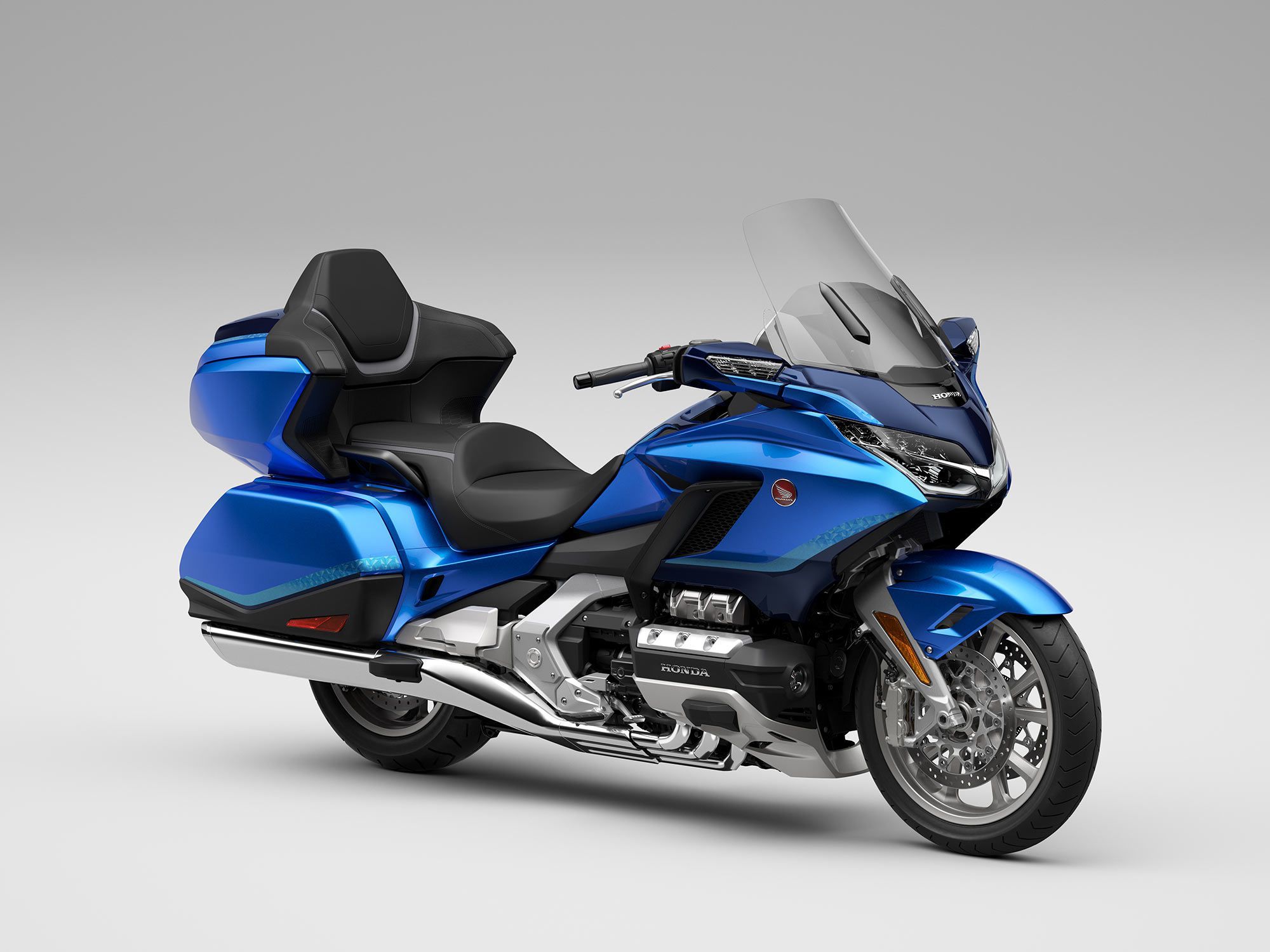 2022 Honda Gold Wing in Blue
The Honda Gold Wing is the king of touring motorcycles. It comes with a ton of body fairings and hefty backrests. The result is a bike that feels like a Cadillac even when you've sat on it for hours at a time while cruising America's highways. All of the body structure also drastically increases the bike's weight. If you opt for the full dresser with the fold-down backrest for the rider, full backrest for the passenger, and luggage, you have a bike that's easily 800 pounds. Combine rider and belongings weight, and you can easily pass the 1,000-pound mark.
Related: Top 10 Harley-Davidson Commuter Bikes
4/10

BMW K 1600 Grand America – 809.1 pounds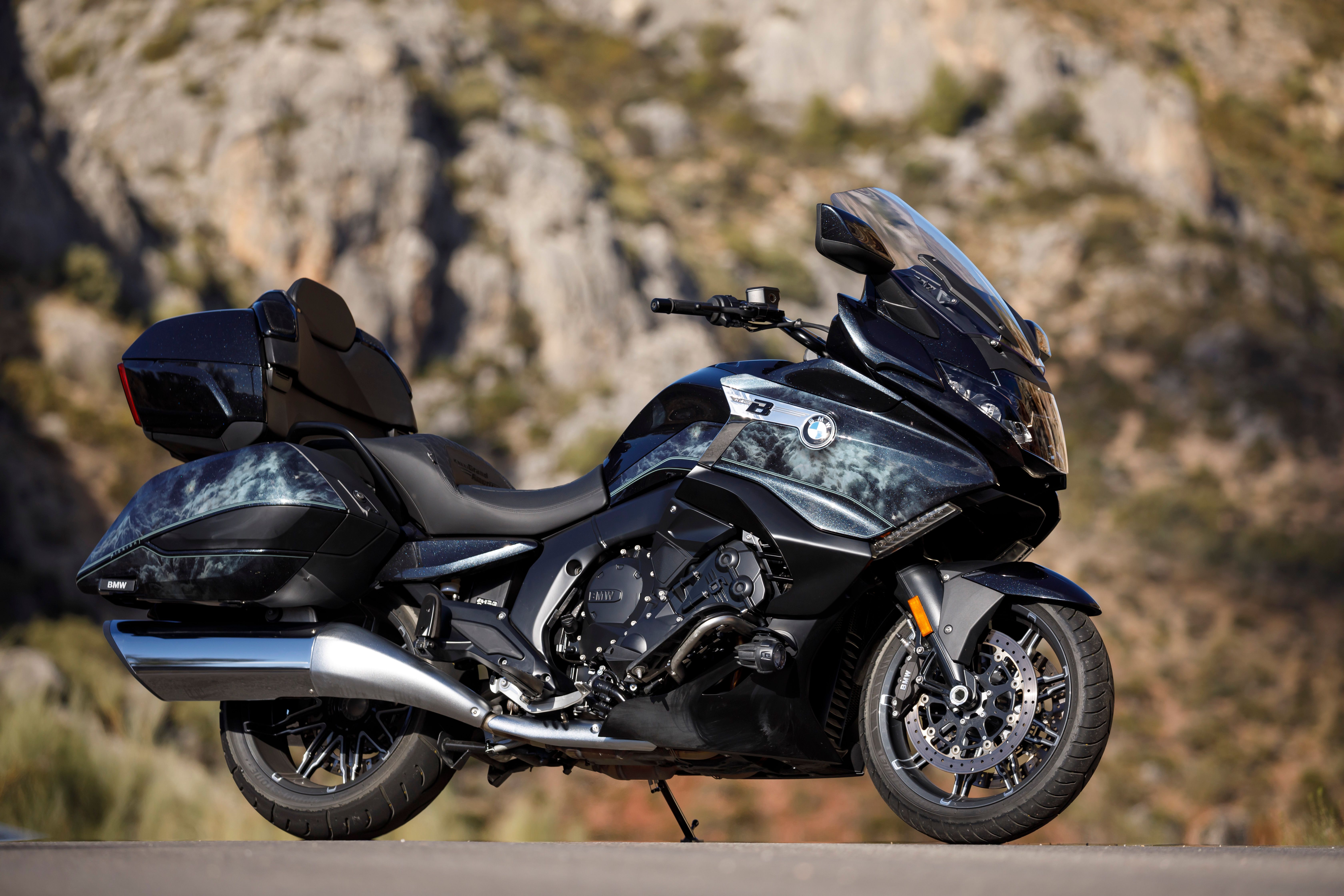 Image of a black BMW K 1600 Grand America sport touring motorcycle parked facing right. 
Bring your sport touring dreams to life on the BMW K 1600 Grand America. It comes outfitted with extra large footboards, a top case cushioned backrest, and an extra large windscreen. Powering this smooth-sailing beauty is a six-cylinder engine. This bike is a BMW car transformed into a motorcycle. With that, you can expect the bike to weigh almost as much as a car. Thankfully, BMW has talented engineers who can make the bike feel like it is half its weight. The result is a surprisingly nimble and responsive bike that is a joy to ride, even when fully loaded.
3/10

Indian Roadmaster Limited- 877 pounds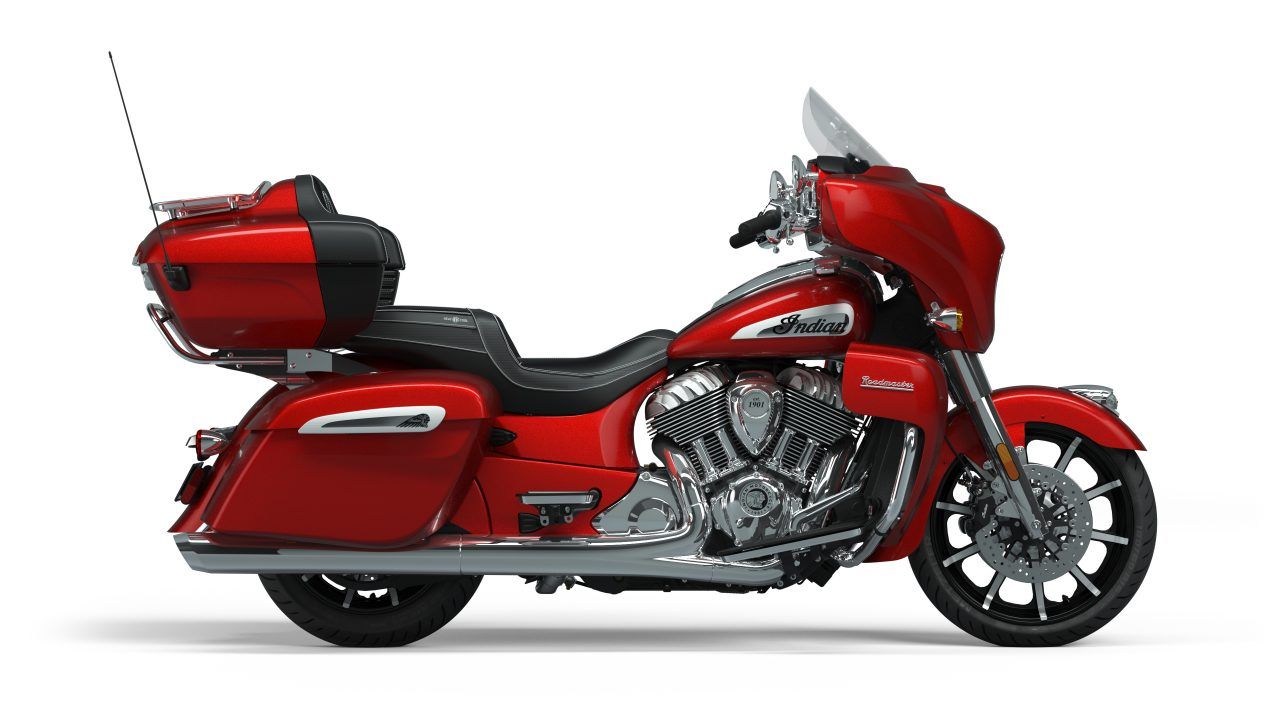 Stock image of a red Indian Roadmaster Limited 2022 facing right on a white background. 
The Roadmaster Limited is Indian's response to Harley's full-dresser touring motorcycles. It features classic American craftsmanship with plenty of features, technology, and luxury touches. The upside is that you ride in style and comfort. The downside is that all of those little touches and features add to the bike's overall weight. Powering the bike is a 116 V-twin engine that powers out 126 pounds of torque at low RPMs. This is a must-have if you ever hope to get this bike rolling after stopping at a red light. Then there is a massive 36 gallons of cargo space, giving you plenty of storage but also creating the potential to significantly add to the weight.
Related: 10 Best Used Motorcycles For Beginners
2/10

BMW R 18 Transcontinental – 942 pounds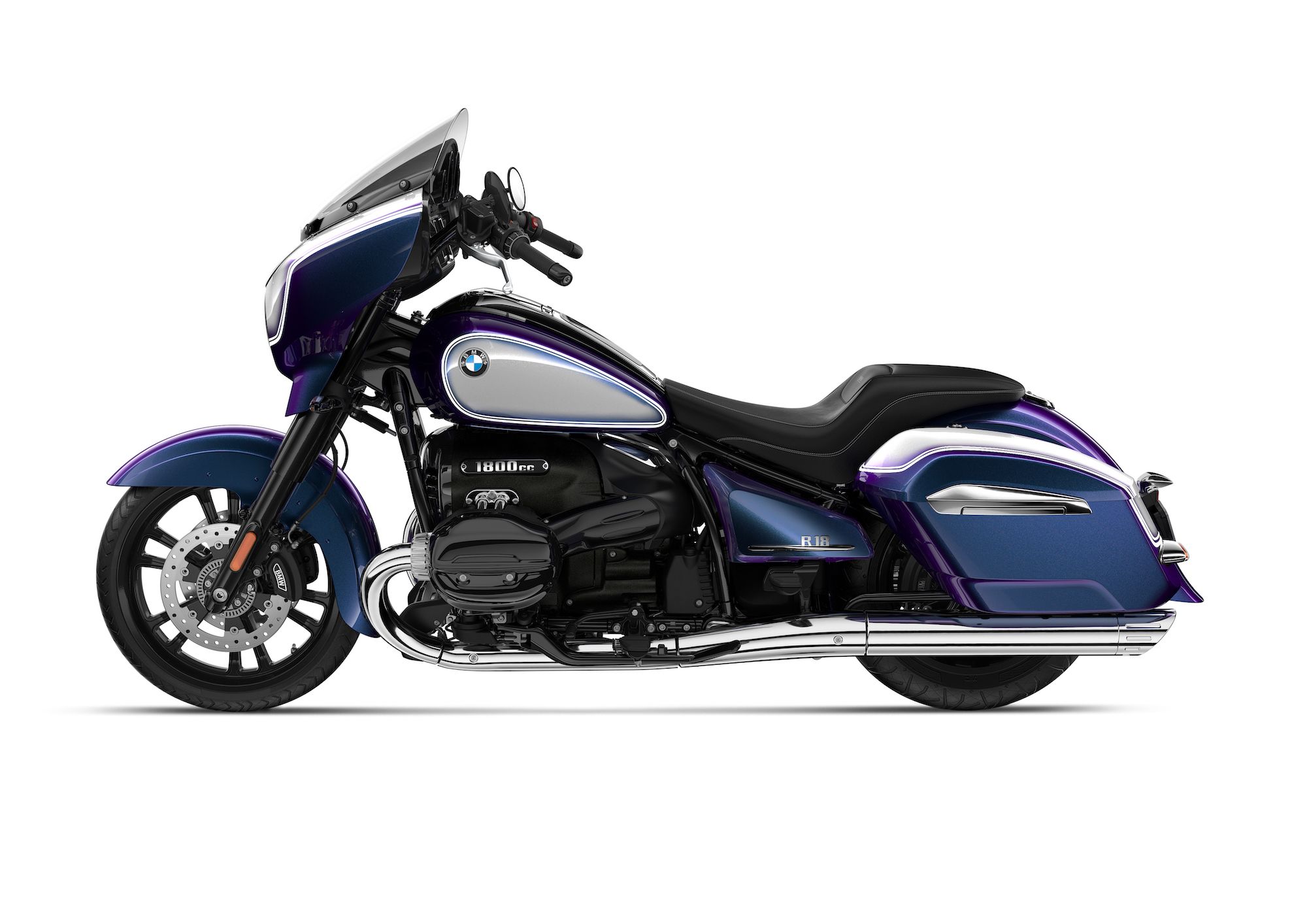 Stock image of a blue BMW R 18 Transcontinental 2022 touring motorcycle facing left on a white background. 
Take the BMW R 18 Transcontinental across the United States and even internationally. Despite its incredibly heavy weight, it doesn't feel like a heavy bike when riding it. The Transcontinental is a full-dresser grand touring motorcycle that comes with a large front fairing, hard saddlebags, a full backrest, and luggage. BMW succeeds where Harley tends to drop the ball. The balancing of this motorcycle makes it a pleasure to ride. Despite hours in the saddle, you won't feel tired or as if you lugged around almost 1,000 pounds of metal. Even when fully loaded with two riders, this bike handles well and takes curves beautifully.
1/10

Harley-Davidson CVO Limited – 963 pounds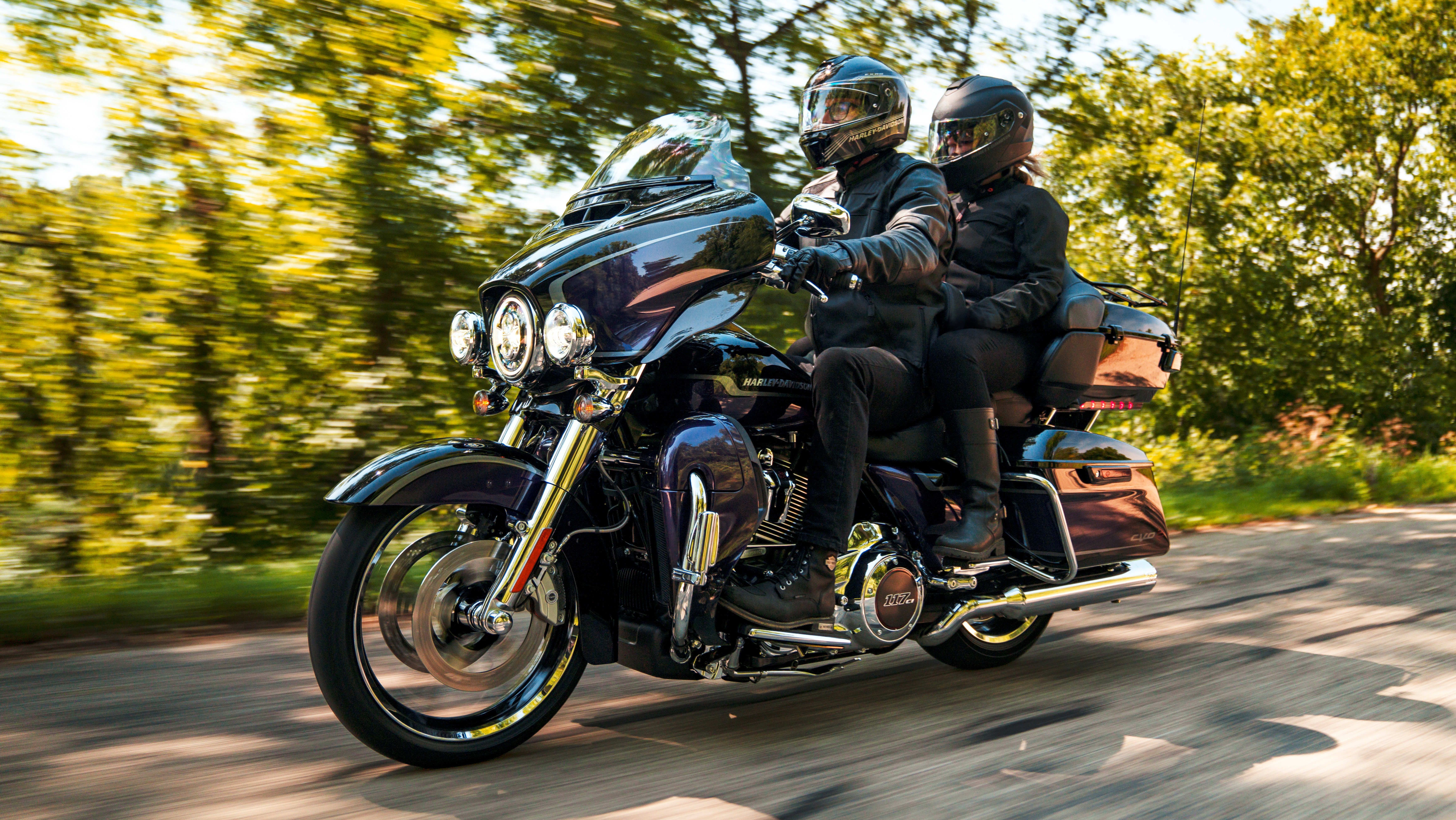 2019 Harley-Davidson CVO Limited 2 riders Promo Image
Harleys have a reputation for being incredibly heavy and not very nimble. The Harley-Davidson CVO Limited has the honor of being the heaviest of the lineup and this list. It also happens to be one of the most expensive. This CVO bike is luxurious, carefully handmade, and features a unique paint scheme. However, the large front fairing, oversized front wheel, hard saddlebags, rear luggage, and chrome increase the bike's overall weight. Depending on what features you choose, the weight continues to increase. Because the CVO line offers the highest degree of customization, this means you could end up with a bike that enters over 1,000-pound territory.