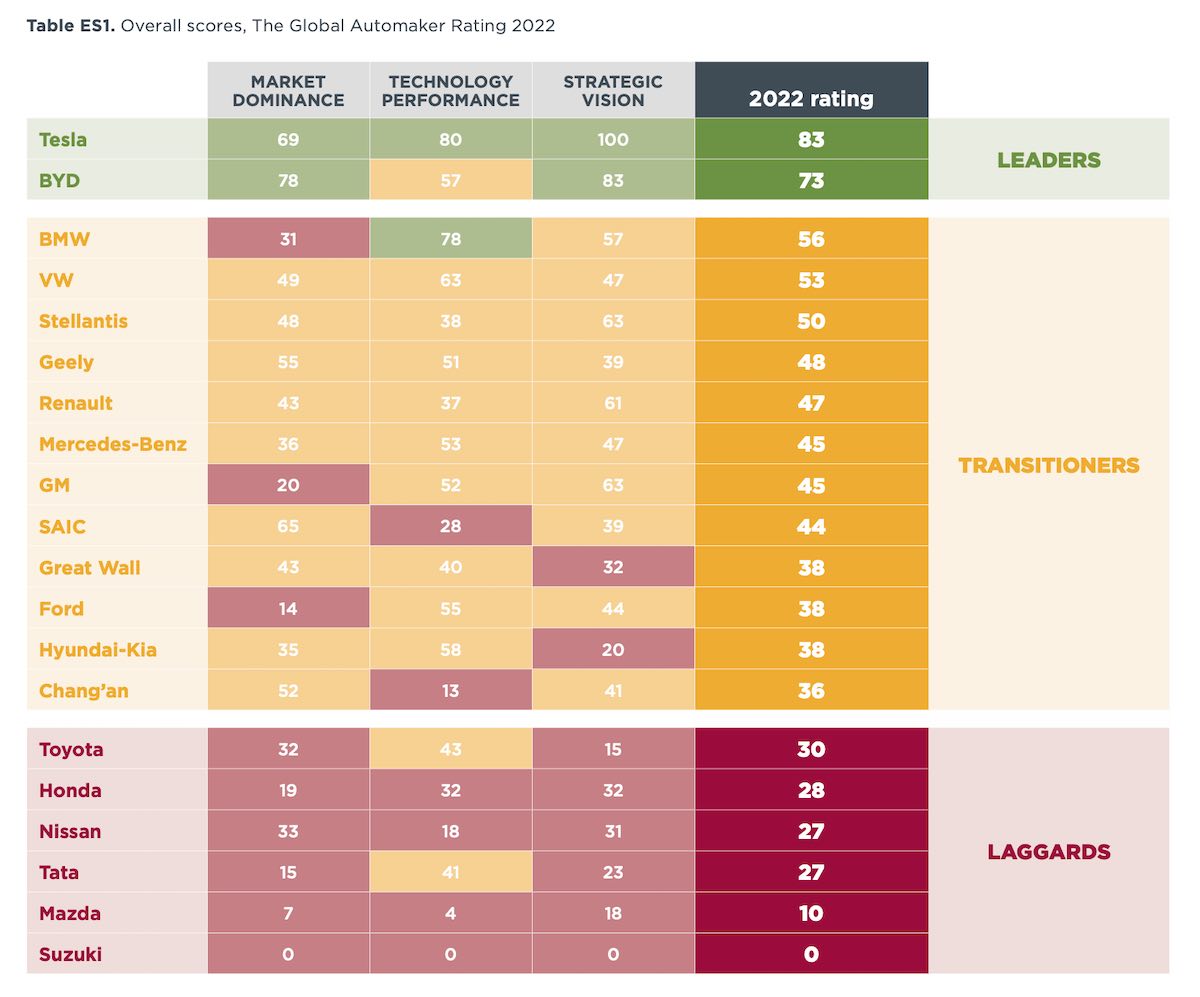 Tesla and BYD lead world on EVs by country mile, as Japan car makers drag the chain
A major new study from the one of the world's top transport think tanks shows
A major new study from the one of the world's top transport think tanks shows that Tesla and rapidly emerging Chinese rival BYD are leading the world on the transition to EVs by some distance, and confirms that while some big legacy car makers are trying to catch up, the Japanese contingent is trailing way behind.
The new report, The Global Automaker Rating 2022,  has been released by the US-based International Council on Clean Transportation (ICCT) and ranks the world's top 20 light-duty vehicle manufacturers on their transition to electric vehicles, including market share, technology and strategic vision.
The overall rankings are dominated by Tesla and BYD, particularly on market share and strategic vision. Tesla remains top on technology,  but some legacy car makers such as BMW, VW, Ford and Hyundai are now gaining ground. Tesla also leads on other criteria such as range and charging speeds and efficiency.
"While Tesla and BYD lead the pack, Volkswagen is making strong plans and rapid progress toward decarbonizing its light-duty fleet, and Toyota lags by nearly every measure," the ICCT says in its report.
It says six of the 20 carmakers make up the laggards group, and five of these car makers are based in Japan.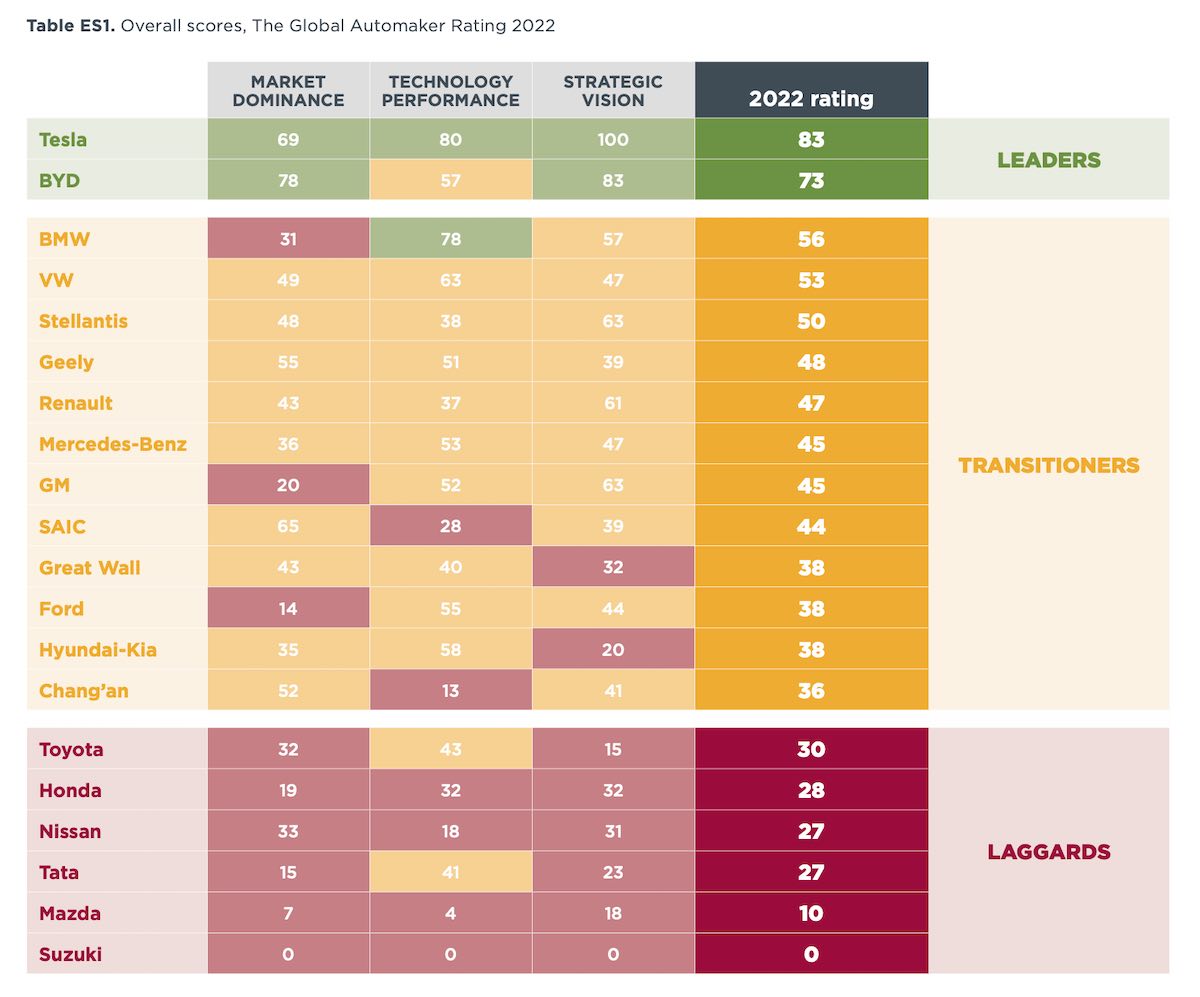 In the transitioners grouping, the ICCT says BMW and Volkswagen are now showing they're serious about the EV transition.
"Considering the Dieselgate scandal was only 7 years ago, it is remarkable to see VW emerge as a serious leader in the transition to 100% zero-emissions vehicles," says Rachel Muncrief, the acting executive director of ICCT.
Market dominance
Tesla is clearly the dominant force in the EV market, not surprising given that its Model Y is now the world's best selling car, while BYD comes second, although many of its "electric" sales are plug in hybrid, which are discounted according to the ICCT's algorithm.
"Ideally, the ZEV-equivalent sales share would be 100%, indicating that a manufacturer produces and sells only ZEVs," it says.
The solid yellow bars in the graph below indicates the discounted PHEV sales share after accounting for their real-world electric drive share.
The ICCT notes that apart from Tesla, Chinese automakers generally have the highest share of EV sales followed by European then US carmakers with Japanese manufactures having the lowest share. The very few hydrogen fuel cell cars are made by Japanese and Korean car markets.
Technology performance
On Technology performance, the ICCT looked at energy consumption, charging speeds and driving range.
Measured in Wh/km Tesla had the lowest energy consumption followed by Tata, BYD, BMW and Volkswagen. Ford, Nissan and Mazda scored the lowest on average EV energy consumption.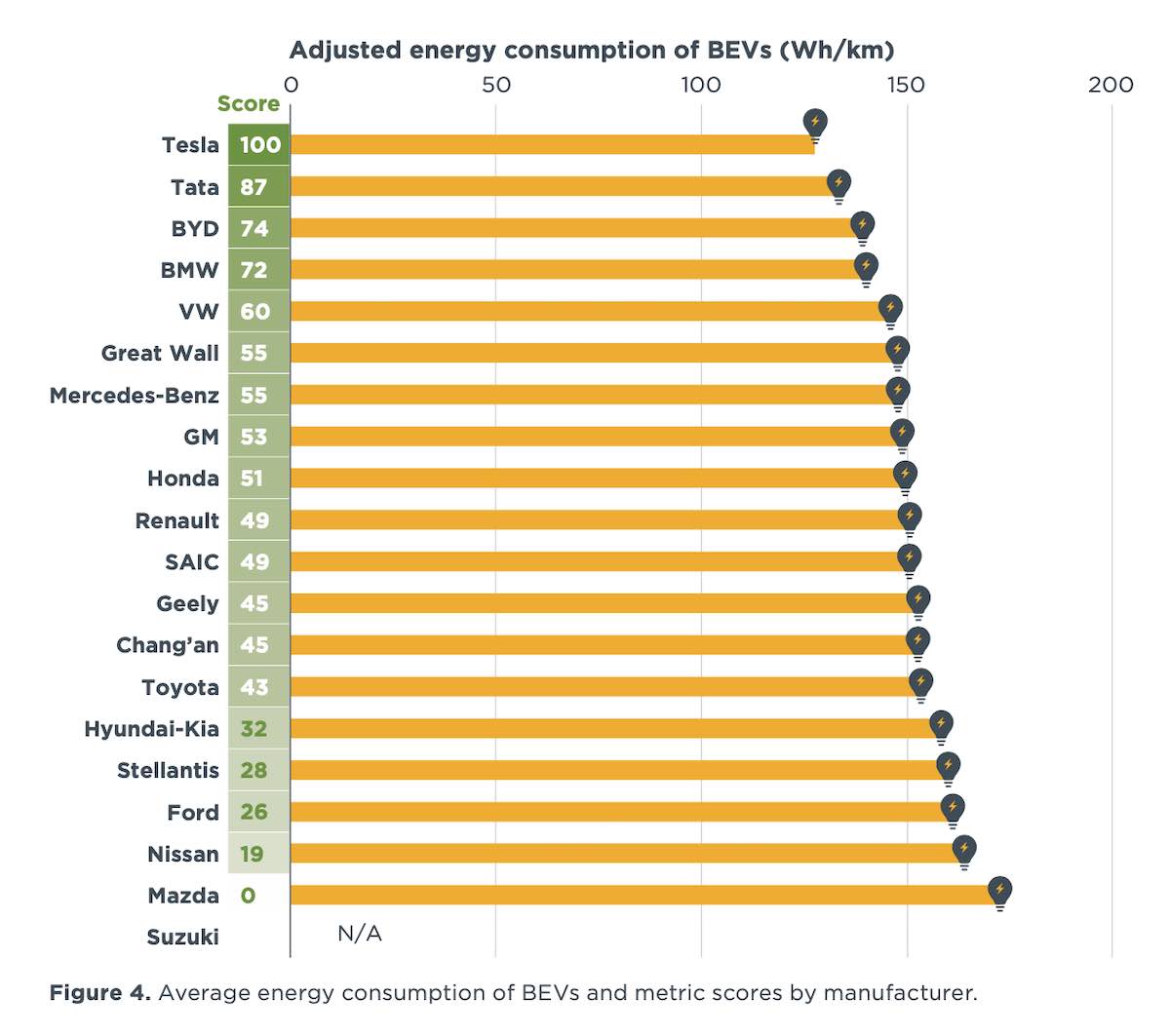 On charging Tesla also topped the score cards with an average charging speed of 172kW followed by Hyundai-Kia with 134 kW and BMW and Volkswagen just under 100kW.
EVs made by Mazda, Nissan, Renault, Tata and SAIC had the slowest charging rates with average speeds below 50kW.
The ICCT also compared driving ranges from manufacturers. Here too Tesla beat all other EV makers with an average vehicle range of 503 km followed closely by Ford with 488 km.
Mazda and SAIC had the lowest range of all manufacturers at around 200km.
Strategic Vison
The ICCT ranked automakers strategic vision based on ZEV targets, ZEV investment and executive compensation alignment.
"The ZEV target metric evaluates the ambition of a manufacturer in transitioning to a 100% ZEV fleet to be on pace with the Paris Agreement timeline," says the ICCT
"An ambitious target can demonstrate a manufacturer's determination to decarbonize its vehicle fleet. In contrast, a manufacturer without a target, or with a weak ICEV phase-out target, is considered less likely to invest in the ZEV transition in the near term."
Aside from Tesla, which is already 100% EV, Renault, GM, Ford and Mercedes-Benz all have stated targets to reach 100% EV sales by 2035.
VW's targets are mixed depending on region with 70% EV sales in Europe by 2030 but only 50% in the US and China over the same period.
The world's largest automaker Toyota had one of the lowest targets of just 32% by 2030.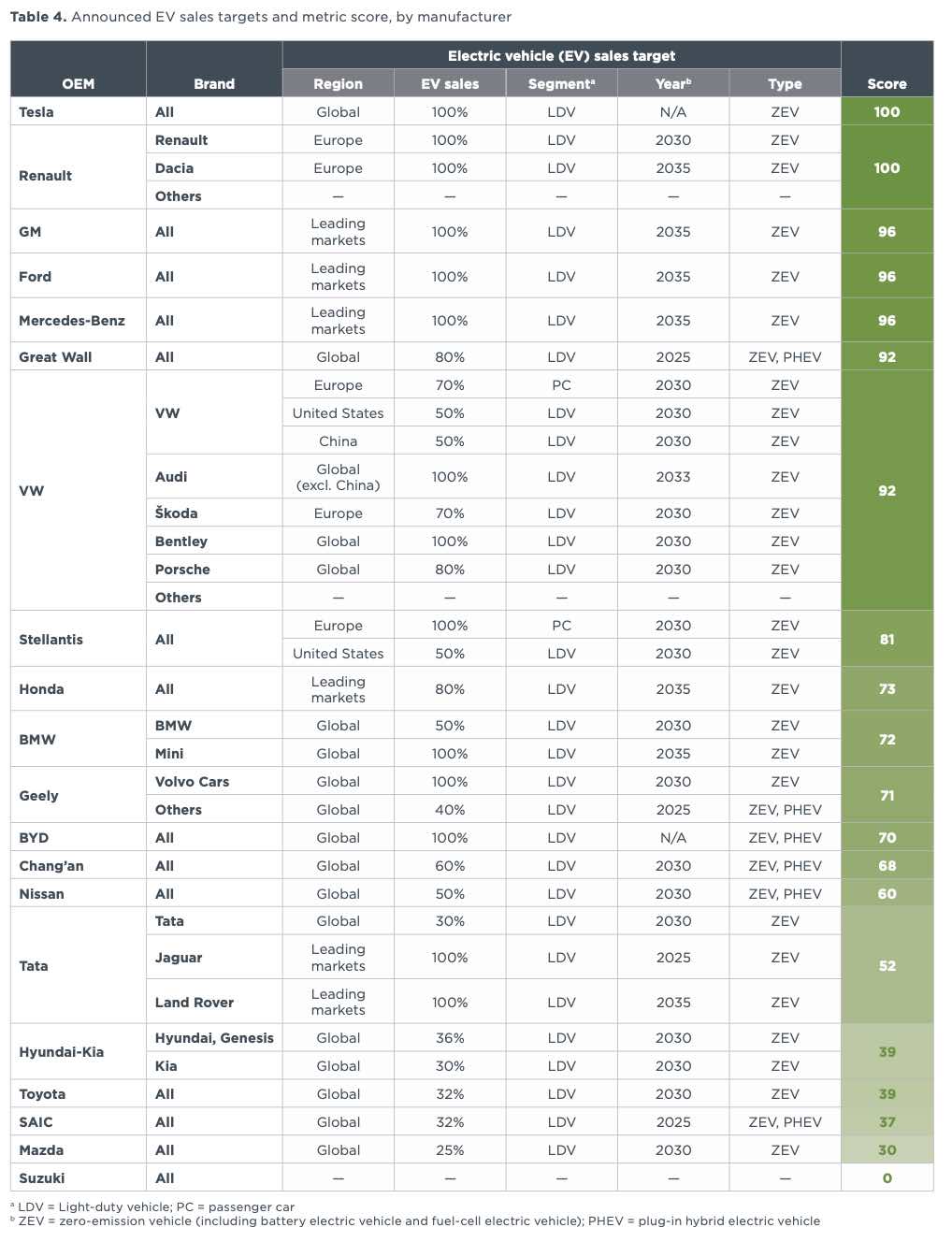 On investment the ICCT ranked automakers on their total ZEV investment in dollars per vehicle.
"We consider R&D; capital expenditure on things such as the development of ZEV production sites to increase manufacturing capacity and ZEV supporting infrastructure like construction of battery plants and charging stations, and establishment of the broader charging network; and financial outlays for other things like establishing subsidiaries, joint ventures, and partnerships." says the ICCT.
The graph below shows ZEV investment per vehicle produced with the size of the circle reflecting the total investment. Once again Tesla leads on this metric investing $US2,929 per vehicle into ZEV manufacturing and supporting infrastructure.
"Although VW has the largest cumulative investment in 2022 U.S. dollars among all manufacturers, as the second largest LDV manufacturer in the world, VW's score for this metric is behind a number of others after taking the size of the company into account." says the ICCT.
Of the major automakers Toyota ranked third last with a ZEV investment of around $250 per vehicle. For Toyota much of this investment is possibly going into hydrogen fuel cell vehicles, a technology that many experts believe will become redundant in the automotive space.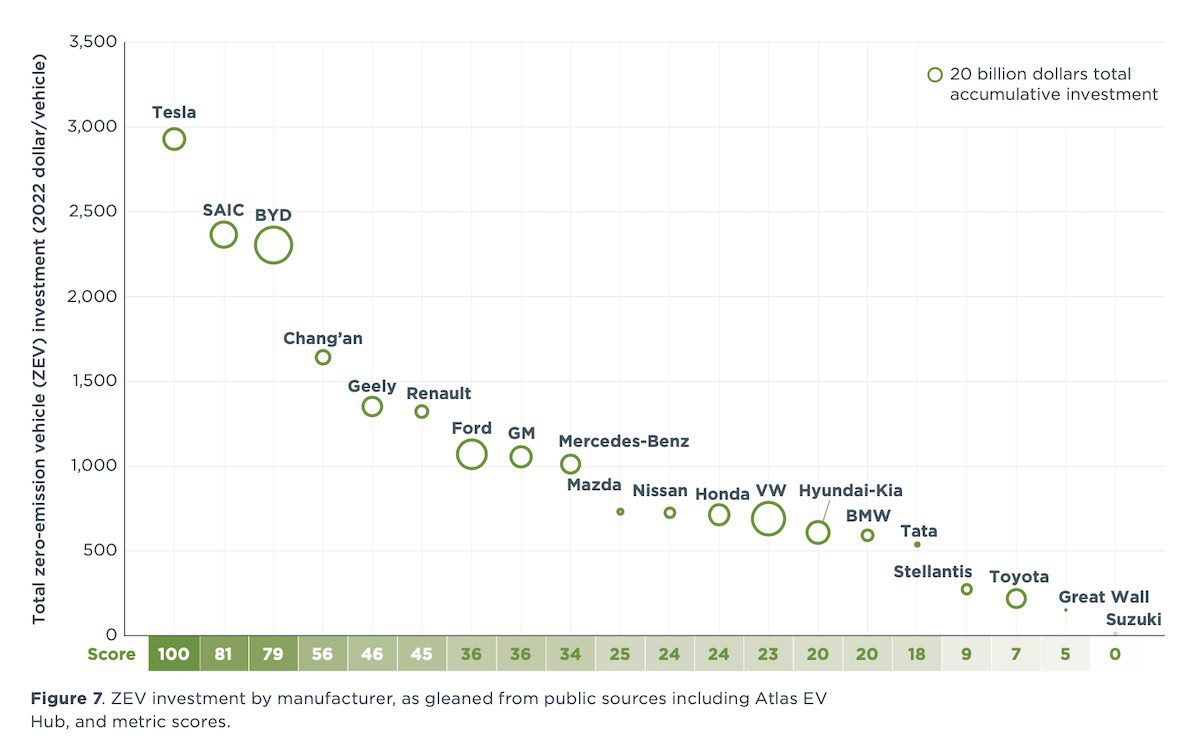 With the publication of its extensive report the ICCT has provided the global auto industry with valuable data on who's leading and who's lagging the global race to end fossil fuel powered transport.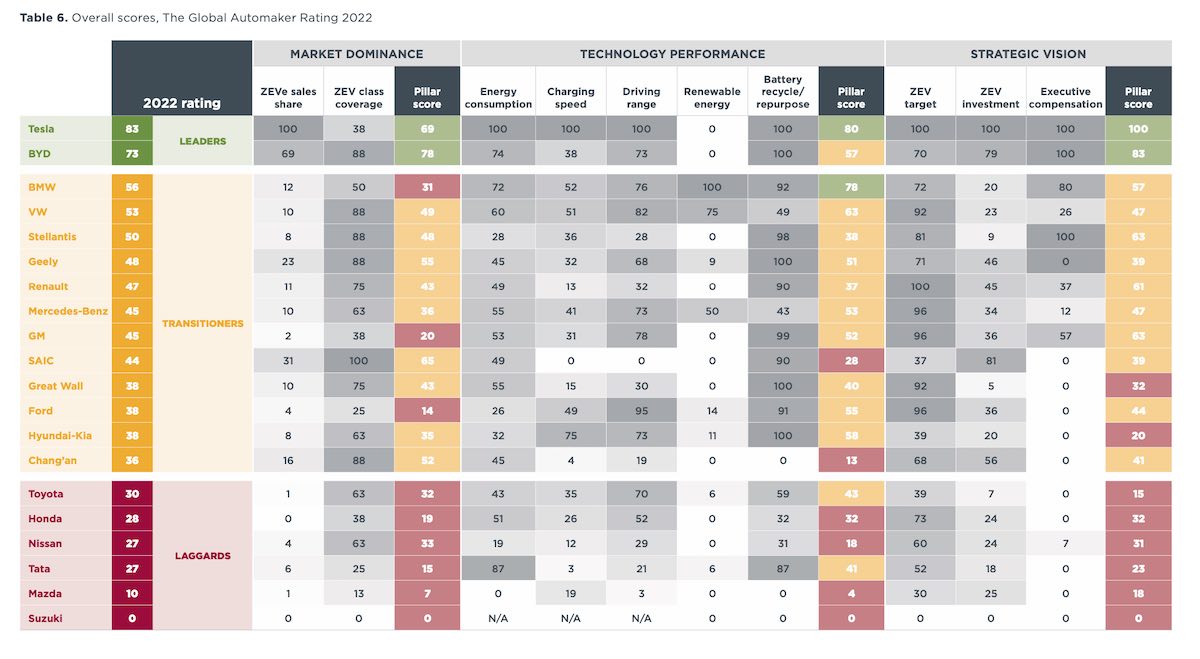 The ICCT says every automaker has work to do.
"Only half of the automakers have reached just 10% or more in ZEV sales share. With our estimates showing that a 77% ZEV sales share is needed by 2030 to stay on track with Paris Agreement climate goals, most of the world's top automakers have ground to cover in the next several years."

Daniel Bleakley is a clean technology researcher and advocate with a background in engineering and business. He has a strong interest in electric vehicles, renewable energy, manufacturing and public policy.