Safety advocates create "human bike path" on Parc Ave.
Breadcrumb Trail Links News Local News Two ghost bikes commemorating cyclists killed on the road
Two ghost bikes commemorating cyclists killed on the road since Vélo fantôme was created in 2013 served as the beginning and end points of the path.
Article content
On a stretch of Parc Ave. where two ghost bikes mark the spots where two cyclists were killed in the last 10 years, safety advocates created a "human bike path" Saturday to call for changes to the busy thoroughfare.
Article content
Members of the Vélo fantôme organization blocked off one lane of Parc Ave. between Mont-Royal Ave. and St-Viateur St. with the help of Montreal police. Some cyclists and pedestrians used the impromptu bike path, while vehicle traffic flowed in both directions in the two lanes alongside.
Article content
The path started at Mont-Royal Ave., where a ghost bike commemorating the death of Andrea Rovere was installed in October 2021 after the 31-year-old Italian doctoral student was killed by a truck. It was the 15th bike Vélo fantôme had installed in the city since its inception eight years earlier.
The path was scheduled to end at St-Viateur St., where Suzanne Châtelain died in 2013, and where Montreal's Vélo fantôme organization erected its first ghost bike. Saturday's demonstration marked the group's 10-year anniversary.
Article content
"We're creating a human bike path because in these 10 years that we have existed, there have been countless promises and yet no solid infrastructure has been installed on Parc Ave.," spokesperson Severine Lepage said. "Parc Ave. is like a highway in the middle of the city, and yet there's no secure infrastructure to make people who are not in cars feel safe."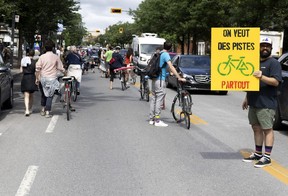 Antoine Fillion stood on the road with his bike as part of the path's human barrier, holding a placard reading "We want paths everywhere." He said now is the right time to demand change because Montreal Mayor Valérie Plante "is on our side."
A teacher in the neighbourhood, he said drivers regularly exceed the 30-kilometre-an-hour limit on all streets in the area.
Article content
"We are in fear when we are walking or cycling here," he said. "All those cars that come from the suburbs, they feel like the street belongs to them."
Cyclists, like drivers, want to ride on wide streets like Parc Ave. that provide the most direct route to their destination, he said.
"We want bike paths that are secure so that everybody — families, cyclists, drivers — can feel secure while they are on this street."
Fewer drivers would also improve air quality, he said.
"It's better for everybody. People have to change their habits."
Longtime resident Patrick Visentin said the intersection of Parc and Mont-Royal Aves. is particularly dangerous and needs to be rebuilt.
"This has been a sh-t-show killing people for many years," he said. "Why is there a six-lane highway cutting through the middle of a major park?"
Article content
Projet Montréal city councillor Marie Plourde, a resident of the area and year-round cyclist, came out to serve as a human bollard for the bike path. But she could not say whether her party planned to install a dedicated bike lane.
"It's a complicated matter because you have the 80 bus," and it's a major thoroughfare for many commuters, she said. "It's the whole street that must be reworked. Since it is so large, it creates a highway-like mentality in those who use it."
Projet Montréal has a project on the table that will serve public transit, cyclists, pedestrians and cars, Plourde said. But she said she could not elaborate because the project is still being developed and is being worked on by other city councillors.
Article content
Not everyone at the protest was enamoured with the idea for a bike path on Parc Ave., however.
"This is an agenda to push the car out of the city," said Tiberius Bastaviceanu, who said he commutes on the avenue daily by car, moped and bike. "There is no shortage of bike lanes in the area. Why do you need a bike lane on every freaking street? You don't need that."
Reducing space for cars on Parc. Ave would have serious effects on downtown traffic, Bastaviceanu predicted, as many drivers use the street to exit the centre of the city.
"They just want to take the cars out of downtown," he said. "That's an environmentalist agenda."
Organizers at Vélo fantôme said the number of pedestrian deaths in the city is an indication that more must be done to increase safety measures for everyone. It's not just cyclists and pedestrians at risk, Lepage said.
Next week, the organization will place its first "ghost skateboard" at the corner of de Lorimier Ave. and Ste-Catherine St. in the Centre-Sud district, where a 21-year-old skateboarder was killed in February in a hit and run. Family members asked them to hold the ceremony.
Car traffic will soon be banned from Duluth Avenue at Jeanne-Mance Park

The REM: What you need to know about the new era in Montreal transit