Roland Sands' Harley-Davidson Dyna Is Your Ticket To Immense American Fun
When you scour through the American custom scene, you're bound to meet Roland Sands near
When you scour through the American custom scene, you're bound to meet Roland Sands near the top. The bikemaker has been in the business for 18 years now, with several award-winning custom motorcycles under his belt. And if you've dreamed of owning such RSD creations, you're in for a treat. Why? Well, because Iconic Motorbike Auctions has listed Roland Sands' custom Harley-Davidson Dyna Glide for sale, which promises immense American fun, courtesy of its souped-up components. Not to mention, you can get it for a steal here, considering RSD creations usually cost a bomb.
RELATED: Custom Harley-Davidson Fat Boy Is So Wicked You'd Want It In Your Home
Custom Harley-Davidson Dyna By Roland Sands Design
The Dyna Ripper is poles apart from the simple, old-school stock Dyna Glide
Dubbed the 'Dyna Ripper', the motorcycle is based on a 2010 Dyna Glide. In typical RSD fashion, however, no aspect of the cruiser remains stock. For instance, the design is miles apart from the chrome-laden stock appearance. The sporty tail section, fuel tank, side covers, and gauntlet fairing all play key a role to achieve this and are exclusive to the Ripper. These also don a special livery (done by Taylor Shultz of Unknown Industries), complete with geometric graphics and silver pinstripes.
Coming to more serious upgrades, the Dyna has bid adieu to its spoke wheels for custom alloy wheels from RSD's portfolio. The front is paired with upgraded rotors, calipers, and braided brake lines, while the rear end has an aluminum swingarm and adjustable 15-inch shock absorbers–all aimed to justify the 'Ripper' name. The swingarm also paves the way for a chain drive in place of the OEM belt-pulley setup.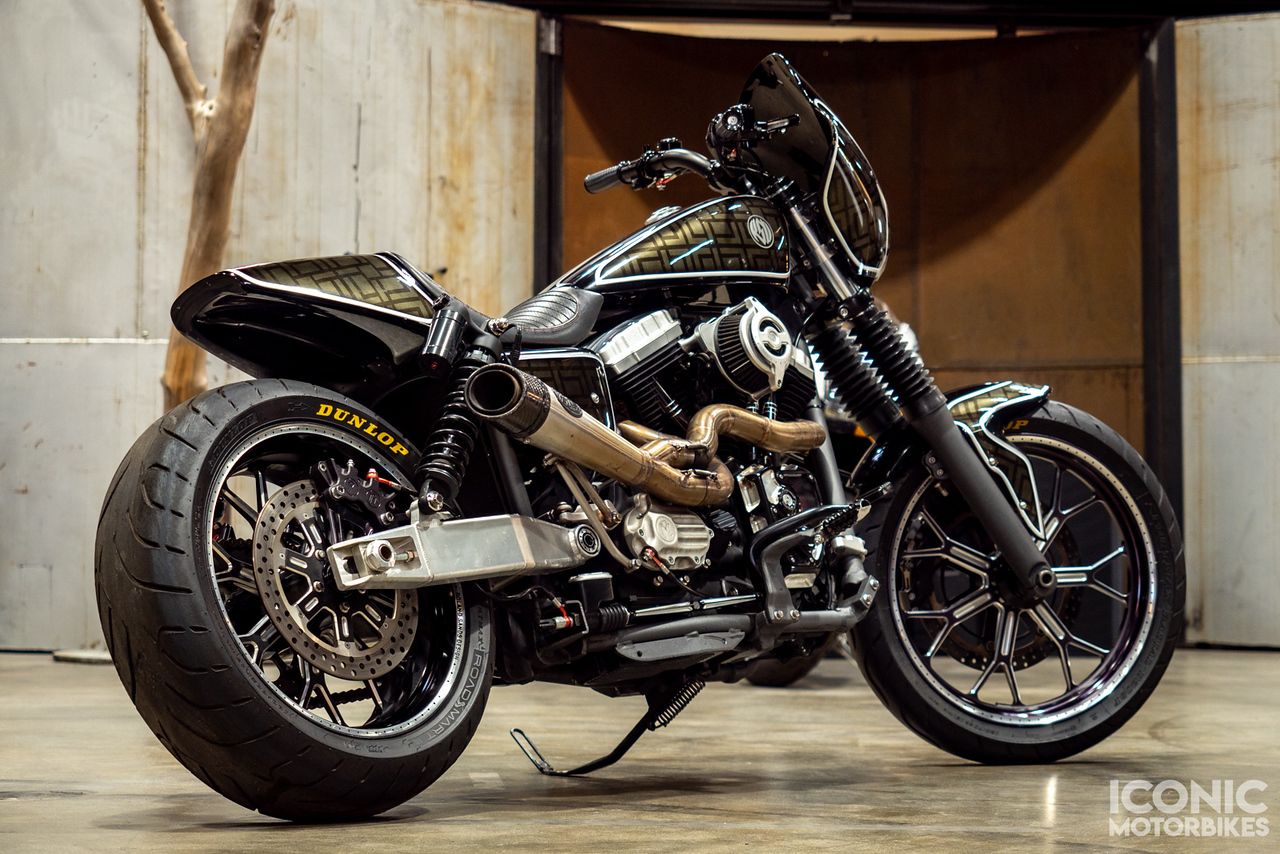 That exhaust is an RSD special. Looks svelte, doesn't it?
RELATED: Roland Sands Transformed this Ducati Desmosedici RR into an Epic Streetfighter
The motorcycle has a similar overhaul for the engine as well. Instead of the stock 103ci V-twin, the custom Dyna employs a 107ci (1,753cc) engine loaded with bigger pistons, ported heads, handcrafted tappet covers, and billet pushrod tubes. These, together with RSD's special stainless steel full system exhaust and air filter, help achieve a claimed 120 horsepower and 120 pound-feet. Oh, and when enjoying the extra ponies, we're sure the sportier ergonomics – tapered handlebar, custom footpegs, ribbed seat – will elevate the experience further. Meanwhile, other nitty-gritty elements include adjustable clutch/brake levers, a see-through timing case, Dunlop tires, and custom lights all built by RSD.
Roland Sands' Harley-Davidson Dyna Ripper – Expected Price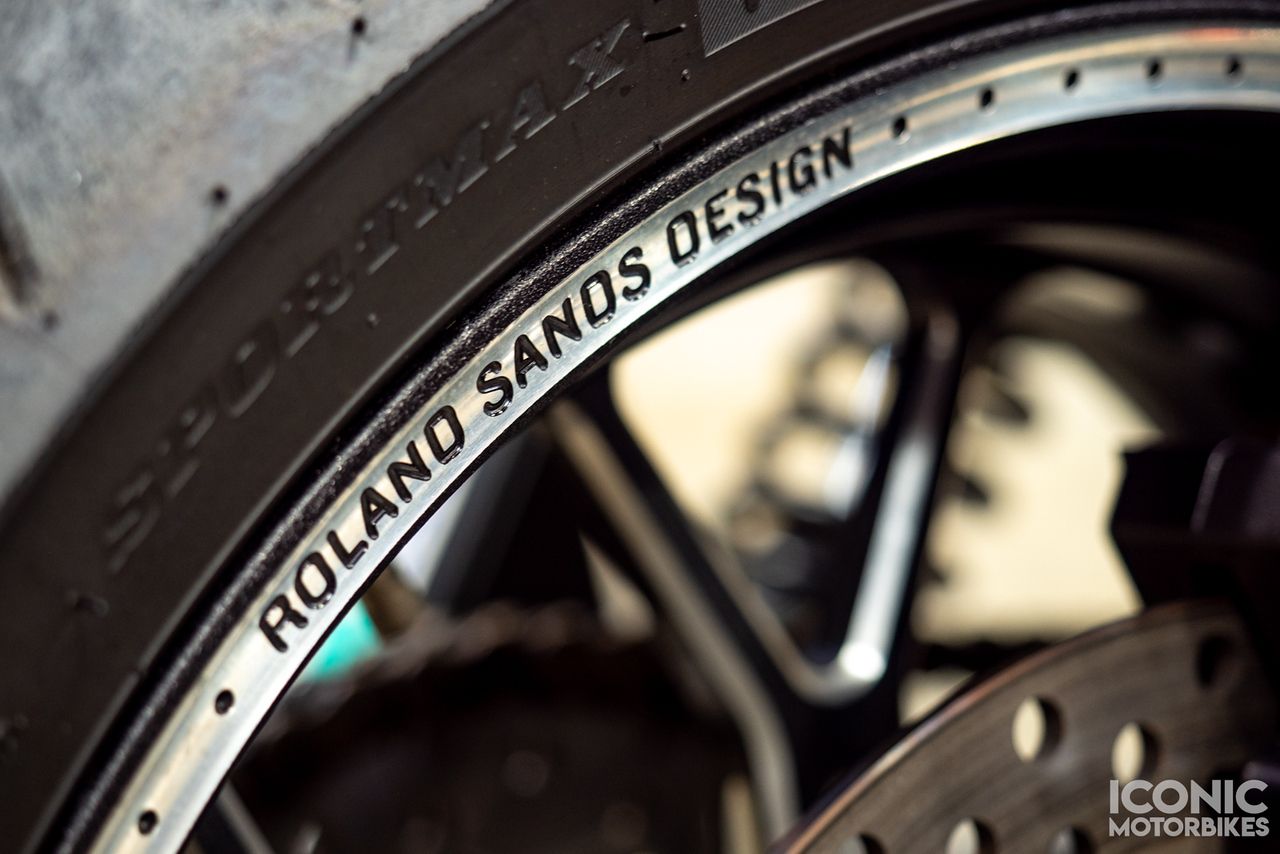 There are plenty of RSD markings all around
So how much will this cost? Well, like most IMA listings, there's no fixed price on the Dyna. The reserve price hasn't been met yet, however, even after the latest $8,100 bid. So our expected price for this build would be around the $15,000 mark, which seems like a steal, given the bevy of upgrades. Seems doable? Then, head to the listing and put in a bid before the March 24, 2023 end date. The motorcycle delivery, however, will take place three weeks after the auction ends.