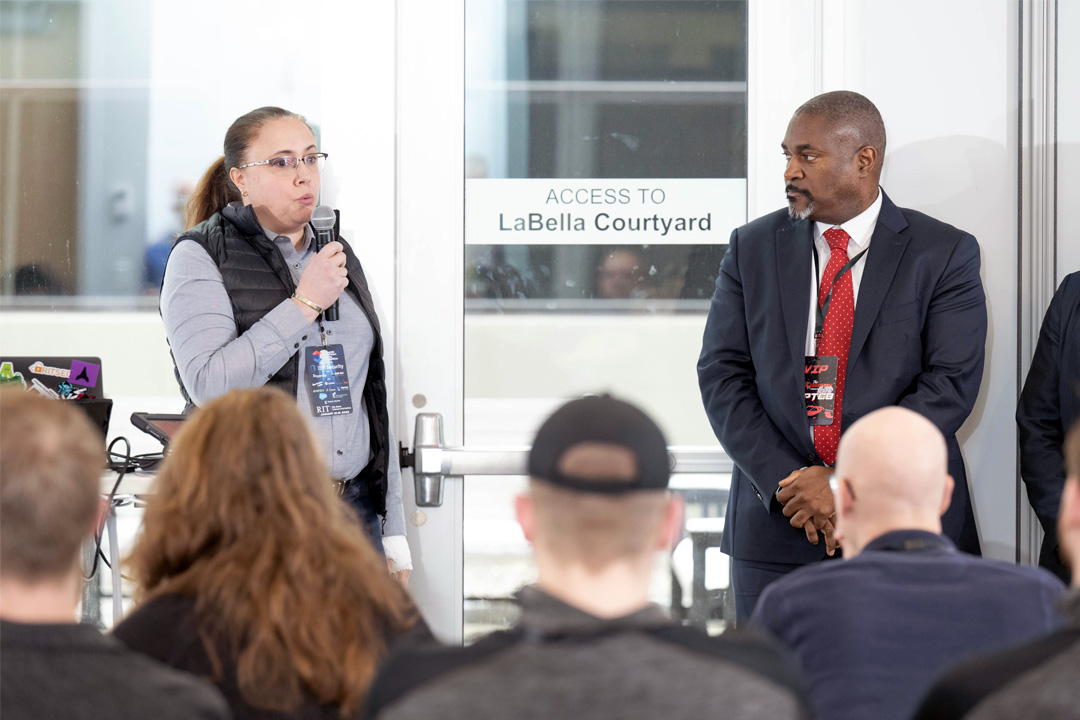 RIT and Alstom Signaling collaborate to advance transportation cybersecurity
Rochester Institute of Technology and Alstom are coming together to help advance cybersecurity education, development,
Rochester Institute of Technology and Alstom are coming together to help advance cybersecurity education, development, and research in the transportation industry.
Through a new collaboration, the French mobility technology company will provide RIT students with educational, research, and career opportunities. Alstom has also been named theme-sponsor for RIT's next Global Collegiate Penetration Testing Competition (CPTC) in 2023-2024.
"We look forward to working with our friends at RIT's ESL Global Cybersecurity Institute for this opportunity to bring well-trained cybersecurity experts to Alstom," said Nadia Zaari, Managing Director, Signaling and Infrastructure Systems, North America. "This collaborative effort also bolsters Alstom's offerings to support our customers to meet the requirements from the Transportation Security Administration's cybersecurity directives for the rail industry."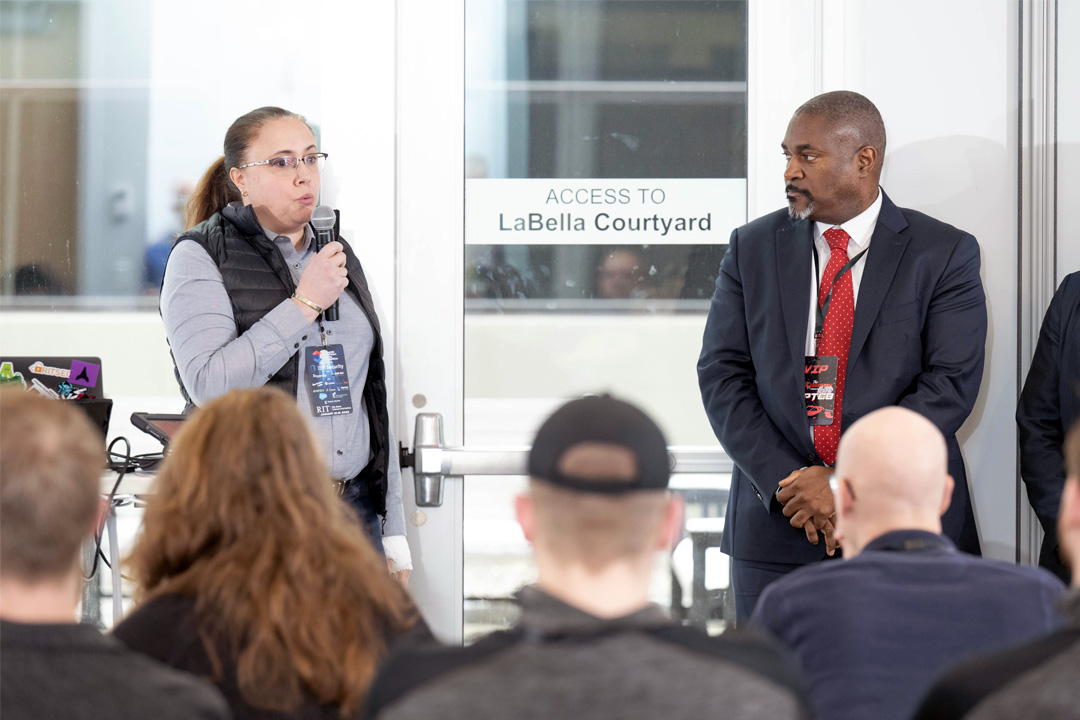 ‌
CPTC allows students from colleges around the world to face-off in a battle of ethical hacking. The competition helps students build and hone the skills needed for a job as a penetration tester in the cybersecurity industry—an industry that has a severe shortage of qualified professionals.
CPTC has become the premier offense-based collegiate computing security event, after starting at RIT eight years ago. CPTC is a counterpart to the Collegiate Cyber Defense Competition (CCDC), which is the premier defense-based event for college students.
While past competition scenarios have centered on the energy grid, hospitality, and finance, next year's theme will focus on transportation and signal cybersecurity. Alstom experts will assist in modeling and developing the competition environment.
"By focusing the competition around transport and signal cyberinfrastructure, we are helping elite students prepare for promising careers—making sure that we can move the food, water, and supplies that enable modern civilization," said Justin Pelletier, director of CPTC and director of RIT's ESL GCI Cyber Range and Training Center. "We are deeply grateful for Alstom's partnership because we will be able to build realistic models and simulations that draw from their leadership in this critical infrastructure sector."
Students in RIT's undergraduate computing security degree program will also have the opportunity to work with Alstom engineers and experts who will teach about the signal security industry. Alstom also plans to sponsor and participate in student capstone projects.
"Alstom is a global leader in the rail transport market," said Ersin Uzun, the Katherine Johnson Executive Director of RIT's ESL GCI. "This partnership will enable RIT students to explore opportunities in an important critical infrastructure sector. Collaborations between Alstom engineers and ESL GCI researchers will help to improve the security of the transportation infrastructure that we all rely on daily."
In the future, Alstom also plans to sponsor a graduate research fellowship related to transportation cybersecurity and engage in corporate training through RIT.
The ESL Global Cybersecurity Institute was formed in 2020—housed in the university's Golisano College of Computing and Information Sciences—aimed at making RIT one of the best places in the world for cybersecurity education, training, and research. Experts at the ESL GCI offer industry training opportunities that generate the real-world feel of responding to a cybersecurity crisis. Training is offered through the institute's Cyber Range and Training Center, a virtual and physical lab that allows people to simulate network cyberattacks and problem-solving scenarios. Competition environments for the CPTC are also run through the Cyber Range.
Alstom has strong ties with the Greater Rochester area. Alstom has an office located in Henrietta, N.Y., and its flagship rolling stock manufacturing facility is located in Hornell, N.Y.