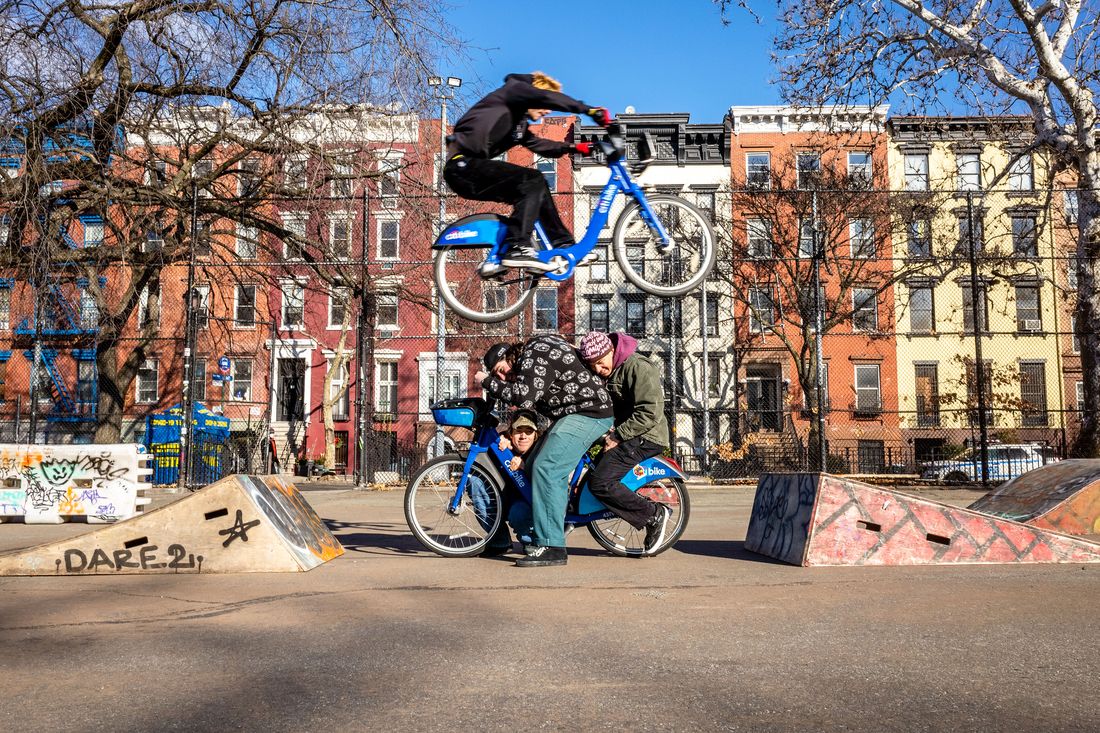 Riding Around Tompkins Square Park With the Citi Bike Boyz
"Those electric Citi Bikes are so dangerous, and so fast. You might as well be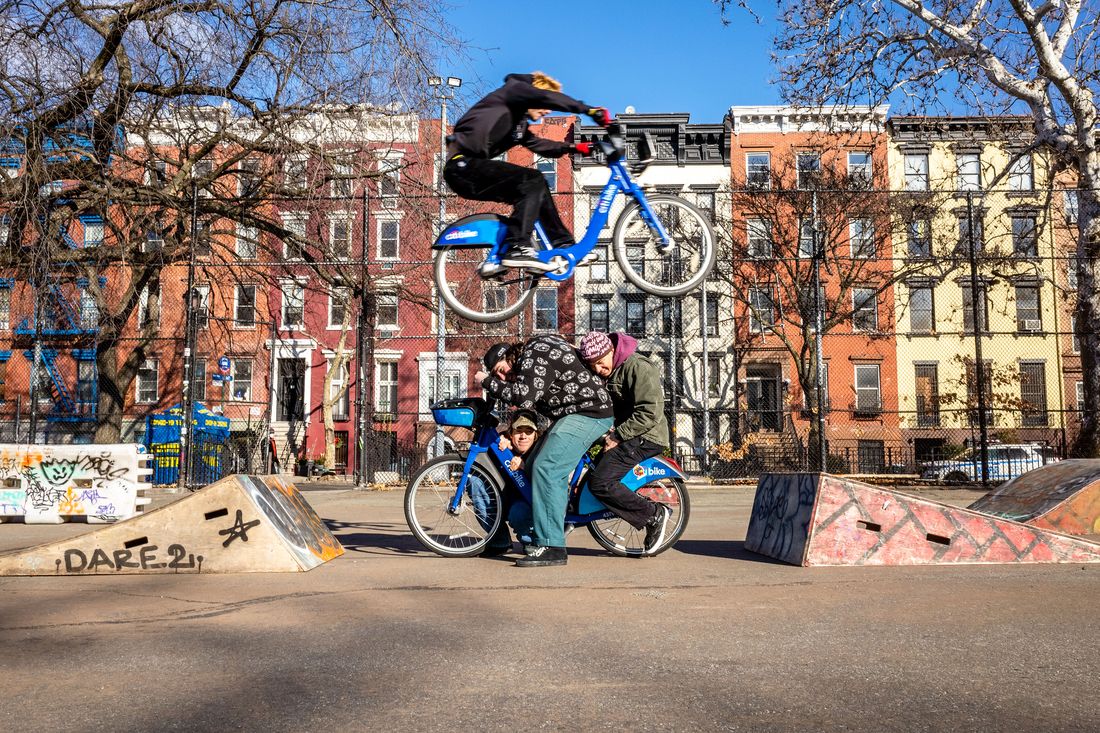 "Those electric Citi Bikes are so dangerous, and so fast. You might as well be on a motorcycle," Jerome Peel tells me as we walk past an East Village docking station on a clear December morning. For Peel, "dangerous" is relative. He and I had both taken manual Citi Bikes that day, but he had, only five minutes ago, launched himself off a ramp and soared over three people on his rental. It had taken him one try, no falls or spills, and the three young men huddled over each other to form the human obstacle were fans of his who also happened to be at the Tompkins Square Park skate space, otherwise known as Tompkins TF (short for "Training Facility"), one of Peel's favorite spots to do tricks. Afterward, he passed his rental to the three and told them to dock it when they were done.
Peel is the face of Citi Bike Boyz, the Instagram account where he posts footage of himself and his friends riding around New York City on Citi Bikes. The 32-year-old, originally from West Palm Beach, Florida, grew up riding dirt bikes, which he credits for his tenacity on the Citi Bike. "I have this crazy confidence from riding dirt bikes. When you're hitting like 60, 70-foot jumps, a 10-foot jump feels really small," Peel explains. "You almost believe nothing could go wrong." Peel first hopped on a Citi Bike on a date with his then-girlfriend when the bike-share system launched in 2013. His first thought was, "If I'm gonna get on a bike, I'm going to see what it can do." Now he takes them off of ramps, staircases, ledges, those boxy outdoor-dining structures — anything that looks rideable. In some posts, Peel is hucking the Citi Bike off dirt jumps in remote Brooklyn parks. In others, he's dropping down into concrete banks on Roosevelt Island. Besides him, the Boyz are less a defined crew and more an assortment of rotating friends who cruise alongside him on Citi Bikes, too. But it's Peel who runs the show. There's no consistent format for the videos, except for one trademark: the ding! of the bike's safety bell that goes off before, during, or after each jump. Sometimes it sounds more like the ka-ching! of a cash register.
He's been posting these videos to the account since 2017, which first became popular among the skate and cycling communities, and has since amassed 86,000 followers. As his profile has grown, he's made appearances on local news stations and music videos, and this year, has recorded stunts with vloggers who have bigger followings, like Casey Neistat, a YouTuber with 12.5 million followers, and Terry Barentsen, a filmmaker and cyclist based in Brooklyn.
In a way, all of this was in preparation for a jump he did in the first week of December across the 145th Street subway-station tracks. In the video, Peel is weaving his way through the pillars of the platform for just a few seconds before he takes off. You can hear the signature ding! followed by a loud, echoey smack of the rig as it lands on the other side. His back wheel barely clears the gap as he cruises away.
Peel had been wanting to make this jump ever since he moved to New York 11 years ago. Nigel Sylvester, a professional BMX rider, had famously jumped the same tracks in Harlem on a BMX bike in 2013. But it was seeing skater Tyshawn Jones land a backside flip across the same platform on December 8 that put the fire under him to cross it himself, but on a Citi Bike. "When Tyshawn backside-flipped it, there was no more thought," Peel says. "It was like, This needs to be done right now."
"It was the biggest accomplishment I've ever done, probably in my life," Peel tells me. "How silly does that sound … I'm jumping over subway tracks on a fucking Citi Bike. As stupid as the concept is, it's the biggest, because it was the first time I really risked my life doing something."
After spending the morning with Peel at Tompkins Square Park and watching him analyze the takeoff before each trick attempt, it's clear that he's not as completely reckless as his clips on Instagram might suggest. "I value my health. Like, I've been hurt," Peel says. He had a four-hour surgery in February from a dirt-bike-related ankle injury in the fall of 2021. "I wasn't able to walk. I was on crutches for two months. That was the first time I really screwed myself up." Now, he approaches each trick with more caution, essentially rehearsing a bad landing beforehand: He imagines what will happen to his body if he falls, where he will fall, and what he'll do to prevent getting really hurt (throwing his hands out, doing a tumble roll, flying forward). He tells me that he wouldn't have jumped the subway tracks or jumped the double set of stairs at LES Coleman Skatepark (the first trick he ever posted on the Instagram page) without planning it all out.
"Everything's super calculated," he assures me as he inspects a big hole inside a plastic traffic barrier at Tompkins, which he intends to ride across, like a catwalk, between two ramps. He's worried his tire will get caught in the hole if he doesn't cross it fast enough. After eyeing it for a minute and making some small adjustments, he swings around on his bike, pops up off the ramp, and glides across the barrier to the other side effortlessly. Ding!
At the heart of Peel's project is a genuine love of Citi Bikes. "People send us videos of themselves throwing a bike off a bridge, or destroying a bike," Peel says. "And we reply and say that's not cool. That's stupid because like, I'm a bike nerd. I'm super passionate about it. Destroying a bike to me is like going into somebody's flower garden and chopping all the flowers. It's like, why are you hurting such a beautiful thing?"
He wants to inspire other people to ride them, too. "They're not dorky at all. They're the coolest bike. To me, it turned out to be like the greatest thing that the city's ever offered," he says. "They came from being stupid, corny, heavy, cumbersome, and slow, to just being the coolest way to get around the city." I ask Peel — who, I've come to realize, is quite possibly the most fervent supporter of public-bike transportation in the city — if he knows anyone who loves Citi Bikes as much as him. "No," he says. "But if there is, I'd like to meet them."
It's unclear what's next for the Citi Bike Boyz. Peel also runs an apparel company called Peels, which is his main source of income, but he hasn't been working as much since the subway jump, he says. He's just been riding the wave of that accomplishment and plans to take a break until next year.
Surely the higher-ups at Citi Bike have reached out to him? "We've gone back and forth a little bit," Peel says, laughing. "It was more like, 'Can I get a discount?' And they sent me a corporate link that was like $5 off. And I'd throw back an 'I love you.'" Sometimes I'll message them: 'How are you? What's up?' They don't respond anymore."