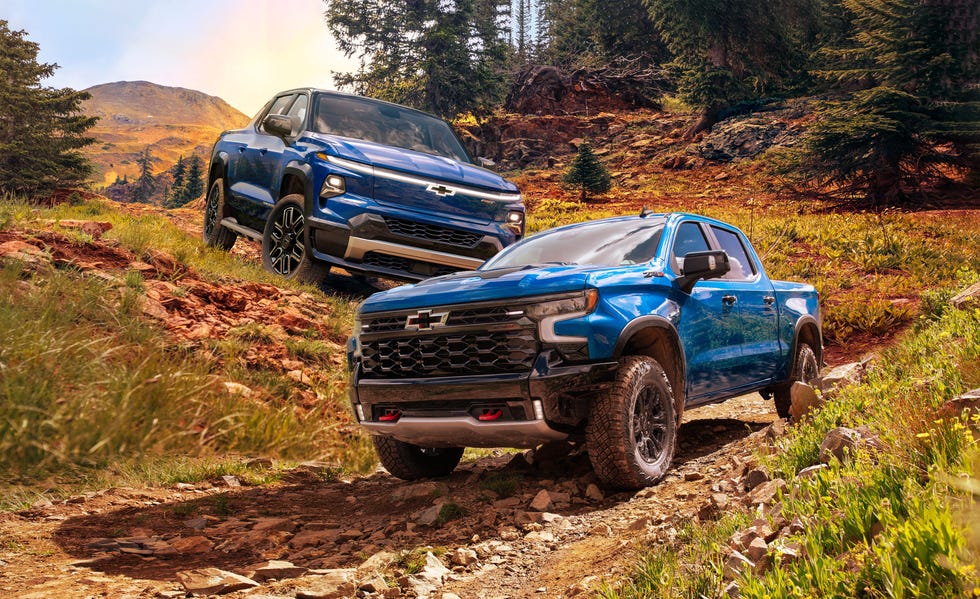 Pickups Appeal to More Kinds of Buyers, and Automakers Are Responding
It's Super Bowl Sunday, and the world is getting its first look at the 2024
It's Super Bowl Sunday, and the world is getting its first look at the 2024 Ram 1500 REV. This upcoming electric truck is another sign that the segment is changing.
A herd of plug-in pickups is on the way to join the fossil-fuel classics, amid statistics showing that almost 80 percent of new-vehicle purchases are trucks and SUVs.
New trucks need new truck buyers, and it turns out the demographics of today's truck shoppers are expanding to include more women and younger people.
One of the marquee Super Bowl car commercials this year is Ram's big reveal of its upcoming all-electric 2024 Ram 1500 REV. Electric-vehicle ads have been Super Bowl standouts for the past few years, so it makes sense that an all-truck brand like Ram will use the attention of the big game to promote the first of what will be an entire lineup of electric models.
For many car buyers in the U.S., electric trucks represent a somewhat contradictory combination. Pickups are hugely popular, but EV technology is still searching for a path to mainstream sales. Electric trucks might be the solution.
Truck Sales Stayed Strong in 2022
Three of the five biggest-selling vehicles in the U.S. last year were trucks: Ford F-series, Chevy Silverado, and Ram pickup. Ford never tires of telling the world that the F-150 has been the best-selling truck in America for the past million years. And a glance at the sales figures reveals just how many more trucks Ford sells than other models. In 2022, for example, Ford sold 653,957 F-series trucks, according to data from the Automotive News data center. Ford's second-biggest-selling model last year was the Explorer, which sold 207,673 units.
Chevy sold 513,354 Silverados in 2022, and the rankings follow a similar trend as at Ford. The Equinox SUV came in second place at Chevy, with 212,072 sales last year. Ram, which otherwise only sells the ProMaster and cargo vans, sold 468,344 pickups, the bulk of its 529,280 overall sales for the year.
Who's Buying All These Trucks?
Aside from a few F-150 Lightning models, all of those best-selling pickup trucks sold last year were powered by fossil fuels. The growing list of new electric pickup models that are in the works from Chevy, Ram, Tesla, and others means it's not a secret that changes are coming to this segment of the market.
But another shift is happening in the demographics of the truck-buying world. CBS News notes that the number of women interested in driving a pickup truck continues to grow, and J.D. Power found at the end of 2021 that millennials bought the most pickup trucks in the early stages of the COVID-19 pandemic. The trend line shows this interest hasn't died down in the intervening years. As CBS noted, you can't be a best-selling vehicle if you only appeal to a limited number of people.
What's Next?
While the two segments are unfortunately lumped together, J.D. Power recently released a report that predicted that trucks and SUVs accounted for almost 80 percent of all new-vehicle retail sales in January.
The rough outlines of the truck market will remain the same in 2023, and the two main facts mentioned above hint that we're likely to see even more trucks on the road soon. New, exciting electric models and tech are coming to the pickup world—where fancier and fancier trucks have been the norm in recent years—and these will encourage people who never considered a truck before to give them a second look.
This content is imported from poll. You may be able to find the same content in another format, or you may be able to find more information, at their web site.