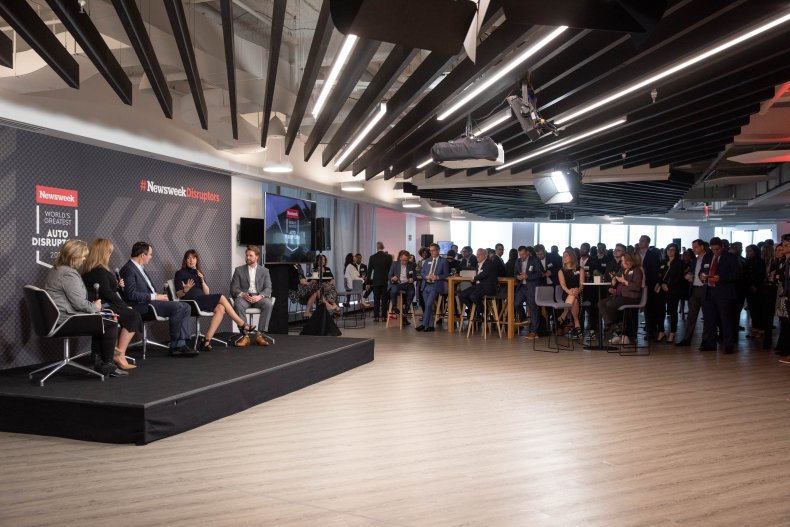 Newsweek Celebrates Auto Industry Titans With Annual Disruptors Awards
Automotive leaders from around the globe gathered at One World Trade Center to celebrate Newsweek's
Automotive leaders from around the globe gathered at One World Trade Center to celebrate Newsweek's second annual Auto Disruptors Awards. The awards recognize auto industry leaders at the forefront of innovation, helping companies and consumers tackle longstanding problems.
"They're moving full-steam ahead on innovation, finding solutions to generational problems, using cutting-edge technology and pushing the limits of propulsion," Newsweek CEO Dev Pragad said in opening remarks.
Akio Toyoda, chairman of Toyota Motor Company, was named Newsweek's Auto Disruptors Executive of the Year. Toyoda challenged his company with a single goal, "no more boring cars."
His innovation and willingness to allow different arms of the company to collaborate have reinvigorated the driving experience in Toyotas, even behind the wheel of sensible models like the Camry or Corolla.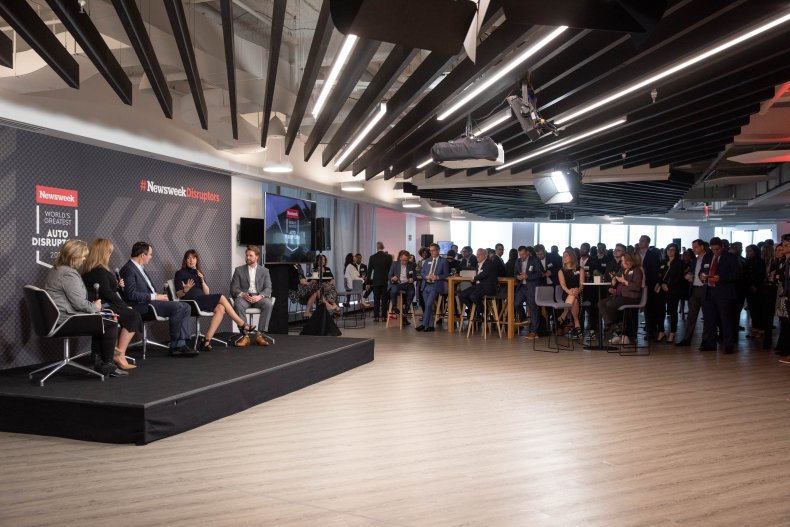 Beyond the driving experience, Toyoda has faced a challenging time in the auto industry head on. While many vehicle manufacturers rush to create all-electric or battery-electric vehicles, under Toyoda's leadership, the brand has committed to offering a wide range of fuel intakes for cars by 2030—from gasoline to hydrogen fuel cell, and of course battery-electric vehicles too.
In his video acceptance of the award, Toyoda underscored the importance of diversifying Toyota's electric powertrains to reach carbon neutrality: "As I've said many times before, I believe it is shortsighted and even irresponsible to think [battery EV's] are the only option."
The 2023 Visionary of the Year Award was presented to Oliver Zipse, chairman of the BMW Group board of management. Zipse has spent his entire 30-year professional career with BMW AG and the last four years as chairman of the board of management.
In his time as chairman, the BMW brand has turned its focus to sustainability, emphasizing the company's circularity as a holistic approach to reducing the brand's carbon footprint. Zipse has also previously emphasized hydrogen as a major piece in solving the sustainability puzzle.
He called hydrogen "one of the most efficient ways of storing and transporting renewable energies" in a press release announcing BMW's new iX5 Hydrogen SUV line.
"By taking nothing for granted, questioning everything, deciding on the basis of facts and standing up for what we believe in, we are setting new trends in many places and making great strides in the industry," Zipse said via video to accept the award.
BMW's research and development team was also honored at the Newsweek Auto Disruptors Awards, taking home the title of R&D Team of the Year. As consumers expect more from a new car, Zipse told Newsweek how important it is to create a "seamless digital experience," saying it's the "all-around impression" of drivers that he is most concerned about.
"The whole BMW team worldwide proves every day that we are not only excellent visionaries, but also outstanding implementers," Zipse said.
Torsten Müller-Ötvös, winner of Newsweek's Legacy of Disruption Award, has overseen the rejuvenation of not one but two world-class brands. After standing at the helm for the global relaunch of Mini in 2001, Müller-Ötvös has overseen Rolls-Royce's new generations of Phantom and Ghost sedans, and the introduction of the Wraith coupe, Dawn convertible and Cullinan SUV.
Rolls-Royce's most disruptive model might be the Spectre, which Müller-Ötvös called the "first ultra-luxury, electric super coupe," and which he considers the cornerstone to building Rolls-Royce into an all-electric vehicle company by the end of 2030.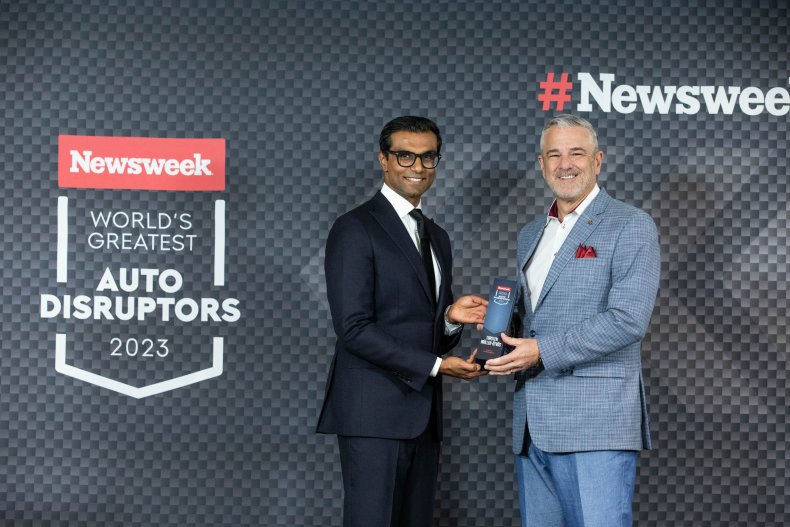 Hyundai Motor Group's Luc Donckerwolke was honored as Designer of the Year at Newsweek's 2023 Auto Disruptors. Donckerwolke brought his vision to Hyundai in 2020 as creative officer before being named the group's president in 2022.
The designer's team is responsible for the X concept triumvirate from Hyundai division Genesis: the X Concept, X Speedium Coupe and X Convertible, which received such high praise it is now slated for production.
Ford Motor Company was celebrated for its Ford Pro Intelligence software, integrating business data and capabilities into a company's fleet of vehicles. Ford Pro is available to users even if they don't drive a Ford, and can help businesses understand what switching to an all-electric fleet might look like. Pro Charging Solutions helps companies configure their best options for keeping an electric fleet charged and in service.
"It's a combination of all of these things together that creates this ecosystem that's really going to serve what they need into the future," said Wanda Young, global CMO of Ford Pro.
While traits like design and performance come to the mind's forefront when someone mentions Lamborghini, it was the company's "Direzione Cor Tauri" electrification strategy that was celebrated by Newsweek's Auto Disruptors as the sustainability achievement of the year.
This year, half of Lamborghini's manufacturing processes will come from biomethane replacing natural gas. The switch is estimated to drop the Sant'Agata Bolognese, Italy-based company's carbon footprint by more than 11,000 tons per year.
The Italian automaker is also implementing energy-efficient practices around its manufacturing plants, from recycled paint to solar panels that provide shade over holding areas and send usable energy back into the plant.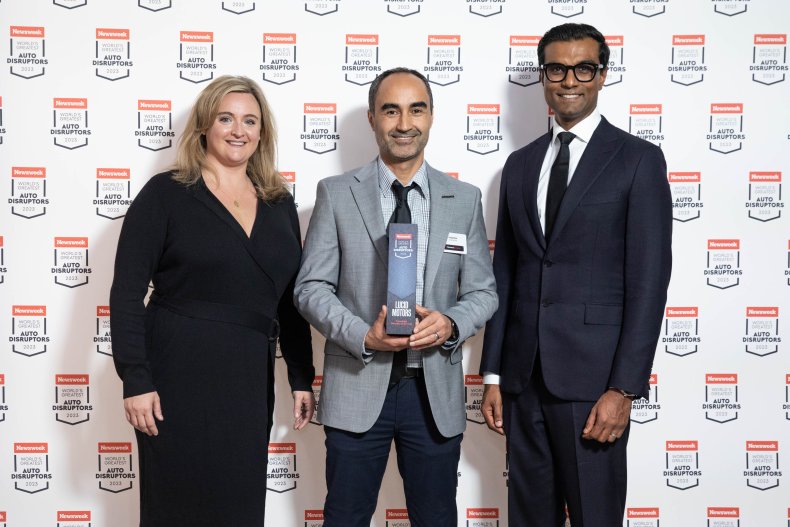 At a time when every ounce spared or added to a powertrain makes a world of difference in range and charging time for electric vehicles, Lucid's Air sedan sets the standard.
The sedan can offer up to 1,200 horsepower. Half of that power comes from utilizing new designs in the motor to pack a punch bigger than the Tesla Model 3, in a 30 percent smaller package. The battery in the car has an EPA-protected 520 miles of range in a single charge, nearly enough to drive the length of the Grand Canyon and back. Dr. Emad Dlala, accepting the award for Lucid, said the 520-mile-range Lucid is "just the beginning."
With so many options in the auto industry, companies will search beyond the specs of each new car to excite potential buyers. Genesis introduced Genesis House, a 46,000-square-foot space in Manhattan's Meatpacking District, as a melting pot for community, cars and fashion.
"In the end, it's exactly the core of our values," said Claudia Marquez, chief operating officer of Genesis Motor North America.
Partnering with fashion houses and international chefs, Genesis House has become a hub for the community to connect for over a year now.
Along with awards and presentations, the event also featured a panel discussion with Newsweek's Fast Women Eileen Falkenberg-Hull and Nicole Wakelin discussing where they see the automotive industry headed, with Tyson Jominy of J.D. Power and Associates, Stephanie Brinley of S&P Global and Paul Waatti of AutoPacific.
Waatti noted one of the reasons people shy away from buying electric vehicles is because of the price of entry. He pointed to the Chevy Equinox as a model he thinks could enter the $30,000 range, enticing some of the 41 percent of buyers that his company found in a recent poll are turned off by the cost of electric vehicles.
Brinley was not optimistic that vehicle manufacturers are right now equipped for the changes coming to classifications of electric vehicles under the Inflation Reduction Act. She was hopeful, however, that the money in the IRA committed to manufacturing might be an incremental-enough change to push some manufacturers to—or at least closer to—that golden number of $30,000 or less.
Jominy stressed "asymmetry" as the auto world bounces back from supply chain issues last year. "The industry right now has had a complete reset," he said. "It's like almost everyone now has the opportunity to really define what the brand wants to be going forward."