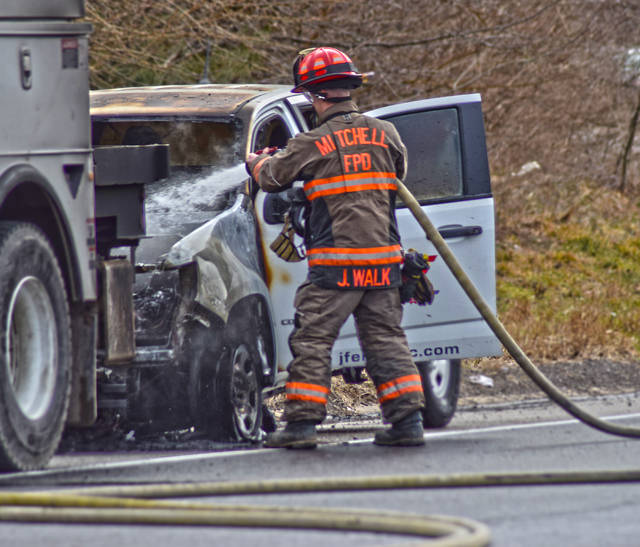 Multi-vehicle fire closes I-255 exit ramp
Multi-vehicle fire closes 255 ramp Tyler Pletsch, tyler.ple[email protected] Updated 8:53 pm CST, Thursday, February 27, 2020
Multi-vehicle fire closes 255 ramp
Updated


Photo: Tyler Pletsch | The Intelligencer

EDWARDSVILLE — A multi-vehicle fire on Interstate 255 closed the northbound exit ramp for New Poag Road Thursday afternoon.
Personnel from Edwardsville and Mitchell fire departments, as well as Illinois State Police, responded to an original report of a pickup truck on fire at about 3:12 p.m. Thursday. Once on scene, crews assessed the situation and noted two vehicles on fire instead of one.
Firefighters extinguished the blaze and no injuries were reported.
Illinois State Police reopened the exit ramp shortly after 4 p.m.
According to officials, the original call reported a pickup truck owned by J.F. Electric, Inc. caught fire during a fueling mishap with a larger utility truck, also owned by J.F. Electric. Officials could not confirm at the time of the incident, but an Intelligencer reporter on the scene noticed the pickup truck looked to have been being towed by the utility truck.
The utility truck sustained damage to its rear-end and cosmetic closer to the front cab, while the pickup sustained heavy front-end and interior damage.
Both vehicles were set to be towed away.