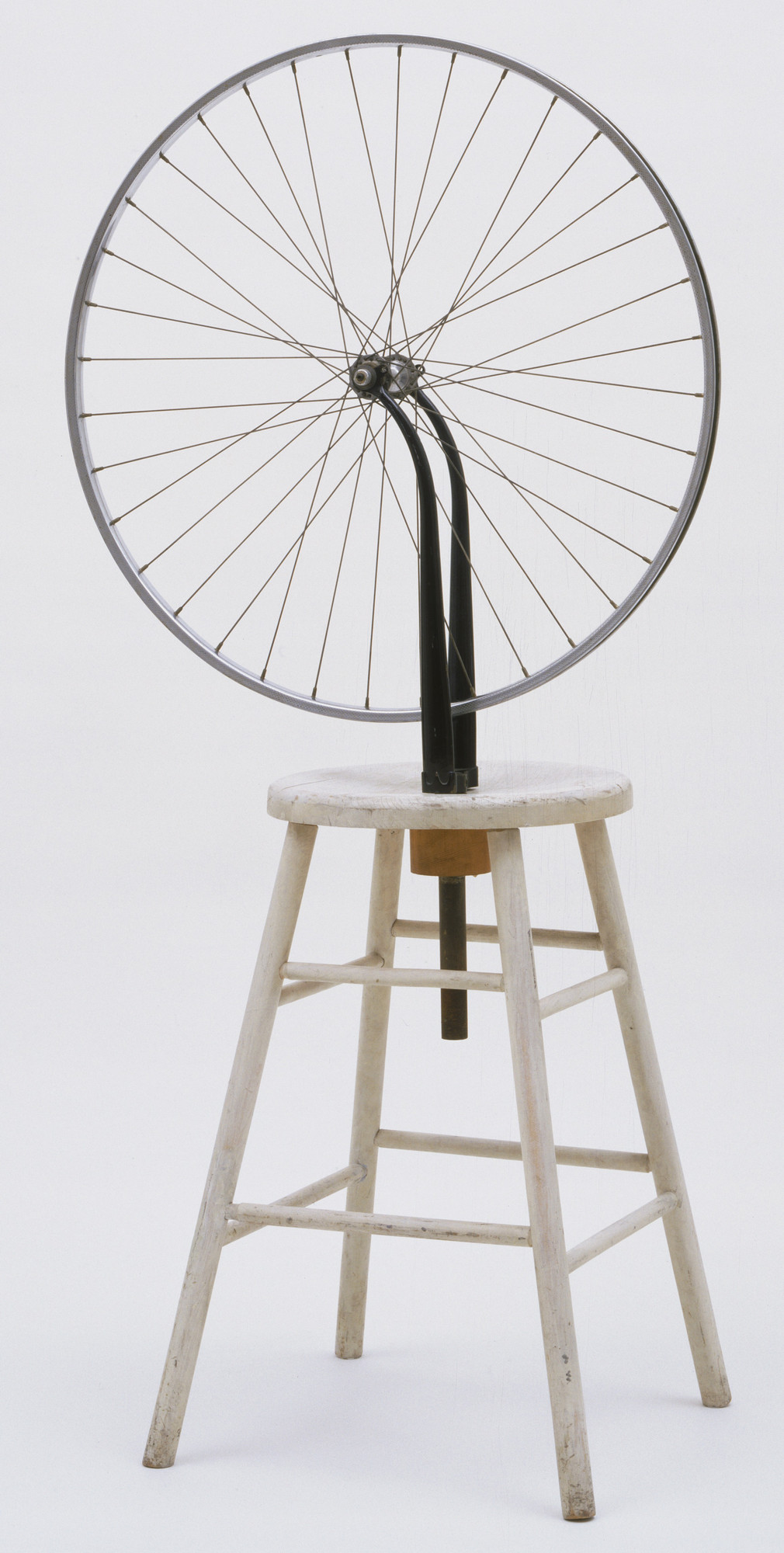 Marcel Duchamp. Bicycle Wheel. New York, 1951 (third version, after lost original of 1913)
Though Bicycle Wheel predates Duchamp's use of the word "readymade"—a term he coined after moving
Though Bicycle Wheel predates Duchamp's use of the word "readymade"—a term he coined after moving from Paris to New York in 1915—it is the earliest example of this class of groundbreaking artworks. Like most of Duchamp's existing readymades, MoMA's Bicycle Wheel is a later version of an earlier creation, made for a 1951 exhibition at the Sidney Janis Gallery in New York. As was his penchant at that point in his career, Duchamp found others to do much of the work for him: Sidney Janis, the gallery's owner, selected the bicycle wheel while in Paris and found the stool in Brooklyn, and Duchamp put the two together. What mattered to Duchamp was the transmission of a readymade's concept, not its exact physical appearance.
Bicycle Wheel distinguishes itself from all of the artist's subsequent readymades by virtue of its central object's implicit movement, a quality Duchamp appreciated for its calming effects. "To see that wheel turning," he once remarked, "was very soothing, very comforting, a sort of opening of avenues on other things than material life of every day. I liked the idea of having a bicycle wheel in my studio. I enjoyed looking at it, just as I enjoyed looking at the flames dancing in a fireplace. It was like having a fireplace in my studio."
Publication excerpt from MoMA Highlights: 375 Works from The Museum of Modern Art, New York (New York: The Museum of Modern Art, 2019)

Additional text
Marcel Duchamp was a pioneer of Dada, a movement that questioned long-held assumptions about what art should be and how it should be made. In the years immediately preceding World War I, he found success as a painter in Paris. But he soon gave up painting almost entirely, explaining, "I was interested in ideas—not merely in visual products." In this spirit, he began selecting mass-produced, commercially available, and often utilitarian items, designating them as art, and giving them titles. These "Readymades," as he called them, disrupted centuries of thinking about the artist's role as a skilled creator of original, handmade objects. Instead, he argued that "an ordinary object [could be] elevated to the dignity of a work of art by the mere choice of an artist." Duchamp claimed he selected objects regardless of "good or bad taste," defying the notion that art must be pleasing to the eye.
Publication excerpt from Modern Art & Ideas, Coursera.