The stunts and jumps achieved by professional dirt bike riders have awed and inspired many a fan. But beneath every triple back flip, whip, superman, "Hart" attack or tsunami, there's the track — a complex circuit of step-ups and downs, tabletops, ramps and loops that help riders achieve these gravity defying feats. 

One creative genius behind track designs is former motocross racer Jason Baker, owner of DreamTraxx, a company that specializes in the design and construction of professional motocross and supercross tracks. Founded in 2003, DreamTraxx is one of the leading motorsports track building companies in the world with a client list that includes legendary motocross champion Ryan Villopoto.

Recently, Baker and a few construction colleagues took up the challenge to demonstrate the power and possibilities of GNSS-enabled equipment at his Moto Sandbox training facility in Groveland, FL. The group included the Dirt Ninja, aka contractor Tom Gardocki; Ryan Goodfellow, owner of Utah-based Rock Structures Utility and Excavating; and Britton Lawson, director of construction technologies at specialty contractor Veit & Company, Inc., as well as Cory Baker with SITECH North Central Florida and Trimble representatives. 

The goal was two-fold. First, to construct a practice track with modern machine control technology for professional riders Villopoto, Tyler Bereman, Todd Potter, Lorenzo Locurcio and Alex Martin; and second, to provide a practical and realistic demonstration of the benefits of technology to reshape the future of motocross and supercross track construction.

Design appeal
The project, known as "Dirtkhana 2" is a follow-up to the first Trimble-hosted Dirtkhana event that occurred in 2019 in the small town of Berthoud, CO. For the first event, Dirt Ninja Tom Gardocki worked with Trimble to build a practice track for professional freestyle motocross rider James Carter using the Trimble Earthworks Grade Control Platform for Excavators, Trimble Siteworks Positioning System and Trimble SiteVision. The track was constructed in a space about the size of a football field and included two super elevated curves and straightaways.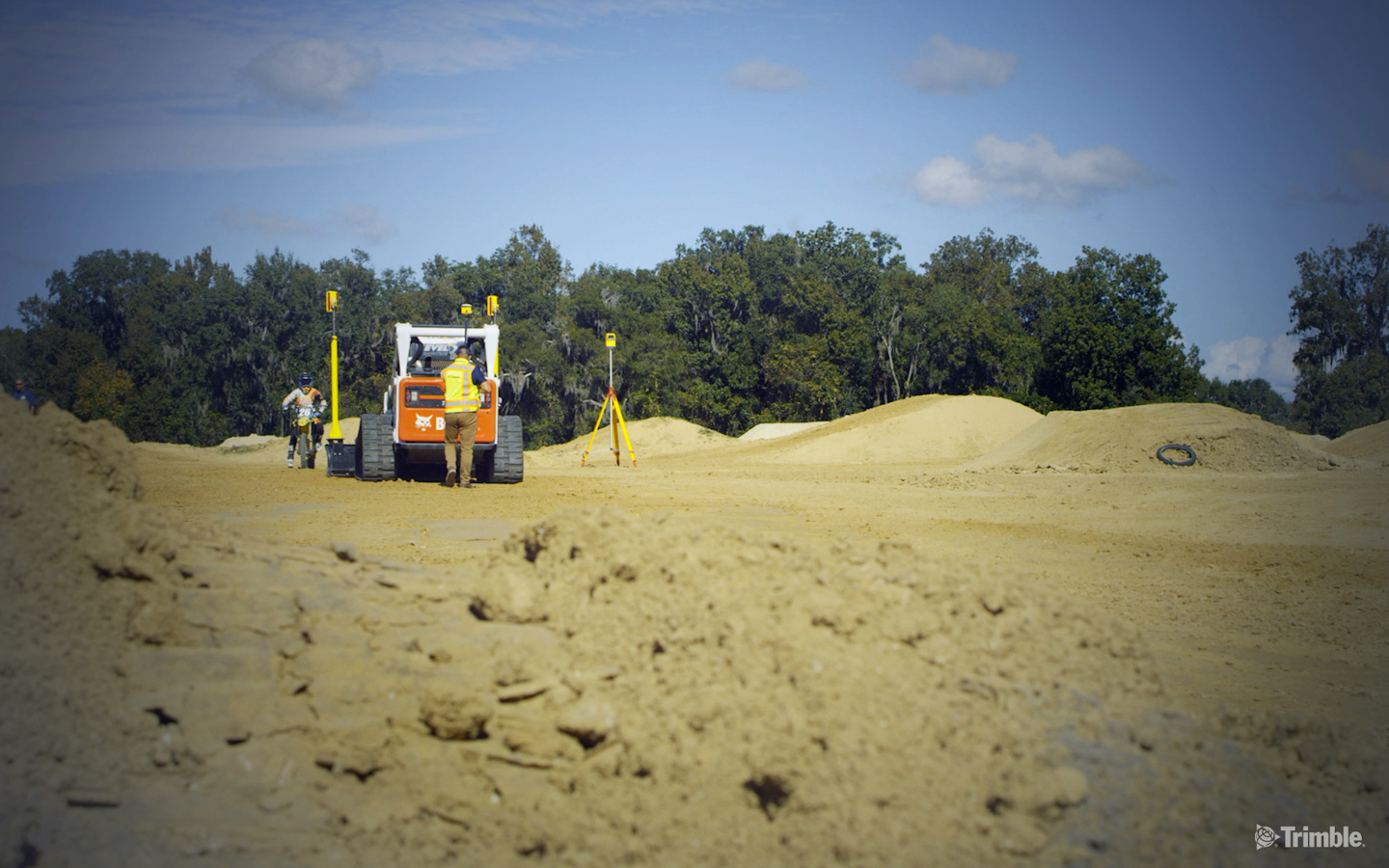 "With a machine control system, the setup of the track would certainly be faster and more precise without using stakes, string lines or big offsets," said Ryan Goodfellow, owner of Utah-based Rock Structures Utility and Excavating.Trimble


Dirtkhana 2 steps up the challenge in both scope and scale. Gardocki confirmed, "From a track perspective, Dirtkhana 2 is a very different project compared to Dirtkhana 1. For the first track, we went from a flat surface to a mini track. This project required the modification of two existing full size tracks with many more features." 

The Moto Sandbox training facility covers about 45 acres and includes a large motocross track, sand track and two supercross tracks on approximately 30 of those acres. With a total circuit area of about 100,000 cubic yards of dirt, the tracks replicate different features that riders might see at a professional event.

The team used a few lanes of the existing motocross practice track and a few lanes on the supercross practice track to build one large circuit with many features. Beyond the ramps and runups, the work would require some custom earthwork to facilitate the transition from one track to another. Over the course of six days, the group moved a massive amount of dirt to shape a unique and customized motocross practice course that even included a launch pad from a machine blade.

Track distinctions
Building a motocross or an indoor equivalent supercross track is quite different from sitework or earthwork required in more conventional construction, whether for buildings or infrastructure.

Goodfellow confirms, "On most earthwork jobs, we're dealing with flat areas, not ramps, tabletops and step downs."

The process also differs in design and build practices. Baker explained, "Motocross track building is very specialized, and no two jumps are alike — that's the artistic side of track building."

While motocross track design requires some precision, such as matching trajectories from takeoffs to landings, the construction process is somewhat loose to accommodate the vision of the track designer.

"For a typical construction project, we would use a 2D or 3D model developed by an engineer," said Lawson. "Track design is much more freeform; it's more of an art." 

The first step was to fly the site with a drone and then use Trimble Stratus to develop a topographic survey. Lawson used the survey data to begin creating the 3D model in Trimble Business Center, which could then be exported to Trimble Siteworks to perform survey work.

"Those aerial images gave us a much better starting point instead of going out to site with rover and topo," said Lawson. "It was very easy to overlay line work over the topo to get an idea of the work that needed to be done. Then we used Siteworks to do takeoffs, locate corridor alignments for transitions and define the general location of features."

The model was loaded into the excavator and dozer machine control systems which were each equipped with Trimble Earthworks Grade Control Platform, Trimble's next generation machine control system that incorporates dual GNSS receivers for 3D accuracy, stability and performance of the blade and bucket.

From there, Britton, Goodfellow, Gardocki and even Baker jumped in the cabs — with Cory Baker, the SITECH rep available as support — and got to work.
"I didn't have the experience the other guys had with machine control, and even so, I was running my dozer with the full GPS automation in minutes," said DreamTraxx's Baker. "Cory was amazing throughout providing hands-on lessons about how to use the entire system as efficiently and effectively as possible."

When asked about specific features, Baker said he was really impressed that once the base station was set up, he was able to go anywhere on the track in my dozer, set the blade down and get an elevation. "There was no guessing about drainage and we could replicate jump pitches perfectly over and over. That was mind blowing," he added.

The value of the technology-enabled system became quickly evident in the details of the jumps.

During construction, the team worked with Todd [Potter] on the backflip jump, one of the critical components of every motocross track. These jumps require some combination of ramp angle, ramp length and bike speed. For instance, Josh Sheehan became the first person to land a triple backflip on a motocross bike in 2015. At a speed of 60 mph, he launched from a 37-foot takeoff ramp built at an 81-degree angle. At the peak, he and his bike reached a height of 80 feet.

For the Moto Sandbox jump, Baker recalled, "Todd told me the angle he wanted, and we built it precisely to that spec. The 3D system took the guesswork out of the entire process."

As well, to make the transition between the motocross and the supercross tracks a little more interesting, the team parked a dozer with the blade positioned at an angle to form a launch pad for the riders.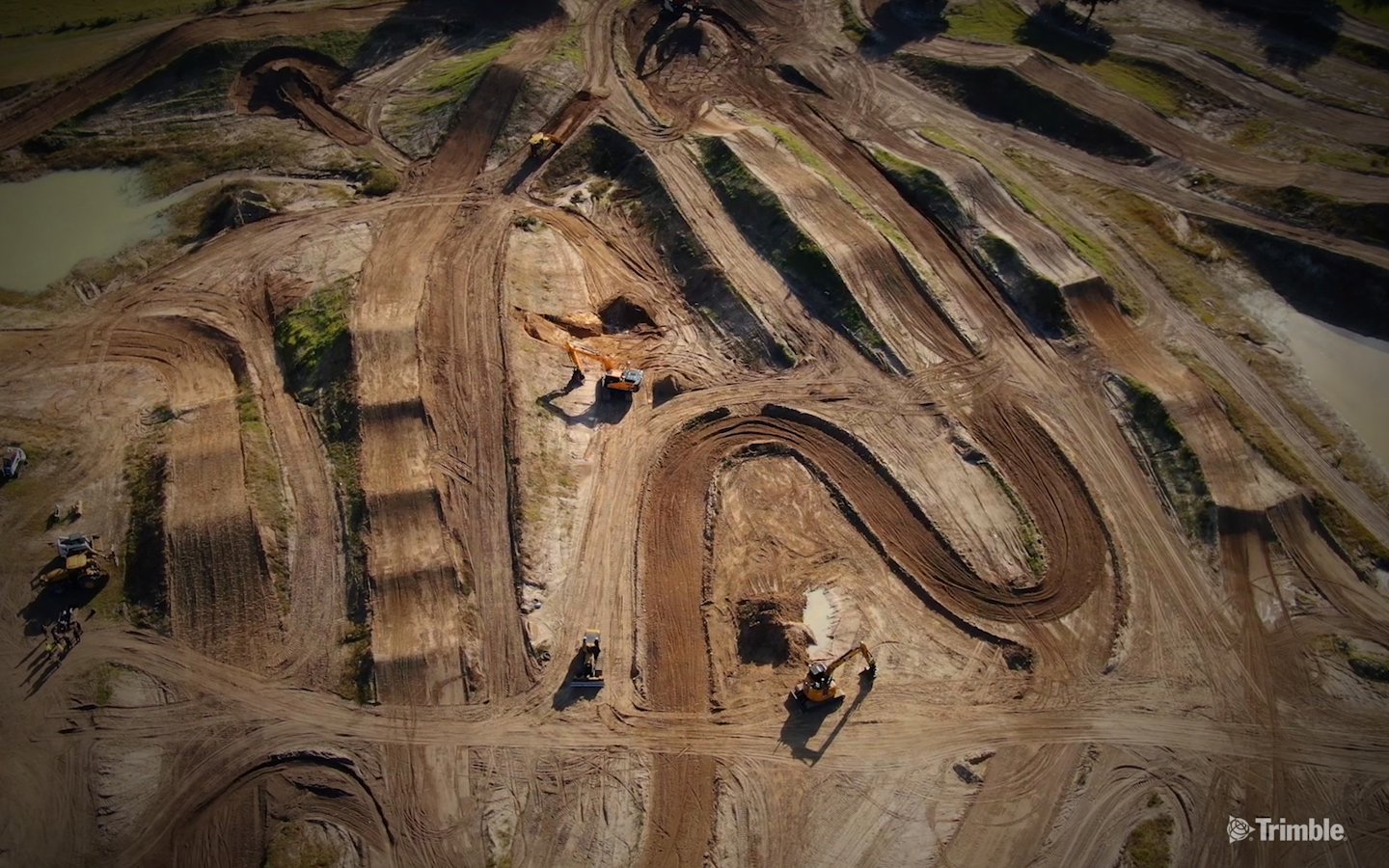 This project required the modification of two existing full size tracks with many features.Trimble


"As a former rider I have a good feel for what I want to build, and I use a lot of intuition for track design," said Baker. "That can make communicating to equipment operators a challenge. With the 3D system, I can tell any operator, even one with no experience in building tracks, where to build a 30 degree angle on a jump and the automated system does it perfectly. The efficiency is amazing."

Built for speed
Integral to the Dirtkhana 2 demonstration was to develop some productivity metrics comparing 3D machine control with conventional track building practices. For example, the most challenging aspect of a stadium track construction is the small window available to build and tear down the track within a given footprint. Tracks are usually built over the course of several days before a Friday/Saturday event and then begin tear down on Saturday night after the races.

The faster crews can build the track, the better for the riders to get on the course to practice.

Goodfellow noted that professional tracks are largely eyeballed. For indoor tracks, he explained that crews will typically cover the grass with plastic and then lay a six-inch road base. Then they'll set stakes for the jumps and lay out the lanes while a loader and dump trucks follow behind to build the jumps, followed by a dozer shaping, grading and fine tuning the surface.  

"With a machine control system, the setup of the track would certainly be faster and more precise without using stakes, string lines or big offsets," he said. "Also, with the 3D system, we can maintain the required footprint within required tight tolerances."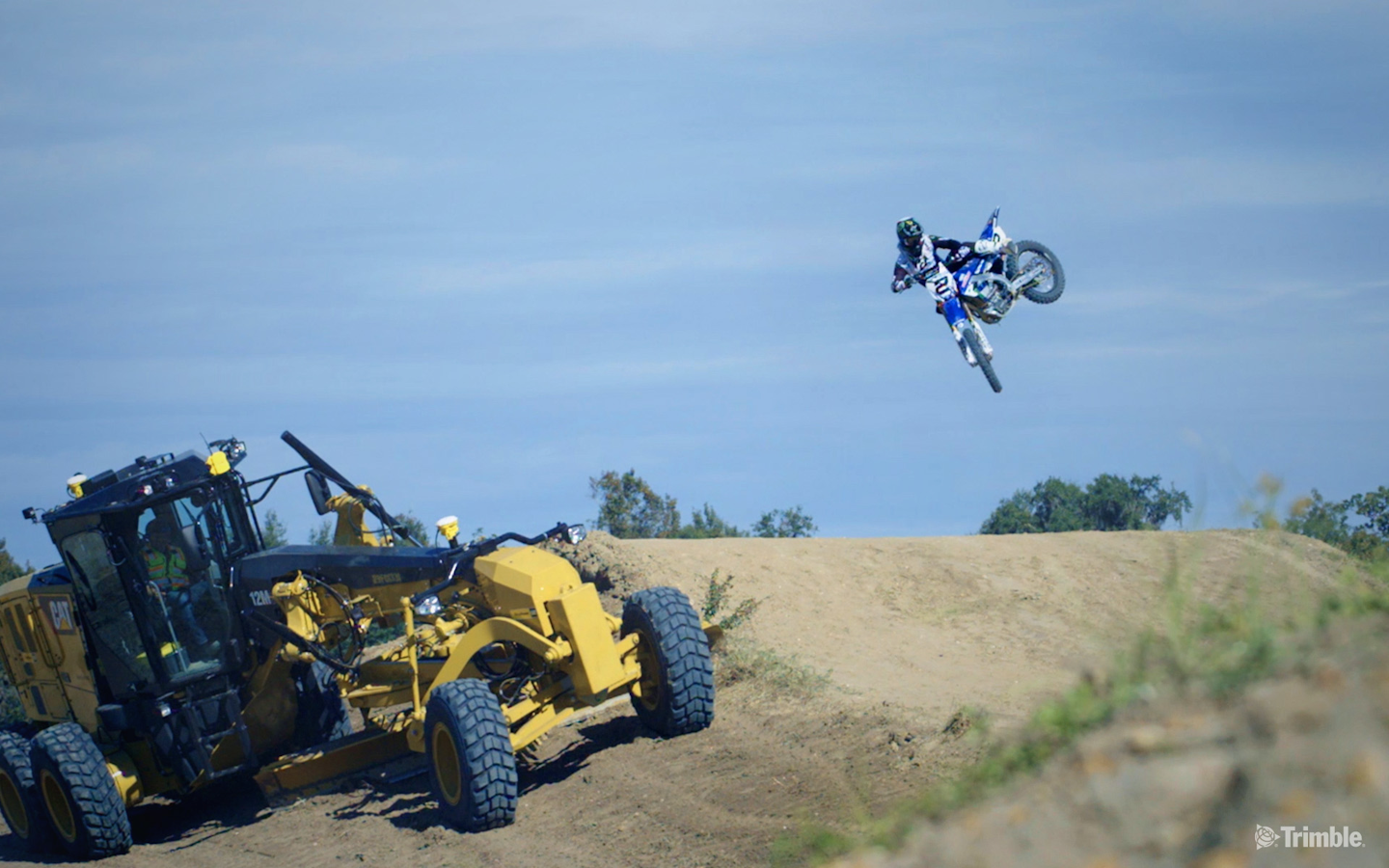 Over the course of six days, the group moved a massive amount of dirt to shape a unique and customized motocross practice course.Trimble


Motocross tracks typically have considerably more earthwork movement than supercross. Baker added, "In this case, the ability to be anywhere on the site and get an elevation or cut a two-foot drain without pounding stakes is a benefit. I can stay in the cab. This automated process could easily save me two days in layout and final cut. Instead of six to seven days, I could do it in five days."

Baker believes machine control really shines for track maintenance, adding, "Once the track is built, we can walk the track with a rover to create a surface model. With that loaded in dozer, I can send anyone out there with the dozer to auto grade features as needed. If I need a pad with a one percent slope, I am able to do it all from inside the machine."

The professional riders were equally excited about the Dirtkhana 2 demonstration, enjoying the results and the integration of equipment as obstacles and launch pads over the course of the week.

"It's amazing to see what construction equipment operators can do when they're in their element with the right technology," says Baker. "Dirtkhana 2 was an awesome experience and opened my eyes to what I can do with the machinery."