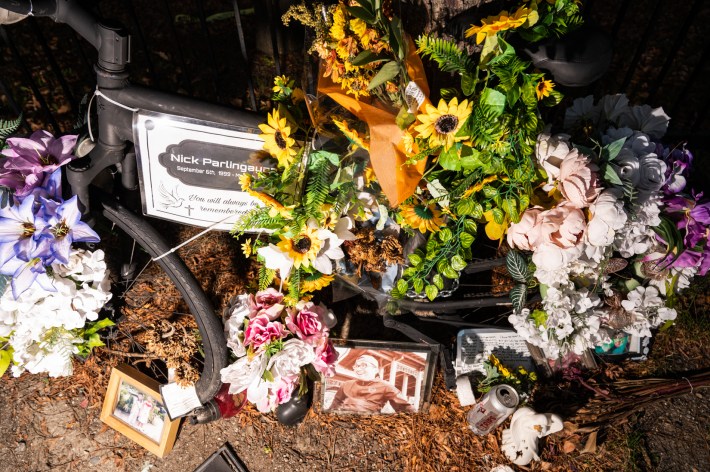 Life And Death In Chicago's Most Dangerous Bike Lane
This story was produced by the Illinois Answers Project, an investigations and solutions journalism news
This story was produced by the Illinois Answers Project, an investigations and solutions journalism news organization, and Block Club Chicago, a nonprofit newsroom focused on Chicago's neighborhoods.
CHICAGO — Cameron Lasater danced professionally in a Chicago troupe before he was doored on his bike in July 2020, throwing him into traffic where the driver of another car crushed his leg. Now, with a metal plate in his ankle, he'll likely never dance in a company again. 
Christine Harrison suffered "permanent scarring and disfigurement" while cycling in May 2021 after she was allegedly struck by the driver of a Divvy transport van in a hit-and-run crash.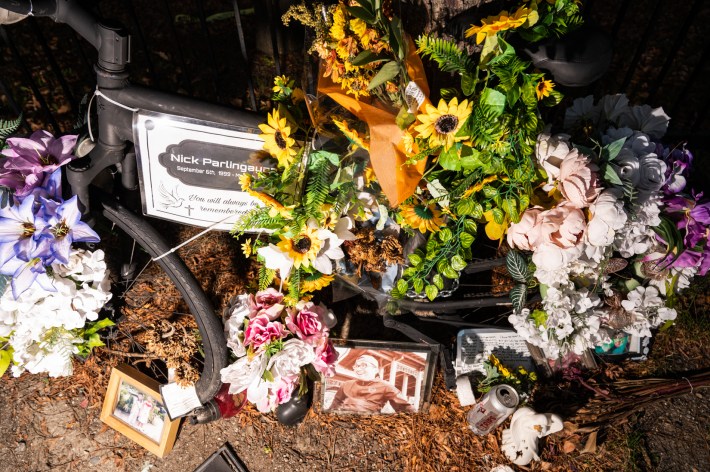 Nick Parlingayan died in a hit-and-run crash at a notorious Old Irving Park interpass when a driver hit him, dragging and throwing him off his bike. The 22-year-old was the second cyclist to die in four years at the site, where drivers were slammed with bike lane violations in the months leading up to his death.
All of these crashes happened in the Milwaukee Avenue bike lane, a route that is supposed to be built for the safety of cyclists but has been the scene of 50 reported crashes, three of them fatal since 2020, according to city data. Advocates, city officials and policymakers say that the city's confusing and patchwork approach to building protected bike lanes leaves cyclists vulnerable to injury and death. They say that the planning and installation of cycling safety infrastructure that would help protect them is often dependent upon the vagaries of City Hall and the veto power of 50 aldermen. It's a process that is under review by Chicago's inspector general.
"We are trying to create a rational cycling network with all of this fractured decision making and there's no consistency in terms of the process of planning, design and construction of these kinds of projects," said Jim Merrell, the managing director of advocacy for the Active Transportation Alliance, a nonprofit cycling advocacy group.
That means Chicago's cycling infrastructure looks different from one block to the next — or different within the same block. A small number of well-trafficked roadways have protected bike lanes separated from car traffic by concrete barriers, but most bike lanes in the city are separated with paint or flexible plastic bollards. Likewise, Milwaukee Avenue has a disjointed mix of infrastructure, far from the "safe, continuous bikeway" that was imagined under the city's dramatic plan for cycling infrastructure released a decade ago.
The lack of planning comes as bicycle ridership is way up in Chicago, surpassing pre-pandemic highs, city officials said. Divvy, a bikeshare company, hit 5.5 million rides last year, and on a day in September, the city counted nearly 3,000 cyclists on Milwaukee Avenue, making it Chicago's busiest cycling route.
Altogether, Chicago has a network of 280 miles of bike lanes, about 40 of them protected with curbs or flexible bollards. Only about a quarter of Milwaukee Avenue bike lanes are protected despite seeing the highest number of cyclist crashes in recent years. About 3 miles of Milwaukee are set to be protected by concrete barriers by 2023.
For many cycling experts, the safety of Milwaukee Avenue's bike lanes is a test of the city's commitment to sustainable transportation.
"Milwaukee Avenue is the crown jewel of whatever Chicago's cycling plan really is," said Mike Keating, a personal injury attorney who represents injured cyclists. "Whatever Chicago chooses to do with Milwaukee Avenue reflects how serious the city really is about having bicycles be a critical part of the overall modern transportation scheme."
Envisioned as a "spoke route," Milwaukee Avenue should be an ideal path for commuting cyclists: The 11-mile diagonal corridor stretches from Chicago's quiet northwestern edge through the bustling commercial districts of Logan Square and Wicker Park and ending near the Loop. But there have been more bike lane crashes on Milwaukee than any other street in the city. 
Citywide, drivers have crashed into at least 439 cyclists in the bike lane from the beginning of 2020 through July 2022, an undercount due to the crashes that aren't reported to authorities or bike lane crashes that are miscategorized as happening outside the bike lane.
To better understand safety concerns that have become a pressing issue in the upcoming mayor's race, Block Club Chicago and the Illinois Answers Project spoke to 25 cyclists about their harrowing crashes on Milwaukee Avenue — the moment of impact and the struggles that followed: pain and surgeries, overwhelming medical bills, missed work and the nagging feeling that the city didn't do enough to keep them safe.
Corbin Keech, who was hit by a driver turning right June 16, 2021 in the 600 block of North Milwaukee, said people bike all over the world with very few incidents.
"Cycling is totally safe, it's cars that make cycling unsafe," he said.
Crime And No Punishment
The drivers involved in most cycling crashes — or the passengers if they doored a cyclist — were not arrested or cited despite overwhelming evidence they were at fault, according to police reports reviewed by Illinois Answers and Block Club. And 13 of them fled the scene after the crash.
That's what happened to Joshua Roszko, who was riding his bike to work on the afternoon of Aug. 27, 2021, when he was hit head on by the driver of a white Hummer H3 that turned on West Erie Street. The driver of the Hummer, an off-road vehicle that weighs more than two tons, drove away after the crash, according to police.
Roszko said the driver of the Hummer ran over the flexible plastic bollards separating the bike lane before crashing into him, giving him a concussion, tearing up his lip, cracking open his right cheek and knocking his teeth loose. His teeth had to be fitted with retainers, which he still uses.
Roszko said he called the police, who told him that they would look for white Hummers registered in the area. He never heard back.
"It did piss me off," said Roszko, who was 19 at the time of the crash. "I could have died. The doctors were saying I was lucky I didn't have a spinal injury. That's pretty bogus, they let that slide."
According to city data, about a third of all bike lane crashes in Chicago were hit-and-runs, leaving injured cyclists with few options.
Filing lawsuits is common practice for cyclists who get hit in the bike lane, and often their only avenue for restitution. Several people reached for this story declined to comment due to pending lawsuits.
Colin Cameron, a partner of the Chicago Bike Law Firm in Logan Square, said most of their cases arise from crashes along Milwaukee Avenue.
"If you're just taking a leisurely ride and you're in that bike lane, I think that lulls people into false security," he said.
But for cyclists, being in the bike lane during a crash provides "good legal cover" for lawsuits, even if payouts are limited by the low amounts of liability insurance drivers are required to carry, a minimum of $25,000 in Illinois, according to Cameron.
Many cyclists do not have car insurance because they do not own cars, so they must rely on the insurance of the person who hit them, no matter if they suffer a small cut, an amputated limb or worse. Parlingayan, who died in a hit-and-run crash in the spring, was killed by a driver who had the minimum liability coverage, his attorney said.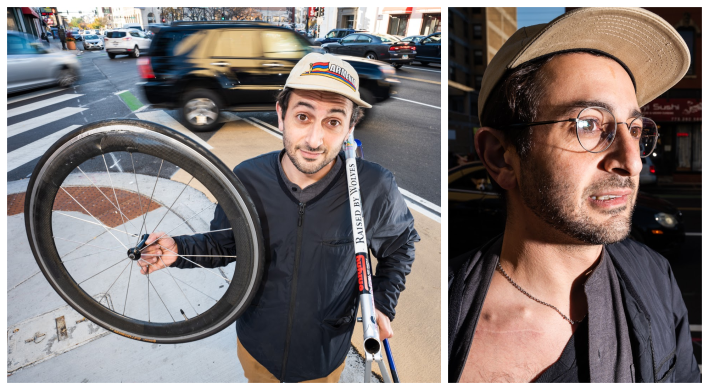 Gevork Chubaryan said he received a $52,500 insurance payout — nearly half coming from his own insurance — after a driver turning right on Division Street slammed into him on August 31, 2021, in the 1100 block of North Milwaukee Avenue.
Chubaryan broke his hand and his collarbone snapped in half. His emergency room visit cost about $2,000, his surgery $8,000, and attorney fees were another $18,000. An art technician, Chubaryan was out of work for four months and ran out of his $400-a-week disability insurance halfway through his leave.
The minimum insurance policy didn't pay for all of Mark Langenderfer's hospital bills when he was hit by a driver turning left in the 2100 block of North Milwaukee Avenue on May 26, 2021.
Langenderfer suffered a concussion, two broken toes, a chipped tooth and gouges on his head and chin that resulted in 20 stitches. His one-night hospital stay cost more than $25,000, and it took him a year to fully recover, he said.
"My only thought was, 'What the hell?' I'm having a great day, biking along Milwaukee Avenue, minding my business, and she changes my year completely in a second," he said.
Chubaryan and Langenderfer were hit in two small stretches where most of the Milwaukee Avenue bike lane crashes happen in West Town, Wicker Park and Logan Square. In the past three years, there were 15 crashes on Milwaukee from Augusta Boulevard through Honore Street, and another 14 crashes from Armitage Avenue through Sacramento Avenue.
The city's crash totals, however, paint an incomplete picture of Milwaukee Avenue's problems. Crashes often go unreported, in many cases because the damage is minimal or cyclists have little faith in the city's enforcement system, cycling advocates said.
Scott Huth was hit by a driver last August on Milwaukee Avenue between Carpenter Street and Ogden Avenue. The driver was attempting to turn right into a parking lot and clipped Huth's front tire.
Huth went to his primary care doctor for treatment. He opted against filing a police report but talked to police about the incident a month later when he fell off his bike a second time because of an oily substance left by a city cleanup crew.
Police "didn't seem like they were all that interested in [the crash] after the fact. Going back in time, I don't know if I would've bothered to report it," he said.
Milwaukee Avenue's Failed Dreams
Top city officials and planners have long talked about making Milwaukee Avenue into an arterial cycling hub, and the same song repeats: plans are announced with fanfare and then abandoned or executed slowly, cycling advocates said.
In 2012, as high-quality cycling infrastructure started to take off in Chicago and nationwide, with cities reimagining the purposes of their streets, then-Mayor Rahm Emanuel's administration unveiled the Chicago Streets for Cycling Plan 2020, which laid out a vision for 645 miles of "on-street bikeways."
Under this plan, Milwaukee Avenue and six other arterial roadways known as "spoke routes" were to get barrier-protected bike lanes and other cycling infrastructure such as improved traffic signals and colored pavement. These were to be "direct routes in and out of the Loop that … provide a safe, continuous bikeway and connect all areas of Chicago with the downtown."
According to cycling experts, the plan resulted in the installation of "low-hanging fruit" cycling infrastructure, constructed in ready-to-build spaces where there was no public pushback, but stopped far short of the transit revolution it prescribed.
Emanuel's plan, while well-intentioned, only amounted to "a bunch of lines on a map," according to Vig Krishnamurthy, deputy commissioner of the Chicago Department of Transportation.
"Projects were built opportunistically through resurfacing projects, and as [federal] funding became available. But there was no real priority to do these things first and these things second," he said.
Advocates and political observers say there's a grim cause-and-effect relationship with cycling infrastructure: drivers hit, maim and kill cyclists, and only then does the city improve the roadway. Rather than being proactive, the city is reactive in protecting cyclists.
Carla Aiello was cycling in the 3800 block of North Milwaukee Avenue in 2019 when she was fatally struck by the driver of a dump truck. And then, Parlingayan was killed at the site in the spring after being hit by a speeding driver. Following these deaths and years of outcry, Ald. Jim Gardiner (45th) is working with city planners to bring concrete curb-protected bike lanes to the site.
And bollard bike lanes were installed last year at Logan Boulevard and Western Avenue, a few months after "School of Rock" drummer and actor Kevin Clark was killed and 13 years after the death of 22-year-old Tyler Fabeck, who was fatally struck while cycling in the same intersection. The plan was backed by Ald. Daniel La Spata (1st), a cyclist who said he has been hit by drivers a half-dozen times.
Mayor Lori Lightfoot's administration hasn't debuted its own citywide cycling infrastructure plan, but under Lightfoot's leadership the city is installing 40 miles of bike lanes a year, double what Emanuel's administration delivered, Krishnamurthy said.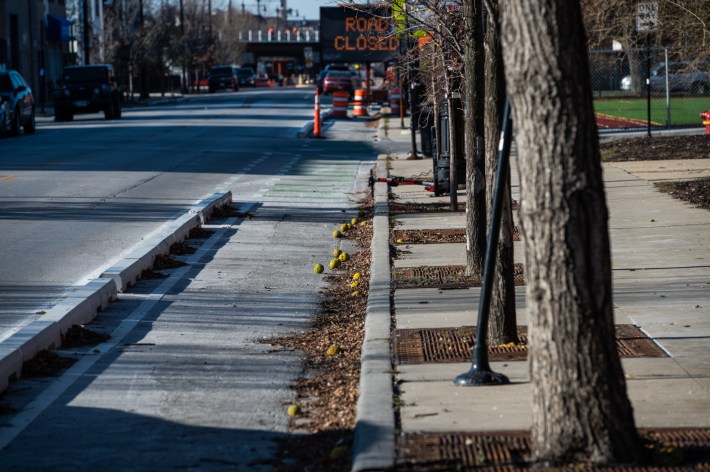 Bike lanes, particularly ones with raised concrete barriers that separate cyclists from drivers, but also those designated with bollards and paint, aren't a cure-all, but they've proven to boost safety on the road. A stretch of Milwaukee Avenue from Western Avenue to California Avenue saw a 56% reduction in crashes in 2021 after lanes for cyclists were installed in October 2020, according to data provided by CDOT.
Over the last decade, city planners have worked with neighborhood residents and aldermen to determine if bike lanes and other infrastructure upgrades are needed for dangerous roadways. City officials defend the strategy as community-driven and a response to the varying conditions of city streets, while cycling advocates contend the process gives aldermen and the mayor too much control.
"It's haphazard, it's piecemeal, it doesn't rock the boat," said Christina Whitehouse, the founder of Bike Lane Uprising, a bike lane activist group. "It's 'I care about reelection' more than doing what's right."
'It Just Went Dark'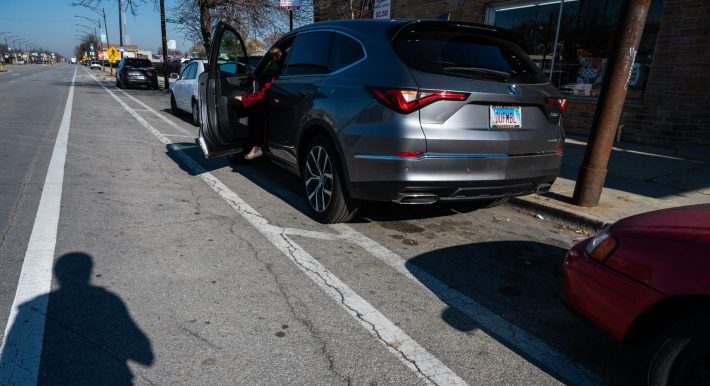 A little less than half of the Milwaukee crashes happened when a driver or passenger of a parked car opened their door in the bike lane.
Citywide, a quarter of all the bike lane crashes were doorings.
"It's really dangerous because the door tends not to come off," said Derek Falk, who was doored by a driver in Portage Park on June 12, 2020, coming from the Lucky Grill. "You don't go through the door. You go from whatever speed to zero."
Falk suffered a concussion, scrapes and a bloody ear in the crash.
"It just went dark and I woke up in the street kinda disorientated because my head went right into the door," he said, noting the driver didn't have insurance.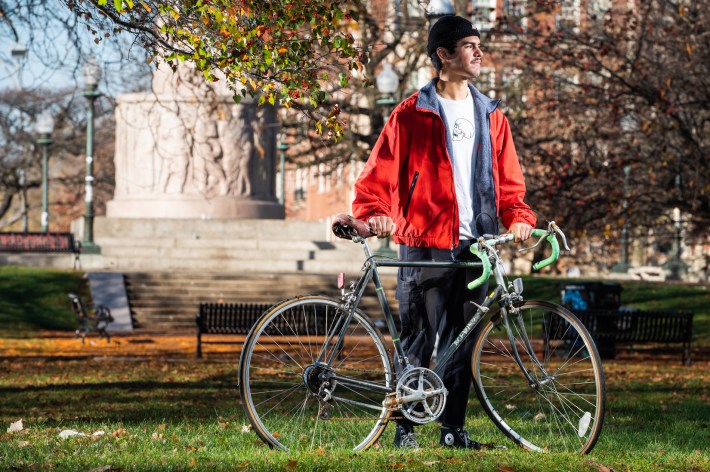 Lasater, the professional dancer, was forced to switch careers after his dooring-related crash in the 4400 block of North Milwaukee. 
He was in a cast for three months and in physical therapy for several months because his ankle had "basically snapped off" in the crash, he said.
Before the crash, the Texas-native had trained at the Ailey School and Alonzo King LINES Ballet in New York City and moved to Chicago to be a member of DanceWorks Chicago company, which toured Germany.
Now Lasater works as a server at a restaurant.
"I'm learning to adapt, which is part of being a dancer," he said. "It's still in my life, I still do things for friends here and there around the city. It's the just way it is. I can't keep looking back too much."
Chicago's Bike Lane Enforcement
Bike lane obstructions on Milwaukee Avenue happen everyday. A Block Club photographer who biked down the length of the 11-mile street during rush hour on a sunny morning in November counted 46 obstructions during his round-trip journey.
An analysis of crash reports show two bike lane crashes that involved a person parking in the bike lane. Chicago crash data does not record bike lane obstructions.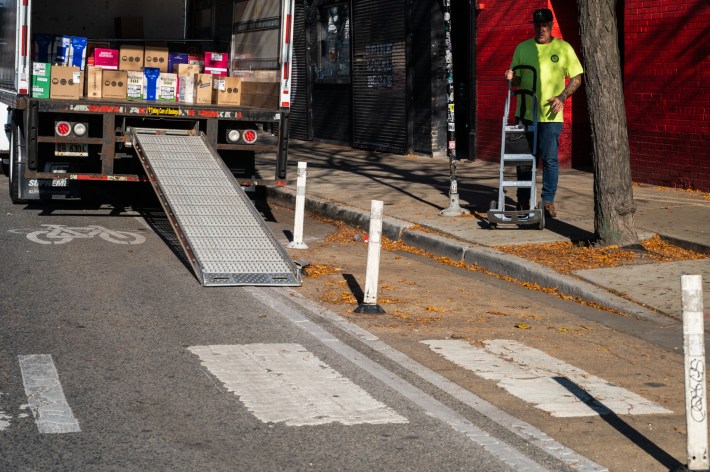 Grace Hebert was heading home on her bicycle on June 14 in the busy Wicker Park intersection of Milwaukee, North and Damen avenues when an SUV blocked her path through the bike lane. When Hebert tried to go around the vehicle, the SUV driver opened the door, causing her to fall off her bike and into the path of an oncoming car. The SUV driver fled.
"I was really upset because it speaks to the way that we, and the city, value different users of the road," Hebert said. "Someone's convenience to park is more important than someone on a bicycle's wellbeing."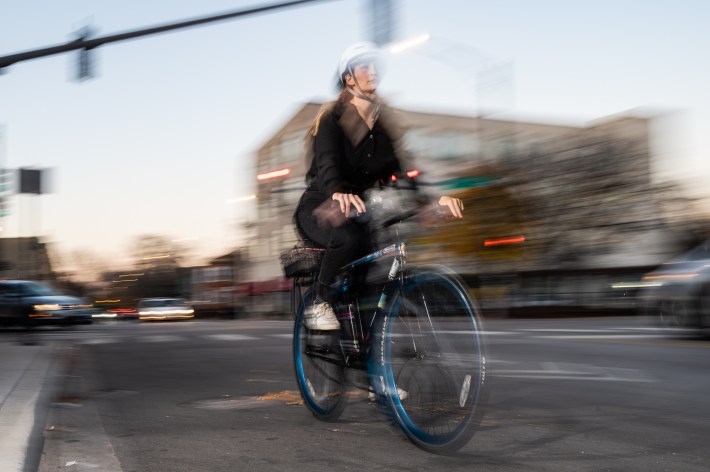 The city's most prominent tool for cracking down on bike lane violators are tickets. Data shows that 197 bike lane violation tickets have been issued on Milwaukee Avenue since 2020. In that same period, Chicago police wrote 520 bike lane violation tickets for drag racers and spectators on the road leading to Big Marsh Park on the city's Southeast Side — where few cyclists dare to ride.
Angel Amado, who was doored by the driver of a Lexus on May, 11, 2021, in the 2900 block of North Milwaukee, said that tickets don't cut it.
"Cars should be towed for parking in the bike lane," Amado said. "Why would you not go that severe on something that's going to jeopardize a cyclist's life? You can tow my car because you couldn't clean the street under it."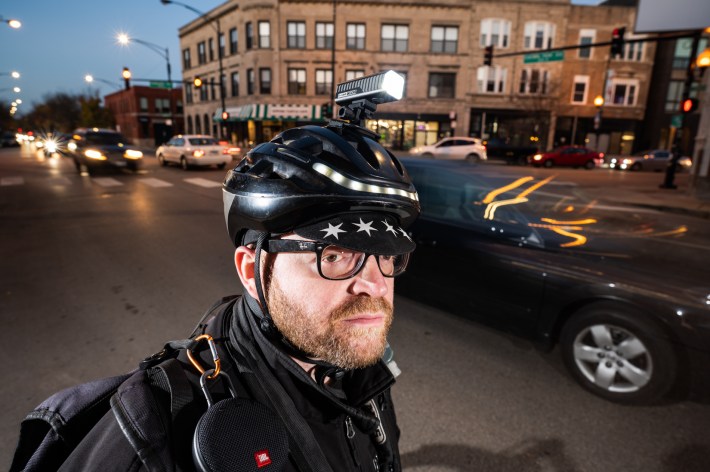 Cycling advocates have sounded the alarm about the dangers of parking in the bike lane for years, pushing for penalties for drivers. Lightfoot drew ire this month after her car caravan allegedly parked in the North Avenue bike lane outside a bakery.
Ald. Andre Vasquez (40th) introduced an ordinance this summer that would enable the city to tow any car blocking the "free-flow of traffic … designated for the use of bicycles" after 3-year-old Elizabeth "Lily" Grace Shambrook was killed by a driver of a semi-truck in Uptown while riding on the back of her mother's bicycle.
The legislation, which also requires those doing city-approved work in a bike lane to post signs warning bicyclists about lane closures, is presently stuck in committee, where ordinances typically die.
By far, the most active location for bike lane violation tickets was at 3800 North Milwaukee Avenue, near the underpass where Parlingayan and Aiello were killed. Both cyclists are memorialized with "ghost bikes," bicycles decorated with flowers and photographs and painted white.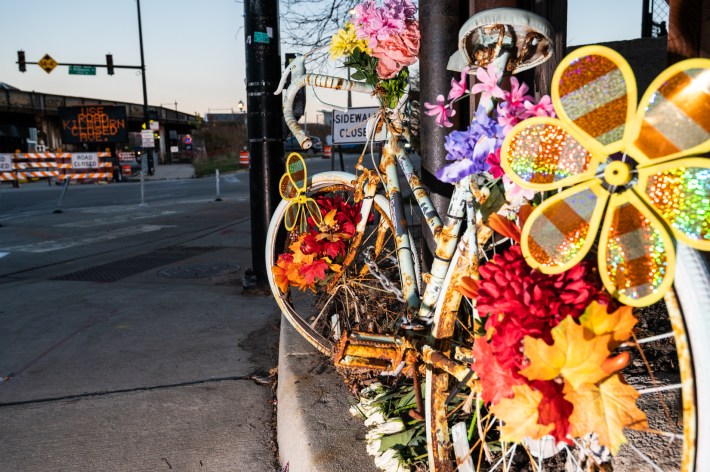 In the seven weeks before his death, Chicago police issued 21 tickets to drivers illegally parked in the bike lane near the site where Parlingayan died, according to data from the Chicago Department of Finance.
That's more than three times the number of bike lane tickets issued to any other single location on Milwaukee Avenue since the beginning of 2020. While Parlingayan did not die due to an obstructed bike lane, the ticketing data suggests that the city knew that drivers were flouting safety measures aimed at protecting cyclists.
As of Nov. 7, there were two rolls of dirty carpet partially obstructing the bike lane within eyeshot of the ghost bikes.
Attorney Brian Salvi, who is representing Parlingayan's family in their civil case, argued that government officials are partially liable for how they designed the roadway for an ongoing overpass-related construction project.
They closed one side of the street and converged the northbound bike lane into the northbound traffic lane under the overpass without giving cyclists adequate warning or offering a detour route, Salvi said. Following Parlingayan's death, both lanes were shut down.
"It's a failure in design, it's a failure in configuration, it's a failure to warn and a failure to provide alternative routes," he said. "No one raised their hand and said, 'Hey, we have to watch out for cyclists who are being put into vehicular traffic. We're leaving them out to dry.'"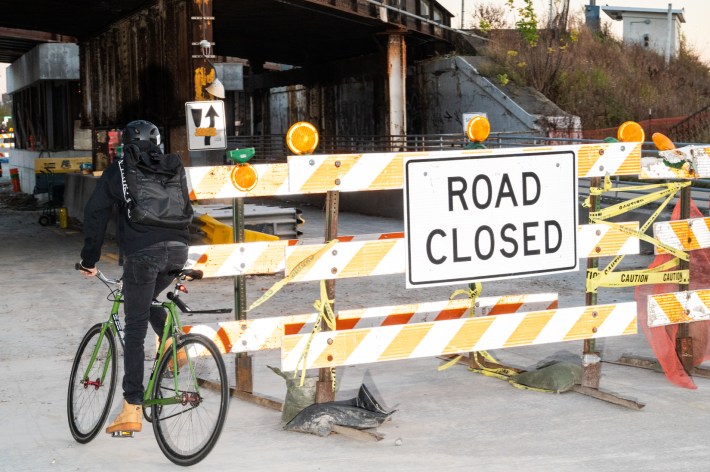 No Cars On Milwaukee Avenue?
Cyclist advocates, policymakers and cyclists agree Milwaukee Avenue is an important bike thoroughfare that sees far too many crashes and near-crashes. For many, it's a problem that requires a bold solution.
Arguably the most popular idea floated by the cycling community is to shut down parts of Milwaukee Avenue to car traffic either at certain times of day or completely, giving cyclists and pedestrians total protection from drivers. It's a common approach in European cities that is growing in popularity in the United States, in cities like Denver and San Francisco.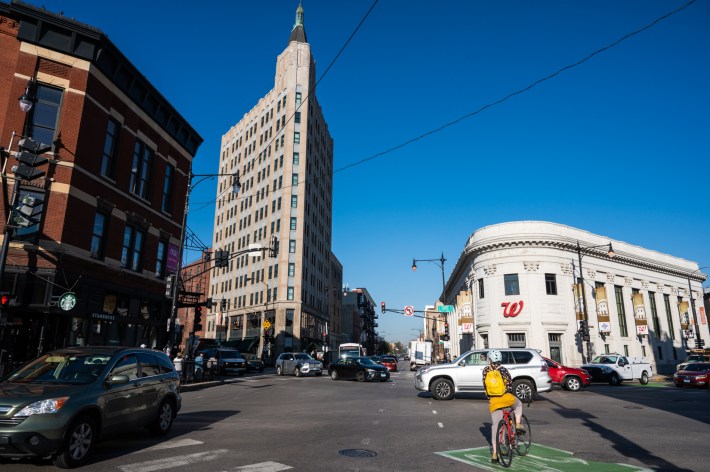 The Wicker Park stretch of Milwaukee Avenue, often overcrowded with a chaotic mix of cyclists, drivers, delivery trucks and parked cars, could benefit from having a European-style plaza closed down to car traffic, Krishnamurthy said.
Ald. Matt Martin (47th) introduced legislation this summer that would require the city to consider building bike lanes each time an arterial road such as Milwaukee Avenue is repaved, which he says is the cheapest and most practical time to install bike infrastructure. If the bike lanes were rejected in the repaving efforts, documentation explaining why would have to be submitted to the City Council's committee on pedestrian and traffic safety.
Like Vasquez's ordinance, this legislation is also stuck in committee.
Stifling progress is a general lack of awareness around cycling in Chicago and a pervasive car-centric attitude among residents and city officials, advocates say. Lightfoot described Chicago as a "car city" this summer in announcing a plan for high-priced gas relief, which many advocates felt undermined the city's efforts to protect cyclists.
"If you walk around a major European country, there's bikes, bikes, bikes — it's front of mind," said Keech, who was hit by a driver last year. "Here, it's a novelty when you see protected bike lanes, it's something you celebrate, when it should be the table stakes."
Listen to "It's All Good: A Block Club Chicago Podcast":