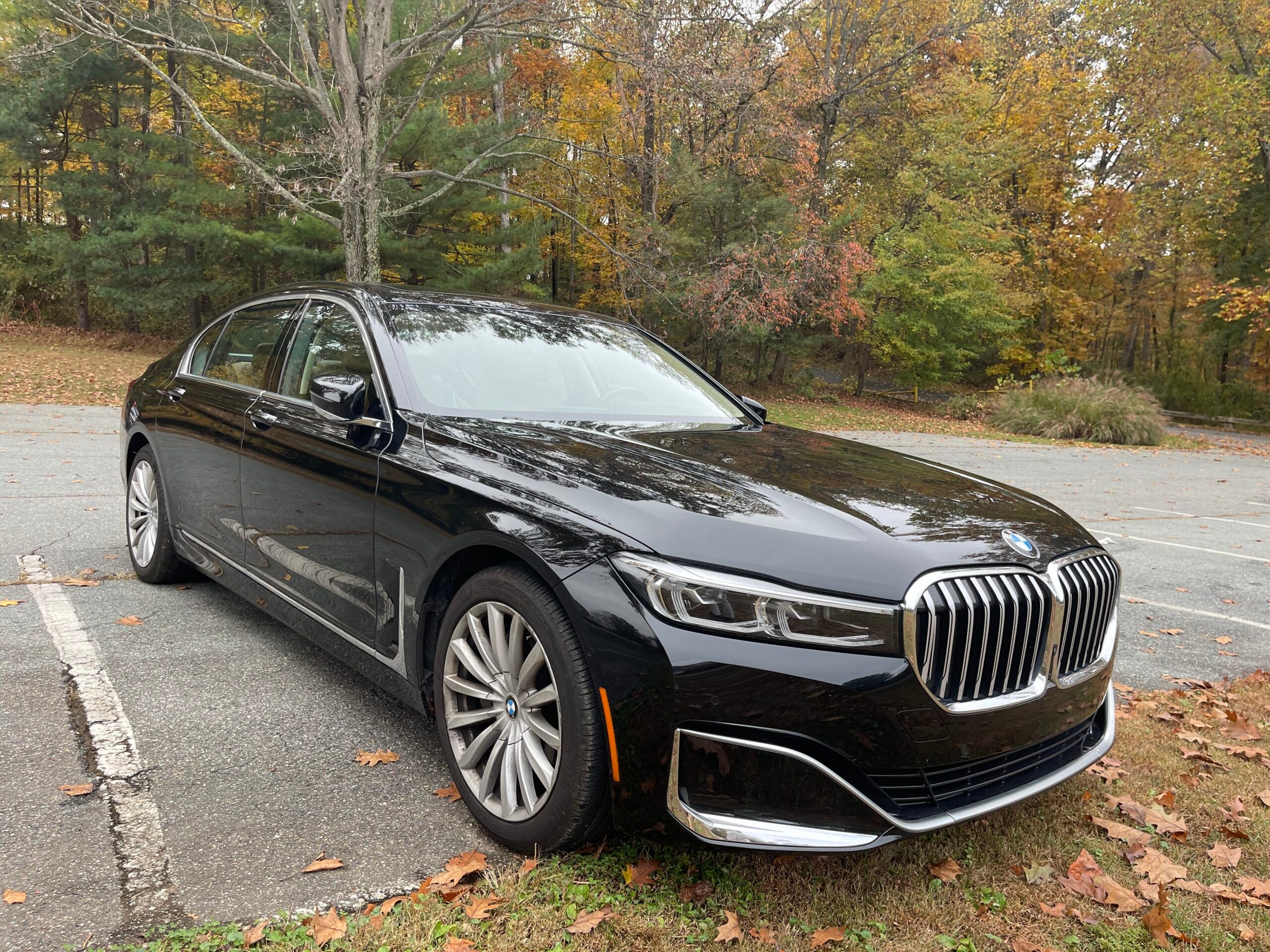 How you can rent a $100,000 BMW for $3 a day
I couldn't believe it when I drove the 2022 BMW 740i rental car — BMW's
I couldn't believe it when I drove the 2022 BMW 740i rental car — BMW's flagship sedan — out of the National Car Rental facility.
Merging on to the Dulles Toll Road, I was greeted with an astonishing amount of power in an outstandingly comfortable cabin. The autobahn-built executive sedan glided over every pothole that Washington, D.C.'s roads could throw at it, thanks to the smooth adaptive suspension and plush Dakota leather upholstery.
But the best part? My three-day rental cost a grand total of just $10.10, thanks to leveraging my elite status and free rental days from National.
Here's how I used free days to rent a $100,000-plus BMW 7 Series — and how you might be able to do the same.
National Emerald Club status
National Car Rental lets its members choose from an aisle of cars at almost all locations. All the cars on the aisle are the same price; you pick your preferred car, the keys are inside and you simply present your driver's license at the exit.
National has three published elite tiers: Emerald Club, Executive and Executive Elite. There's also an invitation-only VIP tier, which has details that are largely unknown to the public.
These are some of the key benefits of National Emerald Club status:
| | Emerald Club | Executive | Executive Elite |
| --- | --- | --- | --- |
| Qualifications | Free to join, open to the public. | 12 paid rentals or 40 rental days in a calendar year. | 25 paid rentals or 85 rental days in a calendar year. |
| Free day accrual rate | One free day every seven credits. | One free day every six credits. | One free day every five credits. |
| Select any car on the Emerald aisle when you reserve a midsize or higher | ✓ | Executive aisle. | Executive aisle. |
| No second driver fees | ✓ | ✓ | ✓ |
| Guaranteed upgrades when you reserve a full size through a luxury car | | ✓ | ✓ |
| Guaranteed vehicle | | | Up to full size with 24-hour notice. |
In practice, I've found Executive Elite status far better than it appears on paper. This year alone, I've been upgraded on all of my rentals, routinely to German luxury cars.
During a recent rental at Norman Y. Mineta San Jose International Airport (SJC) in California, the National agent asked me for my last name as I walked up to the Executive aisle. After noting my Executive Elite status, he told me that any car on the lot was mine.
Sign up for our daily newsletter
Related: Your guide to earning, redeeming and loyalty with National Emerald Club
Status match
You don't need to be a frequent renter to get National elite status.
Even if you've never rented with National before, you could be eligible for Executive Elite status from your first rental. After enrolling in the Emerald Club program for free, you can submit a status match by going to this page. According to the company website, if you hold status with any of over 40 programs (including American AAdvantage, United MileagePlus and Hilton Honors), National will upgrade your status for free. You'll need to provide a screenshot of your status, including your name, current elite status and your status expiration date.
Don't have elite status yet? You can earn hotel elite status — most of which match to National — with a variety of different cards. Likewise, both The Platinum Card® from American Express and The Business Platinum Card® from American Express include National Executive status as a benefit of the card.
By providing National with my United Premier 1K membership, I was granted Executive Elite status within 24 hours that is valid for over two years.
According to statusmatcher.com, 92% of National status matches were approved. While these results are self-reported, submissions indicate that National will even match mid-tier statuses like Hilton Honors Gold and Marriott Bonvoy Gold Elite to Executive Elite status. National is even said to grant status matches if you hold status from another rental car program.
Related: The complete guide to car rental elite status matches
National free days
Members earn free days for any car class with no blackout dates. As an Executive Elite member, you'll earn one free day after every five rental credits you earn.
You'll earn one rental credit on rentals between one and seven days. You can calculate your rental credit accrual by dividing your total rental days by four for rentals that are eight or more days.
For example, a rental of eight days earns two rental credits, while a rental of 12 days earns three rental credits.
To redeem a free day from your Emerald Club account, select "Redeem Days."
You can reserve up to a Premium Elite SUV (BMW X3 or similar) using your free day(s).
I used three free days for my rental to book a Premium Elite SUV. When I picked up my car, the agent checked my reservation. I asked if a sedan was available since I prefer driving sedans to SUVs — and to my astonishment, he walked me over to a BMW 7 Series.
Related: How to never pay full price for a rental car
Driving the BMW 7 Series
As a car enthusiast, there's no brand I prefer to BMW.
While my compact BMW 230i back home pales in comparison to the 7 Series rental, the driver-focused experience remained the same.
Stepping inside, I was greeted by a handsome three-spoke steering wheel with paddle shifters, but the cabin's centerpiece is the iDrive 7.0 infotainment system offering gesture control, wireless CarPlay and surround view cameras.
When night falls, the mood lighting makes for an upscale atmosphere, reminding me of Virgin America's infamous purple lights. Naturally, the color of the lights can be customized.
I drove deep into the upscale Northwest D.C. neighborhoods surrounding American University and the car felt right at home. The only thing that was missing was a foreign dignitary in the backseat.
Stepping out of the car for a fall foliage walk in D.C.'s Rock Creek, I noticed the discreetly placed "harman/kardon" logo adjacent to the door frame. I later learned that there were two subwoofers and 16 speakers located throughout the car.
Much to my dismay, the car had to be returned. When I received the receipt, I was struck by sticker shock seeing that the car would have cost $897 for three days before taxes and fees.
Looking back at it, I still can't believe I spent 72 hours with this epic car for just $10.10.
Related: Why top-end carmakers are partnering with airlines
Bottom line
1 of 3
KYLE OLSEN/THE POINTS GUY
As one who holds top-tier status with Hertz, Avis and National, every rental I complete with National reaffirms my affinity for the Emerald Club program and my loyalty to National.
In addition to giving its members an aisle of cars to choose from, National provides valuable free days — with no blackout dates — that can be used to redeem a BMW X3 or similar for "free." If you're given an upgrade with your status like me, you just might find yourself driving the car of your dreams.
To receive similar benefits, enroll in the Emerald Club program and request a status match.