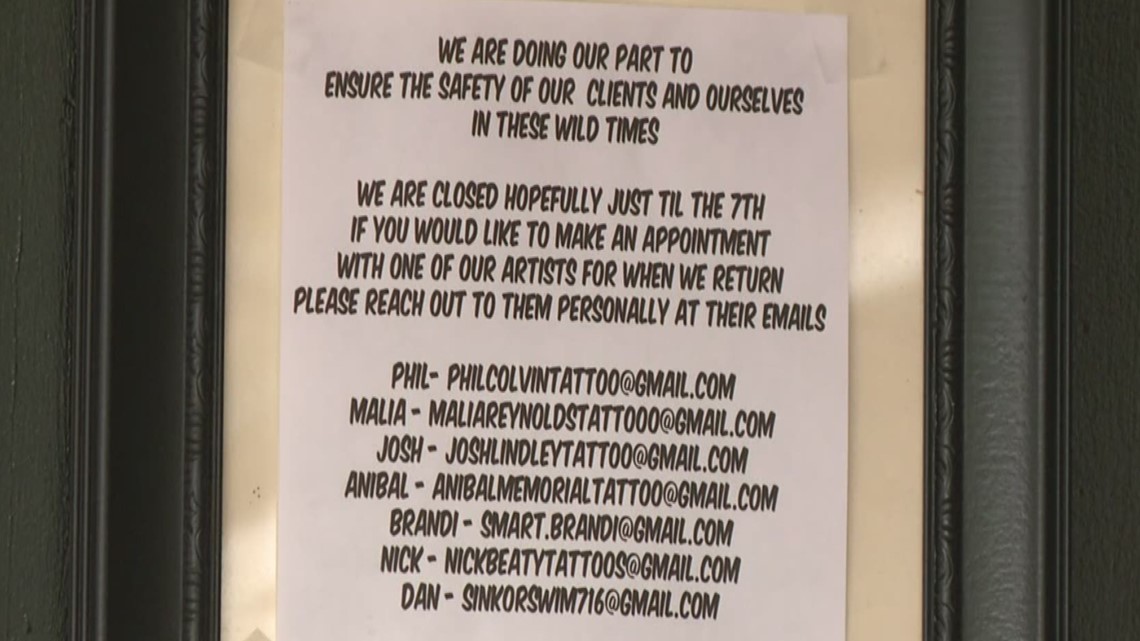 Georgia unemployment rate skyrockets | 11alive.com
ATLANTA — The state says Georgia unemployment claims more than doubled last week.  The state
ATLANTA — The state says Georgia unemployment claims more than doubled last week.  The state issued orders Thursday softening the rules for those collecting unemployment while stretching the amount of time they can collect.  
From March 15 to 21, the state Labor Department says it received 12,140 claims. The previous week, there were 5445.
The Labor Department issued a new rule Thursday extending from 14 to 26 the number of weeks a claimant can collect unemployment.
The state also loosened its rules on incidental outside income, allowing an individual making up to $300 per week in a job to still claim full unemployment benefits.
"The year was actually going pretty good," said Phil Colvin, who has seven tattoo artists working in his two Atlanta shops.
"We were getting busier and busier, and as soon as the corona virus started hitting, we saw the business starting to drop," Colvin said.
RELATED: With jobless claims up due to COVID-19, Georgia extends length of time individuals can collect unemployment benefits
All of the workers abruptly lost their jobs around the time the state's unemployment claims soared.
"We go from having a daily income to zero. There's no way to prepare for it," he said.
It's become a common theme in what was once the thriving world of Atlanta business. Especially small businesses – like those serving what had been Georgia's robust movie industry. 
Bob Lucas runs a prop and set warehouse for filmmakers – who have all but stopped making movies in Georgia.
"My business has gone from robust to zero," Lucas said. "We went from a very busy March – my order board was chock full of stuff going out every day – and went from completely full to completely empty."
RELATED: How to file an unemployment claim in Georgia if your job has been affected by coronavirus
Lucas says he laid off nine people last week – nearly all of his staff.  The state says unemployment claims from shuttered businesses appear to be setting record numbers, exceeding the rate of the 2008 recession. 
Lucas says he has applied for an emergency Small Business Association loan to try to keep his business solvent until the crisis subsides.
Robyn Elliott, who runs Bicycle Tours of Atlanta, says she had to part ways with all of her tour guides.  
"This is kind of a side gig for them, but a lot of their other side gigs are kind of falling apart. One guy is an actor, one works in the restaurant business, another juggles a couple different jobs – then juggle this one. So, we've all felt the impact," she said.
Elliott says spring is normally high season for bike tours – especially in an economy that had been roaring.
RELATED HEADLINES
Coronavirus stimulus checks and unemployment benefits – answering your questions
$2 trillion coronavirus deal: Who will get stimulus checks and when?
Here's over 35 companies hiring or offering work from home positions
(function () { var modules; var suppressModules = document.getElementById('tegna_loadmodulesscript').getAttribute('data-suppress-modules') === 'true' ? true : false;
if (suppressModules) { modules = [ 'alert-bar', 'error', 'page', 'grid', 'desktop-header', 'toolbar', 'weather-summary', 'navigation', 'throbber', 'utils', 'tegna-utils', 'fitted-headline', 'tracking', 'progress', 'tealium', 'live-indicator', 'taboola', 'ad' ] } else { modules = [ 'error', 'page', 'grid', 'desktop-header', 'toolbar', 'weather-summary', 'navigation', 'video', 'throbber', 'utils', 'fitted-headline', 'forecast', 'article', 'continuous-scroll', 'sharing', 'gallery', 'radar-gallery', 'forecast', 'article-crosspromo', 'featured-videos', 'chapter-slider', 'pollen', 'olympics-live-stream', 'three-day-outlook', 'current-weather', 'search-results', 'tracking', 'chapter-progress', 'progress', 'countdown-clock', 'longform-explore', 'media-gallery', 'social-sharing', 'weather-alerts', 'weather-interactive-radar', 'closings', 'tealium', 'alert-bar', 'cookie', 'sticky-sharing', 'live-indicator', 'sharethrough', 'taboola', 'elections', 'just-for-you', 'just-for-you-li', 'olympics-tv-listings', 'headline-list-with-abstract', 'text-only-headline-list', 'story-snapshot-with-abstract', 'snapshot', 'story-snapshot', 'special-content-headline-list', 'notfound', 'linked-image', 'article-recirculation', 'linked-image-with-title', 'newsletter-signup', 'linked-image-with-title', 'newsletter-signup-multiple', 'live-videos', 'breaking-news', 'weather-alerts', 'closings', 'media-gallery-alt', 'alert-center-menu', 'trending-list', 'toc', 'featured-radars', 'searchbox', 'hot-races', 'recirculation', 'photo', 'video-youtube', 'newsletter', 'universal-ad' ];
if ('true' === 'true') { modules.push('toasts'); modules.push('notifications'); } } /* var modules = [ 'error', 'desktop-header', 'navigation', 'page', 'grid', 'toolbar', 'video', 'throbber', 'utils', 'tegna-utils', 'continuous-scroll', 'gallery', 'tracking', 'tealium', 'sharethrough', 'datasphere', 'iframe', 'photo', 'video-youtube', 'newsletter-signup', 'newsletter-signup-multiple', 'ad' ]
function inArray(needle, haystack) { var count = haystack.length; for (var i = 0; i < count; i++) { if (haystack[i] === needle) { return true; } } return false; } var moduleElements = document.querySelectorAll('[data-module]'); for (var i = 0; i < moduleElements.length; ++i) { (function () { var thisModuleName = moduleElements[i].getAttribute('data-module'); if (!inArray(thisModuleName, modules)) { modules.push(thisModuleName); } })(); } console.log('===== loading modules: ', modules); */ require.config({ 'baseUrl': "https://r.search.aol.com/", 'deps': modules, 'waitSeconds': 30, 'bundles': { 'modules': modules }, 'paths': { 'jquery': 'scripts/jquery-3.1.1.min', 'jwplayer': 'content/player/jwplayer.js?version=3.22.12', 'modules': 'Views/dist/scripts/modules.min.js?version=3.22.12', 'facebook': 'https://connect.facebook.net/en_US/all', 'twitter': 'https://platform.twitter.com/widgets', 'slick': 'content/libs/slick/slick.min', 'dotdotdot': 'content/libs/dotdotdot/jquery.dotdotdot.min', 'jqueryui': 'Views/lib/jquery-ui/jquery-ui.min', 'comscore': 'content/libs/comscore/comscore.min', 'stickyfill': 'content/libs/stickyfill/stickyfill.min', 'youtube': 'https://www.youtube.com/iframe_api?noext', '@firebase/app': 'https://www.gstatic.com/firebasejs/6.1.1/firebase-app', '@firebase/messaging': 'https://www.gstatic.com/firebasejs/6.1.1/firebase-messaging' }, 'shim': { 'facebook': { 'exports': 'FB' }, 'twitter': { 'exports': 'twttr' }, 'youtube': { 'exports': 'YT' }, 'jwplayer': ['jquery'], 'jqueryui': { 'deps': ['jquery'] }, 'slick': ['jquery'], 'dotdotdot': ['jquery'] } }); })();