Abu Dhabi has a lots of fun things to do and we love it.
Stunning tourist attractions, cultural sites, places to go sightseeing, theme parks and much more in between.
Whether you're a resident or you in town visiting, there are loads of fun things to do in the UAE capital.
Need some inspiration? Here are some great places to have some fun in Abu Dhabi.
Be sure to call ahead and check these places are open – some may still be closed due to the ongoing restrictions.
A'l Bahar
Enjoying amazing views of the ocean and right on the beach A'l Bahar is great location for chilling out in the capital. If chilling out isn't your thing and you grew up watching Gladiators, Fun House and other cool obstacle themed shows then why not try the water obstacle course and see if you can make it to the end without ending up soaked. Don't worry, if you slip and fall, only all the people on the beach watching will be laughing at you, you'll get over it.
Dhs90 for obstacle course. Daily 10am-10pm. Corniche West www.al-bahar.ae.
Abu Dhabi Heritage Village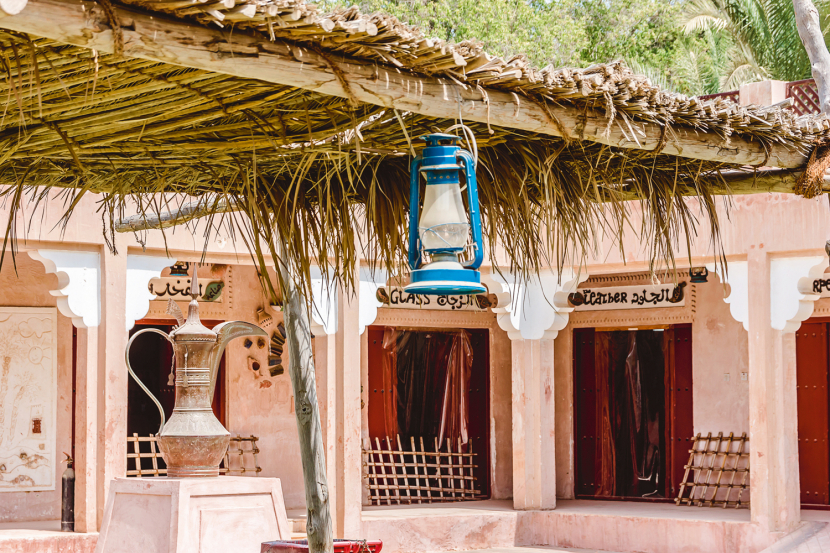 Abu Dhabi wasn't always skyscrapers, smart technology and supercars (yes, we know that's hard to believe). Want to catch a glimpse of life in the UAE before it evolved into a modern metropolis? Take a trip to the Heritage Village and you can see a snapshot of traditional Emirati life and heritage. The free-to-visit village showcases a range of local crafts, explores the history of pearl diving and gives insight into the past that can sometimes be forgotten.
Open Sat-Thu 9am-4pm; Fri 3.30pm-9pm. Near Marina Mall, Corniche Breakwater (02 681 4455).
Action Paintball
With a cool paintballing course, which has various zones both indoors and outdoors, accommodating up to 60 players at one time, Action Paintball is very cool.  Armed with heavy guns that shoot marble-sized pellets of paint at the opposing team, you can bring out their inner soldier while tackling a range of obstacles and scenarios. Each player is also given a health tracker, which will display their heart rate and how many calories have been burned during the game. Not up for it? You can take part in some target practice (the bullets are only going one way so a lot less dangerous) or hop aboard the converted, open-top London-style bus that serves up refreshing drinks and snacks as they watch all the high-adrenalin action unfold below them on the battlefield.
FromDhs99 (per 100 paintballs). Sun-Wed, 10am-10pm; Thu-Sat, 11am-11pm. The Last Exit, Sheikh Zayed Road, Dubai, www.actionpark.ae (04 235 8893).
Action Zone
Action Zone, at The Mall at World Trade Center Abu Dhabi, is home to a games for kids of all ages. There's also Jump Up, a trampoline playground, and Zone PC Gaming Lounge, also known as "the gaming spaceship" with professional gaming PCs, PS4s, and more. Kids and teenagers can expect tonnes of new game titles. Plus, more fun at Party Time, a first-of-its-kind hall in Abu Dhabi featuring an LED dancefloor. More attractions will be added in April including Zero Gravity, a virtual reality ride.
From Dhs70 (per hour).Open 10am-10pm (weekdays), 10am-11pm (weekdays). The Mall at World Trade Center Abu Dhabi, Al Markaziyah (02 634 0133).
Al Ain Oasis
If you're looking to enjoy a cultural experience that feels a world away from a busy city then this is the one to visit. The 3,000 acre oasis is jam-packed with 147,000 palm trees and has been a UNESCO World Heritage Site since 2011. You can see how early inhabitants in the region created irrigation systems and a steady water supply to combat the intense heat of the desert. Plus, it makes for some amazing Instagram shots too.
Free entry. Sat-Thu 9am-4pm; Fri 2pm-4.30pm, Hessa Bint Mohammed Street, Al Ain, visitalain.ae.
Al Ain Classic Car Museum
In 2019, the Al Ain Classic Car Museum will celebrate its tenth birthday. Despite its relative newness, this current location at Ain Al Fida Complex is actually its second spot, having moved there in 2013. The reason for the new location? The rapid growth of the collection, which quickly became too large for its original housing. The classic cars on show here are rotated, meaning each visit should yield a surprise, but if you happen to own a suitable vehicle, you can also have it displayed here. On top of that, it offers restoration and maintenances services, whether you're driving a Model-T or a muscle car from the 1960s.
Dhs10 (Adults), Dhs5 (kids). Open Sat-Thu 9am-6pm; Fri 4pm-8pm. Al Ain, www.alainclassiccarsmuseum.net.
Al Ain Zoo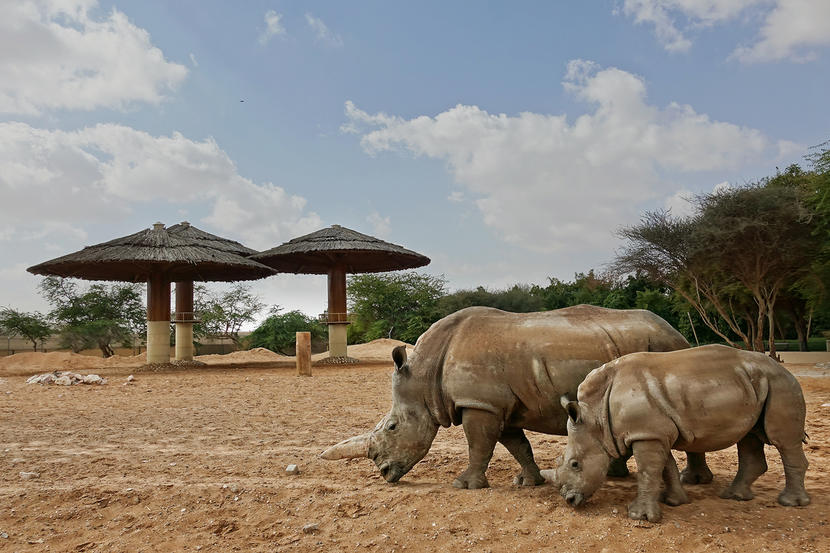 This 52-year-old spacious animal park is the granddaddy of all animal attractions in the UAE. More than 4,300 animals call it home, including leopards, wolves, monkeys, lions, tigers, hippos, crocodiles, rhinos, gorillas and giraffes. Education and conservation programmes are central to the facility's core beliefs and a high standard of care is apparent with animals having large spaces to themselves. As well as roaming around on foot, you can also head out on a safari drive (at the world's largest man-made safari park), sit down for a talk (the new expansion includes the Sheikh Zayed Desert Learning Centre) and enjoy bespoke experiences such as giraffe feeding and birds of prey demonstrations.
From Dhs30 (per adult), Dhs10 (per child aged three to 12). Open Sat-Tue 8am-9pm, Wed 8am-9pm (3pm is ladies only), Thu-Fri 9am-10pm. Nahyan The First St, Al Ain, Abu Dhabi, www.alainzoo.ae (800 966).
Al Hudayriat Island
This huge island opened its beach back in 2018, and while the rest of the island remains untouched, the space just over the hulking Hudayriat Bridge is a popular spot. There are food trucks and sports facilities from the island and the 600 m-long beach is open daily from 8am to 7pm and is free to use for the public. There are also three new slipways for boats and jet-skis, making it a must-visit for thrill-seekers in the capital.
Free. Open daily 8am to 7pm. Hudayriat Island.
Al Wathba Cycle Track
If you love to cycle, Al Wathba cycling track is one of the top places to go. You can choose from 8km up to 30km loops, and with it being open 24 hours a day you can arrive whenever you like and hit the track. Don't worry if you haven't got a bike, either and you can hire one from FLS Bikes from Sunday to Thursday between 4pm and 10pm and on Friday and Saturday from 6.30am to 10pm. A standard aluminum or hybrid bike costs Dhs30 per hour and it's Dhs60 for carbon bikes. Plus kids' bikes are available to hire for Dhs30 and bike trollies can also be rented for Dhs30 per hour, so the whole family can come along. Helmets are included and there are washrooms, changing facilities and lockers are the base. Just remember to take plenty of water, sunscreen and if you're planning on doing the full 30km maybe some seat padding wouldn't be a bad idea, either.
Bike hire from Dhs30. FLS Bikes open Sun-Thu 4pm-10pm; Fri-Sat 6.30am-10pm. Al Wathba Cycle Track open 24 hours, www.flsbikes.com.
Al Wathba Wetland Reserve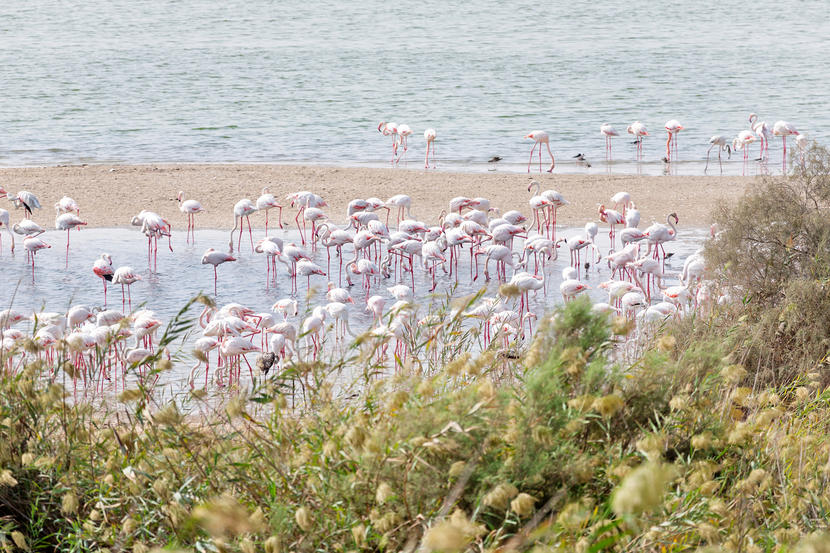 Head to the UNESCO site Al Wathba Wetland Reserve and you'll not only get the chance to check out a cool natural wetland but also see some great wildlife. Flamingos have made the site their home and while they like to migrate, you can catch colonies (or flamboyances) of the birds at the site relaxing in the water. Don't worry, you'll spot them easily, they're bright pink after all. Plus a new observation tower is being built at the site so soon you'll be able to get an even greater vantage point. The wetlands are still closed for the summer but are set to re-open very soon. Watch this space.
www.ead.ae.
Bounce
Trampolines are just fun and when you throw giant slides, zip-lines and dodge ball into the mix then we're all in. Available to children and to adults, Bounce Abu Dhabi is the place to be to, well, bounce, try obstacle courses and all the rest. It's a lot of fun.
Dhs75 for children, Dhs85 for adults. Marina Mall, Abu Dhabi and Remal Mall, Al Ain, bounce.ae.
CLYMB Abu Dhabi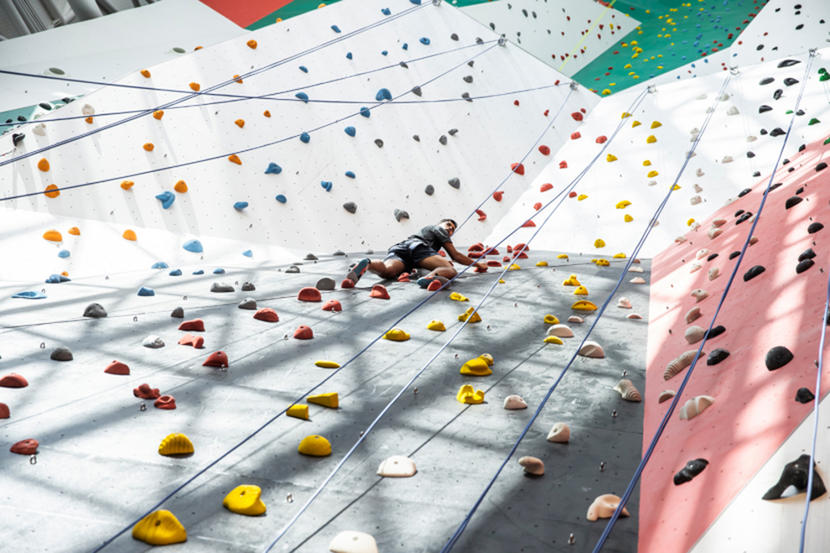 This impressive structure is home to the world's biggest indoor skydiving flight chamber and the world's tallest indoor climbing wall. Children from as young as three are able to try the flight chamber, which measures a massive 10m by 26m. A range of climbing experiences will be on offer to cater to people of all abilities and if you're up for it you can take on the SUMMYT, a 43m climbing wall that is the largest in the world.
From Dhs95 (climbing), From Dhs 215 (skydiving). Sun-Thu noon-9pm, Fri and Sat noon-11pm. Yas Island www.clymbabudhabi.com.
Emirates Auto Museum
One of the quirkier museums anywhere in the UAE, the Emirates National Auto Museum has a collection of 200 vehicles owned by HH Sheikh Hamad Bin Hamdan Al Nahyan. Among several highlights, there's the world's largest truck.
Dhs50. Open daily 9am-5pm. Drive South from Abu Dhabi on Abu Dhabi-Liwa Road (055 749 2155).
Emirates Park Zoo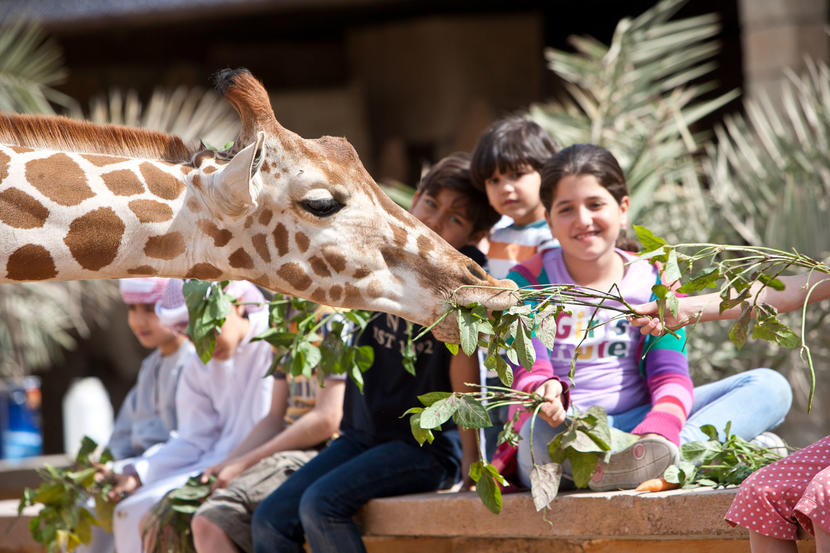 The word "zoo" can quite often get a true animal lovers hackles up, but this Abu Dhabi zoo is all about conservation. As well as helping to prevent endangered animals go extinct, the biologists and experts at Emirates Park Zoo have been able to provide critical information, such as fertility and survival rates for various mammals, birds, reptiles and amphibians to the National Academy of Sciences (PNAS). The zoo also offers a number of educational programs for little ones where they can learn all about the furry, scaly and slimy residents and the importance of ensuring they have a future.
Free (under two), Dhs30 (kids three-16), Dhs35 (over 16). Sun-Wed, 9am-8pm; Thu-Sat, 9am-9pm. Al Bahia, Abu Dhabi, www.emiratesparkzooandresort.com (02 563 3100).
Ferrari World Abu Dhabi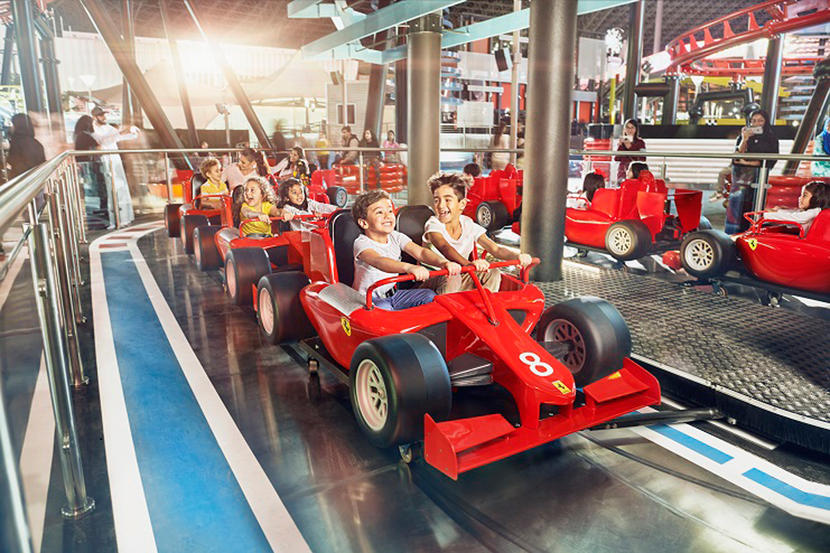 This massive Abu Dhabi attraction is a fantastic white-knuckle ride all-round. The theme park boasts more than 20 rides and activities, but the one you will want to strap yourself into is the record-smashing Formula Rossa. It's not for the fainthearted, however. A recently opened family zone is perfect for little thrill-seekers, with various tamed down versions of the park's fast, white-knuckle rides. There are heaps of less terrifying rides suitable for mini thrill-seekers such as the car carousel, driving school and an awesome super car museum – we can but dream as we gaze on the gorgeous motors.
From Dhs230 (kids), Dhs295 (adults). Open daily 11am-8pm. Yas Island, Abu Dhabi, www.ferrariworldabudhabi.com (02 496 8000).
Hili Fun City
With 25 attractions in total, with many aimed at younger children and families – Abu Dhabi's Yas Island is still the place to go if you're chasing high-octane rollercoasters and other death-defying rides. Instead, Hili has more wholesome offerings such as the Circus Train, Sinbad's Farm, and Jumping Star. As well as all the rides, there's an ice-rink and a wide selection of restaurants, all of which were spruced up during a recent refurbishment.
Dhs50. Open Mon-Thu 4pm-10pm; Fri-Sat noon-10pm. Ardh Al Jaw Street, (03 784 5542).
Jubail Mangrove Walk
Abu Dhabi's Mangrove Walk at Jubail Mangrove Park opened in January 2020 and quickly became one of the most popular attractions in the city. There are three pathways to walk, the longest covers a distance of 2km and the shortest is 1km. The paths allow you to take a stroll through the mangroves, explore the natural landscape and go wildlife spotting. A floating platform with netting is also on site where you can take a look at the marine life underwater. In addition rangers are on site around the park to answer questions you have about the local environment and wildlife.
Free. Daily 8am-6.30pm. Jubail Island, www.park.jubailisland.ae.
KidZania
KidZania offers kids in the capital the chance to role-play more than 50 professions – and we're more than a little bit jealous. There's just something fun about pretending to be a doctor, a fireman, a chef or a police officer. (Yes, we've got a complex.). Located at Yas Mall, the 55,000 sq ft space is a scaled down replica of a bustling city with loads of role-playing of real-life professions offered for little ones. Kids can become surgeons, firefighters, chefs, police officers, builders, models, actors, artists, radio hosts and more, with 'establishments' inside the complex including Astronaut Training Centre, Animation Studio, Milk Factory (why not?) and Crime Scene Investigation (where do we sign?). There's even a Neighbourhood Drive-In – a part of growing up we'd have to say we've absolutely mastered. Open to children between four and 16, the indoor entertainment zone promises to be an interactive place to enjoy some child-like fun as the summer sun shines hot and bright outside.
From Dhs94.50. Open daily 10am-10pm. Yas Mall, Yas Island, Abu Dhabi, abudhabi.kidzania.com.
Louvre Abu Dhabi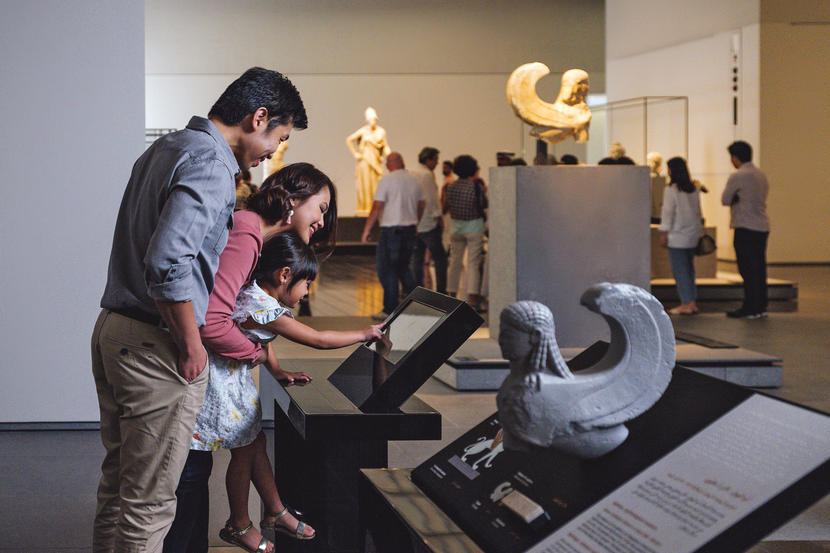 Louvre Abu Dhabi has become one of the most popular tourism destinations in the region and we're sure you've already added to your list of things to do with visitors when they come to town. If you've still never been, we'd be surprised, as there is so much to see and do from amazing exhibits and changing exhibitions, to activities, events and even film screenings, too.
Museum entry Dhs63 (adults), Dhs31.5 (ages 13-22), free (under 13). Oct 30-Feb 18. Louvre Abu Dhabi, Saadiyat Island, www.louvreabudhabi.ae (600 565 566).
Reem Central Park
Not only is it absolutely massive but there's also loads to do in this cool public park. Located in the heart of Reem Island, the green space feature playparks, outdoor gyms, restaurants, a beachfront, a fountain with daily light shows, sports courts and a skate park. Fitness workshops and film screenings are also held in the park as well as regular meet-ups and there's even local art on display throughout the space. It's very cool.
Open 24 hours www.reemcentralpark.com.
Tee and Putt
Let the pros take care of the long game at the HSBC Abu Dhabi Golf Championship. If you're looking for a little fun for the little ones or fancy a game yourself then you can sink some putts at the cool neon-lit Tee and Putt mini golf and see if you're short game is up to scratch.
Dhs65 per person, Dhs60 if three people or more. Dalma Mall, Mussafah. Daily 10am-10pm. Contact: 02 555 5307, teeandputt.com.
Qasr Al Hosn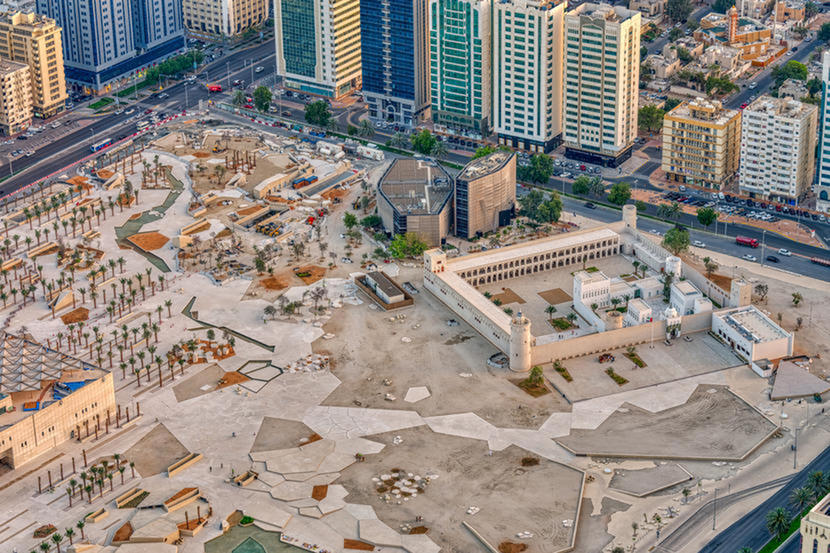 As the oldest standing building Abu Dhabi, Qasr Al Hosn is a great place to visit to imagine the city long before the skyscrapers dominated the capital's skyline. Built in 1790, the old stone fort was originally constructed to overlook the coastal trade routes and offer protection to the growing settlement on the island. Now, having completed successful restoration, you can see the original structure and visit a number of other cultural attractions at the site.
Dhs30 adults, Dhs15 children. Sat-Thu 9am-7pm; Fri noon-10pm Corner of Zayed the First Street and Sheikh Rashid bin Saeed Street, www.qasralhosn.ae.
Umm Al Emarat Park
Umm Al Emarat Park, or Mushrif Park as it was previously called might be almost at the end of this list, but it should be right near the top of yours. There's plenty going on here to keep the whole gang entertained. It was built in consultation with a few local groups who shared what facilities they'd like to see in a park. As a result, there is the Wisdom Garden (a place to ponder life's big questions), the Animal Barn (a petting zoo that's managed by Emirates Park Zoo and includes camels, goats, ponies and more), the Children's Garden, the Botanic Garden (which houses about 200 regional plant species), a 1,000-person amphitheatre, the Shade House (a structure that houses more than 30 species of shade-loving plants) and of course, rolling green lawns. The organic Ripe Market pitches up every Saturday from 3pm to 9pm, and there are also places to eat such as SALT and Pinza. It would be incredibly easy to spend the whole weekend here!
Dh10. Al Mushrif (02 666 9559).
Wadi Adventure
Waterparks are always fun. Until someone splashes you in the face when you don't expect it that is, in which case you have every right to be in a mood for ten minutes. Fancy splashing around? Head to Wadi Adventure and you can chill by the pool and watch as people take on far more adventurous activities around you.
Dhs65 (Adults), Dhs45 (kids). Daily 11am-6pm. Wadi Adventure, Al Ain (03 781 8422) www.wadiadventure.ae.
Warehouse 421
Warehouse 421 is effortlessly cool. It's a repurposed warehouse in the heart of Mina Zayed and there's always something going on. Art galleries, exhibitions, events, film screenings and workshops – as much as it's a cliché, there truly is something for everyone. If you want to find out what local and regional artists are creating and catch a glimpse of brilliant work from overseas then this is the place to do just that.
Open Tue-Sun 10am-8pm. Mina Zayed, www.warehouse421.ae.
Warner Bros. World Abu Dhabi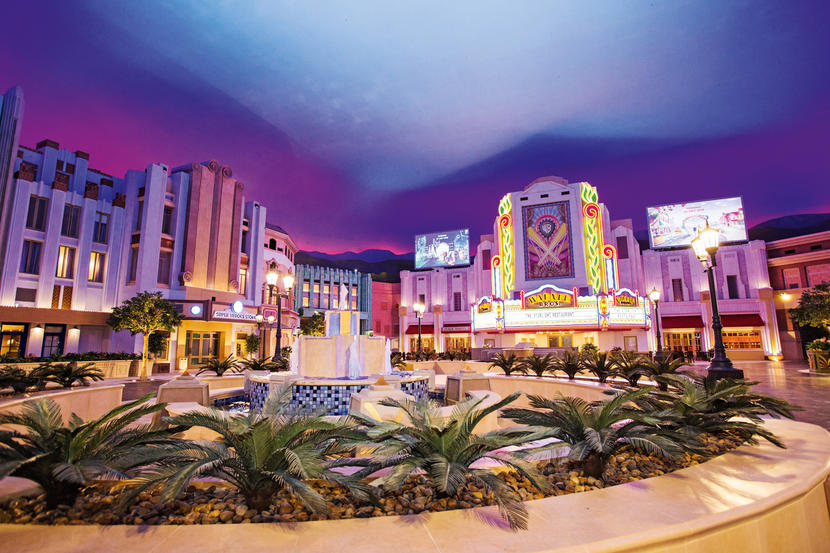 This indoor (which is why the middle of summer is a great time to go) mega-park brings superheroes, villains, cartoons and favourite characters from your childhood to life on Yas Island. Split into six distinct and vibrant zones – Bedrock, Warner Bros. Plaza, Metropolis, Gotham City, Cartoon Junction and Dynamite Gulch – there is plenty to keep even the smallest of adrenalin junkies entertained for hours, while the real thrill seekers risk the faster, white-knuckle rides.
Dhs295 (adults), Dhs230 (kids up to 1.1m), free (kids under three). Open daily 10am-9pm. Yas Island, Abu Dhabi, www.wbworldabudhabi.com (600 511 115).
Yas Waterworld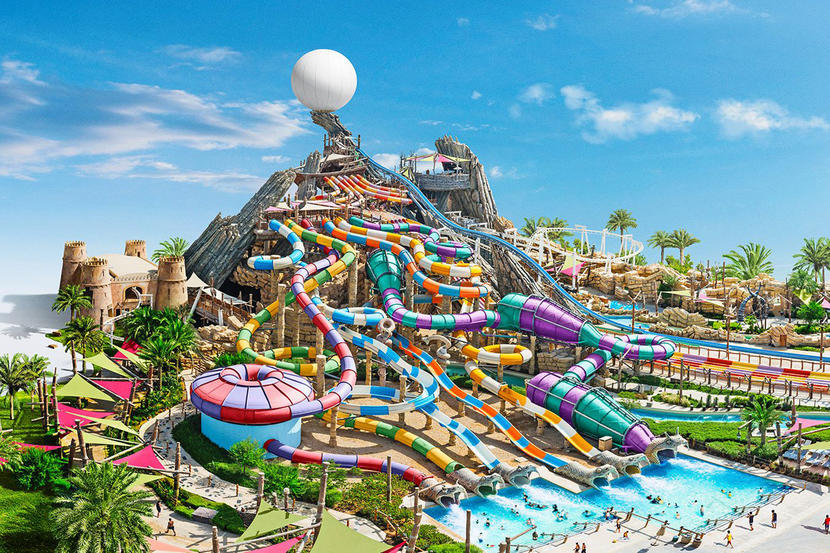 The park, uniquely based on the Emirati "The Legend of the Lost Pearl", theme is divided into four thrill levels: Adrenaline Rush, Exciting Adventure, Moving and Grooving and, finally, Young Fun. Each zone caters to different age groups and with 40 exhilarating rides and slides there really is something for the whole crew to enjoy. The Tot's Playground is a popular spot for parents with tiny ones who are just looking to splash about.
Yas Island, Abu Dhabi, www.yaswaterworld.com (600 511 115).
Zayed Sports City
With Haddins, The Room and Punch on site plus a range of activities including bowling, ice skating and tennis, there's loads to do at Zayed Sports City whether you want to work up a sweat or have some fun.
Saif Ghubash Street. Times vary, zsc.ae.