Five Reasons Not to Rent a Tesla Model 3
A new study asking car renters about difficulties they have experienced when renting reveals that
A new study asking car renters about difficulties they have experienced when renting reveals that the top two reasons renters ran into trouble were flat tires and difficulty understanding the vehicle's unfamiliar controls. Given that one in five of renters reported each of these problems have had happened to them when renting, perhaps a Tesla electric vehicle rental may not be your best bet?
Before we go much further, if your reason for renting a Tesla is to experience a Tesla and not to get you to your vacation or business destination, we say go for it. Tesla vehicles are a blast to drive, unique in many ways, and well worth experiencing. Since Tesla has had almost no inventory over the past few years, renting is one way to try before you buy. Do it. A rental is also a great way to see how a Tesla feels after it has some miles on it, as opposed to what a brand-new one looks like. Our story here refers to a person unfamiliar with Tesla vehicles trying one on a vacation or business trip.
Related Story: Tesla Renters Beware: Reports Say Hertz Is Falsely Accusing Customers of Theft
Reason Number One Not To Rent a Tesla Model 3 – No Spare Tire
21% of renters surveyed said they have had a flat tire when renting a vehicle. Perhaps this number seems high because renters unfamiliar with the vehicle they were driving stuck curbs? Or maybe it is just the law of averages. AAA and other roadside assistance groups assist millions of drivers per year with flat tires.
Related Story: Ten Electric Vehicle Models That Come With a Spare Tire
So what does this have to do with the Tesla Model 3, in particular? Simply that Tesla has never built any vehicle that had a spare tire. Unlike many other electric vehicle brands, Tesla does not equip its vehicles with run-flat tires (Lexus NX PHEV) or self-sealing tires (Bolt BEV). If you get a flat in a Tesla, that vehicle is very likely being towed. Nearly every top-selling vehicle model in America has a compact space tire standard (F-150, Silverado, Ram 1500, Camry, Accord, Civic, Corolla, Cr-V, RAV4, Rogue, Equinox etc). A spare of this type gives you 50 miles of driving distance to carry on with your journey until the rental agency can meet you with a replacement car.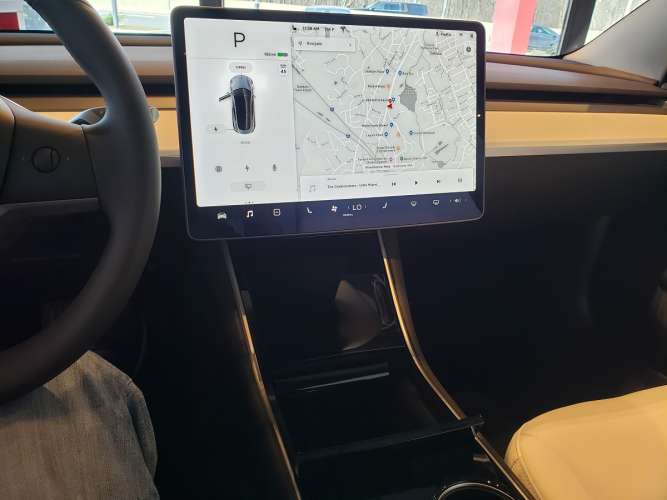 Reason Number Two Not To Rent a Tesla Model 3 – Unfamiliar Controls
Perhaps the biggest difference between Tesla vehicles like the Model 3 and other brands' vehicles is the controls. Tesla relies on one main screen for nearly everything. Check out our image to see what we mean. Looking for wipers, high beams, adaptive cruise control, heat, air conditioning, or pretty much anything most cars offer you on a button panel you are familiar with? You are out of luck with a Tesla Model 3.
One in five renters say that they had a bad experience with a rental car due to unfamiliar controls. No vehicle in America has less familiar controls than does a Tesla.
Does this mean we don't like Tesla's design philosophy? Not all. Many Tesla owners like having to use the main screen in conjunction with steering wheel controls and voice for pretty much everything. But if you are hauling kids and luggage and just want to get to the hotel, learning an entirely new way to operate a rental car is not going to make you happy.
Reason 3 Not to Rent a Tesla Model 3 – No Apple Car Play or Android Auto
Do you use Android Auto, Apple Car Play or Google Maps in your own vehicle? If you do, you know just how valuable the ability to project your phone's apps and information onto the car's infotainment screen can be. And who can live without Google Maps' industry-leading real-time traffic updates? Tesla Model 3 cars don't have Android Auto, don't have Apple Car Play, and although Tesla does use Google to help it with its maps, it does not use the Google Maps traffic routing data your phone has.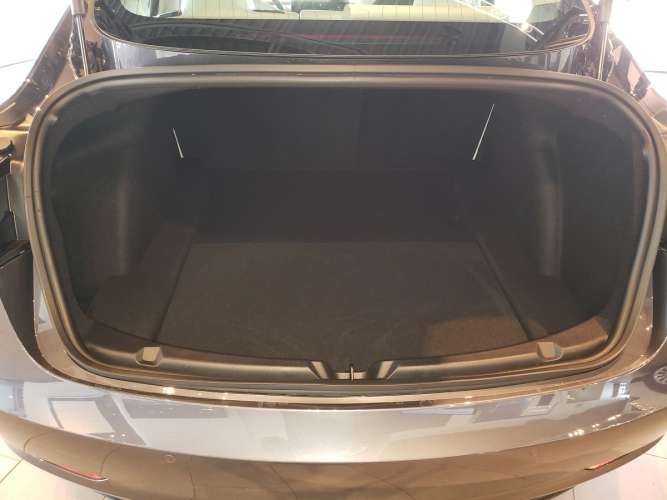 Reason Four Not to Rent a Tesla Model 3 – It's a Smallish Sedan
The fourth reason not to rent a Tesla Model 3 if you are traveling with your family is that the Model 3 is a smallish sedan with very limited cargo capacity. Why rent a smallish sedan when a crossover like a Nissan Rogue is available with dramatically more cargo capacity? If you are going solo and have time to burn learning new controls, a Tesla may be a fun experience. But anyone renting a small sedan on a family vacation is just inflicting unnecessary punishment on themselves. A Model 3 has a trunk with less than 20 cubic feet of space. A Nissan Rogue rental vehicle has a cargo volume of 36.5 cubic feet.
Bonus Reason Number 5 Not To Rent a Tesla Model 3 – Charging Hassles
Stopping to add fuel or electricity is always a hassle when renting. Most renters can either use the Tesla Model 3's 200-mile to 260-mile range during their trip and then let the rental car agency refill the battery. If more range is needed, they can use a Tesla Supercharger or public Level 2 charger to add more range if one is available on your route. If you are renting a Tesla, just be sure you know where those locations are, that you have the special app (ChargePoint, EVgo, Electrify America, ChargeLab, etc.) if it is a public charger, and maybe read a bit about how the Supercharger network operates before you begin your journey. Remember, Tesla vehicles don't use the same connector as all other EVs, so if you plan to charge at a hotel, make certain you can actually use the charger. If it has the industry-standard J-plug, you will need a special Tesla adapter to charge your rental Tesla. There are two kinds. And it can take many hours to refill the battery from empty to full, depending on the charger's output.
Read an Opposing Viewpoint – The perfect rental car? My experience renting a Tesla Model 3 from Hertz
If you have rented a Tesla Model 3 while on vacation or a business trip, tell us how it went in the comments section below. Be sure to tell us if you were familiar with the Model 3 before you rented it.
Do you still want to rent a Model 3? Here is how to get started.
John Goreham is an experienced New England Motor Press Association member and expert vehicle tester. John completed an engineering program with a focus on electric vehicles, followed by two decades of work in high-tech, biopharma, and the automotive supply chain before becoming a news contributor. In addition to his ten years of work at Torque News, John has published thousands of articles and reviews at American news outlets. He is known for offering unfiltered opinions on vehicle topics. You can follow John on Twitter, and TikTok @ToknCars, and view his credentials at Linkedin
Image of Tesla Model 3 rental cars courtesy of the Hertz Media Support Page.
Image of car rental problem chart courtesy of Finance Buzz.
Image of Tesla Model 3 interior by John Goreham.