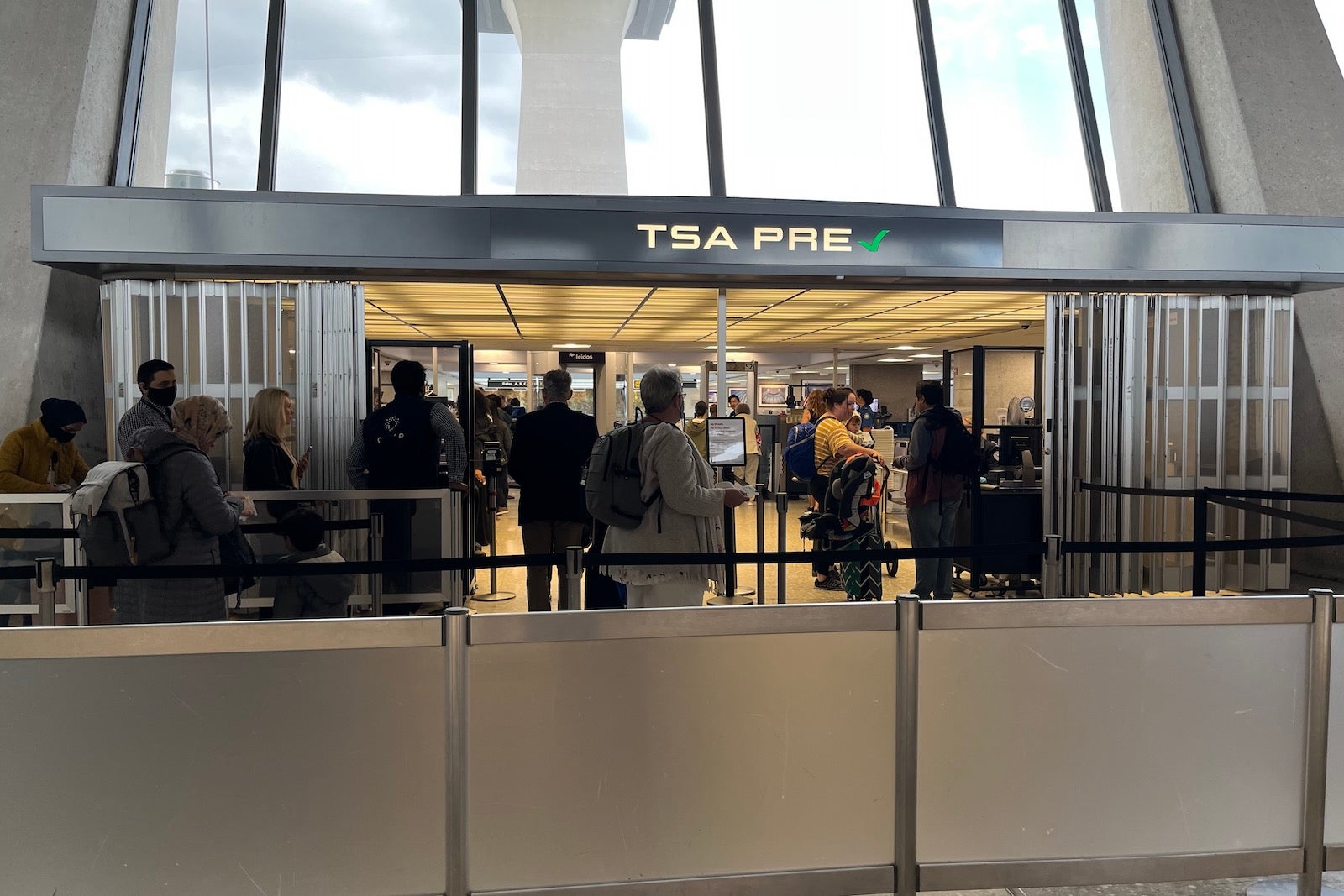 Fall travel: Airports seeing huge crowds with holidays around the corner
Picture what an airport looks like just before a major holiday: It's pretty easy to
Picture what an airport looks like just before a major holiday: It's pretty easy to imagine the long lines, busy concourses and full parking lots we'll see the night before Thanksgiving and for Christmas weekend. If you traveled this past summer, you undoubtedly experienced your share of all those things.
And yet, even as we sit in the middle of October, between the busy summer and holiday travel seasons, you might be surprised to know that airports have seen some of their busiest days since the pandemic began in March 2020.
On each of the last two Sundays, more travelers passed through U.S. airports than on any of the days surrounding Memorial Day, Fourth of July or Labor Day this year. Also, airports were far more crowded during recent weekends than they were during the holidays last year.
It's a sure sign that even though many travelers were able to take long-awaited trips this spring and summer, pent-up demand for travel has yet to be satisfied. This craving is more accessible with fall airfare deals popping up even though airfare, in general, is on the rise.
With the free TPG app, you can track your progress toward your next trip, and get spending recommendations to help you reach your travel goals.
While some travel metrics lag behind 2019 levels and the industry continues the recovery that some executives have said may take until 2023 or beyond to reach, people are still taking to the skies in droves this month.
"We're definitely seeing a lot more [bookings] than we typically see this time of year, and it's for travel now," West Coast-based travel advisor Lindsay Taylor-Lauer, of the agency Travel Leaders 365, told TPG. "Nobody's really batting an eye at the higher airfare."
This all comes just a few weeks before even bigger crowds are likely to descend on airports for what's expected to be the busiest holiday travel season in a few years.
Fall travel demand high
The nearly 2.5 million passengers that passed through TSA checkpoints at U.S. airports on each of the last two Sundays was no anomaly: Across the board, passenger traffic on a number of days this month has rivaled the consistently-heavy volume we saw this summer. Earlier this month, Delta Air Lines' president noted the unusually high fall travel demand.
Sign up for our daily newsletter
Weren't the crowds supposed to taper off after summer ended?
"It has a little," TSA spokesperson Mark Howell told TPG. "But not to the point where it typically has in years prior."
Where — and when — the most passengers are showing up, though, tells us a lot about the state of travel right now.
At Miami International Airport (MIA), for instance, passenger traffic during the first 17 days of October was up 17% compared to pre-pandemic levels, according to data reviewed by TPG. The airport is among the five U.S. airports seeing the biggest growth in seats on flights since 2019, according to the latest numbers from the airline trade group Airlines for America. The others are Austin (AUS), Nashville (BNA), Las Vegas (LAS) and John Wayne Airport (SNA) in Orange County, California.
Considering those are all popular vacation spots, when they're busiest makes sense. "The weekends especially," Howell said.
It also helps to explain why, by some measurements, travel, in many respects, does still trail what we saw before the pandemic.
2019 passenger numbers STILL BIGGER
Even with sustained demand this fall, passenger traffic is still falling short — sometimes well short — of 2019 levels.
Take last week, for instance: As big as the crowds were with leisure travelers last Sunday, the TSA screened 20% fewer passengers three days later, on Wednesday. It's a reminder that despite some bounceback for business travel in recent months, the return of work trips has generally lagged behind the return of trips taken for fun.
Meanwhile, many airlines continue to operate with leaner schedules in an effort to avoid the major operational challenges seen earlier in the summer in the face of staffing shortages, particularly with respect to pilots.
However, continued demand coupled with fewer routes does mean the plane you're on is likely to be quite full. With that in mind, if you still hope to squeeze in a fall trip, there are some things to consider.
Planning for end-of-fall trips
Even though the airport is likely to be busy, the plane is more likely to be packed and finding a good fall deal requires some strategy, the shoulder season remains a great time to travel.
If you're still looking to get an autumn getaway on the books, though, there are some things you should keep in mind.
Plan ahead when traveling on Fridays or Sundays
With so many opting for weekend trips this fall, Fridays and Sundays are going to be the busiest days at the airport. Especially true if you don't have TSA PreCheck or Clear, those will be the days on which you'll want to arrive early. If you can depart on a Saturday, you'll often find the crowds a bit more manageable.
Related: Practical pointers: Download this app before you head to the airport
The 2022 trend lives on: Book a good fare when you find it
It was the rule of thumb over the summer, it's certainly the case for the holidays. It's your best bet if you're hoping to find airfare between now and the end of autumn. If you see a price you like, your best bet is to lock it in right away. After all, great prices aren't easy to come by in 2022.
"Book as soon as you know you want to go, be flexible and understand it's not necessarily going to be cheap," Taylor-Lauer said, leaning on her own booking experience this year.
Keep in mind, as long as you don't book basic economy, you can typically cancel, rebook and claim future flight credits for the price difference if you find a better fare later.
While you're at it, you might as well get those hotel reservations taken care of, too — stick with the flexible, non-prepaid bookings if your plans aren't set in stone.
Get a ride or book your parking in advance
Booking your airport parking is something you should do soon if you're planning to drive to the airport for your holiday trips.
With the biggest fall crowds often concentrated into a few weekend days, it's common for some airports to see their parking lots fill up; it's been an issue through much of the year.
Mid-morning Friday, for instance, Ronald Reagan Washington National Airport (DCA) reported all parking facilities full.
At many airports you can reserve your spot in advance at no cost. In fact, sometimes you can save a good chunk of money by reserving your spot up front.
Plan ahead for your car rental
Having the largest crowds concentrated on weekend days means the lines at the rental car facilities can stack up, as the industry's challenges with staffing and the number of cars can still keep your car rental experience from being totally seamless. Be sure you're set up with your rental company's loyalty program so you can skip the line.
However, also keep in mind that getting your car still may present snags. While renting a car at Dallas/Fort Worth International Airport (DFW) earlier this month, a worker mentioned to me that it's still common for renters to show up and be checked in, only to have to stand around for a bit waiting for a car to be ready. That's consistent with anecdotes I've heard from friends or family renting in recent months.
Looking ahead to the holidays
It's safe to say the craving to fly, stay in hotels and visit new destinations is not diminishing. This busy fall travel season is, of course, a precursor of sorts to the holiday travel season.
Today is one month from Thanksgiving and two months until Christmas Eve. Airlines are hoping the changes made in recent months will prevent the sort of disruptions seen over the summer, and the TSA is trying to hire enough workers to meet the expected demand, Howell said.
Meanwhile, whether you're planning to travel next week, in early November or over the holidays, book as soon as you find a good deal and expect the crowds might rival what you saw over the summer.
Read more: