E-bikes raise management concerns in some parks, public forests | People & Society
Susan Russell and Bill Thompson ride electric bikes on a trail at Atkins Arboretum in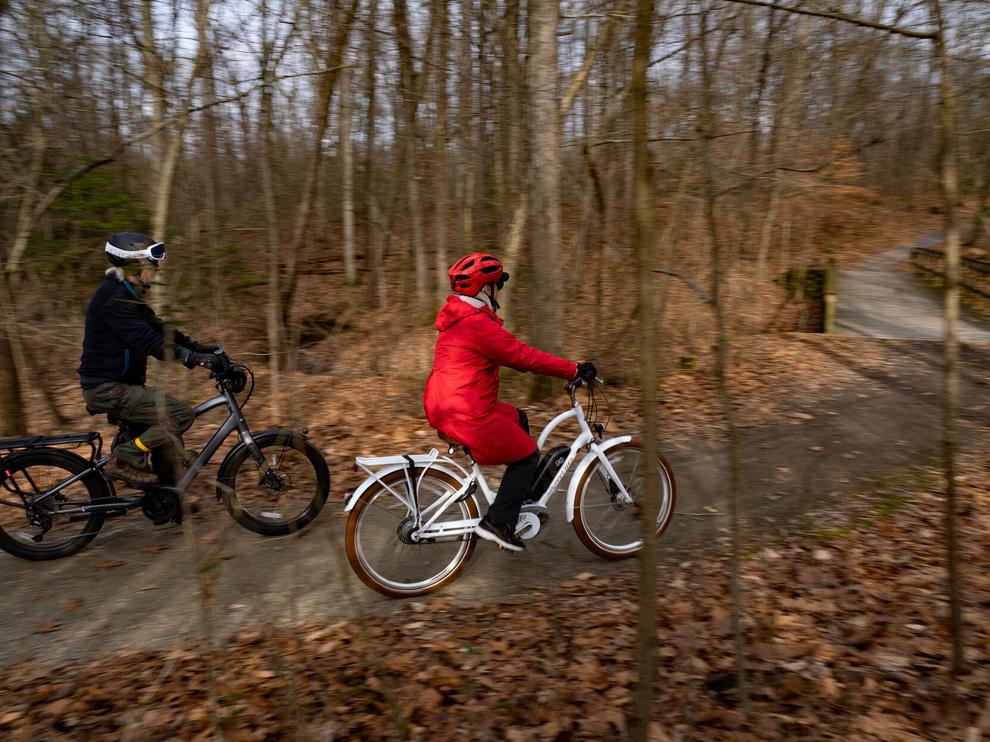 Electric bikes, one of the hottest trends in recreation, can be a godsend for people getting on in years or with medical impairments, helping them heal, stay fit and continue to enjoy the many benefits of being outdoors.
Even healthy people say that the pedal-assist feature on e-bikes allows them to go farther, climb steeper hills and see more scenery than on a standard bicycle. It can also be an equalizer on long or challenging rides, allowing children to keep up with their parents, or an injured or less fit person to keep up with a partner or group.
Nationwide, annual sales of e-bikes have climbed rapidly, from 417,000 in 2020, to 750,000 in in 2021 and 928,000 in 2022. Costs range from $700 to $5,000 and more. A charged battery lasts for about 30–100 miles. The common 750-watt motors provide roughly the same power as the legs of a professional bike racer, leading some exercise purists to view them as "cheating."
But these quiet, motorized e-bikes can go quite fast — even without pedaling on many models — sometimes startling hikers, joggers, dog-walkers, stroller pushers and horseback riders. Trail managers often field complaints from people who were surprised by e-bikes passing or bearing down on them from behind.
"I've been shoved off the path by people coming down the trail at me at ungodly speeds," said Jim Hearn, who heads an advisory committee governing the use of the Enola Low Grade Rail Trail in Lancaster County, PA. "They are not pedaling at all. They're basically dirt-biking on the trail."
But others point out that, on a smooth, flat trail, conventional multi-geared bicycles can easily and just as quietly zip along at 20-plus mph.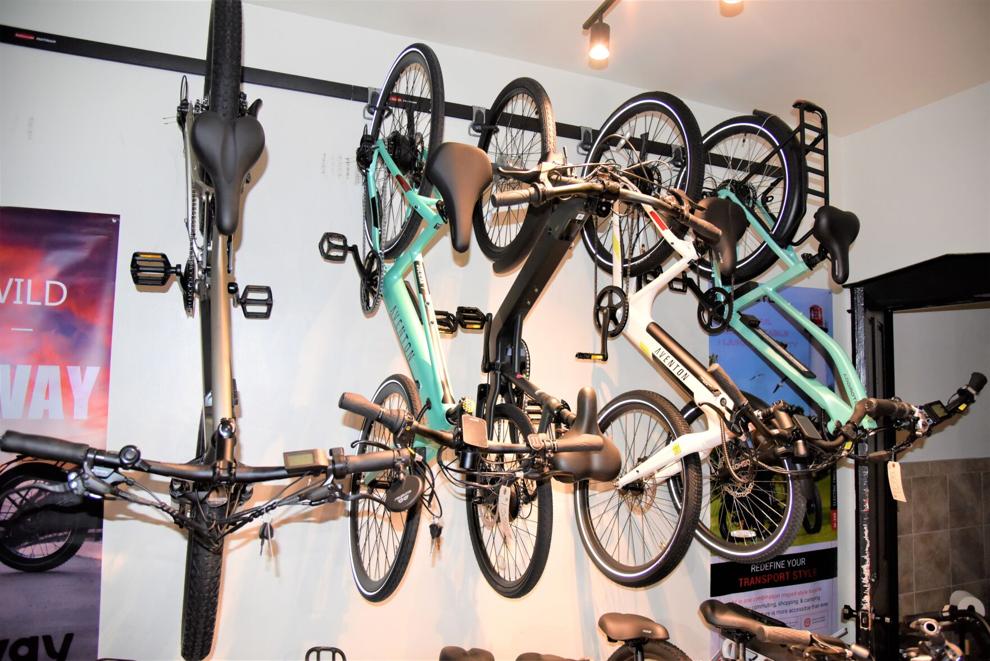 The growing popularity of e-bikes has triggered environmental concerns, too. E-bikes are generally heavier and often come with fat knobby tires, inviting concerns about damage and increased erosion on dirt trails. Some also worry that e-bikes will send people farther into the backcountry, spoiling the wilderness experience, if not the wilderness itself. Similarly, some fret that the popularity of e-bikes is leading to overcrowded trails.  
All of this has public officials and land managers in the Chesapeake Bay region scrambling to determine whether e-bikes should be treated as motorized or nonmotorized vehicles and how best to blend them into trails already seeing record numbers of users. Early on, most managers waited to gauge how this new activity unfolded before setting rules. But the number of e-bikes showing up on trails and in parks has forced the hands of many.
Perhaps predictably, e-bike regulations in Bay states vary widely, and many have already been modified from original guidelines.
Contrasting rules
A popular 1,105-acre park in Lancaster County, PA, bans e-bikes from mountain bike trails and roads.
Yet a heavily used rail-trail in the same county allows e-bikes without restrictions. "I guess [e-bike riders] have been respectful. We haven't had any real issues," said Ryan Strohecker, manager of the Manor Township Enola Low Grade Trail.
At first, the U.S. Forest Service ruled that e-bikes were motorized vehicles and prohibited them on trails in national forests, restricting them to roads and other routes open to motor vehicles. But in late 2022, the agency said it would make e-bikes a distinct category and allow officials in each national forest to determine usage rules.
The National Park Service in 2019 decided to allow e-bikes wherever conventional bikes were allowed on roads and on its 16,000 miles of single-track trails. But after a consortium of conservation groups sued, a federal judge in July 2022 ruled that the agency must invite public views and weigh effects on the environment, including wildlife, because those weren't considered in setting the open-ended policy. As this issue of the Bay Journal went to press, the public comment process had not been scheduled.
Maryland considers e-bikes the same as regular bicycles if the motors are no more powerful than 750 watts and can't go faster than 28 mph. But e-bikes are prohibited, with some exceptions, on hiking and biking trails in state parks and forests. Exceptions include the Torrey C. Brown Rail Trail in Baltimore County and the Western Maryland Rail Trail, but in both cases e-bikers must be pedaling when motors are on and can't use pedal assist at speeds of more than 20 mph.
In Virginia, e-bikes are regulated like regular bicycles, but cities, towns and state agencies can set their own rules. In state parks and wildlife management areas, e-bikes can be ridden wherever conventional bikes are allowed if they have a feature that cuts off the electric motor when their speed reaches 20 mph.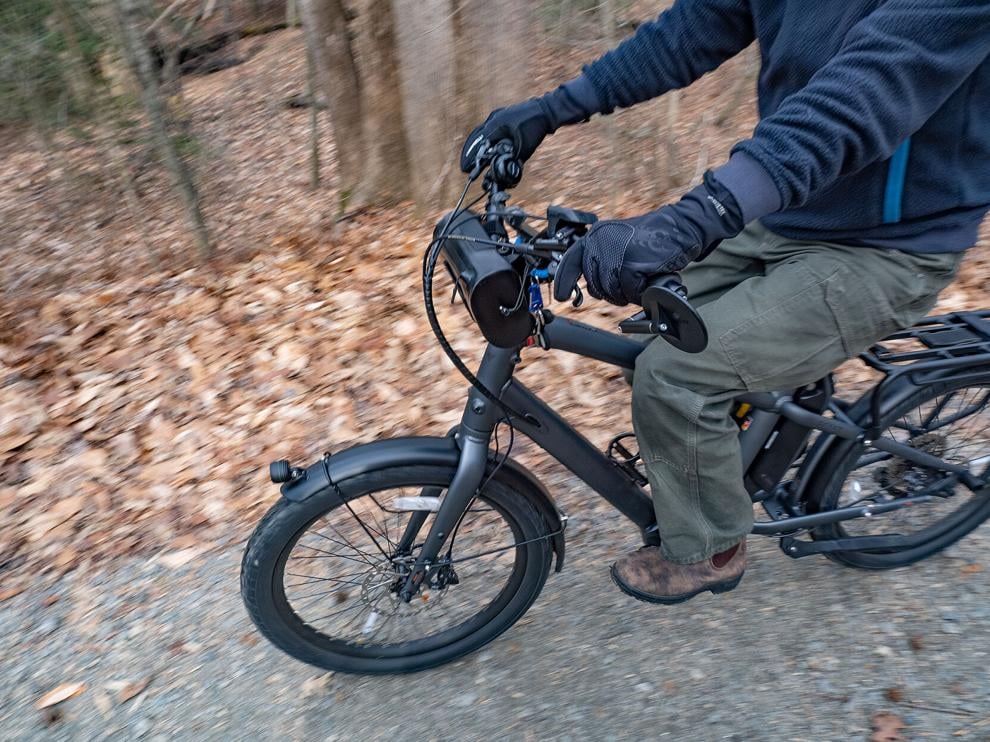 In and around Washington, DC, e-bikes are prohibited on many park trails. Exceptions include the C&O Canal, Rock Creek Park Multi-Use Trail and the 18-mile paved Mount Vernon Trail.
In Pennsylvania, e-bike regulations are widely divergent — and in various hands. Take, for example, the Pennsylvania Game Commission, a nongovernment agency that controls 2.5 million acres of land open to both hunters and the general public.
In 2020, the Board of Game Commissioners unanimously gave preliminary approval to allow e-bikes on game lands to help hunters and trappers, especially aging ones, more easily get to favorite spots. Using what are known as cargo e-bikes, hunters can even haul deer out of the woods.
But six months later, at the final vote, Commissioner Michael Mitrick gave an impassioned speech, arguing that allowing e-bikes wouldn't be compatible with the original purpose of game lands.
"[The game commission] protects by default certain game lands qualities, admittedly intangible, linked to wildness and yielding unique experience," he said. "These cannot be manufactured. It can only be preserved where they yet remain. … [We have] no obligation to accommodate on those lands every manner of new mechanized conveyance that the marketplace develops and offers to the public."
The preliminary approval of e-bikes on game lands was overturned in a 5–3 vote.
In late December 2022, after a two-month public comment period, the Pennsylvania Department of Conservation and Natural Resources announced a new e-bike policy for its thousands of miles of unpaved roads and trails in state parks and forests.
It treats e-bikes like traditional bicycles and allows them on trails and roads where regular bicycles have been allowed, though closures may take place for safety or environmental reasons.
As with Maryland's two exempted trails, though, riders must be pedaling when using the motor and go no faster than 20 mph when using the pedal-assist function. Also, motors can't be more powerful than 750 watts, and e-bikes can't weigh more than 100 pounds.
DCNR noted that its policies were guided by its overall goal to "promote recreation for all" and sought to "create a culture around trail etiquette and safety."
Because of the wide public comment process, it's generally believed that the DCNR policy will become the model adopted by many communities and other agencies across the state.
Some 642 responses flooded in during the comment phase, including far-ranging advice and warnings from hiking and equestrian groups.
Among those weighing in was the Keystone Trails Association, the state's largest hiking group. Hikers and traditional cyclists have not had widespread problems with e-bikes to date, noted Brook Lenker, executive director. And e-bikes have allowed people with physical impairments to stay outdoors.
But he worries about conflicts and trail damage if the number of e-bikes continues to grow dramatically. "I certainly hope it all works out that e-bikes are not a detriment to our public lands and [are] actually advantageous to the ones who would most benefit from [them]. But there's so many unknowns. The perfect scenario might have been piloting and more evaluation," Lenker said.
The Pennsylvania Chapter of Backcountry Hunters urged e-bikes to be kept off single-track trails.
Several officials from jurisdictions whose economies depend on outdoor pursuits urged the department to put out a welcome mat for e-bikers to attract a new wave of visitors.
A blessing for the ailing
To be sure, even those who want to limit e-bikes on trails acknowledge that the pedal-assisted bikes have provided a new lease on outdoors life for many.
One study found that riders of regular bicycles who purchased e-bikes rode nearly twice as much as before.
J.C. Remsburg, a 56-year-old resident of Quarryville, PA, rode 1,000 miles on his conventional bike last year and has no interest in an e-bike. But when his wife had knee surgery last year, it appeared their days of riding together were over — until she bought an e-bike.
"I can ride 60 miles at a time easy, and now she can keep up," he said.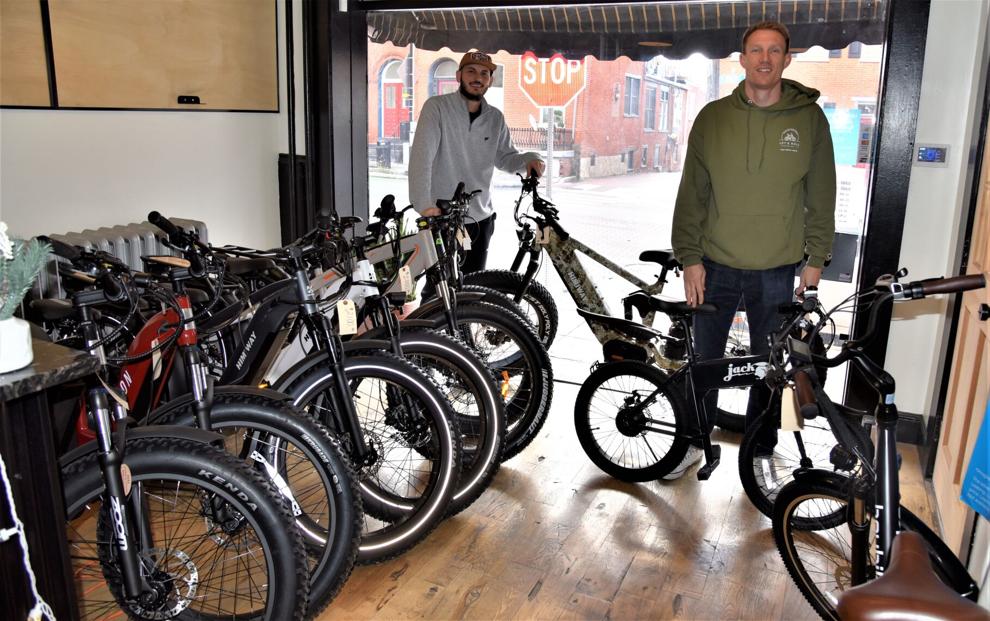 Ryan Finger, who co-owns an e-bike rental and sales shop in Lancaster, PA, said, "Seventy-five percent of our customers [are from] the older crowd. We just had a woman in yesterday who had knee surgery six weeks ago. She can't pedal a traditional bike and would have had to quit otherwise. Now she's riding rail trails.
"We've seen that over the last nine months so much. Or the husband is a big biker and his wife wants to go too but can't keep up."
Becky Schilling, jogging recently on the Warwick to Ephrata Rail Trail near Lititz, PA, said her parents, in their 60s, recently started using e-bikes. "They wanted to make sure if they go one way, they can still get back," she said.