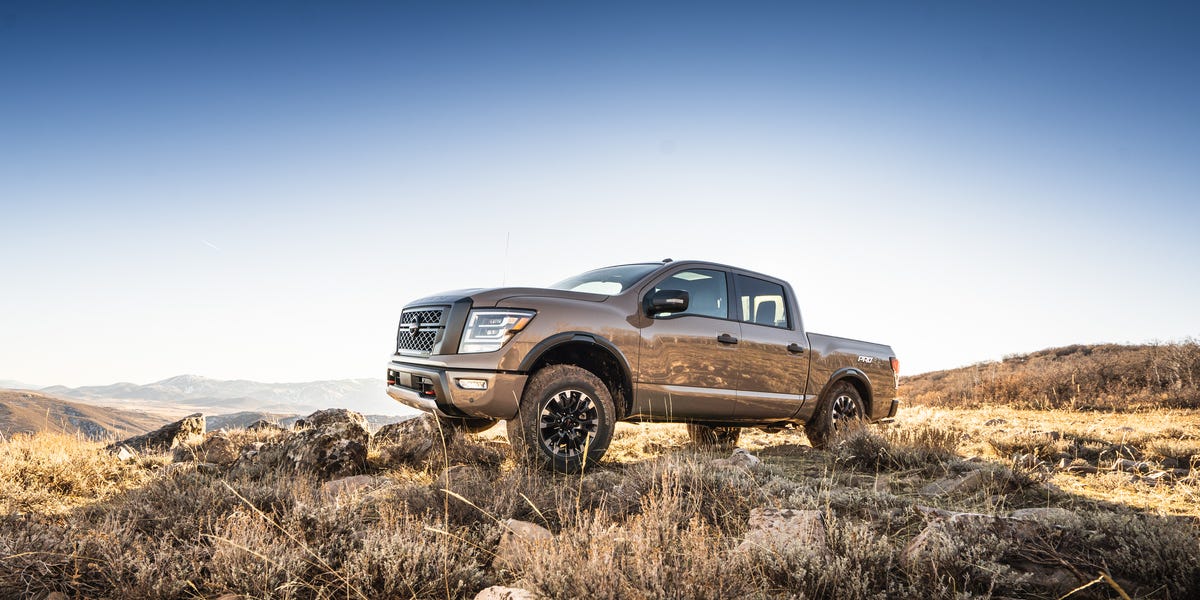 Consider the 2020 Nissan Titan Pro-4X an Ultimate Utility Vehicle
Sometimes you need a truck: A full-sized, Hand-to-God, hair-chested pickup. Something like the 2020 Nissan
Sometimes you need a truck: A full-sized, Hand-to-God, hair-chested pickup. Something like the 2020 Nissan Titan Pro-4X.
We borrowed the Titan for a 3,000-mile haul across America, dragging along a crammed U-Haul, the Nissan's bed stuffed with a pyramid of boxes. Observant readers will note this was my second trip across the country this summer. My wife and I relocated to Washington State from New York City, a long-term move sped up by pandemic. It took a couple tries to get right.
A 2020 Kia Telluride headlined our first effort. We hauled only ourselves, a cat, and a couple suitcases. We slept in the Telluride, cooked food under the CUV's hatch, used open doors for cover as we watered roadside vegetation, and generally hauled ass across America.
The Titan offered contrast. Of course; one is a pickup, the other a three-row crossover. But this isn't a tale of chalk and cheese. Each vehicle is chasing the same ideal from different angles. We'll call that ideal the Ultimate Utility Vehicle, and there are many paths up the mountain.
Our platonic UUV should be rugged, powerful, efficient, functional, versatile, comfortable, and maybe even luxurious. Pickups – mostly full-sized ones – have been edging toward this end for years. When my in-laws road tripped cross-country last summer, they left their Lexus GS to languish in the garage. Their full-size Chevrolet pickup rides better, my father-in-law contends. It's easier to hop in and out of. There's more leg, hip, and headroom. It holds more camping gear, supplies, foodstuffs. The discrepancy in gas mileage between the AWD Lexus and the imposing Chevy is negligible, as their Silverado now rides on road-focused all-seasons. The pickup truck form delivers heaps of utility as a baseline, then works toward that UUV mountaintop, finding increasingly firm footholds in luxury and handling with each successive model year.
SUVs like the Telluride chase that same ideal. Whatever power, function, and versatility the Telluride cedes to a full-size pickup, it repays in comfort, luxury, and handling. Our Kia offered as much comfort and quietude as any traveler could ask for, and felt capable enough to accommodate most Americans' weekends. Kids to soccer. Load of lumber. Stars and stripes. All that jazz.
But which gets closer to our UUV ideal: the leather-lined pickup or off-road-curious super Ute? Well, anybody with a modern full-size rig can tell you, it's the Titan.
Because the Titan's talents stretch much further than the Telluride's where versatility is concerned. Further than any crossover. The Telluride is by far a more comfortable, civilized vehicle, by virtue of its unibody construction, independent suspension, sophisticated cabin, and cutting-edge cruise control.
However, the Titan was absolutely comfortable enough for a 3,000-mile journey. The leather seats were firm, yet supportive, more than serviceable throughout thousand-mile days behind the wheel. That's not damning with faint praise; any seat comfortable enough for a cross-country trip is comfortable enough. Period.
Further refinements abound. Road noise hummed quietly along the truck's fenders, but never grated against my nerves, despite our Pro-4X-trimmed Titan riding on chunky 275/65/18-section tires with an aggressive off-road tread pattern. The pickup tracked arrow straight at 75 mph on the freeway, as the rear suspension slouched under the cumulative load of packed U-Haul and Box Mountain, which climbed Matterhorn-like from the Titan's bed. The cabin bordered serenity on the 3,000-mile slog, surprisingly quiet for any pickup truck.
The Titan's engine shined in comparison, too. The 5.6-liter, 32-valve V-8 felt solid and durable. The added grunt compared to the Telluride's V-6 allowed more relaxed cruising through Western mountain passes, despite the trailer. Even during moderate towing, body-on-frame construction and V-8 torque pay dividends.
While we didn't probe the Pro 4-X's off-road chops on this trip, the Titan's rear electric-locking differential, skid plates, hill descent control, lifted suspension with Bilstein shocks, and aggressive tires leave no doubt: this truck will stomp out any Soft Roader foolish enough to follow the Titan down a goat path.
Gripes? Nissan's infotainment game falls far behind its competitors in the segment (our long-term RAM's center screen is a century ahead of the Titan, by comparison), and even further behind the tech-packed Telluride. The Titan won't tow as much as most of its competitors. Its interior isn't as plush. Fewer bells and whistles inside, too. That relative lack of versatility allows the Titan's competitors to climb higher up UUV mountain.
And yet, the Titan pushes the bounds of ultimate functionality just far enough to nose it in front of the Kia, were there only one spot for a UUV in my driveway (you can tell I don't have kids, but if I did, that's checkmate, Nissan). Some truck shoppers may not want or need the more complex infotainment and cabin set, content in the refinements the Titan does offer, with nothing superfluous.
This comparison isn't meant to disparage the Telluride. If I were shopping for a midsize luxury crossover, Kia would easily earn my money. But rather, to point to something full-size pickups do very well these days: everything. The step up in comfort, road manners, functionality, technology and from any modern midsize pickup to a full-size one is startling.
If you want a utilitarian vehicle that can do absolutely everything well, but don't need third-row seating, the full-size pickup is your best bet. And the Nissan Titan is a great one.
This content is created and maintained by a third party, and imported onto this page to help users provide their email addresses. You may be able to find more information about this and similar content at piano.io