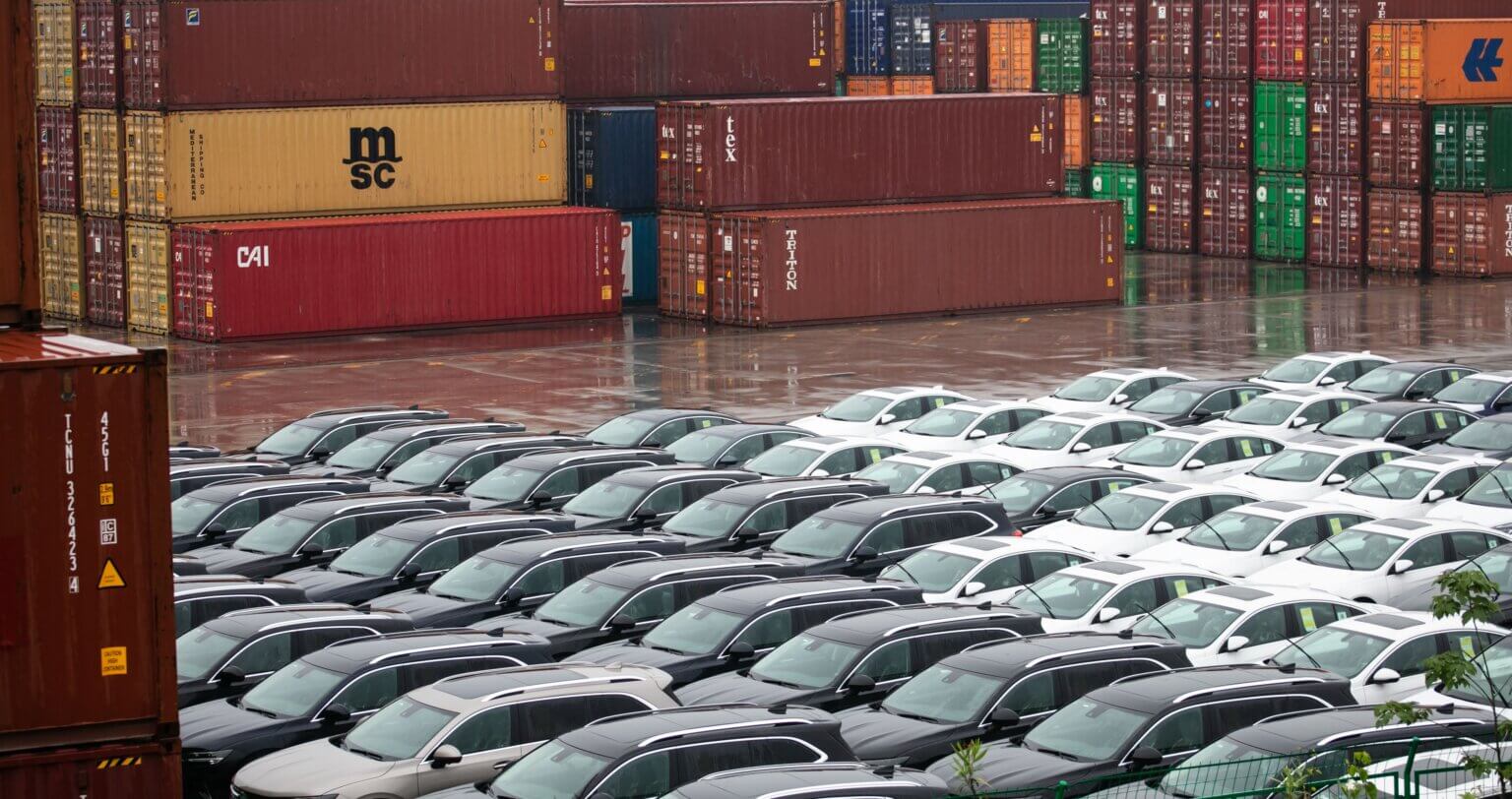 China – the world's biggest auto exporter in 2023?
China's Personal Vehicle (PV) exports showed a strong upward trend from January to April this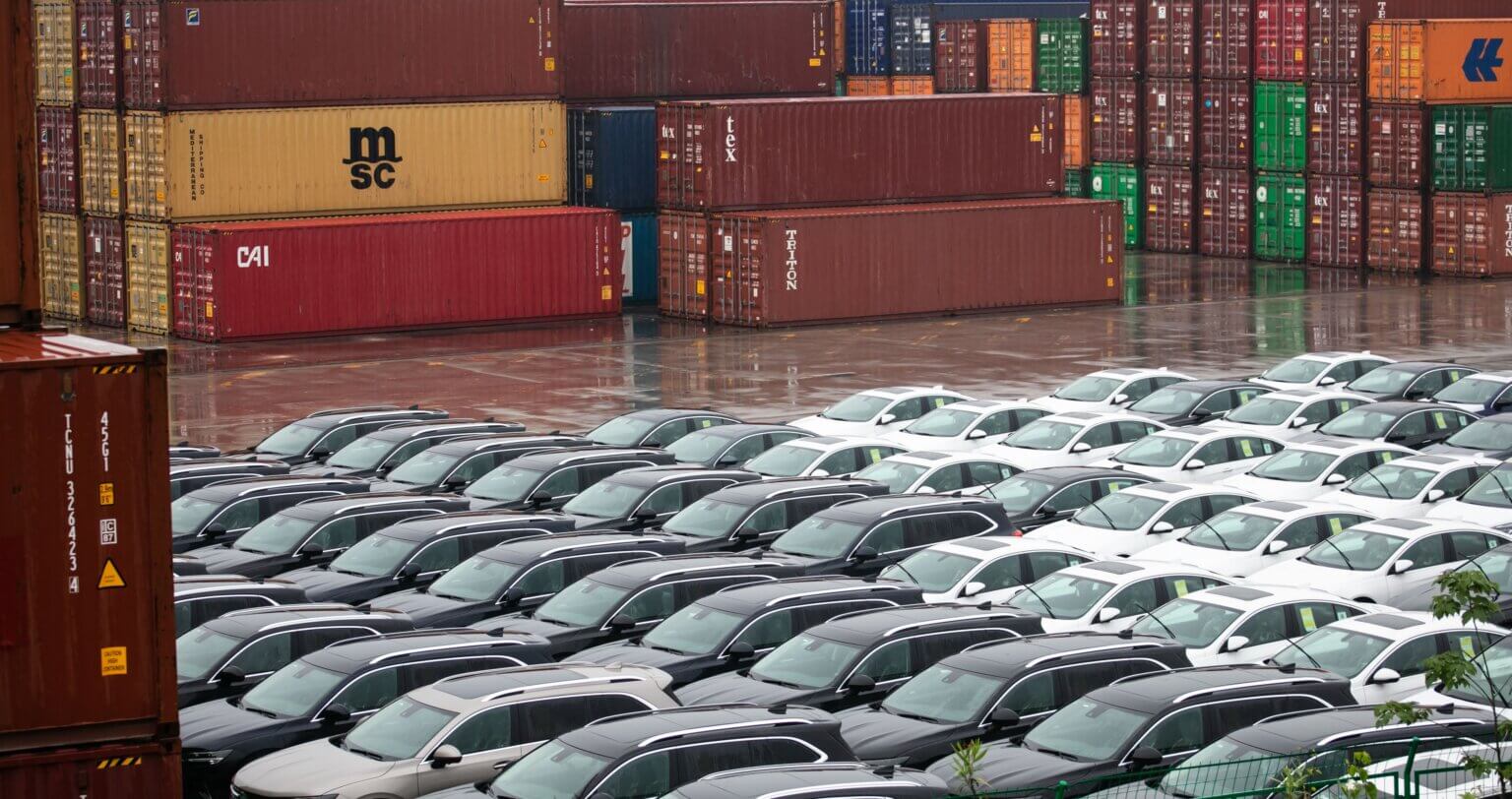 China's Personal Vehicle (PV) exports showed a strong upward trend from January to April this year, in contrast to the unsatisfactory domestic market performance in 2023. In the first four months of 2023, PV exports reached 1.12 mn units, increasing by 113% YoY and accounting for 16% of total China PV production.
At a monthly level, export growth in the past five years is significant but demonstrates seasonal characteristics. The volume of exports in the second half of the year is typically higher than in the first half. Since 2020, and despite the outbreak of the COVID-19 pandemic around the world, the resilience of China's automobile industry supply chain has been fully revealed, and China's automobile exports have shown robust growth.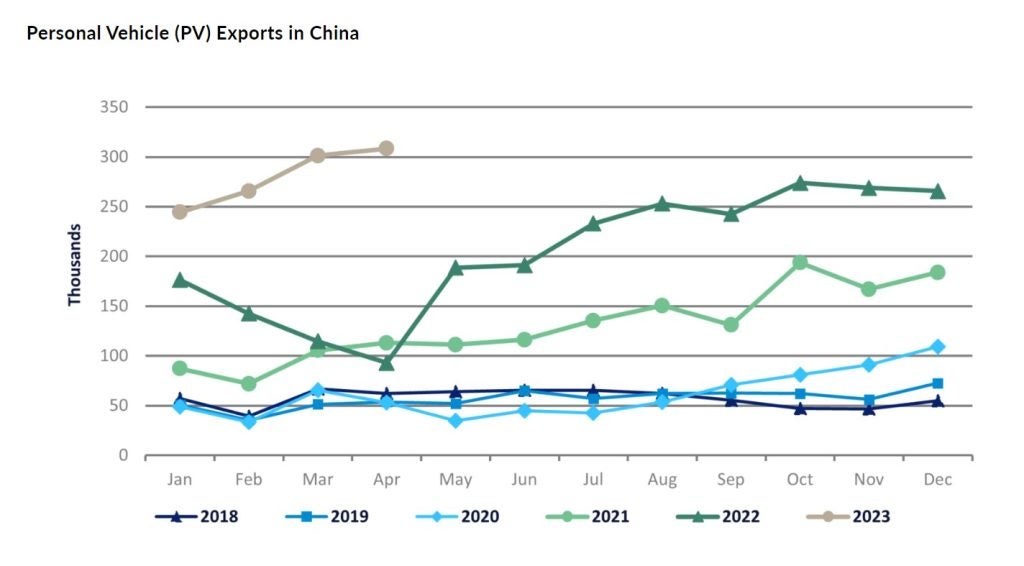 Chinese brands dominate the exports, accounting for an overwhelming proportion of overall exports from the country. This is true of the past five years, during which time the share of overseas exports held by Chinese auto companies has been much higher than that of joint venture (foreign/domestic) brands.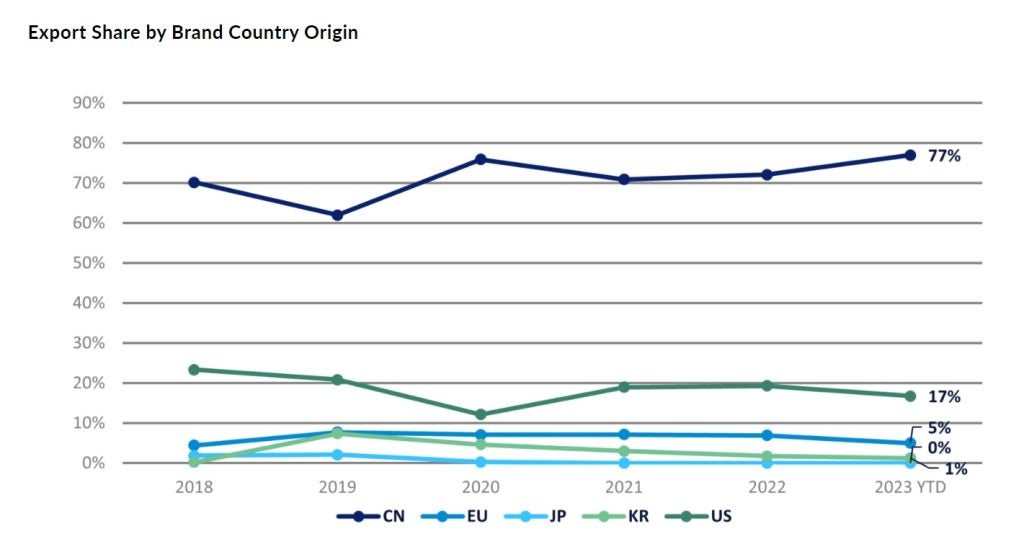 Among the exporting PV brands, the frontrunners are Chery, SAIC, Tesla, Geely and Changan. From January to April 2023, Chery Group accounted for the largest portion at 23% of the total. Chery was followed by SAIC with 16% and Tesla with 12%. More OEMs have joined the competition, and the export market is very dynamic. For example, Zeekr has unveiled its European strategy which includes bringing its own dealerships to Europe, with the first deliveries in Sweden and the Netherlands due later this year. Changan Automobile has released a new overseas strategic plan, which will focus on the rollout of intelligent low-carbon products overseas.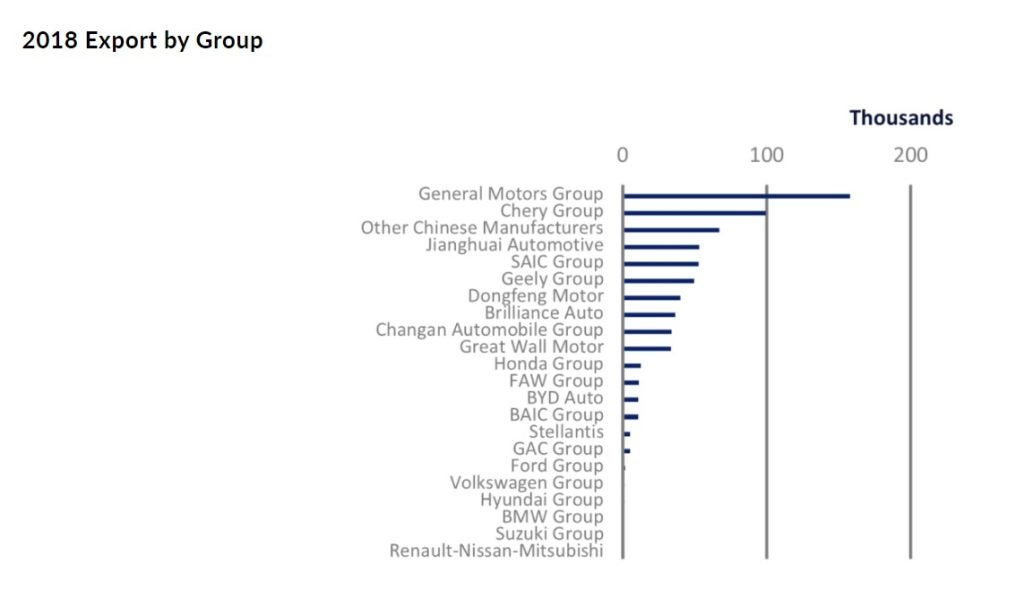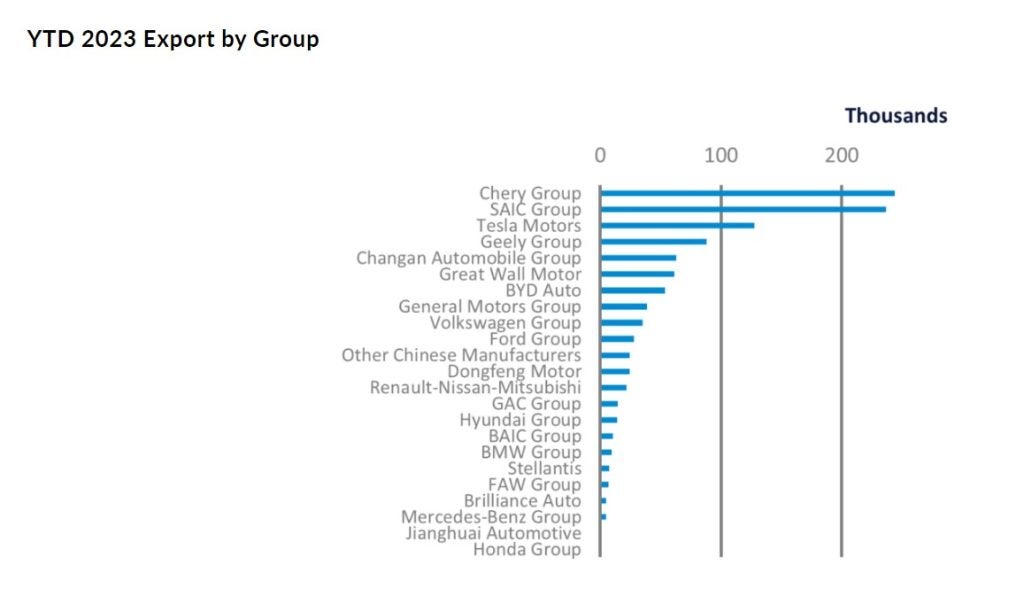 In the bodystyle segment, the share of exports of Mini cars and Sub-compact cars has fallen away over the last five years. SUVs are now the main export type, and their share is still increasing year by year. Furthermore, the proportion of exports occupied by premium segment vehicles has also increased significantly. China's exports are moving away from low-end labels and transforming to a higher level of quality and price.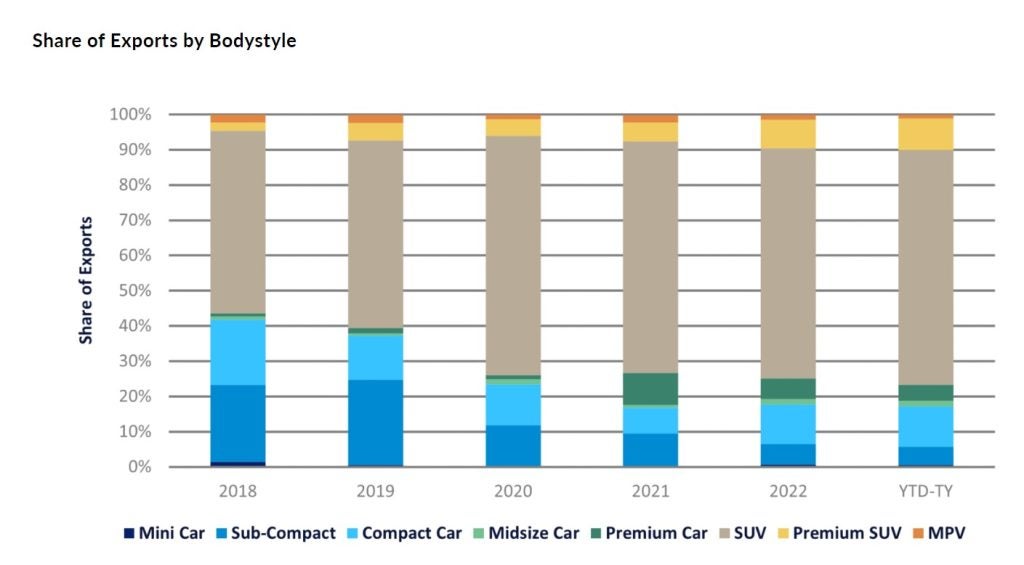 Adapting to the global shift to low-carbon vehicles that offer environmental protection, New Energy Vehicles (NEVs) form the core of China's automotive export growth. Aside from Tesla's significant exports from China, the brand value of domestic NEV producers has been gradually increasing in the international market. If geopolitical factors do not negatively influence proceedings, the export volume of Chinese local brands will continue to rise so long as international brands are not able to offer equally competitive products in the same price range.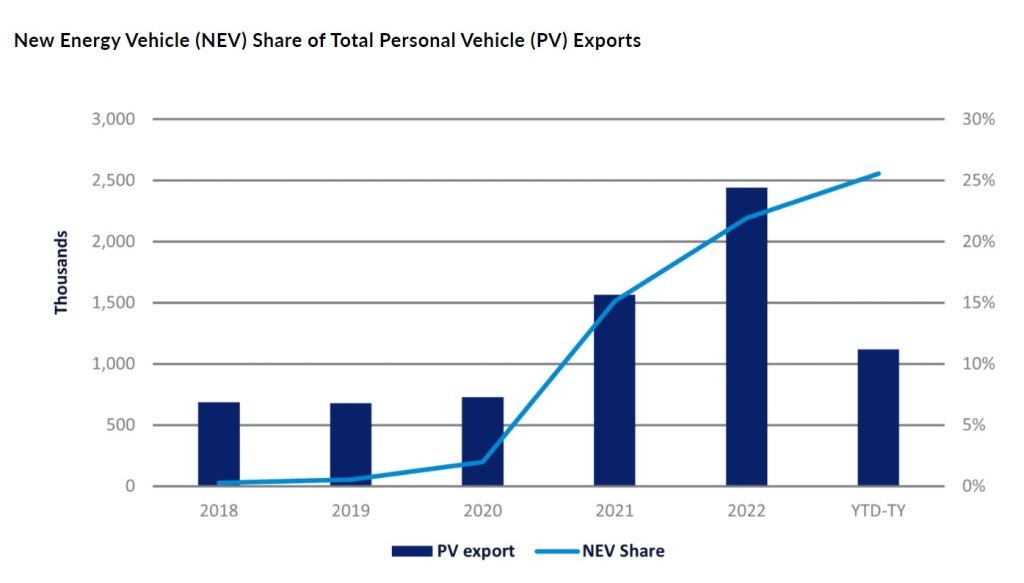 At the same time, the average price of car exports is also rising. According to statistics from the CPCA (China Passenger Car Association), the average export price of Chinese cars rose from US$12,900 in 2018 to US$18,900 in 2022, with the average price of pure electric cars reaching US$25,800. Up until now, the average export price of all cars in 2023 was US$20,000, which is a significant increase compared with the same period last year.
The rapid export growth of Chinese auto manufacturers in recent years is not only due to the country's policy support but also a reflection of the following developments:
The first is the improvement of product strength which includes the rapid integration of core technologies such as electrification and intellectualisation/networking. This was particularly obvious at this year's Shanghai auto show in April. Chinese local brands have gradually broken through traditional technology barriers and have achieved big steps in the three major powertrain areas of HEV (hybrid electric vehicle), PHEV (plug-in hybrid electric vehicle) and BEV (battery electric vehicle) using self-developed core technologies.
Secondly, the scale effect of China's automobile industry has gradually emerged. Based on the huge population base, China's auto industry has a vast production and sales volume, a large number of brands, and fierce internal market competition. There are also huge scale savings as robust supply chains provide cheaper and more reliable components. Strong supply chain resilience and flexibility also provide good supply security for Chinese auto enterprises in today's complex international marketplace.
Finally, there is the international factor. The market share of some traditional manufacturers in Europe, the United States and Japan is gradually being replaced by Chinese brands. In recent years, global conflicts and epidemics have not seriously affected China's domestic automobile investment and production. Instead, they have provided opportunities for Chinese automobile companies to go overseas. The secure domestic situation also provides excellent conditions for research and development, production, and the export of Chinese automobiles. For example, in the Russian market amid the Russia-Ukraine crisis, international brands have been completely replaced by Chinese cars. In the first four months of this year, the number of exports to Russia accounted for 15 per cent of total PV export volume from China.
For now, most exports from China are either Completely Built Units (CBU) or Completely Knocked Down (CKD). Under the influence of the poor global economic situation, local tariff policies, and local laws and regulations, this will change. In the future, the development direction of China's exports may be to increase investment in destination countries, establish localised supply chains for vehicle assembly and complete distribution networks.
Nan Zhang, Passenger car market analyst, GlobalData
This article was first published on GlobalData's dedicated research platform, the Automotive Intelligence Center