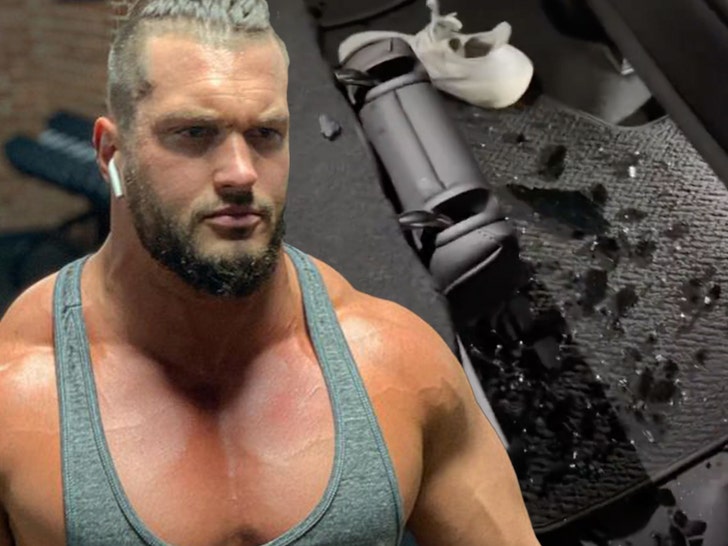 AEW Star Wardlow Claims Title Belt Stolen In Rental Car Break-In
UPDATE 12:06 PM PT — The San Francisco Police Dept. tells TMZ Sports … a
UPDATE
12:06 PM PT — The San Francisco Police Dept. tells TMZ Sports … a report for a burglary was filed at 9:20 PM on Tuesday. The complainant, according to cops, said "a wallet, laptop, sports gear and many other miscellaneous personal items" had been taken from his car after he had left it parked on the street for around three hours.
UPDATE
No arrests have been made … and an investigation is ongoing, cops said.
AEW star Wardlow appears to have already lost his championship belt just days after winning it — but it wasn't a wrestler who took it from him in a match … no, he claims thieves jacked it from his rental car on Tuesday.
Wardlow said in a video posted to his social media page that his ride was broken into — and the culprits took off with a bunch of his stuff … including the title strap that he earned in a win over Samoa Joe on Sunday at AEW Revolution in San Francisco.
The 6-foot-2, 277-pound wrestler showed his car had busted windows … and he was clearly furious with the situation.
"Thanks to the person who broke into my rental car and took absolutely everything from me," Wardlow said. "My TNT title. My gear, my boots, my whole life were in those bags."
It's unclear when and where the alleged break-in happened … we've reached out to cops, but so far, no word back yet.
Wardlow, meanwhile, is supposed to put his newly acquired title on the line against Powerhouse Hobbs at the Golden 1 Center in Sacramento later Wednesday … and he says despite not actually having the belt in his possession anymore, he still plans on showing up.
"I don't know if this means I'm going to have beat the s*** out of Hobbs in these clothes I'm wearing right now," Wardlow said, "but one way or another, I'm going to make it to Sacramento and we're going to get this s*** done."
Wardlow also sent a message to the individuals he believes stole his stuff … and it didn't seem like he was in character or putting on a show.
"Whoever did do this better thank God that I didn't catch you in the act because you're jaw would be as shattered as this glass is."
Originally Published — 8:42 AM PT