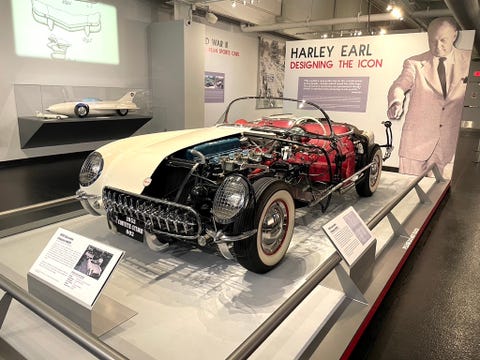 A Rental Chrysler 300 Has Never Driven Better Roads
The Smoky Mountains don't get enough credit for being the driver's paradise that they are.
The Smoky Mountains don't get enough credit for being the driver's paradise that they are. Sure, they get some, as the Tail of The Dragon, an 11-mile section of TN-129 is probably in America's top five most famous roads, but as a region, "well-rated" is still underrated.
In an effort to change this perception, the Road & Track Experiences team launched the Smoky 600, a new addition to our "press launch experience for regular folks" vibe that has now become a staple of the R&T lifestyle. We've done the Hudson Valley, we've done Wine Country, and now it's bourbon time. And I had to make the route. This is a strong gig: create an optimized, enthusiast road trip in between the region's finest hotels and restaurants. Woe-is-me, right? For the event itself, as a representative of a prestigious magazine, I'll be leading the route in a good car. But for the scout, I'm just a dude, and there are no press fleets in this area, so I booked a "sporty coupe" from Enterprise expecting there might be a Hemi-powered Challenger or even a V-6 Mustang to choose from. No such luck, so off I went in a Pentastar-powered, low-option Chrysler 300 with 25,000 probably brutal miles.
Our route begins at NCM Motorsports Park in Bowling Green, KY. It's called NCM because it's across the street from the National Corvette Museum. Oddly, it has zero actual affiliation with the museum itself, but it's a very nice, flowing racetrack that we've rented for a morning of fun, before exploring the history of America's most famous sports car across the street. Corvette nerds will find lots to nerd out over, including some legendary racing variants, the superhero "Mako Shark" concept that inspired the C2, the only surviving 1983 Coupe, and the very trick rotary-powered concept. Even if you're not that into Corvettes, as my wife isn't, the Sinkhole exhibit is super interesting. (One might remember that an enormous sinkhole opened under the museum, swallowing eight Corvettes and producing terrifying security footage.)
Unlike say, our Sonoma trip, where one could hit a golf ball in any direction in any spot and hit a five-star hotel, the excellent hotels are fewer and farther between in Kentucky. So rather than making a two-hour drive route between hotels that are only fourteen miles apart (something I actually did on Route-to-Vine), the transit legs here are more "get from one location to the next while using as little highway as possible." The drive to The Grady Hotel in Louisville cuts through Limestone mountains, cow pastures, and rolling hay fields, at a pace that even a tired old Chrysler 300 can handle. The car is reasonably comfortable, has incredible amounts of legroom, and one of the farthest telescoping wheels available, satisfying my long legs and short arms simultaneously. What it lacks is any kind of sport mode or manual gearbox control besides P-R-N-D-L, where "L" just locks out all the gears above third.
The Grady sits on Whiskey Row in downtown Louisville, on an elevated block above the meandering Ohio River, which borders Indiana. Freshly restored and updated as many old buildings are on this block, it's centrally located to over a dozen distillery experiences, the city's best restaurants, and the Louisville Slugger Museum & Factory; the tour was an excellent use of 45 minutes of my time and you get a free souvenir bat with every ticket. I'm not sure what else there is to do in this city, but for a one-nighter, Louisville didn't disappoint.
The next day I had intended to start early, as we needed to "scout" three bourbon distillery tours in Frankfort, the state capital just over halfway to Lexington, to the east. But we were held up by a flat tire, which actually turned into two tires, as the local Firestone discovered on inspection. Shoutout to Marc over there, who I apparently taught to drive stick shift via video; he informed me that the two new tires would be billed through straight to Enterprise, with no out-of-pocket deductible.
Though a bourbon distillery isn't always as pretty or idyllic as a winery on a vineyard, the three stops we've nailed down are pretty choice: Buffalo Trace is enormous and has grown somewhat corporate in the 10 years since I last visited, but the variety of products they offer, the incredible scale of their operation, the sweet, sweet smells from their barrel warehouses and their amazing gift shop is worth the visit, not to mention the tasting itself. Woodford Reserve is noticeably smaller, situated on the banks of a winding creek, with beautiful outdoor sitting areas and fire pits. And Whisky Thief, to me, was the most special, as you literally cannot buy their products anywhere but the distillery itself. Named for the baster-like tool with which one tastes whisky from a laid-down barrel, the tasting is not from bottles, but from the barrel itself. If you like what you've tasted, the staff bottles it just for you, right there, in front of your eyes. It's quite the special experience from a very small-batch distillery, and a bottle would make a great souvenir.
Suffice to say that after three tastings, my wife drove the rest of the day. On the actual trip itself, our guests will leave their sports cars behind and take shuttles.
Lexington is the horse racing (and horse breeding) capital of the state, but is also shockingly open and progressive. Taking a walk around the 21C Museum Hotel, a converted bank building in the heart of downtown, the city reveals pride flags, art galleries, coffee shops, and window signs welcoming immigrants and refugees to the city. There are no shortage of restaurants and bars – many focused on the college crowd. The craft cocktails and ambiance at Harvey's Bar, conveniently directly across the street from the hotel, were better suited to adulting.
Though the first two days of the trip are really focused on the race track and bourbon tastings, the second two days are really focused on the Smoky Mountain Roads. We departed Lexington en route to Knoxville, Tennessee, a city I've spent time in and really enjoy. There's no choice but to do about 25 miles of highway out of Lexington, but then we hit the good stuff. What starts as farm roads and protected Civil War battlefields gradually improves as the hills get bigger, the curves get sharper, and the road runs along a mountain ridge, undulating left and right between happily grazing groups of young cattle. The tarmac, considering the variety of weather Kentucky sees, is shockingly good – even better than many parts of Northern California. Though it's hovering in the middle-30s, the all-season tires, and especially the two brand-new ones on the right side, offer tons of grip and even decent feel, though.
We stop at Durham's Pit BBQ for lunch, whose food lives up to the number of awards plastered all over the walls, which I knew would happen, given the fact there was a long line of clearly hard-working blue-collar folks in heavy workwear winding out the door when we arrived two minutes after they opened.
Tennessee has better roads than Kentucky. I'm sorry if you are a major fan of Kentucky roads, but it just does. They wind through woods and over mountains, the tarmac is as close to impeccable as I've seen outside of Germany, and the hour of stunning backroads following a BBQ stop may not be the best timing, but it is phenomenal driving, even in a car woefully outside its intended use case. The aging chassis is actually decent, but to have the excellent ZF 8-Speed gearbox with no sort of control or sport mode is a sad thing indeed. What it does have is a compliant suspension, as I learned when one of the supposedly excellent roads on my mapped out route turned to gravel. We kept going, of course, because it's a rental car, but made a note and found another way around for the real thing, reinforcing the importance of actually driving the route you're gonna send paying GT3 drivers down.
We arrived at The Oliver hotel in downtown Knoxville with plenty of daylight left for a walk around one of my favorite small cities. Crossing Market Square towards Gay Street, just east of the hotel, we find a host of excellent shopping, including a true old-school General store and the Phoenix Pharmacy, a soda fountain and ice cream shop producing incredible shakes, sundaes, and pouring Coca Cola like they did in the early 1900's with pumped syrup and seltzer. There are excellent coffee shops all over town, so skip the Starbucks. We walked across the river to the Women's Basketball Hall of Fame, which did feature some gearhead cred in the form of a nine-door 1970 Pontiac Wagon used to transport the "Red Heads," who were like the female Harlem Globetrotters, from game-to-game.
The Oliver Hotel itself is charming if not opulent, with a semi-secret speakeasy off the lobby requiring a password to enter, and the ferociously good Oliver Royale bistro, the best meal of the trip so far.
In a perfect world, I would not choose to drive the Tail of the Dragon in a rainstorm. I would also not choose to drive it in a V-6 Chrysler 300 with no gearbox control and mismatched tires, but here we are. A rainy, foggy morning may not be optimal for America's most famously twisty road, but driving the Dragon is still a great way to spend a morning, especially if you're willing to get up and do it before the crowds show up, which from my experience is about 8:30 AM. Even by Malibu standards, the Dragon is tight, requiring lots of hand-over-hand action and confusing the shit out of the transmission. I was right on the timing, as I didn't get held up by a single car on the entire 11-mile, 318-corner stretch past Deal's Gap. The road, dangerous as it is, is worthy of its reputation, and I have fond memories from two years ago of driving it in one of the first 992-generation Carrera Ss to arrive stateside. (I should know, I flew with it on the plane.)
At the south end of the Dragon you'll find Tapoco Lodge, an idyllic, old-school setup on the banks of a rushing, whitewater river. For the Smoky 600, this will make for a perfect lunch stop and unofficial end to the event. For me, it was barely 9 AM, so I had a coffee and watched the water for a while. There are cabins to rent, and if I didn't have to get back to LA later this day, I would have happily plunked down a credit card and stayed a while. I chatted with the staff who wanted to draw me a map of the real good roads, the ones that don't have nicknames, the ones the locals like to drive. "The Dragon is for tourists," a friendly woman in the lobby told me.
She wasn't wrong, but I had one more road to scout – the "official" end of the Smoky 600 is 55 miles away, in Tellico Plains, at the far end of the legendary Cherahola Skyway, a road I much prefer to the Dragon. It's more open, with fast bends, running the ridge of the mountain range with monstrous, sweeping vistas of valleys and low-slung clouds on both sides. I would have loved to see that, except just as I hit the Skyway, whiteout conditions rolled in. Visibility was maybe 40 feet in any direction. I maintained maybe 25 mph for the entire drive, constantly fiddling with settings on the car to try to keep maximum visibility. The windshield wipers on the Chrysler were perhaps even more tired than the engine, creating streaks across the entire windshield with each sweep. I zoomed in tight on the navigation screen so I could see where upcoming corners would lead – without that screen this would have been an incredibly dangerous drive; with it, the drive was simply slow and tedious. But I could tell that this road, provided the conditions improved in June, would make for a fitting ending to the trip, and perhaps the best 55 miles of the 600 – there's something to be said for saving the best for last.
I wish I could say I grew to love our rental car; I wish I could say something like "the old girl really has its charm," but without a V-8 engine, without some kind of control over the transmission you'd only get with up-rated versions of the 300, there's not much to love. It's comfortable and will get you there, and the Car Play worked perfectly every time. It returned nearly 24 miles per gallon for my entire 900-mile trip, which included an unplanned 240-mile, 90 mph drive to Atlanta when my flight out of Knoxville was canceled three hours before departure. But I'll say this, if I can enjoy these roads and this part of the country in such a sad, tired version of a very old car, it'll be a proper blast in the real deal.