A 'long time coming': Bicycle donation group breaks ground on new Salt Lake hub
Salt Lake leaders, Bicycle Collective executives and others help break ground on Bicycle Collective's new
Salt Lake leaders, Bicycle Collective executives and others help break ground on Bicycle Collective's new headquarters in Salt Lake City during a ceremony Thursday afternoon. (Carter Williams, KSL.com)
Estimated read time: 4-5 minutes
SALT LAKE CITY — Bicycles might be a form of transportation and recreation, but Shawn McMillen says he's seen first-hand the power they have to change lives.
About half of the 1,000 people who come through the First Step House behavioral health treatment and housing provider, an organization he helps oversee, are homeless, including a large number of chronically homeless individuals — people who have been homeless for over a year. Many have nothing left when they arrive.
However, everyone who comes by quickly learns of the Bicycle Collective, a nonprofit created in 2002 that refurbishes donated bicycles and gifts them to Utahns from low- and moderate-income households, newly arriving refugees, those experiencing homelessness or anyone else in need. The nonprofit reports that it provided nearly 1,500 bikes last year alone.
Under a partnership with the nonprofit, members of the First Step House are taught how to build their own bicycles, which they can use to help them travel to a new job or to visit family as they get back on their feet. It can even be used for a simple leisurely ride in their downtime. McMillen, the executive director of the First Step House, says he's watched patients light up over and over again as they realize all the opportunities a bicycle provides them. They're equally as proud to show off the bicycle they've built.
"I'm grateful that there is a Bicycle Collective and I'm grateful that the Bicycle Collective in our community chose to do the kinds of things that it's doing," he said. "It's having an impact on the community that's meaningful and that is lasting."
That's why he's thrilled that Bicycle Collective is ready to start building its first real hub.
Members of the nonprofit, its partners and Salt Lake City government leaders gathered on a chilly Thursday afternoon to break ground on a new 15,000 square-foot facility that will serve as a Bicycle Collective's headquarters, adding in retail space for affordable or free bikes for those in need, as well as a bicycle repair shop, professional repair workspace and a storage area for donated bicycles. Those in attendance rang bicycle bells and Queen's "Bicycle Race" blared as officials dug into the ground for the first time.
The office, which will be located near 900 South and 400 West in Salt Lake's Granary District, will also include classrooms for educational programming, said Donna McAleer, the executive director of the Bicycle Collective. The collective will continue to maintain its existing shops in Ogden, Provo and St. George.
The facility will also include a solar rooftop system as the organization received a grant from Rocky Mountain Power that covers 80% of the installation cost. No timetable was provided as to when the facility will open.
"Our new hub … is built for efficiency to better serve our clients, our community partners and our customers," McAleer said. "It will have a functional space to build community. We will be able to house all of our operations simultaneously. This is a first and a really big deal for the collective."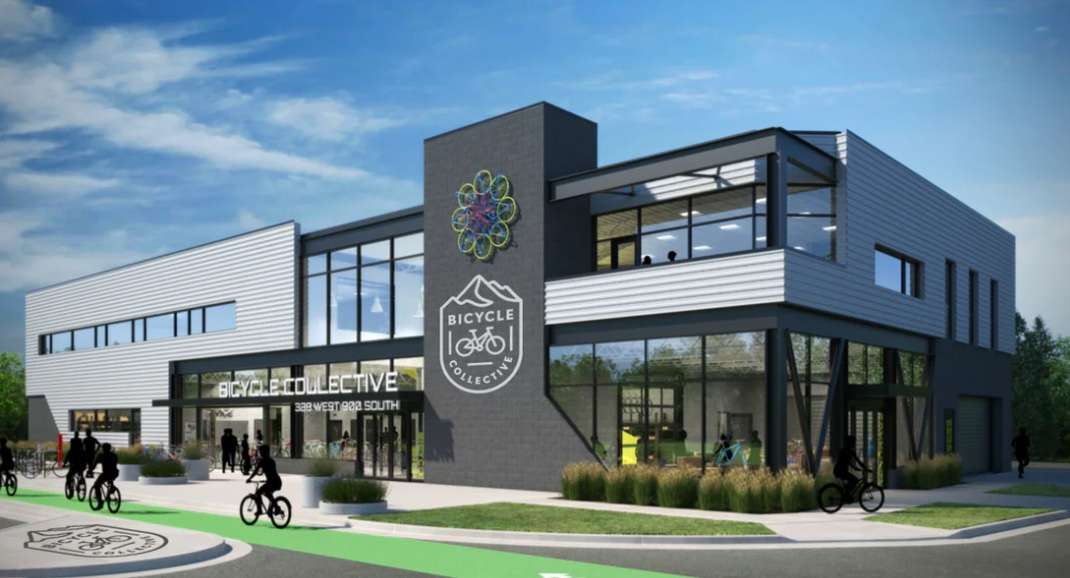 Thursday's groundbreaking comes after years of planning. The Redevelopment Agency of Salt Lake City, in 2017, chose Bicycle Collective to develop a quarter-acre plot of land that the city's RDA owns, absorbing the $280,000 cost of the land in exchange for the services that the facility will provide, according to city officials. Bicycle Collective then collected donations and received a $2.25 million bridge loan from the RDA to help pay the "escalating costs" of the $5 million project.
Sean Murphy, the chairman of the Bicycle Collective Board, said the help from the city is important because the recent growth of the neighborhood would have otherwise made it impossible for the nonprofit to afford.
---
I'm wearing my gloves and my boots as a reminder that there's still a lot of work to do here … but this has been an incredibly long time coming.
–Sean Murphy, chairman of the Bicycle Collective Board
---
The city got involved because bicycles are a "common denominator" for many people, Salt Lake City Mayor Erin Mendenhall says. They're often one of the earliest forms of transportation that people learn, which many carry for the rest of their lives either for transportation or recreation.
"It's also a symbol — a symbol of freedom, a symbol of intention, a symbol of connectedness," she said. "I ride my bike to work because I want to see and smell and hear the city in a way I can't do inside of a car."
They're also important for those in need, as McMillen explained. Bicycles can be a vital first-and-last-mile solution in coordination with public transportation.
While Thursday's ceremony was a celebration of five years of planning and what the hub will provide in the future, Murphy said there is still more work ahead before the hub comes to fruition. That includes construction but also dealing with inflation and rising costs happening across the construction industry, which is why the RDA provided the bridge loan. He said the nonprofit is currently seeking donations to help pay off the loan as quickly as possible.
"I'm wearing my gloves and my boots as a reminder that there's still a lot of work to do here," he said. "So when we're done, I'll hand out all my 'thank yous' and do all of my tears then — but this has been an incredibly long time coming."
×
Most recent Utah transportation stories
More stories you may be interested in