5 things I learned from renting a car for a road trip for the first time
The agent didn't seem to mind that I was driving his company's car from San
The agent didn't seem to mind that I was driving his company's car from San Diego all the way to Palm Springs, via Joshua Tree National Park in California. However, he did have some advice for me: "If you're going to Joshua Tree, you'll need something bigger with four-wheel drive." 
I didn't want to take any chances in Joshua Tree, so I upgraded from a compact to a midsize SUV for an extra $20. I was happy with my Volkswagen Tiguan, and I appreciated the extra space for my luggage—but I would have been just as fine with something smaller. 
Related
10 stops on a kid-friendly Palm Springs road trip
I wasn't used to rental cars; in fact, I wasn't used to driving cars other than my own or driving on anything but the hilly terrain of Tortola, British Virgin Islands, where I live. The island, with its hairpin turns and switchbacks, all on the left side of the road, prepares you for just about anything, but the idea of massive freeways and miles of open road worried me. 
When I started working remotely with more freedom to travel, I found myself adding destinations to my must-do list—state and national parks, mainly—that couldn't be reached easily by public transportation. But there was no way my island Suzuki Grand Vitara, my "mountain goat," was cutting it on the mainland. 
Could I do it in a rental car, I wondered? Do people even do that?
The answer is yes, a lot of people do. Even if you live stateside, you may not own a car, or want to save wear and tear on your own vehicle. Virtually all online travel agencies and car rental companies allow one-way rentals. They also offer unlimited mileage, so driving from Massachusetts to Texas isn't out of the question—if you can afford it. 
One-way rentals tend to be more expensive because of the cost of transporting the vehicle back to its original destination. And you're already traveling at a time when the cost of car rentals is sky-high for a number of reasons: An increase in domestic travel combined with manufacturing and supply chain issues has created supply and demand issues for rental car companies.  
The good news is that rental car prices have fallen slightly from a peak earlier in the summer, and so have gas prices for most of the U.S. Driving, even in a rental car, is generally going to be cheaper than flying to your destination when you factor in extra costs like baggage fees and airport parking. Plus, when you drive, you get to pick the itinerary. 
Based on my recent trips, here's some advice for roadtripping in a rental car:  
1. Book early and do your research 
Traditionally, rental cars have been available as a last-minute add-on, but with current prices, you'll want to book early, especially if you're planning a road trip. Do your research and use a rental car tracking website to compare rates and find discounts. 
If you're taking a road trip, you're probably planning to do more driving than the average customer, so you'll get your money's worth. On my Southern California trip, I paid $63 per day for a compact car (not including the size upgrade or any fees), which was slightly below the average cost at the time. 
Using a rental car instead of your own car also lets you play the points and miles game. I booked through the Delta SkyMiles travel portal and paid with my SkyMiles card, which meant I got double the miles toward my next trip. On another trip, I used the Capital One travel portal, which allows me to earn miles or redeem them. Several other credit card companies offer similar portals. 
Renting a car in a city or in the suburbs is often cheaper than renting one at the airport, where you'll pay extra taxes. A road trip can be a good chance to take advantage of this perk. 
Also consider peer-to-peer car-sharing services, like Turo, which can often save you money compared to a rental company. It also offers unique vehicles. Keep in mind that this service isn't a good choice for one-way road trips. Since you're renting someone's personal vehicle, you'll need to drop it off and pick it up at the same location.
2. Consider the size of your vehicle 
For city driving, a subcompact vehicle is probably fine, and smaller cars use less fuel. Depending on the length of your road trip, you may need to account for things like storing luggage and long hours behind the wheel. You'll want to be comfortable, so consider the minimum size that you'll need to fit all of your luggage and passengers comfortably. While you might dream of cruising down the Pacific Coast in a luxury convertible, it might not be the most practical, or cheapest, vehicle for your itinerary. 
Related
Romance vs. reality: Things to consider before planning a road trip in a convertible
3. Be savvy about rental upcharges 
You may be tempted to get "the works" when it comes to rental add-ons, but realistically, most of these extras aren't necessary. On my California trip, besides the midsize upgrade, I let them coax me into paying $40 for fuel service, which meant I wouldn't have to worry about filling the tank before I returned the car. Since it was my first time renting a car, it felt like a good idea. 
On subsequent trips, I'm far more confident in my ability to find a gas station. If you're on a long road trip, you'll generally have plenty of time to refuel before returning the car. Agents may also try to sell you a pass to get through toll roads, but if you aren't planning to drive on freeways, you should decline.
One of the advantages of roadtripping in a rental car is that you can be reasonably certain that the car is well-maintained. Rental companies aren't always equipped to reach you if you're in the middle of nowhere and your battery dies. If you're concerned about this, you're better off joining a roadside assistance membership service like AAA, which guarantees service anywhere, anytime, for nearly any reason, over any packages that the rental car company might offer.
Also check to see if your credit card offers primary rental car insurance, which protects the value of the car against damage and theft. This way, you can avoid having to pay for collision damage at the counter. Your current auto policy may also cover some items when you're driving another vehicle.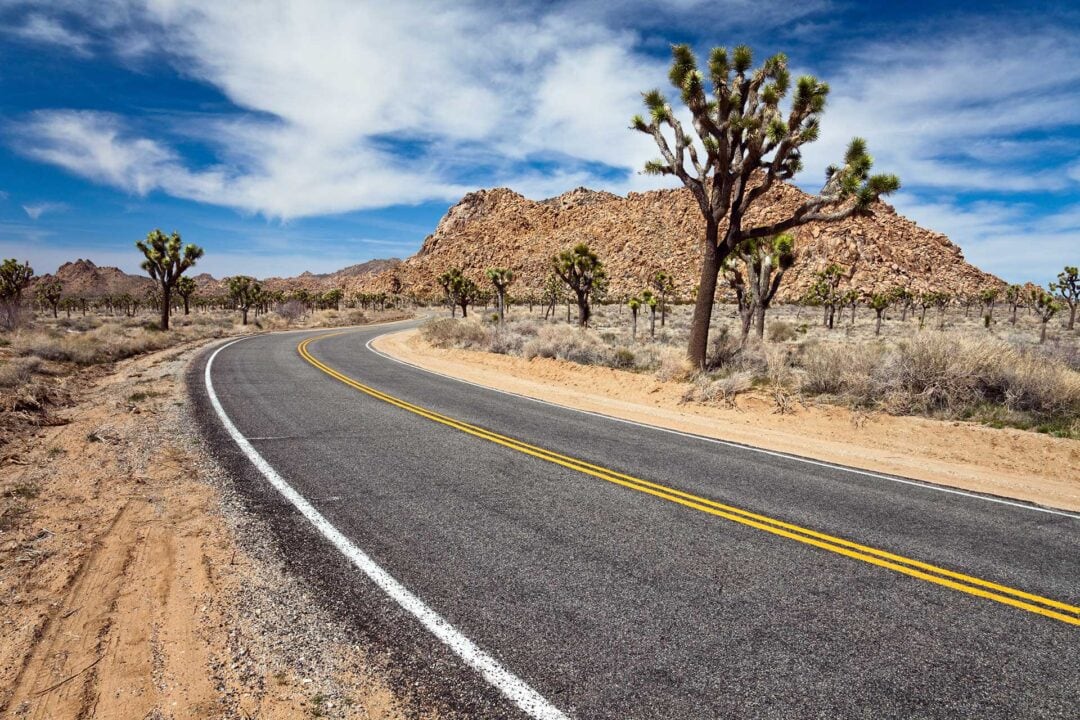 4. Refuel your vehicle frequently
Don't wait until it's too late. When you're in an unfamiliar car in unfamiliar territory, you may not have a feel for how much gas you'll use before you run out. This happened to me in Joshua Tree—I drove in at night and underestimated the amount of time it would take to get out of the park (getting lost, with no signal on my cell phone, didn't help). 
I made it to a gas station in Twentynine Palms with hardly a fume to spare. Even if you're watching the gauge closely, you should always plan for the unexpected and refuel your vehicle frequently.
5. Take the scenic route
When mapping out my routes for trips, I often have one overarching goal: to avoid freeways by any means necessary. This isn't only for the scenery—I prefer not to deal with tolls, and I find that driving on back roads is less stressful. Even if you choose to take the freeway, driving on less-trafficked byways first gives you the opportunity to get familiar with the feel of the car, especially if you don't own a car or haven't driven one in a while.
---
I'll never forget my first solo road trip, stopping for photo ops along the way and having the freedom to know I could change the route on a whim. Renting a car can be the best option to travel safely, memorably, and oftentimes affordably.