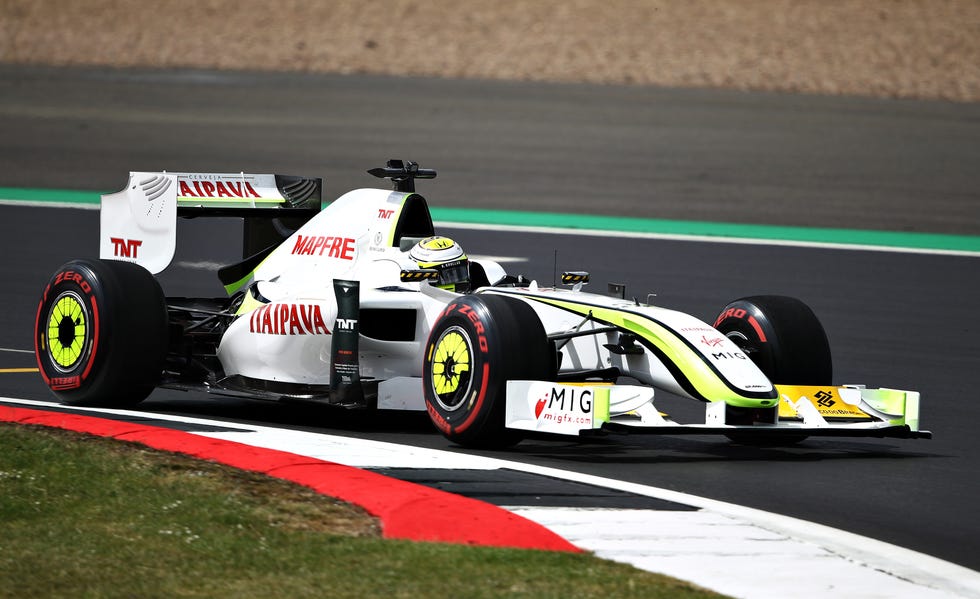 2009 F1 World Champion Jenson Button Interview
Retirement must seem boring after a career of driving Formula 1 cars all over the
Retirement must seem boring after a career of driving Formula 1 cars all over the world at 200 mph. Jenson Button has found some new projects to fill his days, though. From joining his friends Ant Anstead and Roger Behle to revive the Radford Motors name as a modern boutique coachbuilder to getting back behind the wheel in a stock car, Button has stayed busy.
On track, he partnered with Mobil 1 and Rick Ware Racing to pilot the #15 Ford at Circuit of the Americas earlier this year, before hopping into the Garage 56 cup car for a stellar showing at Le Mans. We caught up with Jenson just before the inaugural NASCAR Chicago street race for a conversation ranging from his return to racing to his best and worst car purchases.
C/D: You've won Monaco, and you've had a decent run of success at Le Mans in the past, do you have any desire to go after the triple crown? (The triple crown of motorsport includes winning the Monaco Grand Prix, Le Mans, and the Indianapolis 500).
JB: No.
C/D: None?
JB: I have no interest in racing IndyCar. I have a lot of respect for the guys that race in IndyCar. I know a lot of the drivers, I've raced against them, they're good friends. But racing at Indy? No. No interest. Road courses I would be interested in driving an IndyCar but not ovals. I don't know ovals at all, and at this point in my life, I've achieved what I've set out to achieve. Now I'm having fun. I don't feel an Indy 500 would be fun for me. It's a little bit too scary.
C/D: Speaking of you having fun, what's on the calendar?
JB: Endurance racing is where my head's at for next year. There are things that I love: I love the teamwork, I love working with teammates to develop a car. Whereas in F1 the most important person to beat is your teammate because you're in the same equipment. In endurance racing, I don't care if I'm the quickest guy in our car. If I'm the slowest guy, that's great, because I know I'm quick. If I can help the other guys be quicker than me and develop the car, that's awesome because it means we have a great team of drivers.
C/D: Are you looking at IMSA to stay Stateside?
JB: IMSA would be nice, but then WEC also races some great tracks. You know, first, we'd race at Le Mans, which is awesome. Spa is pretty special. They're racing at Interlagos [in Brazil] next year, Qatar is new next year. I've driven Qatar in a road car and it's insane—very high speed, very fast and flowing. So I've raced on every single one of the tracks, whereas IMSA I don't really know many of the tracks. I've heard that IMSA is a lot of fun, it's very relaxed, quite grassroots racing. But there are less-competitive options in IMSA. Road Atlanta is the big race at the end of the year. I might be doing that one. Might be.
C/D: Transitioning a little bit outside of racing, what drew you to Radford? What was the appeal of that project?
JB: It's myself, Ant Antsead, and Roger Behle (who's a lawyer), and we've all been good friends for a while. We're the main owners of Radford now, and developing a road car was really exciting. The aim was to work with manufacturers to develop cars with them, making bespoke, coach-built cars for individuals. We built 62 of the first one. Because of my background in engineering and working with Formula 1 teams over the years, we thought it was possible that we could build the lightest, best-handling road car there is. One without all the crazy technologies like ABS, stability control, and all that. We can make a car that didn't need them, because it was light, and it had enough mechanical grip. We didn't want to throw aero at it because we just felt that mechanical grip was more consistent. Aero is great, but if you have a gust of wind, it changes the balance completely. And would have been very difficult to control the airflow with the aerodynamics given the limited wind tunnel time we would have had. So it's a very mechanical car.
C/D: You also own an Extreme E team. Do you find that it's more stressful driving for a race team or owning one?
JB: It's definitely more stressful driving. With team ownership, I have partners. Because I'm doing so many other things, most of the work is done by them. We have a great team of people. I have a GT team in the UK, called Rocket Motorsport, so we use those mechanics to run the Extreme E program. The program is only five races. It's very limited what you can do with the cars: They go on the ship, go to the next race, come off, and then you can work on them. So it's not that stressful. Building a car company is a lot more stressful. That's the most stressful thing I've tried to do, because I've put my name to it, and I've also invested in it. Racing cars has been very stressful over the years. Now it's not. I feel that I enjoy racing now more than I used to because back then it was my job, it was my livelihood. It was my career from the age of eight to the age of 37 when I left F1.
C/D: A few more lighthearted questions. First car?
JB: You probably wouldn't know what it is, but it was a Vauxhall Cavalier. 2.0-liter, 8-valve, slow as shit, but it had some big wheels on it, a lowered suspension, and big 4×8 speakers in the back, too.
C/D: Childhood dream car?
JB: Ferrari F40, which I owned for a little while.
C/D: First car purchase after signing with Williams?
JB: I bought a Ferrari F355, a yellow GTS, which I still own.
C/D: What's in your garage now, and what was your worst car purchase?
JB: Oh, there's been a lot of them, a lot of bad car purchases. How do I narrow it down to one? When I moved to America and finished with F1, I went to an auction and bought three cars. I bought a gold 1980 Trans Am, I bought a 1957 Bel Air that had an LS3 in it, and I bought a blue 1956 Chevrolet pickup. The reason why they were the worst is because I never drove them. They just sat in my garage, so I sold them all a couple of years ago. I've had a lot of bad sales, meaning I've sold cars way too early and not made the money I should have made on them. I had an Enzo that I sold for $600,000. They're like $3 million now. I sold my F40, and it's worth double what I sold it for. I had a Porsche Carrera GT, which again, I sold, and it's worth four times what I sold it for. But I've won on cars as well. I love my classic cars. I have three old Jaguars: an E-type, a C-type, and an XK120. I'm racing my C-type. It was owned by Fangio back in the day, and I'm racing it at Goodwood this year during the revival.
Associate News Editor
Jack Fitzgerald's love for cars stems from his as yet unshakable addiction to Formula 1.
After a brief stint as a detailer for a local dealership group in college, he knew he needed a more permanent way to drive all the new cars he couldn't afford and decided to pursue a career in auto writing. By hounding his college professors at the University of Wisconsin-Milwaukee, he was able to travel Wisconsin seeking out stories in the auto world before landing his dream job at Car and Driver. His new goal is to delay the inevitable demise of his 2010 Volkswagen Golf.