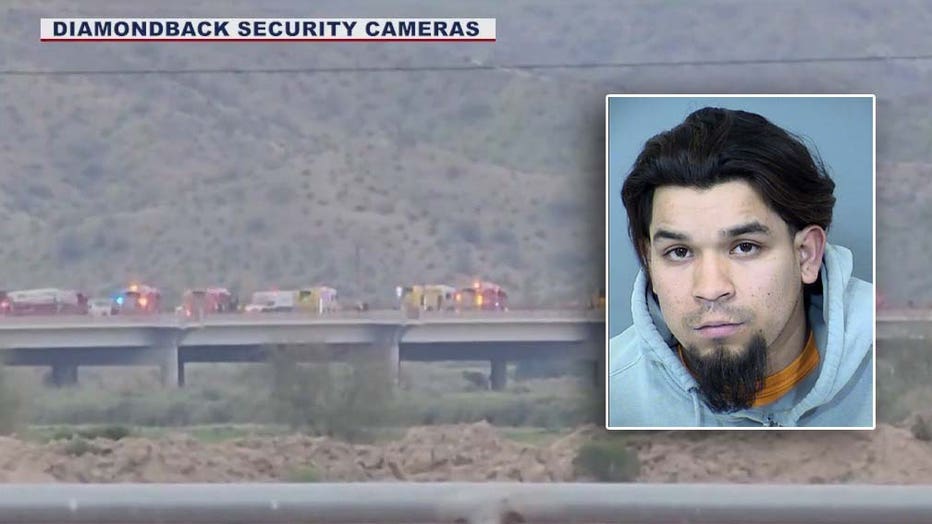 2 dead, 17 injured after truck hits group of bicyclists in Goodyear; driver arrested
New details about the deadly crash that killed 2 cyclists, injured more than a dozen
GOODYEAR, Ariz. – Two bicyclists are dead and 17 others were hurt after a pickup truck struck a group of bicyclists in Goodyear, police said.
The collision happened near MC-85 and Cotton Lane just before 8 a.m. on Feb. 25.
Nineteen people were injured and 11 of them were taken to three different hospitals in the Valley, with at least one of them in life-threatening condition. 61-year-old Karen Malisa, a retired middle school teacher and long time resident of Goodyear, died at the scene and, 65-year-old David Kero, a Michigan resident who was visiting for spring training, died at the hospital.
The truck driver, identified as 26-year-old Pedro Quintana-Lujan, was arrested on numerous charges, including two counts of manslaughter, three counts of aggravated assault, 18 counts of endangerment, and 2 counts of causing serious injury or death by a moving violation.
He's being held on a $250,000 bond.
"There is no indication that this was an intentional act, or anything other than an isolated incident," police said Monday.
The Maricopa County Attorney's Office is asking for the police department to bring more information forward if they want charges to be brought against Quintana-Lujan.
"The deaths of the two cyclists and injuries suffered by others that morning is an unimaginable tragedy. The police need time to complete their investigation.  It is critical before making any charging decision, and triggering legal time constraints, that a full investigation is completed and provided to prosecutors for review," county attorney Rachel Mitchell said on Feb. 28.
Driver claims steering 'locked up'
According to court documents, Quintana-Lujan told police he was driving in the left lane on the Cotton Lane Bridge when the truck's steering locked up and the vehicle started drifting to the right.
"When he heard a sound similar to metal, he let off the gas and regained steering control, then turned left and stopped in the middle of the bridge," court documents read.
Court documents state that reconstruction of the crash scene determined Quintana-Lujan "failed to maintain entering into the dedicated bike lane" and struck the concrete barrier separating the road from the sidewalk.
"Quintana's vehicle left dark black tire marks half way up the wall before coming back onto the roadway," court documents read. "There were no signs on scene of any evasive action taken after striking the Jersey barrier with no braking, tire marks, gouges, or skidding from the vehicle to show an attempt to avoid more hazards."
Police say bikes at the scene were broken in half and clothing was scattered throughout the road. Clothing was also found underneath the truck, as well as "bio-hazard from an unknown person that was run over."
During the inspection of the truck, police say the steering rack was intact, and "all bolts and nuts appeared to be secured and all major frame elements were intact with no damage."
"Quintana-Lujan submitted to a drug influence evaluation with clues present but unable to make a call regarding impairment," court documents read.
A blood test is also pending.
Quintana-Lujan told police he was driving to a job site in Chandler when the crash occurred. He allegedly admitted to smoking marijuana 11 hours before the crash. 
The Maricopa County Sheriff's Office, Goodyear Fire, Avondale Fire, Buckeye Fire, Glendale Police, the Maricopa County Attorney's Office and Arizona Fire Medical responded to this scene.
"The Goodyear Police department is deeply saddened by this tragedy and extends condolences to the loved ones of the victims as well as to the cycling community and the community as a whole," said Lisa Berry with Goodyear PD.
'Shock beyond belief'
"I just saw chaos, carnage," says Paul Theisen, who was one of the victims.
Steven Rhone, another victim, says, "What actually struck me wasn't the truck. It was the actual bodies and bike parts that were being pushed up from behind into me."
Cheryl Herzog said she was injured, but not as badly as others.
"I landed on my back on my head, and I think I rolled down, and I was just one of the lucky ones that ended up with only a concussion," she said. 
Theisen says going to the hospital to visit those who were badly injured is a surreal experience.
"I have never been to a hospital visit where I have to visit five people at once and that happened yesterday and today," he said.
Herzog says he's still in shock.
"It's a shock beyond belief. I don't think anything in the state for certain has ever happened to this magnitude," he said.
Herzog says the victims who died were first-time riders in that specific group.
"This was the first time they rode with us and this is what they got … it just breaks my heart. This is not what we stand for," she said.
Days after the crash, witnesses are coming forward with new information about a second person in the pick-up-truck that struck the cyclists.
"I would love to see some information about the passenger in the vehicle, there were two people inside the vehicle and I didn't see anyone rendering any aid," Theisen said.
'They want to go home to their loved ones'
John Hogen is the vice president of the Rob Dollar Foundation, an organization in the memory of his best friend, Rob Dollar, a cyclist who was killed several years ago.
"Every single time it's too many," he remarked.
His heart breaks for the families of those involved.
"It hurts. To know the pain and feeling that those families are going through, just as Rob did when he passed away," Hogen said.
He's begging those on the road to be respectful of others and recognize that those riding are precious to friends and family.
"You don't know who that person is on that bike, but it's another human. Trying to get to see people on bikes as humans, that they want to go home to their loved ones, and their loved ones want to make sure that they're coming home," Hogen said.
'I knew multiple people'
"I knew that it was the West Valley Cycle Club that had been affected, and I knew since there were so many people involved, I knew, I knew multiple people," said Brandon van Leuven, co-owner of Trek Bicycle Store West.
When he heard about the horrible crash, his heart dropped.
"I absolutely knew that someone that I knew and cared about was affected by it," van Leuven said.
He knows four people currently in the hospital, including a man he sees all the time.
"One of them is actually Mike, who actually works here. He is still in the hospital and ICU today with very bad injuries," van Leuven said.
A beloved employee – and a favorite – he says among customers.
"It's been a very busy day with phone calls, people who knew that Mike was involved are coming in, they don't want anything, they just want to come in, and want to hear first hand how Mike is doing," he said. "I think he was able to start looking at his phone, his text messages, and ever since 8 p.m. yesterday. I think if he goes through those texts he's going to know just how much he means to us, and how much we were worried about him and care about him."
As bikers and their loved ones continue to grieve, van Leuven urges drivers to keep safety in mind while behind the wheel.
He says, "Bottom line, we're just asking for a little bit of patience, a little bit of understanding. We are in a bike, you're in a car. We lose every time."
The West Valley Cycle Injury Fund has been established for the victims on GoFundMe. You can donate by clicking here.
Tune in to FOX 10 Phoenix for the latest news:
More Arizona headlines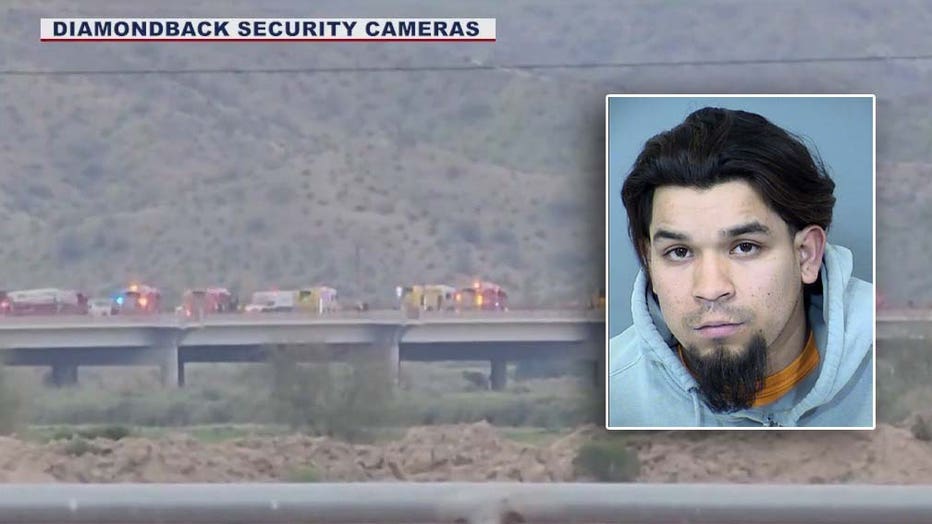 Pedro Lujan is accused of hitting at least 20 bicyclists with his truck, killing two of them.