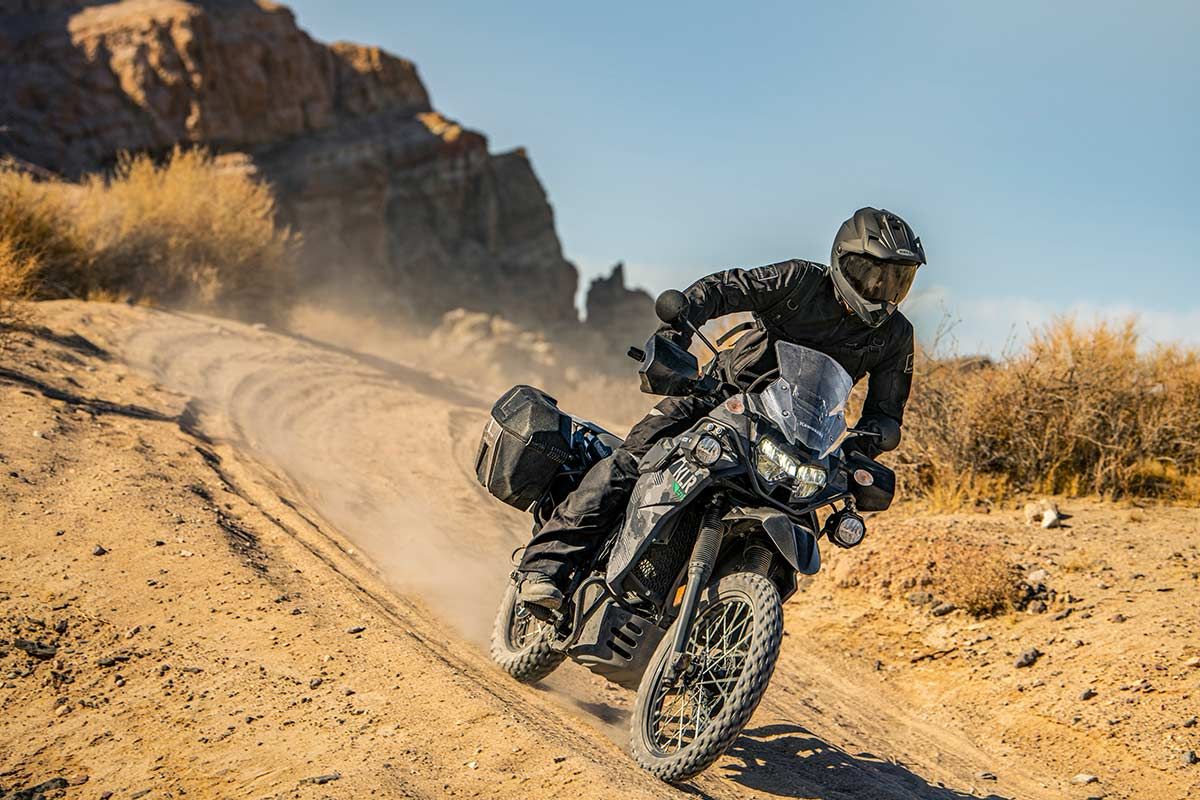 10 Best Kawasaki Motorcycles On Sale In 2023
Kawasaki is one of the best-known names in the business, for good reason. Kawasaki motorcycles
Kawasaki is one of the best-known names in the business, for good reason. Kawasaki motorcycles set the standard and offers a healthy variety of well-made and consumer-friendly bikes, as well as leading race bikes. With plentiful spare parts, Kawasaki bikes can be relatively cheap to maintain, especially if you're mechanically inclined. Their reliability rivals and beats the likes of Suzuki, and customers have consistently had good things to say about their performance and longevity. Kawasaki rolls into 2023 with a diverse lineup of updated bikes for every taste. Whether you're a thrill-seeker seeking to dominate the track on Kawasaki's fastest and most powerful bike, the H2R, or looking to cruise in comfort on the Vulcan Voyager 1700 ABS, or commute in style on the W800 cafe-style bike, there's a variety of options to suit every purpose.
10/10

2023 Kawasaki KLR650 – $6,899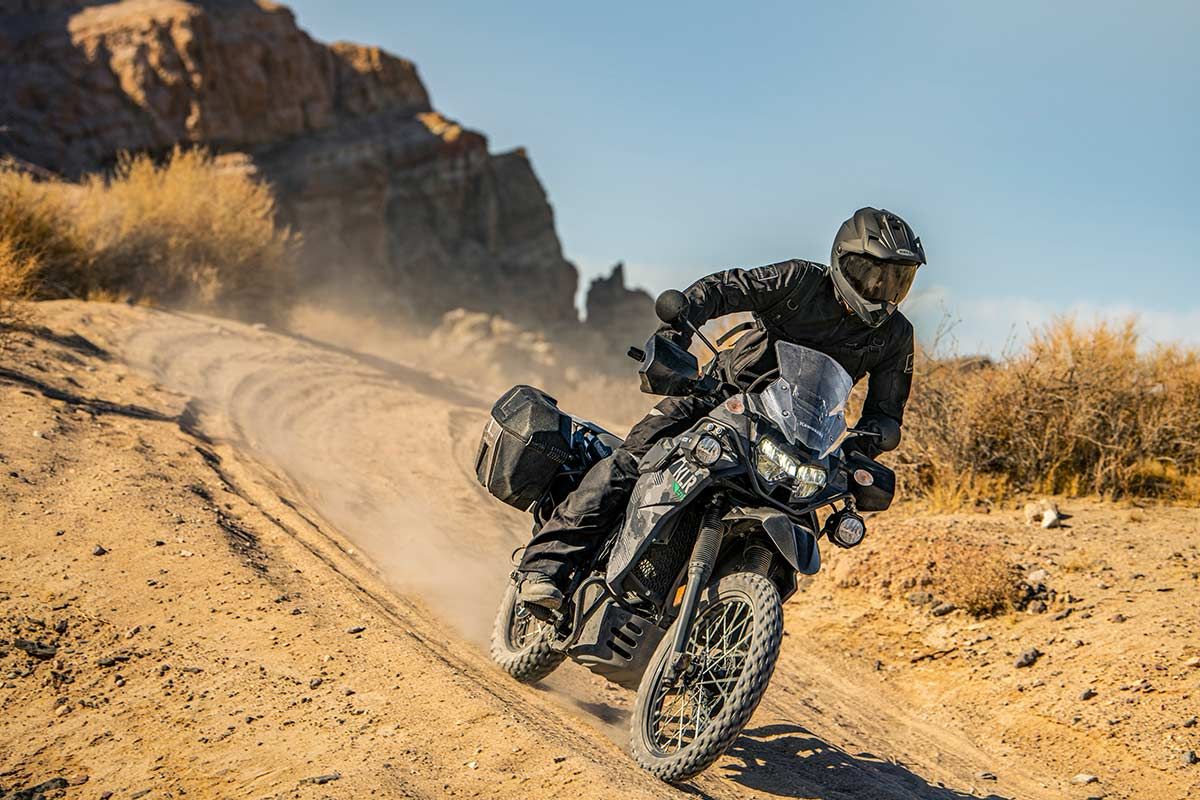 KLR650 rider going down a dirt trail.
Most riders are familiar with cruisers and sport bikes, dirt bikes too, but the KLR650 suits an unusual hybrid sort of niche: off-road adventure dual-sport riding. Essentially, that means riding uneven terrain, poorly paved roads, mountain trails, while still having the power to ride streets and highways. This bike nails that perfectly. The 652cc single-cylinder engine provides plenty of power to carry you across all terrain you face, while the tank holds 6.1 gallons—enough to keep it from getting too thirsty on the trail. The KLR650 is offered in multiple configurations to suit your purpose and needs. For example, the Adventure model features a DC outlet and USB port, side cases, frame sliders, and more to help your adventure go as smoothly as possible.
9/10

2023 Kawasaki W800 – $9,999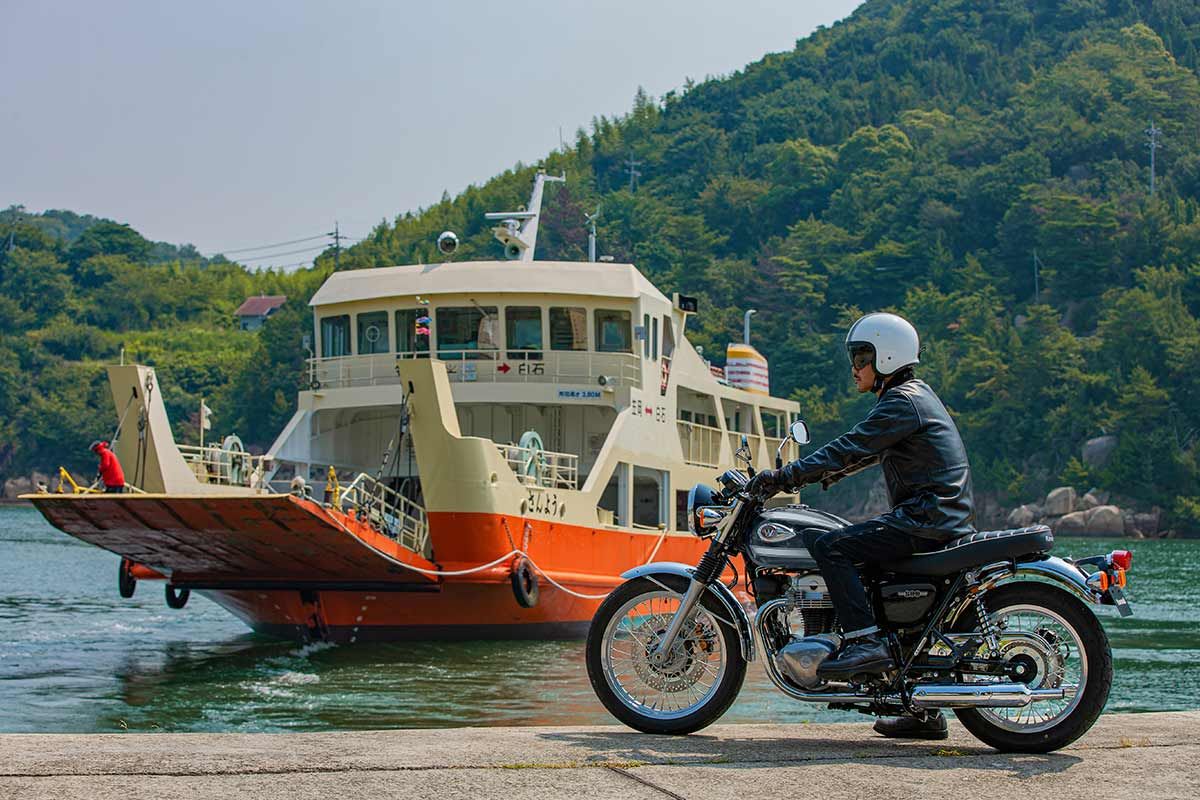 W800 rider stopped near a boat.
Kawasaki hits a vintage note with the W800 cafe-style motorcycle. Featuring a 773cc air-cooled vertical-twin engine that delivers 51 horsepower at 6,500 rpm and a top speed of about 110MPH, this bike has plenty of power and speed to commute through dense urban areas or hop on the freeway if your destination demands it. Its classic style is achieved through its tuck-and-roll seat, elongated dual exhaust, beautiful metallic slate blue/Diablo black paint scheme, and ample chrome. ABS brakes and a sealed chain drive offer reliability and safety, while rubber fork boots protect the front fork seals to ensure long and safe life of components.
Related: 10 Things To Know Before Buying A Kawasaki Ninja H2R
8/10

2023 Kawasaki KX450 – $9,599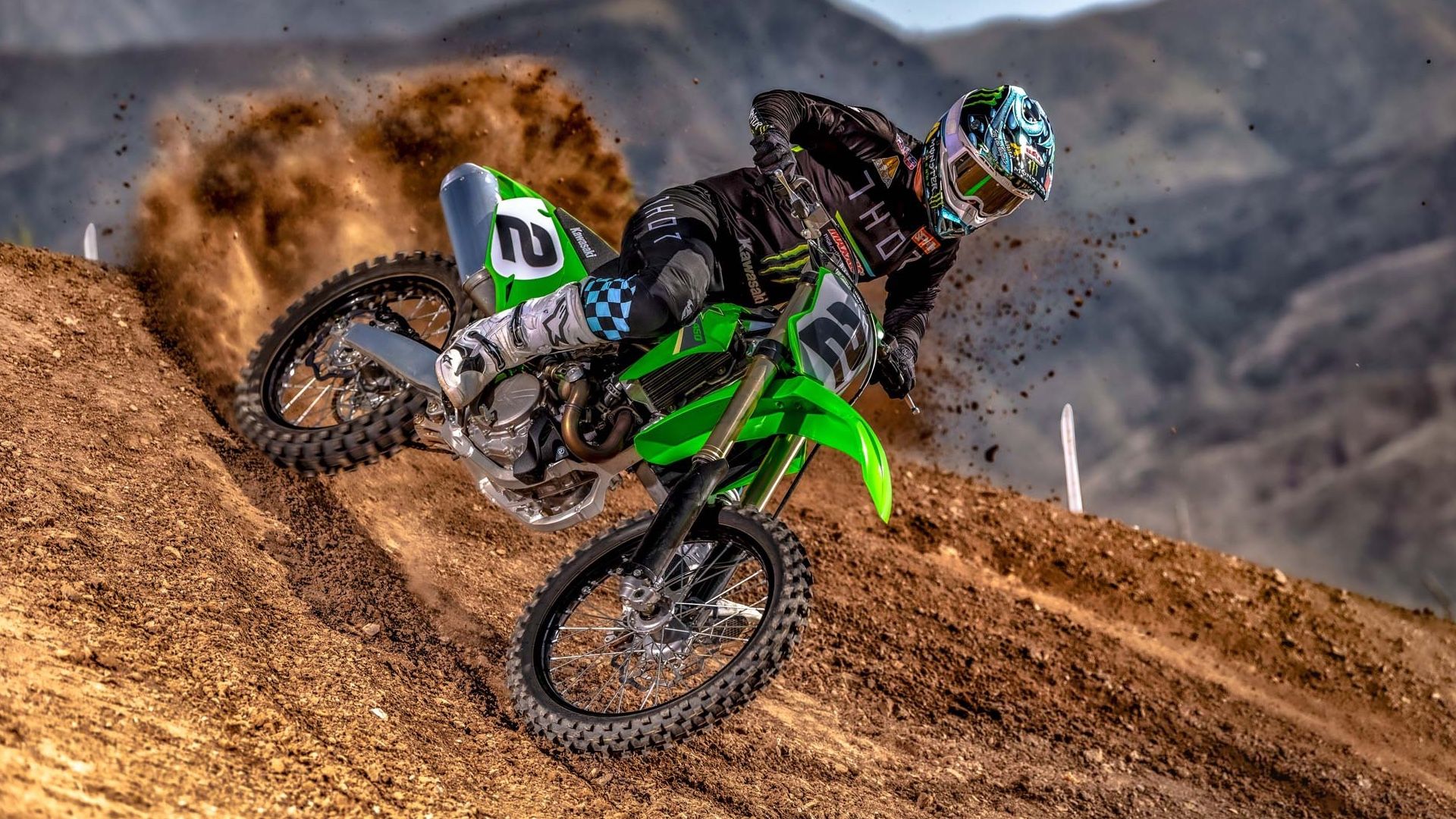 Motocross rider on the KX450
Powered by a 449cc liquid-cooled engine, the Kawasaki KX450 is a venerable winner of motocross championships across decades. Inverted 49mm telescopic coil-spring front forks and an adjustable Uni-Trak gas-charged rear shock suspend the lightweight aluminum frame of this award-winning bike. In addition to the standard model, Kawasaki also offers the limited-run 450SR which features elite-level racing components such as an improved Showa suspension package and a Pro Circuit Ti-6 Titanium exhaust, D.I.D gold chain, and a Renthal rear sprocket. You can also choose the KX450X, which is equipped with an improved wheel package and Dunlop Geomax AT80 tires to offer performance in cross-country tracks.
7/10

2023 Kawasaki Vulcan S – $7,349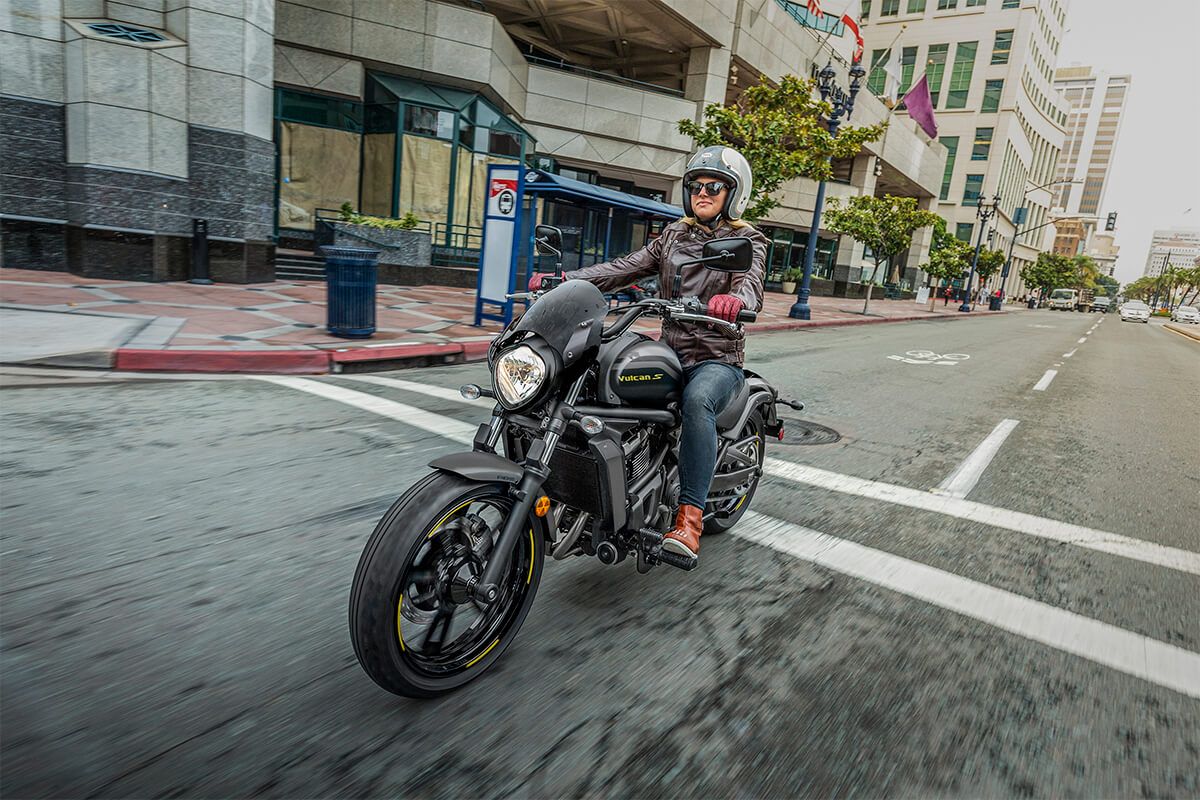 Female rider on a 2023 Vulcan S driving down an urban street.
Although Kawasaki is best known for its sportier, race-oriented bikes, its Vulcan cruisers are excellent options as well. The S model is great for new riders, and experienced riders will notice many unique quirks and deviations from your standard idea of a cruiser. Rather than a typical V-twin, it has a 649cc parallel twin; the frame is reminiscent of a naked sport bike; the exhaust is low-key and is routed beneath the bike; the seven-position rear suspension joins the swing arm to the frame at a surprisingly flat angle, relative to a Sportster for example; and their 18-position Ergo-Fit adjustable sizing system makes it comfortable, no matter your size.
Related: 10 Cruisers That Will Destroy Your Bank Account (Or Reputation)
6/10

2023 Kawasaki Vulcan 900 – $8,999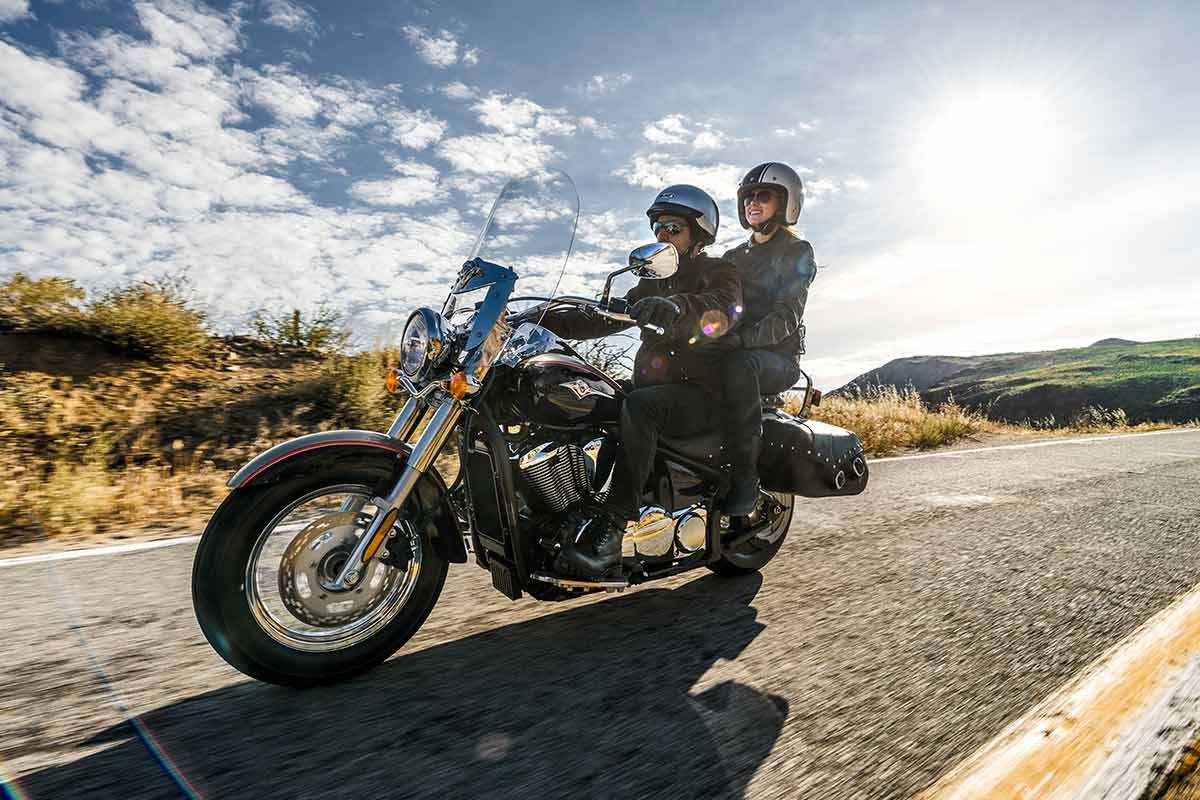 A couple riding on a 2023 Vulcan 900 Classic on a rural road.
Compared to the Vulcan S, the Classic Vulcan 900 aligns a lot more with the traditional styles and features that cruiser aficionados are familiar with: tank-mounted instruments, forward-positioned floorboards, and a fuel-injected 903cc V-twin engine round out the classic model of this cruiser. The Custom model is equipped with pegs rather than floorboards, pinstripe tires rather than whitewalls, and black rather than chrome slash-cut exhaust. You can also choose the Classic LT package which includes an adjustable windshield, saddlebags, backrest, and a 24-month warranty. Each offering is equipped with a 5.4-gallon tank, which is definitely a comfy amount of gas to have, especially considering their average fuel MPG of 40 or more.
5/10

2023 Kawasaki Ninja 650 – $7,999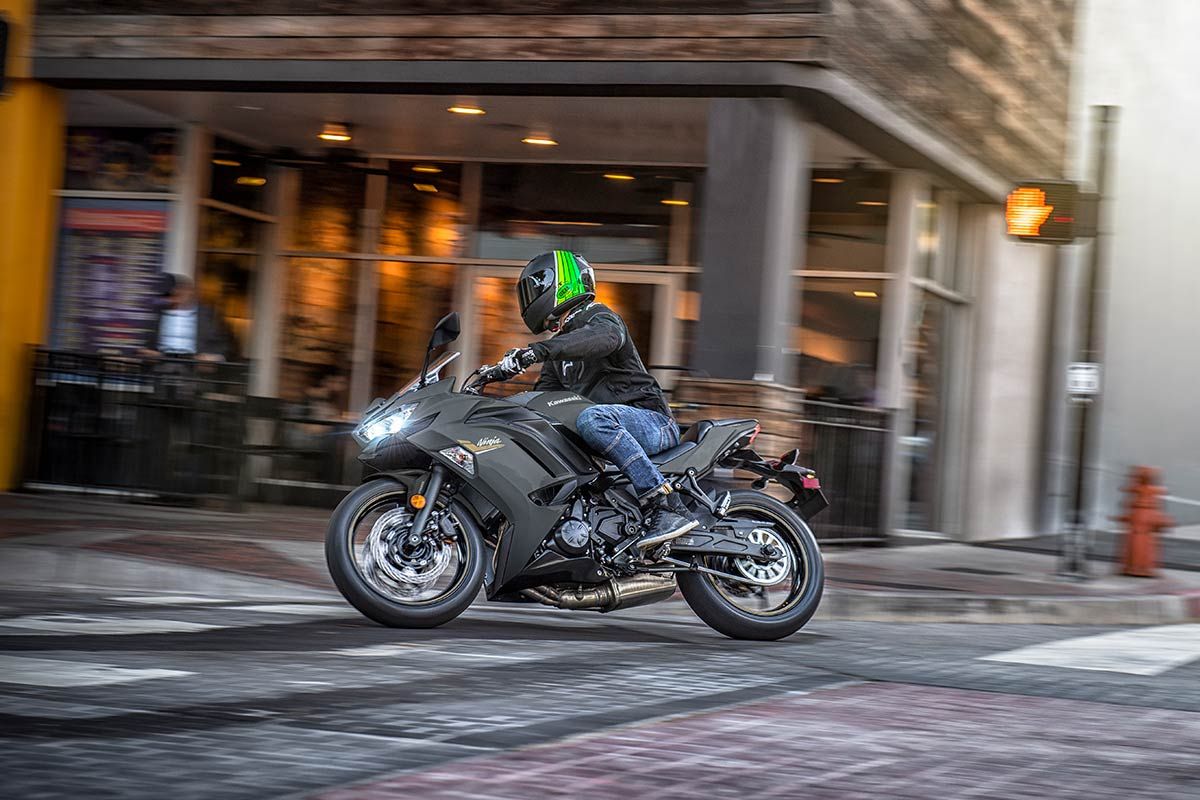 A Ninja 650 rider cornering on an urban street.
The Ninja 650, a notch above its Ninja 400 model, has been an incredibly approachable model for long for both new riders and those who are more experienced, and it is easily one of Kawasaki's most popular offerings. In 2023, it integrates smartphone connectivity via Bluetooth, which allows you to view phone notifications on the bike's display and track rides in the Rideology app on your phone. Additionally, it features KTRC traction control which operates in two modes according to your preference. Its 649cc parallel-twin engine delivers 68 peak horsepower and a top speed of 131 MPH.
Related: Here Are Five Middleweight Sportbikes To Watch Out For Heading Into 2023
4/10

2023 Kawasaki Vulcan 1700 Voyager ABS – $19,299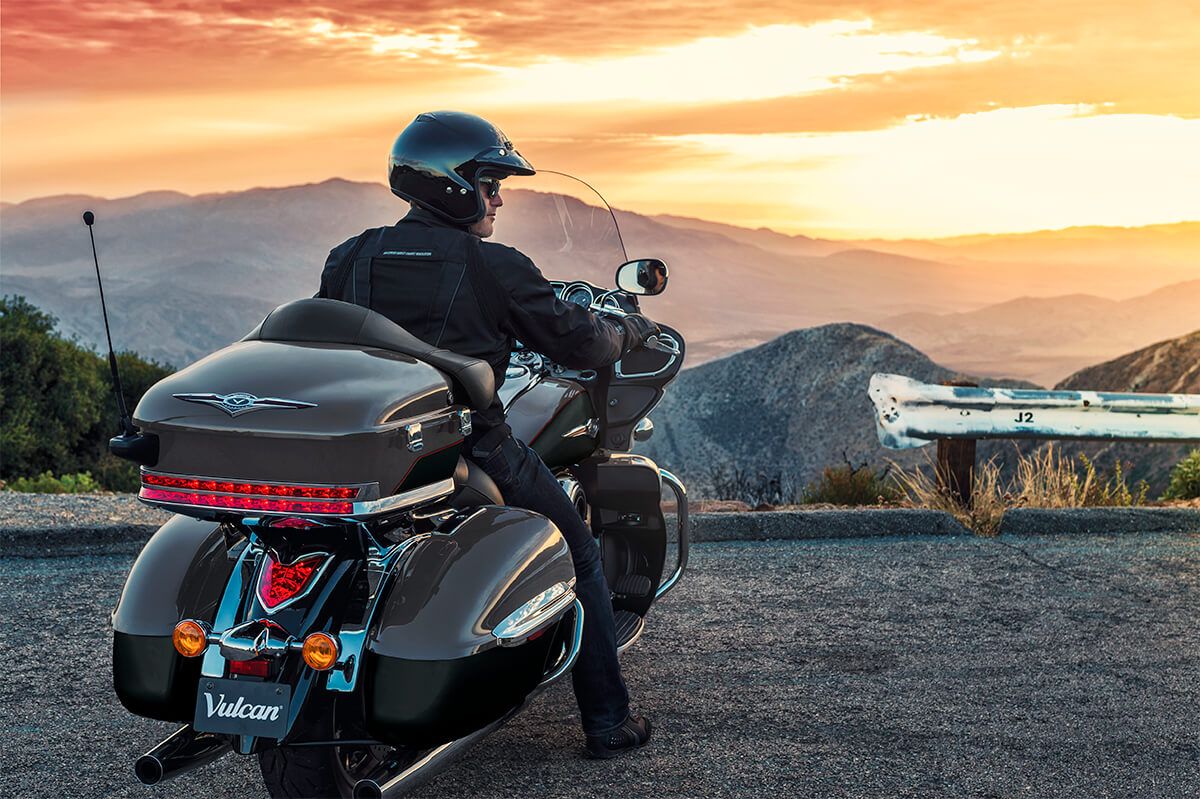 Rider on a 2023 Kawasaki Vulcan 1700 Voyager ABS stopped facing a scenic mountain view.
Revisiting the Vulcan line, here is Kawasaki's top touring model: the Vulcan 1700 Voyager ABS. As the name suggests, it is equipped with a 1700cc liquid-cooled V-twin engine, which offers a significant step up in displacement from the Vulcan 900. The result is a whopping 107 horsepower, which is great for hauling you and everything you lock away in the ample storage space in the trunk and saddlebag combo. The fairing integrates a radio and speaker system which offers headset connectivity, while also housing and displaying all the instruments and gauges.
3/10

2023 Kawasaki Z900 – $9,399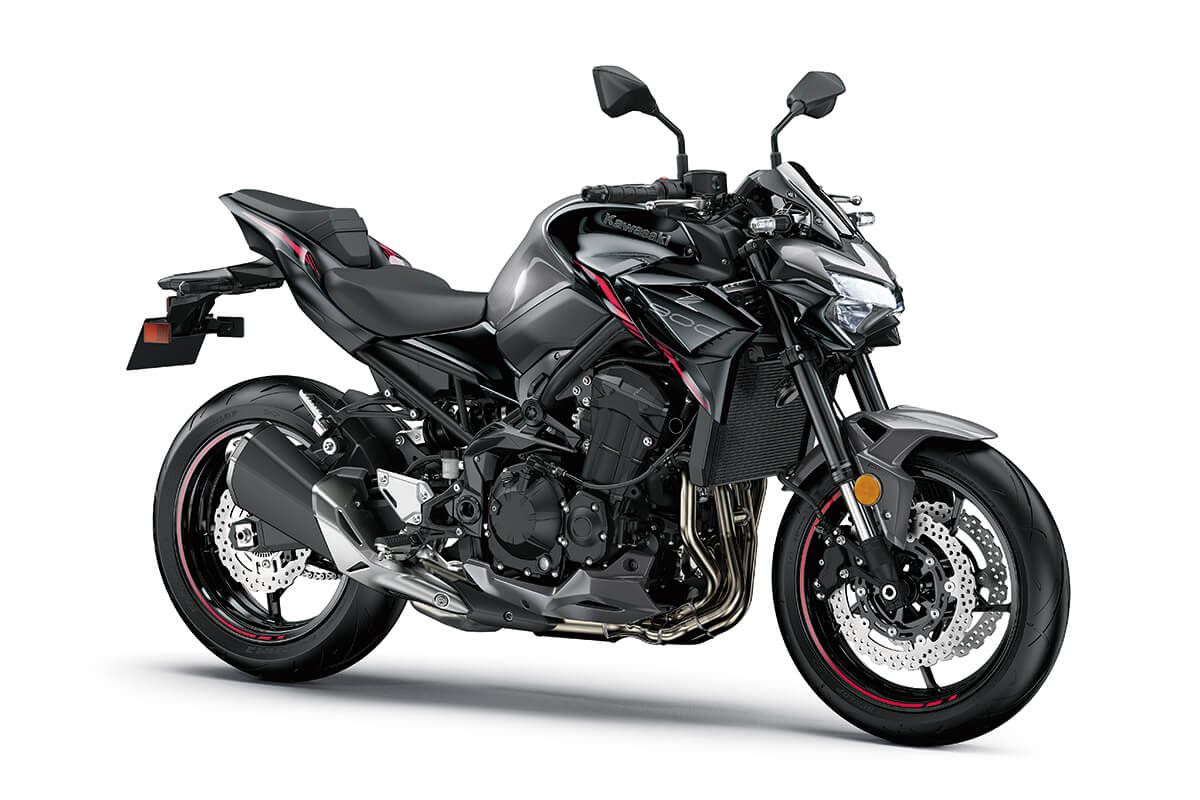 Studio shot of a 2023 Kawasaki Z900.
Aggressive, powerful, and responsive: the Kawasaki Z900 is optimized for high-performance riding while remaining suitable for commutes. The ergonomic body design promotes an upright riding position which improves visibility and comfort, while still offering an intense riding experience. The previously mentioned KTRC traction control and smartphone connectivity are also integrated into this model, while a singular Thin Film Transistor instrument displays all sorts of relevant information and indicators. The Z900SE has Brembo front brakes and an Öhlins rear shock for improved performance.
Related: ​​​​​​​Kawasaki KLR650: From Humble Beginnings To Today's Leading Dual Sport Motorcycle
2/10

2023 Kawasaki Ninja H2R – $57,500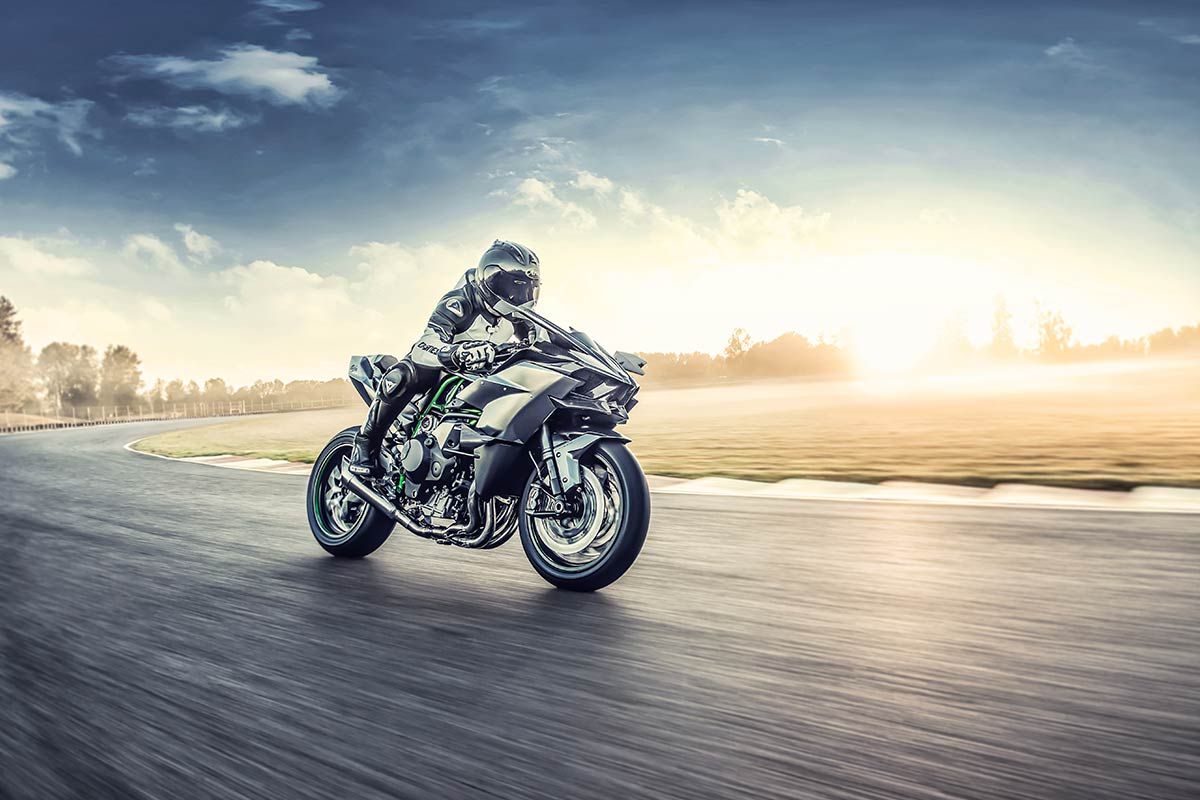 A H2R rider driving on a track.
The H2R is the epitome of performance. In fact, it's so high-performance that it's not even street-legal; it is strictly a track bike. The 998cc four-cylinder engine propels this bike to an eye-watering 248.6 MPH and churns out a ridiculous 310 peak horsepower. Essentially their flagship race bike, it misses first place here by being so inaccessible. The pinnacle of Kawasaki engineering: it features self-healing paint, Brembo brakes, carbon fiber aerodynamics, and numerous other state-of-the-art technologies that all work together to make it one of the fastest bikes out there.
1/10

2023 Kawasaki Ninja ZX10R – $17,399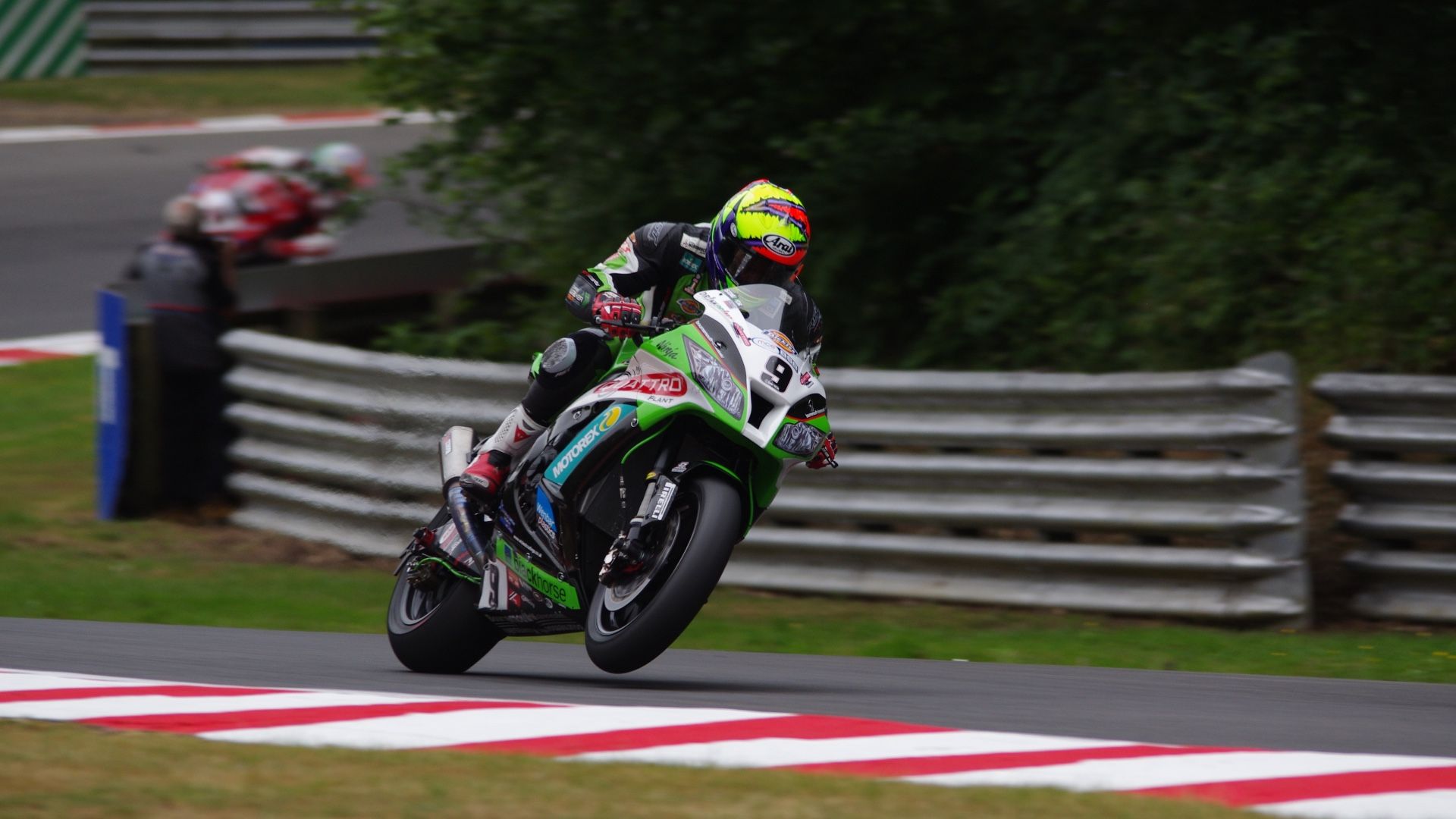 Racer competing on a Kawasaki ZX10R.
While the H2R serves as an example of what Kawasaki is capable of in engineering, the ZX10R is what Kawasaki uses to dominate the races. This bike was designed to meet the rigorous requirements and restrictions of professional racing while still offering every advantage to the racer: S-KTRC traction control, their Kawasaki Quick Shifter, Launch Control Mode, Corner Management Function, Engine Brake Control, and a number of other similarly obscure and high-tech gizmos which enhance performance, stability, and efficiency—essential when every little bit of edge can count in a race.
FAQ
Q: Which Kawasaki model is best?
The H2R is Kawasaki's fastest and best-engineered bike.
Q: Is Kawasaki a good motorcycle brand?
Yes, Kawasaki is a great brand.
Q: Which is more reliable Suzuki or Kawasaki?
Although both great brands, Kawasaki has a better reputation.
Q: Are Kawasaki motorcycles cheap to maintain?
That really depends on which bike and how you ride and how you take care of it. Regular maintenance like oil changes and minor repairs should be fairly inexpensive considering the availability of components, especially if you perform the work yourself.
Q: Which is the fastest Kawasaki?
The fastest Kawasaki is the H2R.
Q: Which is the most powerful Kawasaki?
The H2R is Kawasaki's most powerful bike.